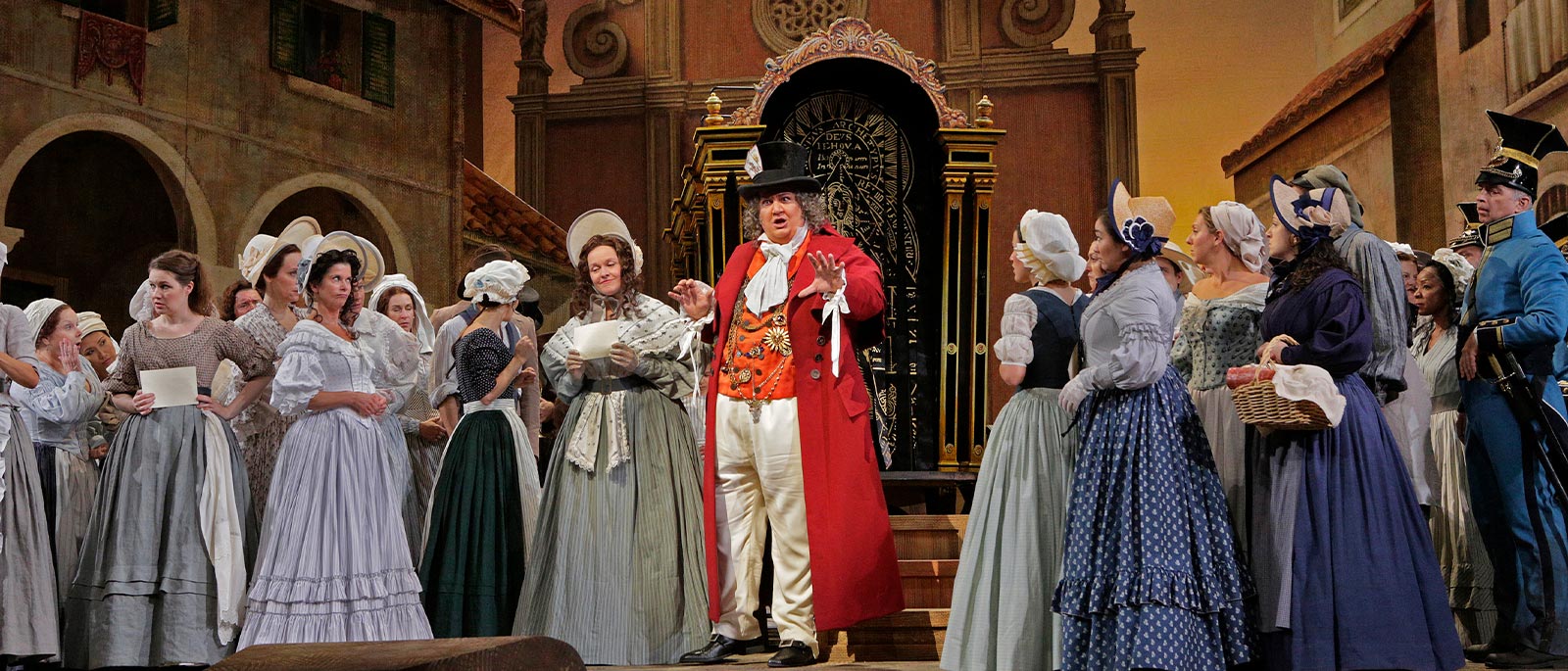 Gaetano Donizetti
L'Elisir d'Amore
Overview
Donizetti's heartwarming comedy stars some of today's most celebrated bel canto singers as the spunky landowner and the hapless peasant in search of love. Radiant sopranos Golda Schultz and Aleksandra Kurzak alternate as Adina, trading barbs and embraces with tenors Javier Camarena and Xabier Anduaga, in his Met debut, as Nemorino. Italian maestro Michele Gamba also makes his company debut conducting Bartlett Sher's madcap staging, which features baritones Davide Luciano and Joshua Hopkins as the swaggering Sgt. Belcore and baritone Ambrogio Maestri and bass-baritone Alex Esposito as the lovable huckster Dr. Dulcamara.
Production a gift of The Monteforte Foundation in honor of Wim Kooyker
Languages
Languages sung in
L'Elisir d'Amore
Titles
Title languages displayed for
L'Elisir d'Amore
Met Titles In
English
German
Spanish
Italian
Timeline
Timeline for the show,
L'Elisir d'Amore
Estimated Run Time
2 hrs 50 mins
House Opens

Act I

75 mins

Intermission

35 mins

Act II

60 mins

Opera Ends
Cast
Select a date from the dropdown to filter cast by date of performance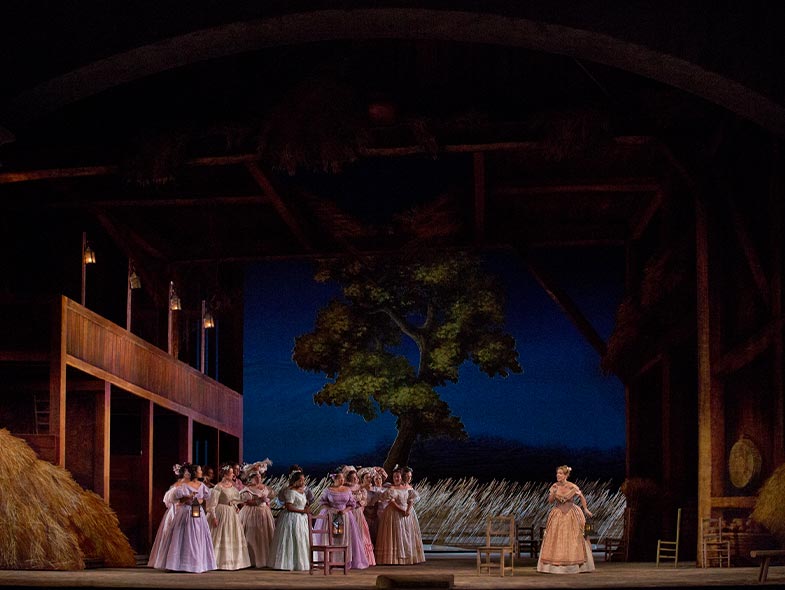 World premiere: Teatro Cannobiana, Milan, 1832. L'Elisir d'Amore has been among the most consistently popular operatic comedies for almost two centuries. The story deftly combines comic archetypes with a degree of genuine character development rare in works of this type. Its ending is as much a foregone conclusion as it would be in a romantic comedy film today—the joy is in the journey, and Donizetti created one of his most instantly appealing scores for this ride.


Creators
Gaetano Donizetti (1797–1848) composed about 75 operas in a career abbreviated by mental illness and premature death. Most of his works disappeared from the public eye after his death, but critical and popular opinion of his huge opus has grown considerably over the past 50 years. Felice Romani (1788–1865) was the official librettist of Milan's Teatro alla Scala and worked with Donizetti on several other operas.
Set Designer
Michael Yeargan
Costume Designer
Catherine Zuber
Lighting Designer
Jennifer Tipton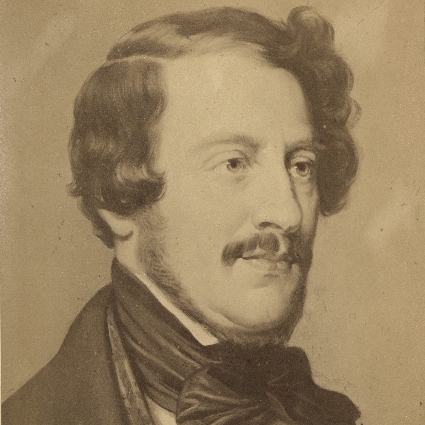 Composer
Gaetano Donizetti
Setting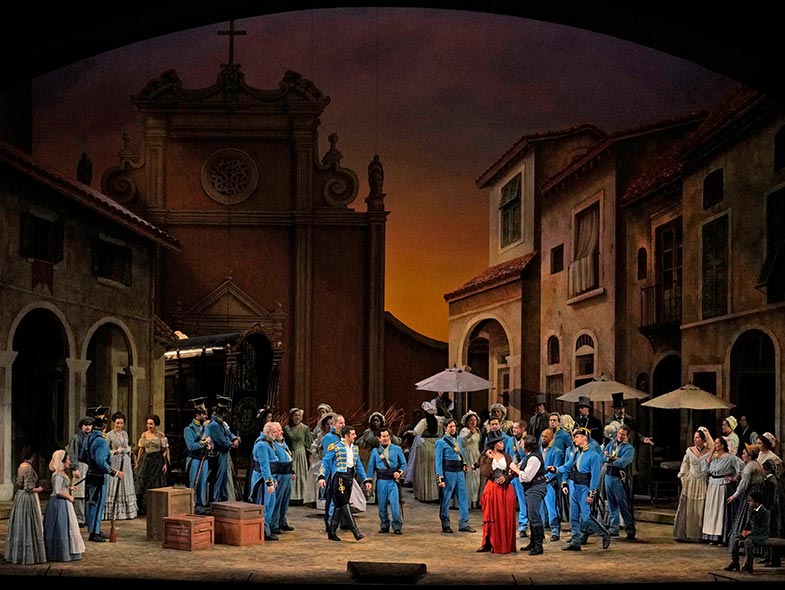 The opera is set in a small village in rural Italy. Some early editions indicate a location in Basque country. The important fact is that it's a place where everyone knows everyone and where traveling salesmen provide a major form of public entertainment. The Met's production sets the action in 1836, when the Risorgimento, the movement for Italian independence, was beginning to gather momentum.
Music
What separates L'Elisir d'Amore from dozens of charming comedies composed around the same time is not only the superiority of its hit numbers but the overall consistency of its music. It represents the best of the bel canto tradition that reigned in Italian opera in the early 19th century—from funny patter songs to rich ensembles to wrenching melody in the solos, most notably the tenor's show-stopping "Una furtiva lagrima" in Act II. Its variations between major and minor keys in the climaxes are one of opera's savviest depictions of a character's dawning consciousness.