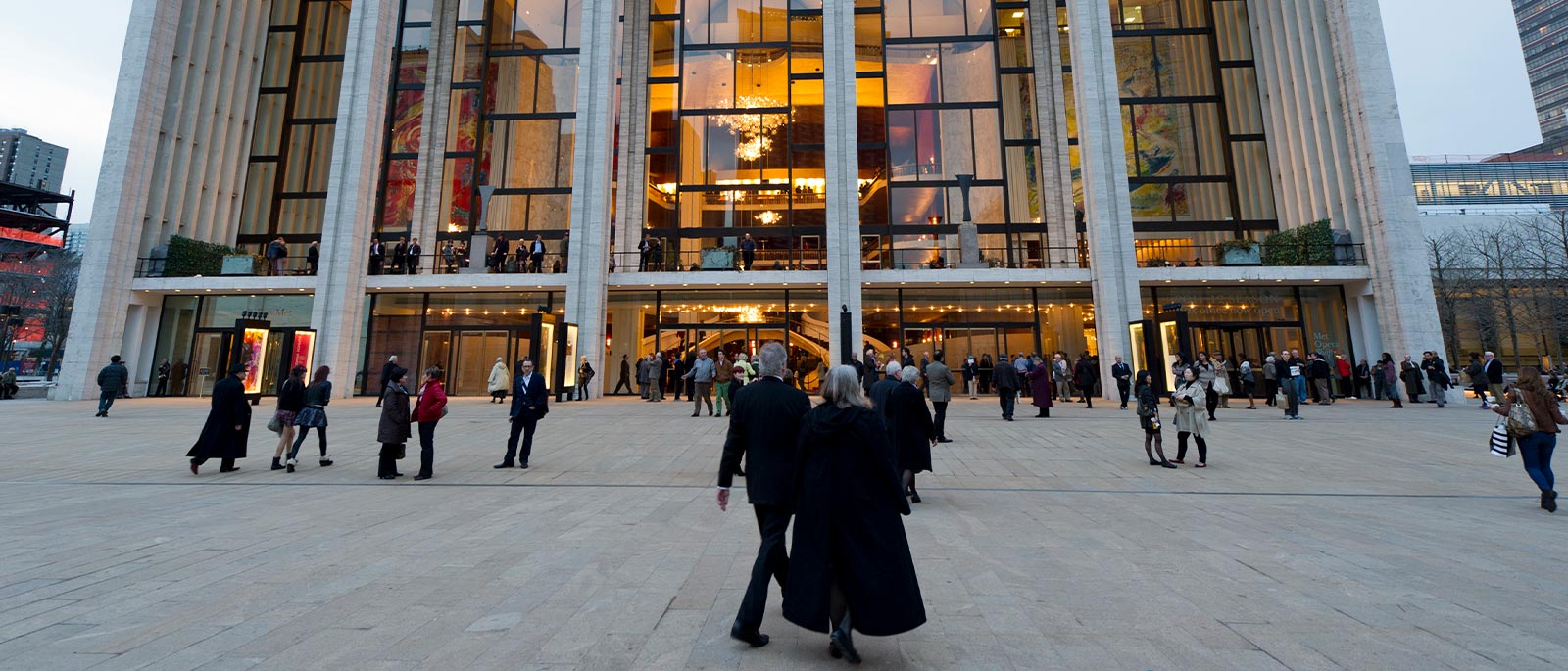 Our Commitment to Our Audiences
A Fully Vaccinated House
Our top priority is the safety of the Met audiences, artists, orchestra, chorus, and staff. In consultation with medical and public health experts, the Met will be implementing a mandatory vaccination policy for audiences, who will be asked to show proof of vaccination upon arrival at the Met. All artists, orchestra, chorus, and staff will have to do the same. In compliance with the CDC guidelines for fully vaccinated individuals, the audience will be at full capacity, and face masks will be optional.
Audience Requirements
All audience members must be fully vaccinated. You are considered fully vaccinated two weeks after you have received a second dose in a two-dose vaccine series or two weeks after you have received a single-dose vaccine.
The Met will need to see proof of vaccination against Covid-19 with a vaccine approved by the U.S. Food and Drug Administration (FDA) or by the World Health Organization (WHO).
All audience members must provide in-person verification of vaccination. Prior to entering the Met, you will be asked to provide proof of vaccination through the CLEAR app (if available to you), the Excelsior Pass (for New York State residents), or an original physical vaccination card or photograph of it. Trained individuals will review your proof of vaccination as you arrive at the Met.
All audiences will be asked to sign a Covid waiver when purchasing tickets and in pre-performance email confirmations. If you do not complete this prior to arrival, you will be asked to complete it on arrival at the Met.
Children under the age of 12, for whom there is no currently available vaccine, are not permitted to enter the Met regardless of the vaccination status of their guardian. As soon as children under the age of 12 become eligible to receive a vaccine, fully vaccinated children will be welcomed back to the Met.
Ensuring Your Safety
The Met has made a number of changes to make sure the opera house is as safe and welcoming as possible when we reopen.
During the closure period, we have completed work to confirm that our air systems comply with city, state, and national Covid safety standards. All HVAC systems have been evaluated by professional engineers to verify compliance with Covid safety guidelines.
All bathrooms have been fitted with touchless fixtures.
We have updated the entrance to the Met with four automatic doors.
We have enhanced our cleaning procedures and will offer hand sanitizer through- out the Met.
We will be offering eTickets/contactless entry options.
All ticket buyers will be sent a pre-performance email with specific health and safety protocols relating to the performance they are attending.
Ticket Flexibility
In recognition of the great uncertainty created by the current health situation, we have reviewed our ticket policies to make sure we are as flexible and accommodating as possible in the event you are unable to attend a performance. The 2021–22 ticket policy has been updated to include flexible exchanges for all ticket buyers, including single-ticket buyers. If you are unable to attend a performance for any reason, you will be eligible for a complimentary exchange into a future performance. Exchanges may be requested up until the performance curtain time, and ticket buyers will be asked to pay the difference in price should the replacement performance ticket price exceed that of the original ticket. To request an exchange, please call Met Customer Care at 212.362.6000, Monday through Friday, 10 AM–6 PM.