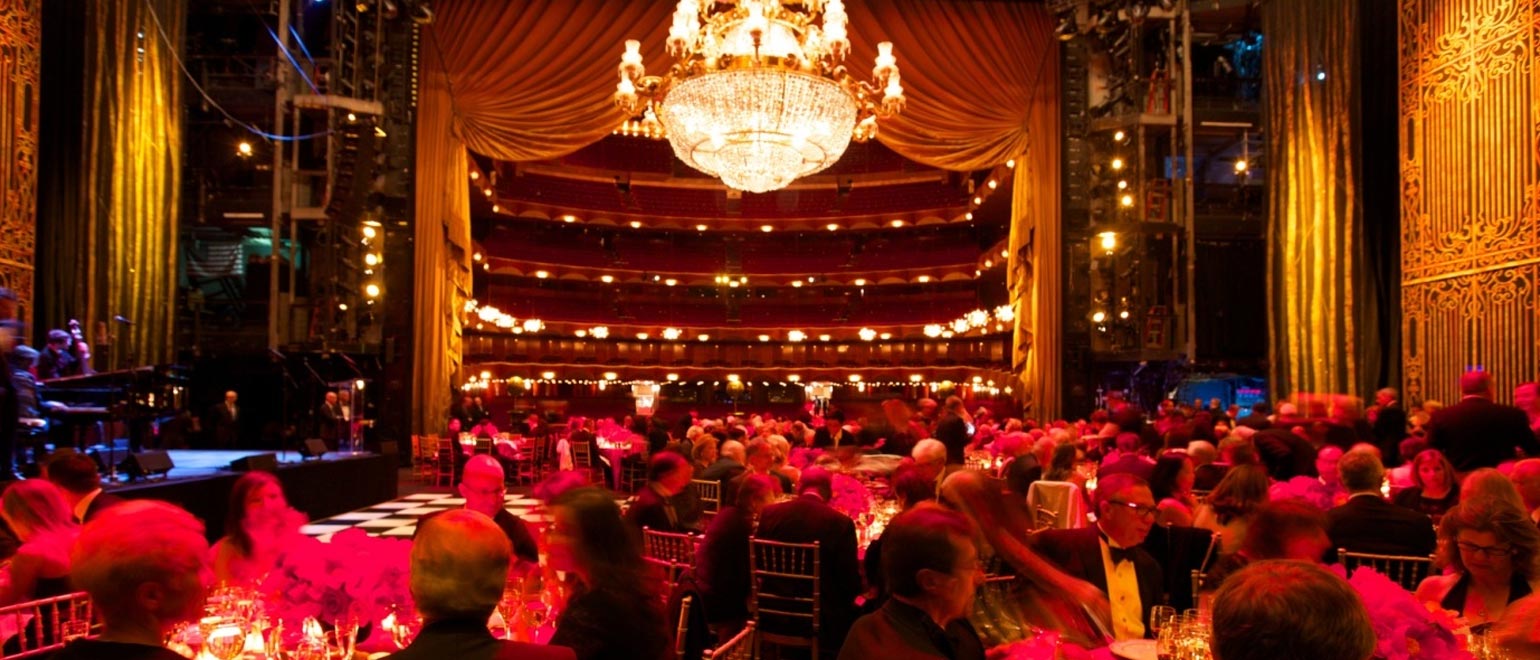 Galas & Special Events
Please join us for gala premieres and other events throughout the 2021–22 season.
For more information, please call 212-362-6000.
Terence Blanchard's
Fire Shut Up in My Bones

Opening Night Gala
Monday, September 27, 2021    6:30PM ET
Opening night of the 2021–22 season—marking both the re-opening of the Met following the pandemic closure and the first performance by the Met of an opera by a Black composer—will be a truly historic occasion. Gala Chairman Sheila C. Johnson invites you to celebrate the landmark event with a post-performance dinner with with the stars, including maestro Yannick Nézet-Séguin, baritone Will Liverman, and sopranos Angel Blue and Latonia Moore.
An opera by Terence Blanchard
Based on the book by Charles M. Blow
Libretto by Kasi Lemmons
Commissioned by the Metropolitan Opera.
Originally commissioned by Opera Theatre of Saint Louis, co-commissioned by Jazz St. Louis.
A co-production of the Metropolitan Opera, LA Opera, and Lyric Opera of Chicago
Production a gift of The Ford Foundation and the Francis Goelet Trusts
Additional funding from The Joan Ganz Cooney and Holly Peterson Fund
Purchase Gala Tickets
5PM

House Opens

6:30PM

Performance

Post Performance

Gala Dinner with the Cast

Black Tie
Opening Night Gala Committee
Gala Chairman
Sheila C. Johnson

Gala Co-Chairmen
C. Graham Berwind, III
Betsy and Ed Cohen
Jeanette Lerman-Neubauer and Joseph Neubauer
Dr. Frayda B. Lindemann
Ann Ziff
Gala Vice Chairmen
Mr. and Mrs. John B. Hess


Principal Benefactors
Agnes Gund
Prime Benefactors
Bloomberg Philanthropies
Frank P. Diassi
Rolex
Mr. and Mrs. Benjamin M. Rosen

Benefactors
Sarah Arison
Marlene Hess and James D. Zirin
Christian Keesee
Dr. David G. Knott and Ms. Françoise Girard
So-Chung Shinn Lee and Tony W. Lee
Andrew J. Martin-Weber
Linda Mirels
Matthew Christopher Pietras
Eva and Marc Stern
Ambassador and Mrs. Nicholas Taubman
Regina and Gregory Annenberg Weingarten
Principal Sponsors
Virginia and Randall Barbato
John Howard
Franci Neely
Leclare Ratterree III and Elizabeth R. Rea
Henry Tirri
Barbara Tober
Prime Sponsors
Tom Roush and LaVon Kellner
C. William Tanzi
Douglas Dockery Thomas
Sponsors
Dan Algrant and Emma Sheanhang
Ellen S. Berelson
Noreen and Kenneth Buckfire
Ursula M. Burns
The Reverend Sarah Buxton-Smith
Susan Esco Chandler and Alfred D. Chandler
David Chou
Carol E. Domina
Dr. Ana M. Franceschi
David J. Francis
Kathleen T. Francis
Hermione Foundation, Laura Sloate, Trustee
Judith M. Hoffman
Chevis Horne and Dr. Jan Kennaugh
Dominique Laffont
Ms. Lenora L. Larson
Mark Loewen
Dr. Pamela Marron
Matthew and Julie McAskin
Joel Robert Melamed MD
Mr. and Mrs. Richard J. Miller, Jr
.Thomas J. Moloney and Molly K. Heines
Rebecca and Jim Neary
Jennifer Neil
Yasuko Noguchi and George Shelden
Mr. Yves Pfeiller and Mr. Arthur Hung
Wendell Pierce
Leah Prestamo
Mark H. Rosenberg
Oana Ruxandra
Shubhani Sarkar
Dennis Stattman & Beth Grosshans
Mr. and Mrs. David J. Tananbaum
Wendy and George Van Amson
David Warren and Helen Lee-Warren
Marshall Watson Interiors
Louise Hartwell White
Monica Wolfson
Committee Members
The Law Offices of Kenneth R. Feinberg & Camille S. Biros
Helene Greece
Drs. Robert and Ruby Hearn
Polly and Tom Ketchum
David Kuhn
Marguerite L. Lee
Christina Wolcott McCawley
Dr. Jill McGovern
Constance V Pathy
Mr. & Mrs. Eric and Traci Rigaud
Daisy M. Soros
Mary Jo Wagandt
Kevin Woodruff
(as of September 16, 2021)
Verdi's Rigoletto

New Year's Eve Gala
Friday, December 31, 2021    6PM ET
Ring in the new year at the Met with the premiere of Bartlett Sher's bold, Art Deco–inspired new production of Verdi's timeless tragedy, starring baritone Quinn Kelsey, soprano Rosa Feola, and tenor Piotr Beczała, and conducted by Daniele Rustioni. The gala festivities include a glamorous post-performance dinner dance, followed by fireworks on the Mercedes T. Bass Grand Tier.
Production a gift of C. Graham Berwind, III – Director, Spring Point Partners LLC; Gramma Fisher Foundation, Marshalltown, Iowa; and Mr. and Mrs. Paul Montrone
Verdi's Don Carlos

Gala Premiere
Monday, February 28, 2022    6:30PM ET
Yannick Nézet-Séguin leads the very first Met performance of the original five-act French version of Verdi's grand masterpiece. A star-studded cast comes together in a gripping new production by David McVicar, including tenor Matthew Polenzani, soprano Sonya Yoncheva, mezzo-soprano Elīna Garanča, and bass Eric Owens. This epic gala evening includes a cocktail reception and dinner before the performance, and dessert during intermission.
Production a gift of †Edwin C. Holmer III, and The Sybil B. Harrington Endowment Fund
Additional support by the Hermione Foundation, Laura Sloate, Trustee
Major support provided by Rolex
Purchase Gala Tickets
4:30PM

Cocktail Reception

5:00PM

Gala Dinner

6:30PM

Performance

Intermission

Champagne and Dessert

Black Tie
Donizetti's Lucia di Lammermoor

Gala Premiere
Saturday, April 23, 2022    8PM ET
Soprano Nadine Sierra stars in the title role, alongside tenor Javier Camarena as Edgardo, for the premiere of an electrifying new staging by acclaimed Australian theater and film director Simon Stone. Join us for cocktails and dinner before the performance, and dessert at intermission.
Production a gift of the Trust of Michael Tapper, and the Rosalie Coe Weir Endowment Fund
Purchase Gala Tickets
6PM

Cocktail Reception

6:30PM

Gala Dinner

8PM

Performance

Intermission

Champagne and Dessert

Black Tie