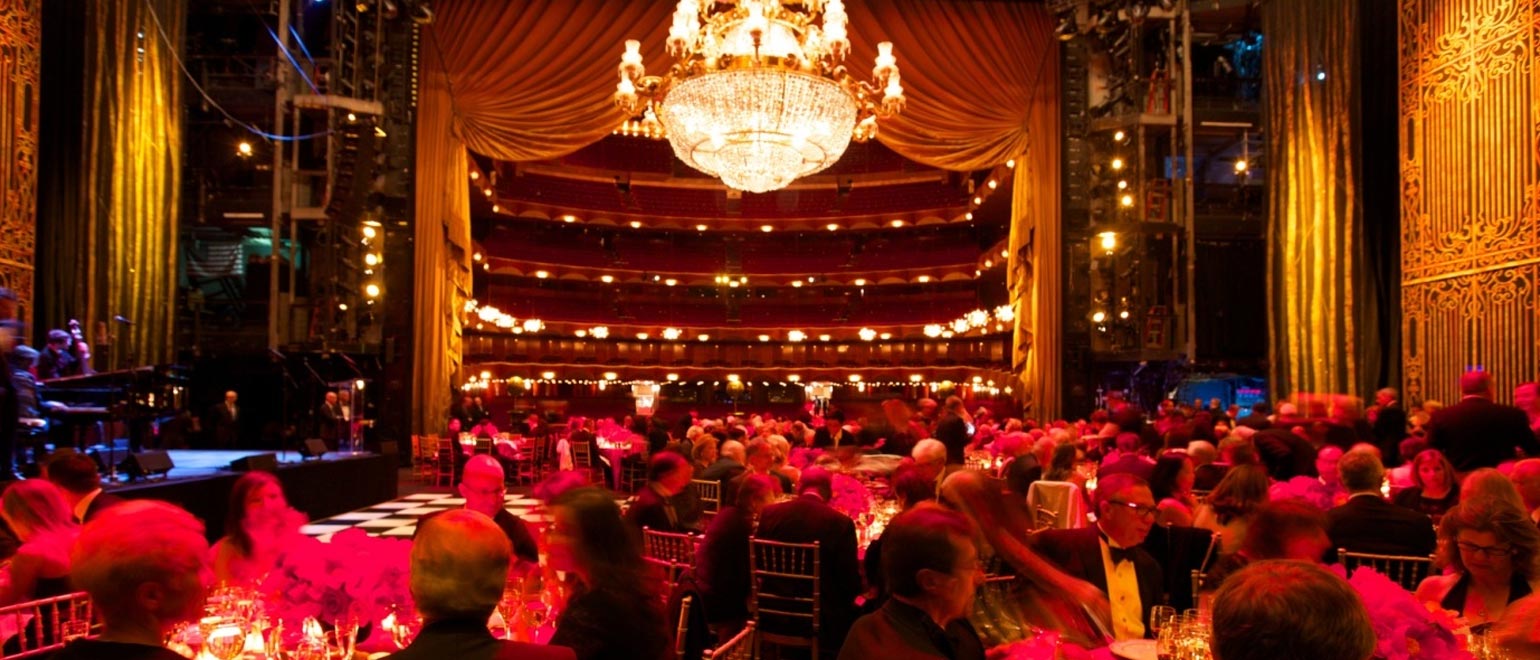 Galas & Special Events
Please join us for gala premieres and other events throughout the 2021–22 season.
For more information, please call 212.362.6000.
Verdi's Rigoletto

New Year's Eve Gala
Friday, December 31, 2021    6PM ET
Ring in the new year at the Met with the premiere of Bartlett Sher's bold, Art Deco–inspired new production of Verdi's timeless tragedy, starring baritone Quinn Kelsey, soprano Rosa Feola, and tenor Piotr Beczała, and conducted by Daniele Rustioni. The gala festivities include a glamorous post-performance dinner, followed by fireworks on the Mercedes T. Bass Grand Tier.
Production a gift of C. Graham Berwind, III – Director, Spring Point Partners LLC; Gramma Fisher Foundation, Marshalltown, Iowa; and Mr. and Mrs. Paul Montrone
New Year's Eve Gala Committee
Gala Chairmen
Keebler J. Straz
Ann Ziff
Honorary Chairmen
C. Graham Berwind, III
Christine F. Hunter

Principal Benefactors
Mercedes T. Bass
John C. and Sylvia M. Hughes
Benefactor
Hermione Foundation, Laura Sloate, Trustee
Principal Sponsors
Joel Robert Melamed MD and Mark David Keller
Paul J. Sekhri and Mark Duvall Gude
Prime Sponsors
Pamela and Bill Craven
Maggie Gilliam and Alfredo Triggiani
James E. Haynes
Gil Shiva
Mr. and Mrs. Jackson Tai
Douglas Dockery Thomas
Sponsors
David Chou
Saul and Ellyn Dennison
Janelle Garrett
Lawrence A. Kern
Andrew J. Martin-Weber
Kyle J. Moore
Yasuko Noguchi and George Shelden
Dr. and Mrs. Pruzansky
Laura Riordan
Tom Roush and LaVon Kellner
Bruce and Grace Stillman
Dr. and Mrs. Michael and Beth Stone
Mr. and Mrs. David J. Tananbaum
Ida Tjeknavorian
Todd and Cari Vieregg
Lawrence D. Weis
Committee Members
Joan and Hy Bloom
Dr. Raluca Dinu and Dr. Avi Katz
Joanne Lloyd
Dina and George Perry
Committee as of November 19, 2021
Verdi's Don Carlos

Gala Premiere
Monday, February 28, 2022    6:30PM ET
Yannick Nézet-Séguin leads the very first Met performance of the original five-act French version of Verdi's grand masterpiece. A star-studded cast comes together in a gripping new production by David McVicar, including tenor Matthew Polenzani, soprano Sonya Yoncheva, mezzo-soprano Elīna Garanča, and bass Eric Owens. This epic gala evening includes a cocktail reception and dinner before the performance, and dessert during intermission.
Production a gift of †Edwin C. Holmer III, and The Sybil B. Harrington Endowment Fund
Additional support by the Hermione Foundation, Laura Sloate, Trustee
Major support provided by Rolex
Purchase Gala Tickets
4:30PM

Cocktail Reception

5:00PM

Gala Dinner

6:30PM

Performance

Intermission

Champagne and Dessert

Black Tie
Donizetti's Lucia di Lammermoor

Gala Premiere
Saturday, April 23, 2022    8PM ET
Soprano Nadine Sierra stars in the title role, alongside tenor Javier Camarena as Edgardo, for the premiere of an electrifying new staging by acclaimed Australian theater and film director Simon Stone. Join us for cocktails and dinner before the performance, and dessert at intermission.
Production a gift of the Trust of Michael Tapper, and the Rosalie Coe Weir Endowment Fund
Purchase Gala Tickets
6PM

Cocktail Reception

6:30PM

Gala Dinner

8PM

Performance

Intermission

Champagne and Dessert

Black Tie