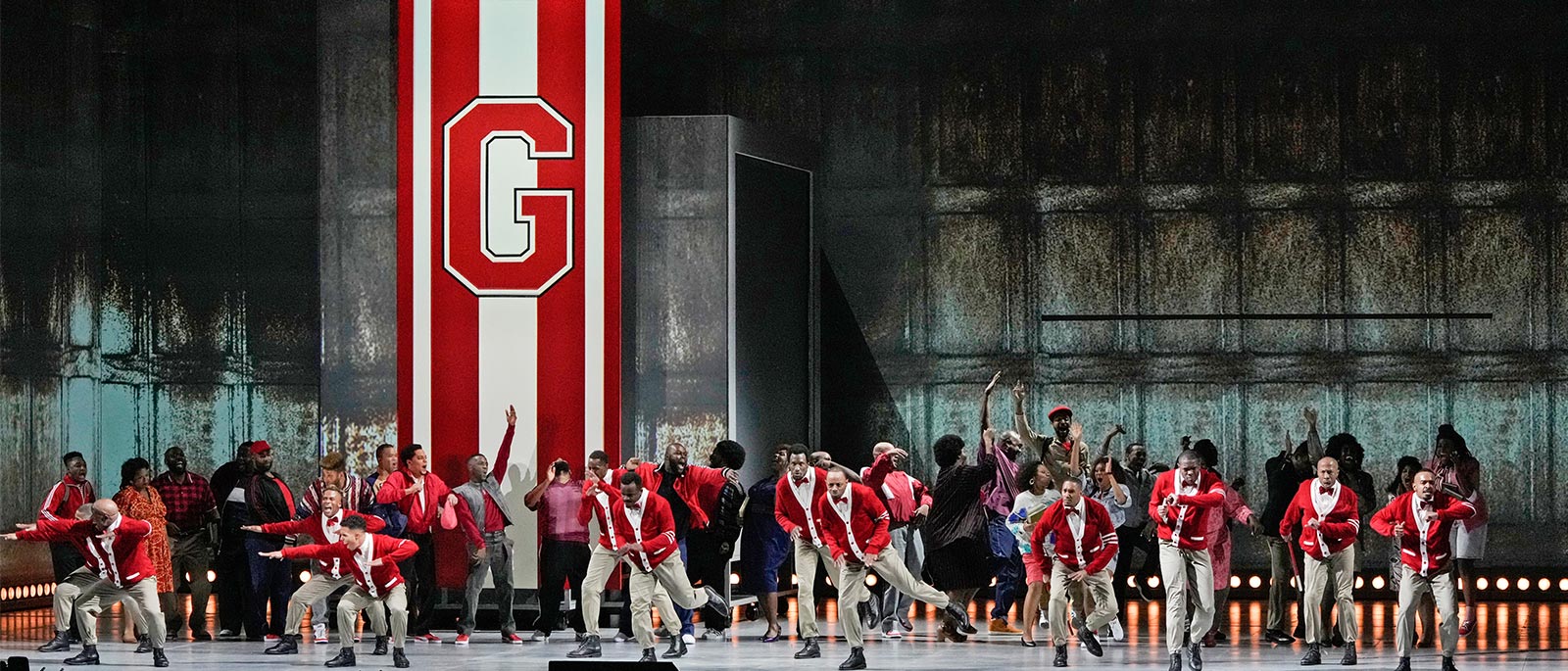 TERENCE BLANCHARD / LIBRETTO BY KASI LEMMONS
Fire Shut Up in My Bones
Overview
Terence Blanchard's stirring drama returns following its landmark company premiere in 2021, with bass-baritone Ryan Speedo Green starring as Charles, a young man faced with a fateful decision. Soprano Latonia Moore reprises her heartbreaking portrayal as Charles's mother, Billie, with rising soprano Brittany Renee doing triple duty as Charles's love interest, Greta, as well as the embodiments of Loneliness and Destiny. James Robinson and Camille A. Brown's gripping production includes what is surely the only step dance in opera. Evan Rogister conducts Blanchard's score, which powerfully melds opera and jazz.
Content Advisory: Fire Shut Up in My Bones addresses adult themes and contains some adult language.
An opera by Terence Blanchard. Based on the Book by Charles M. Blow. Libretto by Kasi Lemmons.
Commissioned by the Metropolitan Opera. Originally commissioned by Opera Theatre of Saint Louis, co-commissioned by Jazz St. Louis.
A co-production of the Metropolitan Opera, LA Opera, and Lyric Opera of Chicago
Production a gift of The Ford Foundation and the Francis Goelet Trusts
Additional support from The Joan Ganz Cooney and Holly Peterson Fund
Revival a gift of Mr. and Mrs. Austin T. Fragomen, Jr. and Mastercard
Languages
Languages sung in
Fire Shut Up in My Bones
Titles
Title languages displayed for
Fire Shut Up in My Bones
Met Titles In
Timeline
Timeline for the show,
Fire Shut Up in My Bones
Estimated Run Time
3 hrs 15 mins
House Opens

Act I

75 mins

Intermission

30 mins

Acts II and III

85 mins

Opera Ends
Cast
Select a date from the dropdown to filter cast by date of performance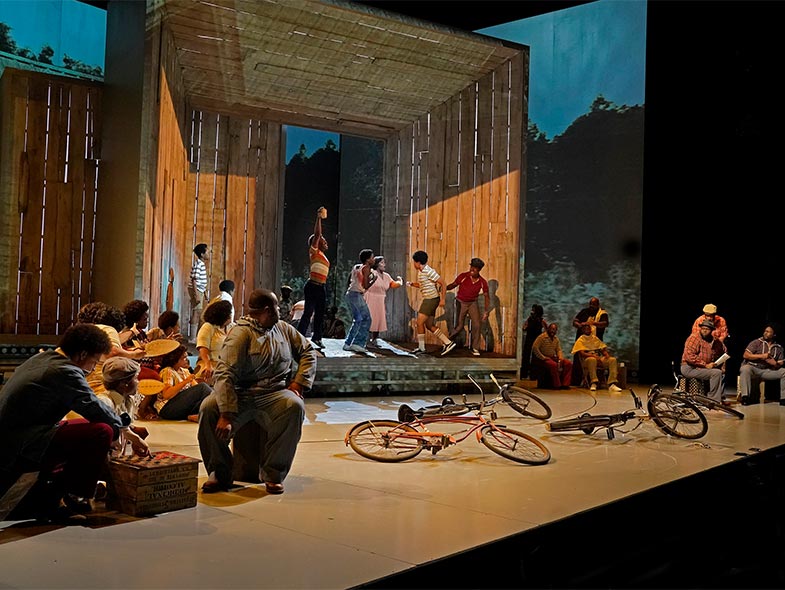 The second opera from seven-time Grammy Award–winning trumpeter and composer Terence Blanchard, Fire Shut Up in My Bones made history during the 2021–22 season as the first opera by a Black composer to be performed by the Met. But beyond this important milestone, the work itself takes audiences on a profound, often painful, musical and dramatic journey. To tell this story, Blanchard conjures a sound world that weaves together jazz and gospel idioms, probing and incisive melodies, and an intricate orchestral palette.
Creators
Terence Blanchard (b. 1962) is a celebrated composer whose many works express his roots in jazz but defy further categorization. A prolific creator in a wide variety of forms and genres, he is especially celebrated for his close collaboration with director Spike Lee and his accomplishments as an award-winning composer of more than 60 film scores. Charles M. Blow (b. 1970) is a noted journalist and commentator. He is a regularly featured op-ed columnist for The New York Times and an anchor for the Black News Channel. The libretto for Fire Shut Up in My Bones marks the first foray into opera for Kasi Lemmons (b. 1961), a noted writer, actress, and director.
Co-Directors
James Robinson and Camille A. Brown
Costume Designer
Paul Tazewell
Lighting Designer
Christopher Akerlind
Projection Designer
Greg Emetaz
Choreographer
Camille A. Brown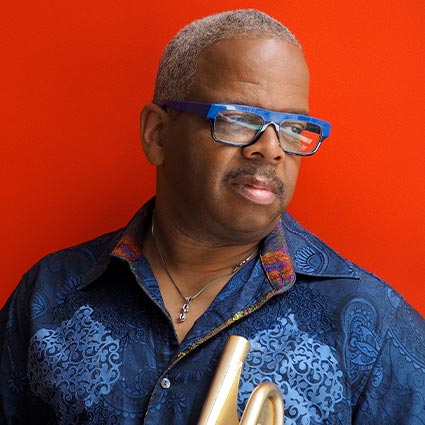 Composer
Terence Blanchard
Setting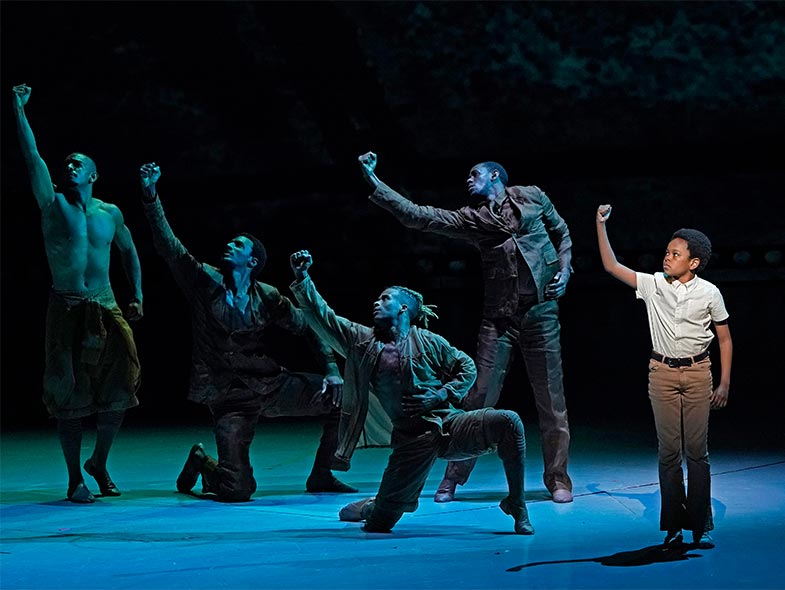 The opera takes place in and around the small and poor town of Gibsland, in northwestern Louisiana, as well as at Blow's alma mater, Grambling State University. The time ranges from Charles's childhood in the 1970s to his adulthood in the 1990s.
Music
Both grounded in the classical idiom and deeply steeped in the form-defying jazz that has been central to Blanchard's output, Fire Shut Up in My Bones does not fit perfectly into any single category. The vocal writing parallels this path, composed for singers with the power of traditional classical training but also requiring a comfort level with the methods of jazz and gospel singing. Charles's soliloquys, musicalized internal monologues that give voice to the character's epic psychological journey to self-acceptance, are prime examples of the score's demands on the performer's skills in several diverse genres at once.