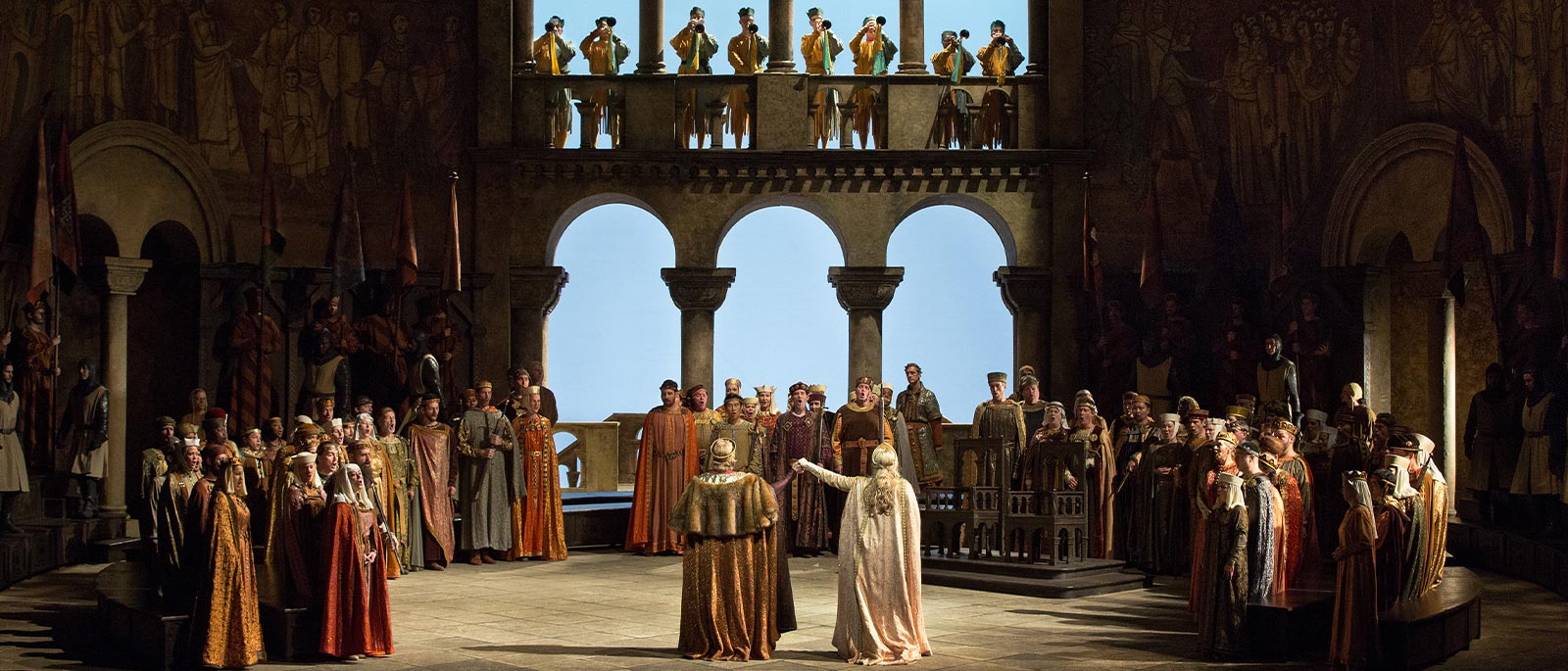 Richard Wagner
Tannhäuser
Overview
Following his heroic performance as Siegfried in the Met's 2019 Ring cycle, dashing Austrian tenor Andreas Schager returns as the knight Tannhäuser in Wagner's ravishing opera of love, lust, and redemption. Soprano Elza van den Heever is the pure and virtuous princess Elisabeth, alongside mezzo-soprano Ekaterina Gubanova as the tempting goddess of love, Venus. Maestro Donald Runnicles takes the podium for Otto Schenk's classic production, which also features baritone Christian Gerhaher in his Met debut as Tannhäuser's companion knight Wolfram and bass Georg Zeppenfeld as Landgraf Hermann.
Production a gift of The Fan Fox and Leslie R. Samuels Foundation and the Metropolitan Opera Guild
Revival a gift of the Metropolitan Opera Club
Languages
Languages sung in
Tannhäuser
Titles
Title languages displayed for
Tannhäuser
Met Titles In
Timeline
Timeline for the show,
Tannhäuser
Estimated Run Time
4 hrs 20 mins
House Opens

Act I

70 mins

Intermission

35 mins

Act II

70 mins

Intermission

30 mins

Act III

55 mins

Opera Ends
Cast
Select a date from the dropdown to filter cast by date of performance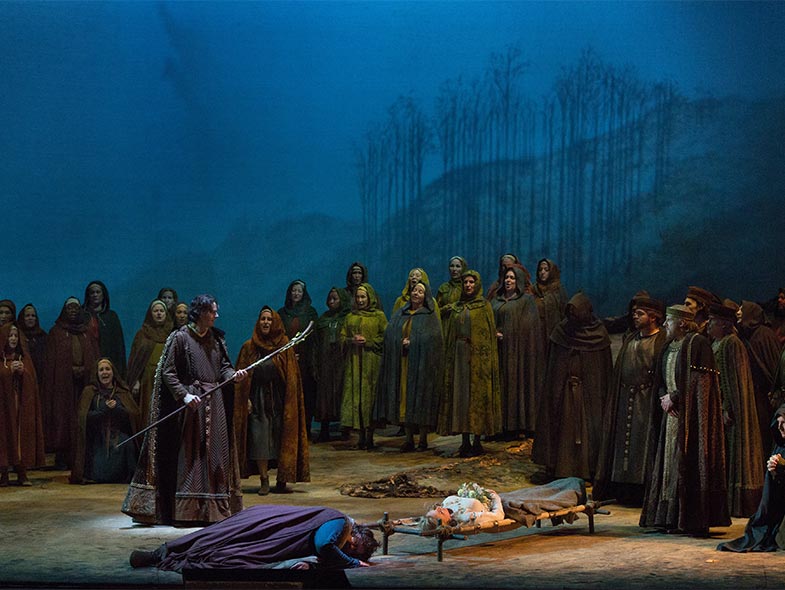 World premiere: Court Opera, Dresden, 1845. Premiere of revised version: Opéra, Paris, 1861. History, myth, and invention come together in Tannhäuser to create a unique and powerful drama. The title character was a real 13th-century Minnesinger who inspired a legend that Wagner used as the basis for the opera. He notably added the character of Elisabeth, based on the historical Saint Elisabeth of Hungary, wife of the Landgrave of Thuringia. The opera's score went through several revisions after the original performances, most importantly when Wagner added the Venusberg ballet for the 1861 French premiere.
Creators
Richard Wagner (1813–83) was the controversial creator of music-drama masterpieces that stand at the center of today's operatic repertory. An artistic revolutionary who reimagined every supposition about theater, Wagner insisted that words and music were equals in his works. This approach led to the idea of the Gesamtkunstwerk, or "total work of art," combining music, poetry, architecture, painting, and other disciplines, a notion that has had an impact on creative fields far beyond opera.
Set Designer
Günther Schneider-Siemssen
Costume Designer
Patricia Zipprodt
Lighting Designer
Gil Wechsler
Choreographer
Norbert Vesak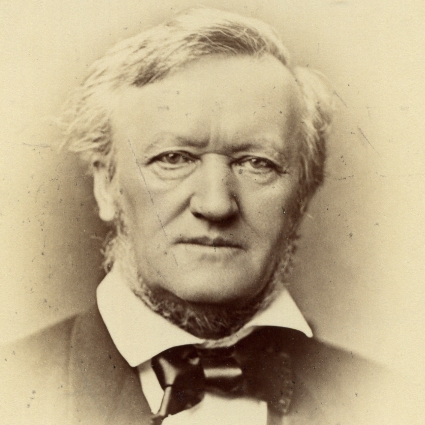 Setting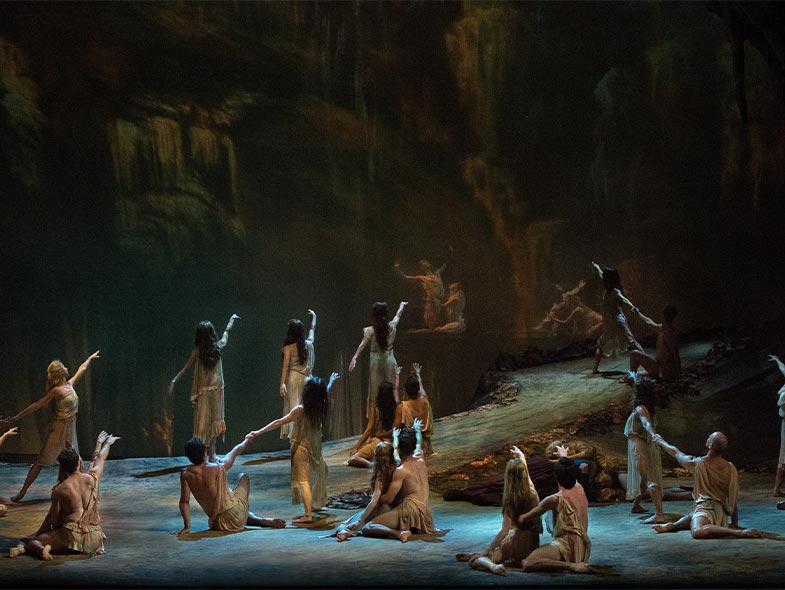 Tannhäuser takes place in and around Wartburg Castle, in Thuringia in central Germany, and in the mythical grotto of Venus, the goddess of love. Wartburg was the setting of a—possibly legendary—13th-century song contest as well as the home of Saint Elisabeth of Hungary (1207–31), wife of the Landgrave of Thuringia. It would later become associated with Martin Luther, who translated the New Testament from Greek into German there. The pagan-Christian dichotomy expressed in the twofold setting is central to the opera's dramatic core.
Music
Much of the score of Tannhäuser belongs to the tradition of Romantic opera that Wagner developed and transcended over the following decades to arrive at the new operatic aesthetic of his mature music dramas. In Tannhäuser, he expands mid–19th-century models of melody, harmony, and form to take his music to unprecedented expressive heights, both in the vocal and orchestral writing. The title character's dramatic narrative in Act III, which abandons conventional melody in favor of a speech-based structure, directly points towards Wagner's later works and remains striking in its modernity.