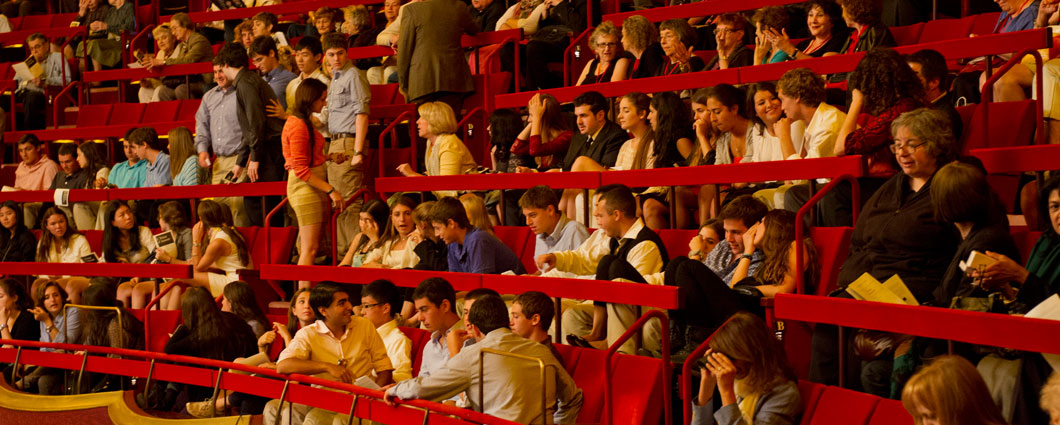 Support Met Students
The Met Students program offers discounted tickets for full-time college and graduate students worldwide.
Met Students is a popular initiative for full-time college and graduate students, offering participants discounted tickets, invitations to artist lectures, and the opportunity to mingle with other young opera lovers at special pre-performance events. Today, the program has more than 17,000 members from over 1,000 universities in 48 countries. Schools represented range from Yale University, Baruch College, and Cornell; to UCLA, Florida State, and the University of Texas in the United States; and international institutions such as the Universität Zürich, University of São Paolo, University of Toronto, University of Puerto Rico, and École des Ponts ParisTech.
Please make a fully tax-deductible gift to support this vital program today.
*$99.99 of each Met Opera Virtual Membership Duet subscribes you to a 12-month Met Opera on Demand subscription at the member price and is renewable at this price if you maintain your Guild membership at the $150 Guild Supporting level or above. The remainder amount constitutes your membership and is tax deductible to the extent allowed by law. The estimated value of goods and services at the Guild Supporting and Guild Donor levels is $25 and $50 at the Guild Sponsor level. Membership contributions are non-refundable. This offer does not apply to current MOoD subscribers and cannot be added to subscriptions set up through Apple, Amazon, or Roku In-App Purchase. Please call Customer Care at 212.362.6000, if you have any questions.