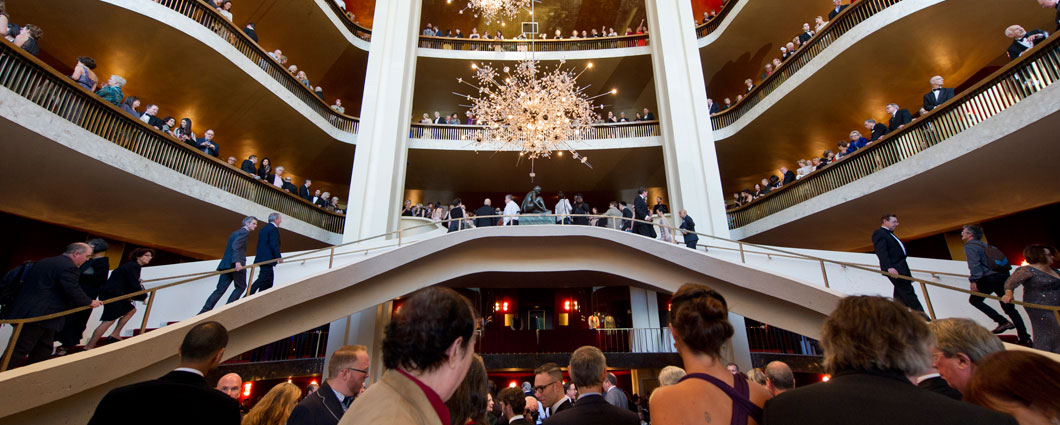 Support Met Rush Tickets
The Met's Rush Tickets program makes select Orchestra and Grand Tier seats available for performances Monday through Saturday for only $25.
The popular Rush Tickets program was initiated in 2006 by the late Dr. Agnes Varis and her husband, Karl Leichtman. The program offers more than 14,000 Orchestra and Grand Tier seats at drastically reduced prices—$25 for all performances. Additionally, if tickets remain unsold on the date of the performance, the box office will be able to add them to the daily allocation. Despite the substantial loss of funding upon Dr. Varis's death in 2011, the Met continues to offer the Rush Tickets Program due to its importance as an accessibility initiative. Tickets are allocated through an online lottery system (rather than an in-person line at the box office), making it possible for anyone to win Rush Tickets.
To make a fully tax-deductible gift to support this vital program today, please call 212.870.4181.For more information about purchasing Rush Tickets, click here or call 212.362.6000.
Contact Us
Rush Ticket Support
Development Office
The Metropolitan Opera
30 Lincoln Center
New York, NY 10023

Disclaimer
Contributions to the Met's Rush Tickets program do not confer benefits or privileges and are fully tax-deductible. To learn about priority ticketing and other benefits of the Patron and Guild Membership programs, please visit the membership section of this web site.