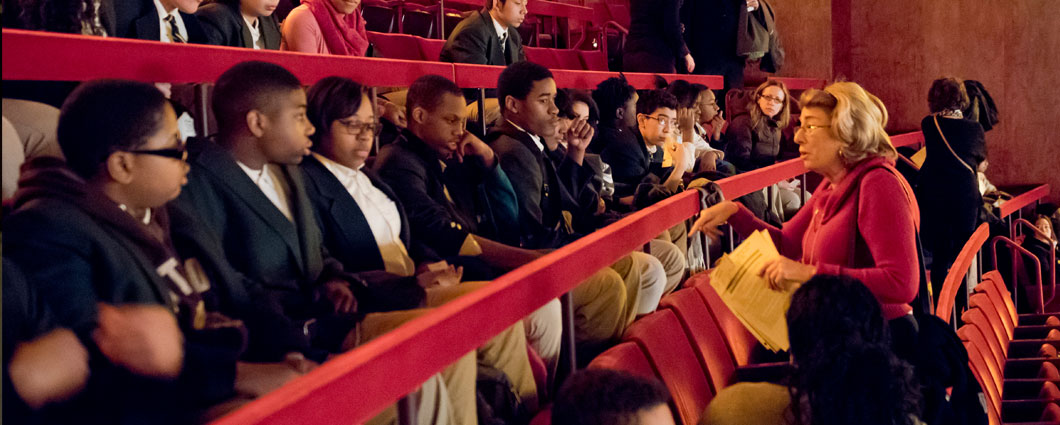 Support HD Live in Schools
Since its inception, the Met's HD Live in Schools program has enriched the lives of nearly 160,000 students and teachers in New York City and across the United States.
With the success of the award-winning Live in HD series—featuring live performance presentations in movie theaters worldwide—the Met recognized a unique opportunity to bring world-class opera to students with limited opportunities for cultural engagement. In partnership with the New York City Department of Education, the HD Live in Schools program was introduced in New York City public schools in 2007, expanding nationally in 2008. The program currently serves 15,000 students each year, representing 53 school districts across 40 states, with new partner districts in Sioux City, IA; Bloomington, IN; Nashville, IN; Bedford, IN; Pittsburgh, PA; and South Burlington, VT. By providing direct access to these presentations, complemented by extensive teacher training, curriculum enrichment materials, and rare opportunities to interact with opera's greatest stars, the Met is committed to introducing opera to students across the country, seeking to ignite a lifelong passion for the classical arts.
Your fully tax-deductible contribution will help fund free HD tickets for students and teachers across the country and provide pre- and post-performance educator materials, including guides, sound clips, and other student activities, to make this an experience many will remember forever. Please make a gift to support this vital program today.
Contact Us
HD Live in Schools Support
Development Office
The Metropolitan Opera
30 Lincoln Center
New York, NY 10023
1-212-870-4181
Disclaimer
Contributions to HD Live in Schools do not confer benefits or privileges and are fully tax-deductible. To learn about priority ticketing and other benefits of the Patron and Guild Membership programs, please visit the membership section of this web site.