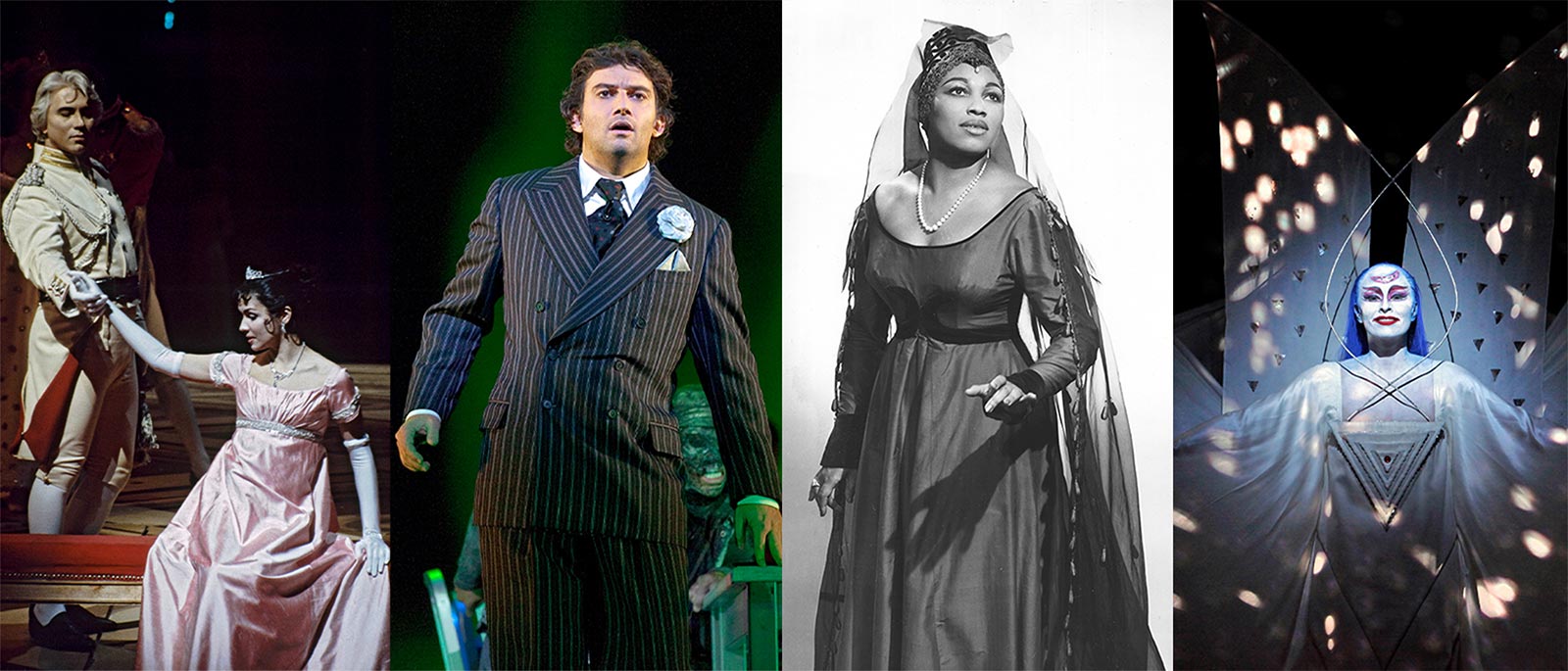 Launched in 1931, the Met's Saturday Matinee Broadcasts are the longest-running classical radio series in American broadcast history. That rich tradition continues unbroken in the 2020–21 season with an expanded schedule of encore broadcasts selected from the company's audio archives and aired over the Toll Brothers–Metropolitan Opera International Radio Network.
Beginning December 5, 2020, and continuing for 27 consecutive Saturdays, listeners can tune in to hear the world's greatest opera stars in exhilarating performances originally broadcast live from the Met stage. Highlights include beloved operas by Puccini, Verdi, and Mozart; dazzling bel canto works; and rarely heard operas by Prokofiev, Strauss, and Philip Glass. Remarkable moments from recent and past seasons include the radio broadcast debuts of Anna Netrebko, Leontyne Price, and Franco Corelli, as well as Renée Fleming's final bow as Strauss's Marschallin. Host Mary Jo Heath and commentator Ira Siff return with insightful commentary and intermission features, including interviews with Met stars.
This season, listeners were invited to vote for the historic broadcast they most wanted to hear for the Met's first-ever "Listeners' Choice." The winner is Donizetti's Lucia di Lammermoor starring Maria Callas, a performance from 1956 and her only Met broadcast. It airs on Saturday, February 6, 2021.
For more information about ways to enjoy listening to the Met, please visit metopera.org/radio.

TOLL BROTHERS–METROPOLITAN OPERA
INTERNATIONAL RADIO NETWORK
2020-21 SATURDAY MATINEE BROADCAST SEASON
All broadcasts at 1 PM Eastern Time
December 5, 2020
Prokofiev's War and Peace
Performance from March 2, 2002
Valery Gergiev; Anna Netrebko (Natasha Rostova), Ekaterina Semenchuk (Sonya), Elena Obraztsova (Mme. Akhrosimova), Gegam Grigorian (Count Pierre Bezukhov), Dmitri Hvorostovsky (Prince Andrei), Vassily Gerello (Napoleon Bonaparte), Samuel Ramey (Field Marshal Kutuzov)
December 12
Beethoven's Fidelio
Performance from April 1, 2017
Sebastian Weigle; Adrianne Pieczonka (Leonore), Hanna-Elisabeth Müller (Marzelline), Klaus Florian Vogt (Florestan), David Portillo (Jaquino), Greer Grimsley (Don Pizarro), Falk Struckmann (Rocco), Günther Groissböck (Don Fernando)
December 19
Humperdinck's Hansel and Gretel
Performance from January 6, 2018
Donald Runnicles; Lisette Oropesa (Gretel), Tara Erraught (Hansel), Dolora Zajick (Gertrude), Gerhard Siegel (Witch), Quinn Kelsey (Peter)
December 26
Mozart's The Magic Flute – abridged English-language version
Performance from December 21, 2010
Erik Nielsen; Susanna Phillips (Pamina), Erika Miklósa (Queen of the Night), Russell Thomas (Tamino), Alan Oke (Monostatos), Nathan Gunn (Papageno), Morris Robinson (Sarastro)
January 2, 2021
Philip Glass's Satyagraha
Performance from November 19, 2011
Dante Anzolini; Rachelle Durkin (Miss Schlesen), Richard Croft (M. K. Gandhi), Kim Josephson (Mr. Kallenbach), Alfred Walker (Parsi Rustomji)
January 9
Rossini's Il Barbiere di Siviglia
Performance from April 26, 2007
Maurizio Benini; Joyce DiDonato (Rosina), Claudia Waite (Berta), Lawrence Brownlee (Count Almaviva), Russell Braun (Figaro), John Del Carlo (Dr. Bartolo), Samuel Ramey (Don Basilio)
January 16
Verdi's La Traviata
Performance from January 18, 2020
Karel Mark Chichon; Aleksandra Kurzak (Violetta Valéry), Dmytro Popov (Alfredo Germont), Quinn Kelsey (Giorgio Germont)
January 23
Verdi's Il Trovatore
Performance from February 4, 1961
Fausto Cleva; Leontyne Price (Leonora), Irene Dalis (Azucena), Franco Corelli (Manrico), Mario Sereni (di Luna), William Wilderman (Ferrando)
January 30
Gounod's Faust
Performance from December 10, 2011
Yannick Nézet-Séguin; Marina Poplavskaya (Marguerite), Michèle Losier (Siebel), Jonas Kaufmann (Faust), Russell Braun (Valentin), René Pape (Méphistophélès)
February 6
Listeners' Choice: Donizetti's Lucia di Lammermoor
Performance from December 8, 1956
Fausto Cleva; Maria Callas (Lucia), Giuseppe Campora (Edgardo), Enzo Sordello (Enrico), Nicola Moscona (Raimondo)
February 13
Massenet's Cendrillon
Performance from April 28, 2018
Bertrand de Billy; Kathleen Kim (La Fée), Joyce DiDonato (Cendrillon), Alice Coote (Le Prince Charmant), Stephanie Blythe (Madame de la Haltière), Laurent Naouri (Pandolfe)
February 20
Puccini's La Rondine
Performance from January 10, 2009
Marco Armiliato; Angela Gheorghiu (Magda), Lisette Oropesa (Lisette), Roberto Alagna (Ruggero), Marius Brenciu (Prunier), Samuel Ramey (Rambaldo)
February 27
Strauss's Der Rosenkavalier
Performance from May 13, 2017
Sebastian Weigle; Renée Fleming (Marschallin), Elīna Garanča (Octavian), Erin Morley (Sophie), Helene Schneiderman (Annina), Matthew Polenzani (A Singer), Alan Oke (Valzacchi), Markus Brück (Faninal), Günther Groissböck (Baron Ochs)
March 6
Bizet's Carmen
Performance from November 1, 2014
Pablo Heras-Casado; Anita Hartig (Micaëla), Anita Rachvelishvili (Carmen), Aleksandrs Antonenko (Don José), Ildar Abdrazakov (Escamillo)
March 13
Mozart's Le Nozze di Figaro
Performance from January 10, 2018
Harry Bicket; Ailyn Pérez (Countess), Nadine Sierra (Susanna), Isabel Leonard (Cherubino), Katarina Leoson (Marcellina), Mariusz Kwiecien (Count), Ildar Abdrazakov (Figaro), Maurizio Muraro (Dr. Bartolo)
March 20
Rossini's Le Comte Ory
Performance from February 2, 2013
Maurizio Benini; Pretty Yende (Countess Adèle), Karine Deshayes (Isolier), Susanne Resmark (Ragonde), Juan Diego Flórez (Count Ory), Nathan Gunn (Raimbaud), Nicola Ulivieri (Tutor)
March 27
Mozart's Don Giovanni
Performance from March 10, 2012
Andrew Davis; Marina Rebeka (Donna Anna), Ellie Dehn (Donna Elvira), Isabel Leonard (Zerlina), Matthew Polenzani (Don Ottavio), Gerald Finley (Don Giovanni), Bryn Terfel (Leporello), Shenyang (Masetto), James Morris (Commendatore)
April 3
Dvořák's Rusalka
Performance from February 8, 2014
Yannick Nézet-Séguin; Renée Fleming (Rusalka), Emily Magee (Foreign Princess), Dolora Zajick (Ježibaba), Piotr Beczała (Prince), John Relyea (Water Gnome)
April 10
Puccini's La Bohème
Performance from October 2, 2017
Alexander Soddy; Angel Blue (Mimì), Brigitte Kele (Musetta), Dmytro Popov (Rodolfo), Lucas Meachem (Marcello), Duncan Rock (Schaunard), David Soar (Colline), Paul Plishka (Benoit/Alcindoro)
April 17
Janáček's From the House of the Dead
Performance from December 2, 2009
Esa-Pekka Salonen, Stefan Margita (Filka Morozov/Kuzmich), Eric Stoklossa (Alyeya), Peter Mattei (Shishkov), Willard White (Gorianchikov)
April 24
Strauss's Die Frau ohne Schatten
Performance from November 26, 2013
Vladimir Jurowski; Anne Schwanewilms (Empress), Christine Goerke (Dyer's Wife), Ildikó Komlósi (Nurse), Torsten Kerl (Emperor), Johan Reuter (Barak), Richard Paul Fink (Messenger)
May 1
Donizetti's Roberto Devereux
Performance from April 16, 2016
Maurizio Benini; Sondra Radvanovsky (Elisabetta), Elīna Garanča (Sara), Matthew Polenzani (Roberto), Mariusz Kwiecien (Duke of Nottingham)
May 8
Anna Netrebko Puccini Gala
Performance from December 31, 2019
Yannick Nézet-Séguin; LA BOHÈME, ACT I: Anna Netrebko (Mimì), Matthew Polenzani (Rodolfo), Quinn Kelsey (Marcello), Davide Luciano (Schaunard), Christian Van Horn (Colline), Arthur Woodley (Benoit); TOSCA, ACT I: Anna Netrebko (Tosca), Yusif Eyvazov (Cavaradossi), Evgeny Nikitin (Scarpia), Patrick Carfizzi (Sacristan); TURANDOT, ACT II: Anna Netrebko (Turandot), Yusif Eyvazov (Calàf)
May 15
Wagner's Tristan und Isolde
Performance from October 8, 2016
Simon Rattle; Nina Stemme (Isolde), Ekaterina Gubanova (Brangäne), Stuart Skelton (Tristan), Evgeny Nikitin (Kurwenal), René Pape (King Marke)
May 22
Bellini's I Puritani
Performance from February 18, 2017
Maurizio Benini; Diana Damrau (Elvira Walton), Javier Camarena (Lord Arturo Talbot), Alexey Markov (Riccardo Forth), Luca Pisaroni (Giorgio Walton)
May 29
Verdi's Otello
Performance from October 17, 2015
Yannick Nézet-Séguin; Sonya Yoncheva (Desdemona), Aleksandrs Antonenko (Otello), Dimitri Pittas (Cassio), Željko Lučić (Iago), Günther Groissböck (Lodovico)
June 5
Britten's Billy Budd
Performance from March 8, 1997
Steuart Bedford; Philip Langridge (Captain Vere), Dwayne Croft (Billy Budd), James Morris (Claggart), Victor Braun (Mr. Redburn), Julien Robbins (Lt. Ratcliffe), James Courtney (Mr. Flint), Paul Plishka (Dansker)