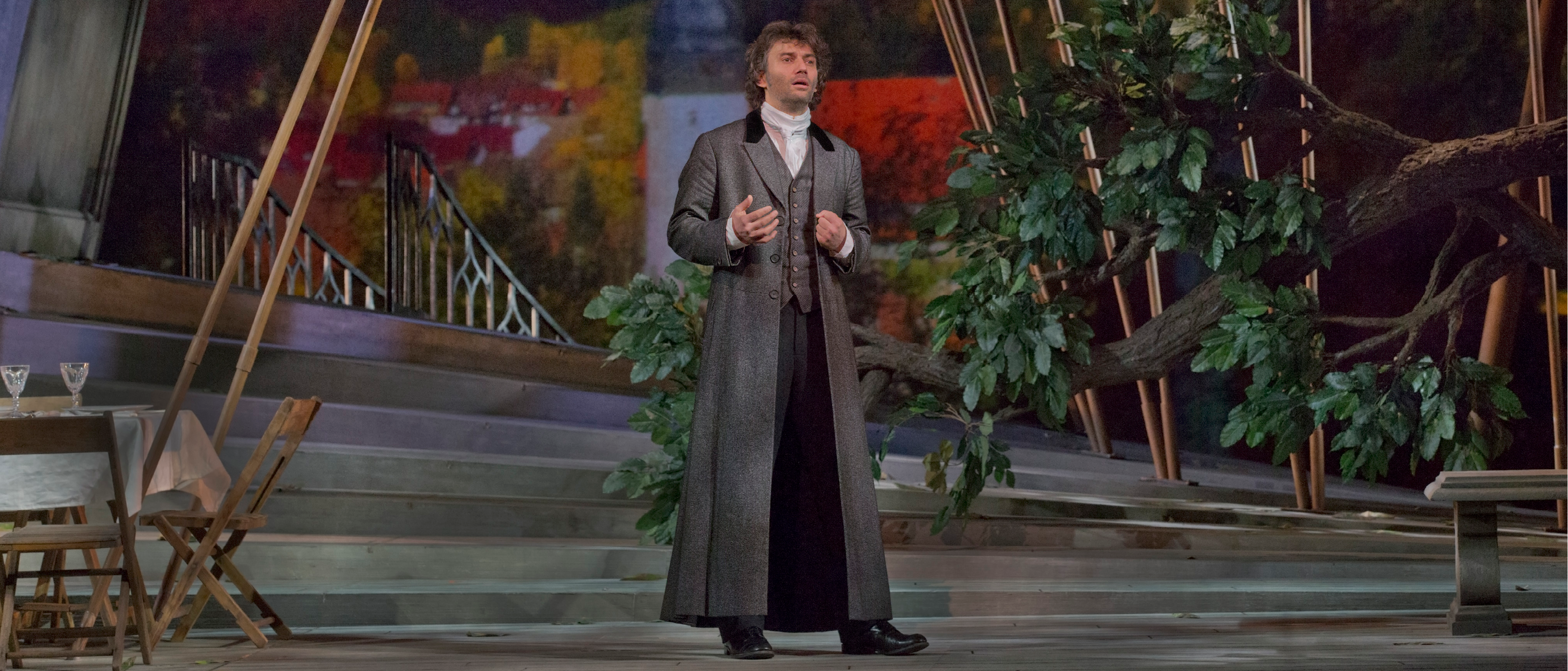 Werther
An opera in four acts, sung in French
Music by Jules Massenet
Libretto by Édouard Blau, Paul Milliet, and Georges Hartmann
Based on The Sorrows of Young Werther by Johann Wolfgang von Goethe
The Story
PRELUDE
While singing Christmas carols with her children, a mother suddenly collapses and dies. Her heartbroken family buries her in the frozen ground. Winter melts into spring, and still the family grieves.
ACT I The Bailiff's house, early July
The newly widowed Bailiff is, oddly, rehearsing a Christmas carol with his young children on a warm summer evening. Since the death of his wife, his eldest daughter, Charlotte, has been looking after the family. Two of his drinking friends stop by and discuss the young poet Werther, who is to escort Charlotte to a ball that evening. They also ask about Charlotte's absent fiancé, Albert.
After the family disappears into their house, Werther appears. Looking around him, he reflects on the beauty of nature, which seems to him full of hope and possibility. Charlotte returns, dressed for the ball. She gives her younger siblings a treat and leaves them in the care of Sophie, her 15-year-old sister. Werther watches. He is deeply touched by the idyllic scene.
Werther and Charlotte leave for the ball, and the Bailiff sets off to join his friends at the inn. Sophie remains alone as night falls. When Albert suddenly appears, Sophie is surprised: He has been gone a long time, and he told no one that he was planning to return home. Sophie and Albert talk happily of his planned marriage to Charlotte, which can finally take place now that he has returned.
Charlotte and Werther dance at the ball. Each feels a remarkably strong connection to the other. When they return to the Bailiff's house, Werther praises Charlotte's beauty and devotion to her family. Werther passionately declares his love for her, and they are about to kiss when the Bailiff calls out from the house that Albert is back. The spell is broken. Charlotte tearfully tells Werther that she promised her mother she would marry Albert. She cannot dishonor her mother's memory by breaking the engagement. Werther is devastated by this news.
ACT II A grove of linden trees, late September
The town prepares for a party for the pastor's 50th wedding anniversary. Charlotte and Albert have already been married for three months. Werther has maintained a friendship with the couple, but he is tormented by the idea that Charlotte is married to another man. To Werther's surprise, Albert seems to understand what he is going through, and in a moment of candor he tells Werther that he, too, would find it unbearable if he lost Charlotte. Werther assures Albert that he thinks of Charlotte only as a friend.
Sophie enters and happily invites Werther to dance that evening at the party, but Werther, brooding on a garden bench, avoids her overtures of friendship. When Charlotte appears, however, he cannot prevent himself from recalling their first meeting. It is clear that Werther still loves her. Charlotte reminds him that she is now married. For both of their sakes, she says, he must leave town and not return until Christmas. Charlotte quickly departs.
Left alone, Werther thinks about the one sure way of ending his suffering: suicide. Sophie returns to invite him to the festivities, but he brusquely replies that he is departing forever and rushes off, leaving her in tears. When Sophie tells her family that Werther has left, Albert realizes that Werther is still in love with Charlotte. The celebration for the wedding anniversary begins.
ACT III Charlotte and Albert's house, Christmas Eve
Alone in her library, Charlotte obsessively reads Werther's letters, admitting to herself that she loves him as much as he loves her. Sophie arrives and tries to cheer her up, but Charlotte is inconsolable.
Suddenly Werther appears, utterly desolate. He tells Charlotte that he's still in love with her, and he begs her to admit that she loves him. But as his pleas turn to threats, Charlotte becomes increasingly terrified, torn between her love for Werther and her fear of him. When Werther kisses Charlotte, she panics and runs from the room, swearing that they will never meet again. Werther replies that, for him, this is a death sentence.
Albert returns home. He knows that Werther is in town, and he asks Charlotte if she plans to see him. Then the servant hands him a note from Werther asking to borrow Albert's pistols. Charlotte fears that Werther is going to use the guns to kill himself, but Albert orders his wife to hand them over. As soon as Albert leaves the room, Charlotte rushes off to save Werther.
INTERLUDE
Desperate to reach Werther before he kills himself, Charlotte runs through the snow to his cramped study. Werther begins to write a letter, but he soon abandons it. Taking one of Albert's pistols out of its case, he shoots himself.
ACT IV Werther's death
Charlotte arrives to find Werther mortally wounded. He asks her not to call for help, since he'd rather spend the last moments of his life enjoying her presence. She admits that she has loved him since they first met. As the children's Christmas carol is heard outside, Werther dies in Charlotte's arms.
The Source
The novel The Sorrows of Young Werther by Johann Wolfgang von Goethe
In May of 1772, the young poet Johann Wolfgang von Goethe moved to the German town of Wetzlar. Within a few years, Goethe would prove to be one of the most influential polymaths of his age, and his written output would include not only poems, plays, and novels but also works on the natural sciences, mineralogy, anatomy, physiology, optometry, and even a scientific discourse on the nature of colors. Yet in 1772, Goethe had only a few poems and a single play to his name, and he had arrived in Wetzlar with the intention of attending law school. Shortly after arriving in Wetzlar, he made the acquaintance of two local court secretaries, Christian Kestner and Karl Wilhelm Jerusalem; then, at a dance on June 9, he met Kestner's fiancée, Charlotte Buff. Goethe's friendship with Kestner and Buff would soon become uncomfortably close, and on September 11, Goethe extricated himself from the relationship by skipping town. Jerusalem, meanwhile, had gotten embroiled in his own love affair with a married woman, and in October, he shot himself. By then, however, Goethe had arrived in Koblenz, where he met a young woman with black eyes by the name of Maximiliane von La Roche. Goethe's youthful dalliances and love affairs would likely have been consigned to the dustbin of history had he not, a year and a half later, mined these experiences for his first novel, the story of a young man desperately in love with an engaged woman named Charlotte (or "Lotte") with riveting black eyes. When the hero, Werther, realizes that she will never be his, he shoots himself.
The resulting book, The Sorrows of Young Werther, is an epistolary novel, constructed as a series of letters that relate the story's development. Unlike most examples of the genre, however, Werther is not structured as a correspondence: All of the letters are written by Werther to a single individual, and Goethe includes neither responses from the addressee nor letters by (or to) any other character in the story. The result is a riveting portrayal of the hero's tortured psychological state. As Werther's love progresses, we experience—through his own voice—his agonized descent into obsession and death.