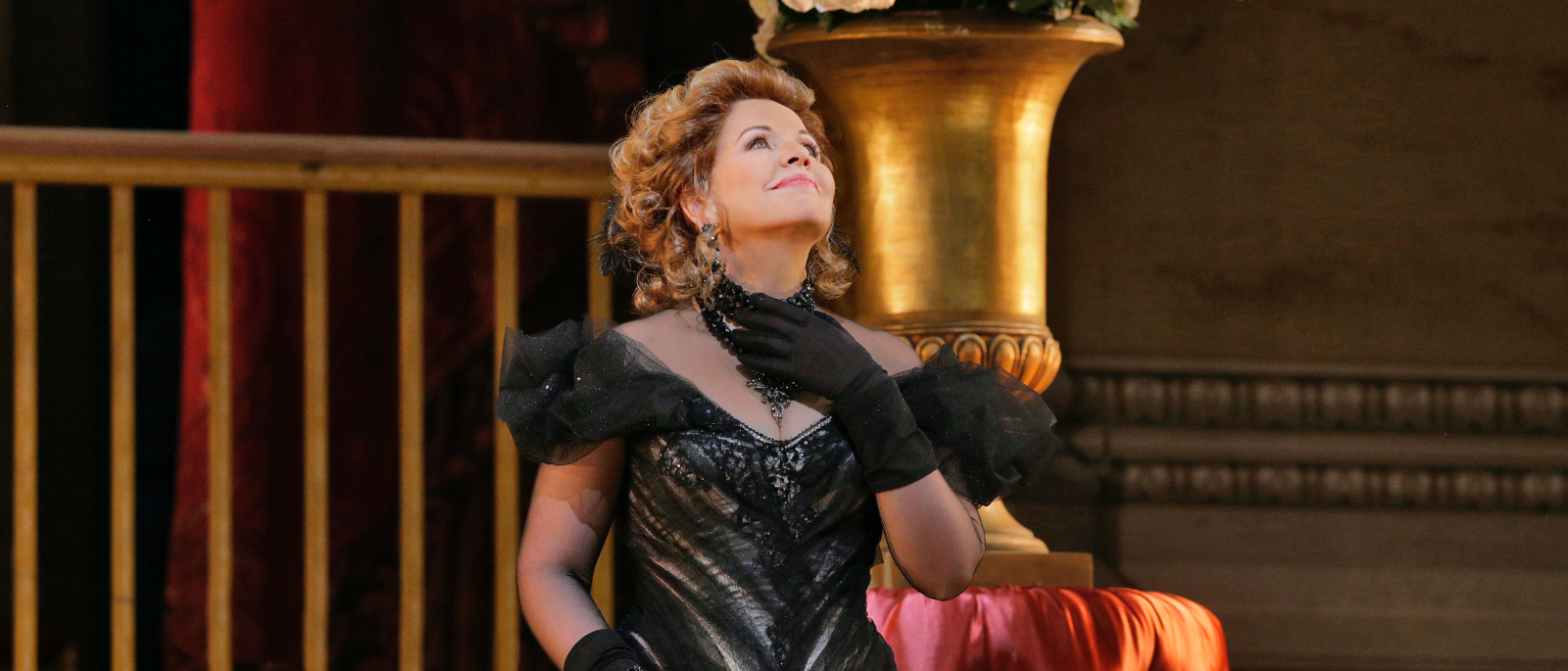 The Merry Widow
An opera in three acts, sung in English
Music by Franz Lehár
Libretto by Viktor Léon and Leo Stein, based on the play L'Attaché d'Ambassade by Henri Meilhac
English version by Jeremy Sams
The Story
ACT I Paris
In the Grand Salon of the Pontevedrian embassy, a lavish ball is taking place. Yet despite the extravagant settings, Pontevedro is nearly bankrupt, and the Pontevedrian ambassador, Baron Mirko Zeta, hopes that the ball's Parisian guests will help raise the money Pontevedro so urgently needs. He's pleased when he sees his young wife, Valencienne, flirting with Camille de Rosillon, a handsome young Frenchman, since he assumes that she's merely trying to win French support for Pontevedro. In fact, Camille and Valencienne are having an affair, and although Valencienne is concerned about maintaining her reputation as a respectable wife, Camille would rather that she spend all her time with him. Seeking to prove the depth of his feelings for Valencienne, Camille writes "I love you" on her fan.
Meanwhile, Zeta eagerly awaits the arrival of the guest of honor: Hanna Glawari, a wealthy widow from Pontevedro. Zeta is desperate to keep her from marrying a Parisian and taking her money to France. Instead, he hopes to convince her to marry a Pontevedrian (which will keep her wealth in Pontevedro), and he has just the man for the job: Danilo Danilovitch, a Pontevedrian aristocrat with an eye for pretty ladies. In the meantime, two Frenchmen, Cascada and St. Brioche, have overheard Zeta's conversation about Hanna's money and each resolved to marry her themselves. And Valencienne, hoping to distract attention from how much time she spends with Camille, has suggested that he marry Hanna, since if he is married to another woman everyone will assume that he and Valencienne are just good friends.
When Hanna arrives, the Parisian men shower her with compliments. Hanna, well aware that they are mostly interested in her money, expresses her frustration with their extravagant attentions. After she departs for the ballroom, Valencienne realizes she has lost her fan—the one with Camille's incriminating message—and rushes out to look for it.
Danilo finally arrives, fresh from a night of carousing at Maxim's, and takes a quick nap in the Grand Salon. When Hanna enters, she recognizes him immediately. It's soon revealed that they were once deeply in love, but Danilo's family, finding the farmer's daughter Hanna an unsuitable match for their aristocratic son, refused to let them marry. Now, Danilo swears that he has no interest in marriage and insists he'll never say the three little words "I love you."
In the meantime, Zeta's chief of staff, Kromow, finds Valencienne's fan and thinks it belongs to his wife, Olga. Zeta, wanting to spare Olga the scandal, convinces Kromov that the fan belongs to Valencienne. (The buffoonish Zeta has no idea that this is actually true.) When he bumps into Danilo, Zeta orders him to marry Hanna for the good of Pontevedro. Danilo replies that he will happily prevent her from marrying a Parisian man, but he refuses to marry Hanna himself. When the "ladies' choice" dance is announced, Hanna selects Danilo, and after some flirtatious bantering the two finally dance.
ACT II Hanna's villa outside Paris
The following day, Hanna hosts a garden party on her elegant villa's sprawling terrace. Danilo arrives late, and Zeta orders him to pay more attention to his mission of keeping Hanna away from the Parisian men—particularly Camille, who has been seen hanging around her. Zeta's assistant Njegus reveals that Camille is already in love with a mystery woman. Zeta wants to know who this woman is so he can get her to marry Camille, which would leave Hanna free for a Pontevedrian suitor. Certain that the fan inscribed with "I love you" belongs to the mystery woman, he orders Danilo to find its owner.
Hanna comes across the fan and, seeing its inscription, assumes it is a gift to her from Danilo. But no matter how she hints at his feelings, he refuses to admit that he loves her. As they talk, he happens to tell her about his favorite Parisian nightspot, Maxim's. Hanna is intrigued.
Zeta, meanwhile, is desperate to learn the identity of Camille's secret lover; he still has no idea that it is his own wife. Zeta, Njegus, and the other noblemen agree to meet in the pavilion of Hanna's garden to discuss the matter.
Camille and Valencienne enter the garden. Valencienne knows that her husband is searching for the fan's owner, and she is terrified of what will happen when he discovers that it belongs to her. Feeling that she has no choice but to leave Camille, she tells him that their love affair is over. Camille, heartbroken, asks her for a small memento of their time together. Just then, she sees her fan sitting on a garden bench. She adds a new inscription to the fan—"I am a respectable wife"—and gives it to Camille as a keepsake. Yet despite Valencienne's intention to actually be respectable, she and Camille decide to hide in the pavilion for one last tryst.
Zeta arrives for his meeting with the other noblemen only to find the pavilion locked. Njegus, meanwhile, has seen Valencienne and Camille together. To protect Valencienne from her jealous husband, Njegus sneaks Hanna into the pavilion to take Valencienne's place. Zeta thinks he sees his wife in the pavilion and is outraged—until Hanna emerges from the pavilion and announces that she and Camille are engaged. Danilo departs in a huff for Maxim's, which Hanna takes as proof of his love.
ACT III Maxim's
Camille and Valencienne arrive at Maxim's. They are supposed to be searching for Danilo, but soon they sneak off to enjoy one of the restaurant's private rooms instead. Zeta and the other Pontevedrians appear, and the dancing "grisettes"—now joined by a very drunk Valencienne—entertain them.
Eventually both Danilo and Hanna arrive at Maxim's. Danilo forbids her to marry her supposed fiancé, Camille. When she explains that she was merely safeguarding another woman's reputation by pretending to be engaged, Danilo is delighted, but he still can't bring himself to tell Hanna that he loves her.
As the guests reassemble, Njegus produces the missing fan, which he found in the pavilion. Zeta finally recognizes it as his wife's, declares himself divorced, and proposes to Hanna. She informs him that, according to her late husband's will, if she remarries she will lose her fortune. Hearing this, the men at the ball immediately lose any interest in marrying Hanna—all the men, that is, except Danilo, who finally declares, "I love you." After agreeing to marry her beloved Danilo, Hanna clarifies the content of her husband's will: Upon remarrying, she will lose her fortune because it will go to her new husband. Valencienne asks Zeta to read the other side of her fan, which reads "I am a respectable wife." Happily reunited, Zeta and Valencienne join Hanna and Danilo in celebrating their love.
The Source
The play L'Attaché d'Ambassade by Henri Meilhac
Across a career spanning some three and a half decades, the French playwright and librettist Henri Meilhac perfected a style of comic writing that merged biting satire, nimble parody, and good, old-fashioned fun. Bouncing effortlessly between humble mountain pastures and gilded salons, surprise reversals of fortune and shrewdly calculated encounters, tender romance and tawdry lust, Meilhac's comedies probed humanity's foibles while making their way to an inevitably celebratory dénouement. Meilhac wrote dozens of plays and librettos, and his musical collaborations have earned him an enduring place in opera history: The operettas he crafted with the composer Jacques Offenbach were blockbuster successes in their day, and his libretto for Bizet's Carmen, adapted with Ludovic Halévy from a 19th-century novel, is one of the most famous works ever written for the operatic stage. Yet among his spoken plays, only one is remembered by opera-lovers today––his razor-sharp romance L'Attaché d'Ambassade.
Written in 1861, L'Attaché d'Ambassade (The Embassy Attaché) dates from close to the beginning of Meilhac's career, yet it already includes the superbly crafted dialogue and comedic structure for which he would become known. Nevertheless, the play was a flop, and the premiere production closed after only 15 performances. Happily, the work found greater success in a German translation at the Carltheater in Vienna, where it was regularly revived to great popular acclaim. It was during one of these revivals that the librettists Viktor Léon and Leo Stein decided to turn Meilhac's comedy into an operetta. When they brought the idea to the management of Vienna's Theater an der Wien, the theater administrators blessed their choice of scenario. The Theater an der Wien had recently fallen on hard times, the administration was looking for a show that might raise its fortunes, and L'Attaché d'Ambassade had all the necessary ingredients for a smash hit, including lighthearted romance, exotic characters, and ample opportunity for the dance scenes that were the bread-and-butter of Viennese operetta.
Léon and Stein initially approached the composer Richard Heuberger about providing music for their new operetta. But Heuberger's drafts for Act I left the librettists deeply dissatisfied, and they convinced the directors of the Theater an der Wien to let them audition the military bandmaster and operetta composer Franz Lehár instead. In the course of a single day, Lehár wrote the duet "Dummer, Dummer Reitersmann" ("Hello, Here's a Soldier Bold"), and when he played this excerpt for the librettists over the phone, they promptly gave him the job. When the theater directors heard Lehár's full score, however, they were considerably less content; one even went so far as to offer Lehár 5,000 crowns to withdraw his score from performance. Lehár stood firm. The theater administration responded by refusing to invest in the production, and The Merry Widow premiered on December 30, 1905, with decrepit sets and tattered costumes. Yet neither the administration's sour outlook nor the show's ratty appearance could diminish The Merry Widow's inherent sweetness and sparkle, and the work secured its place in history as one of the most popular operettas of all time.