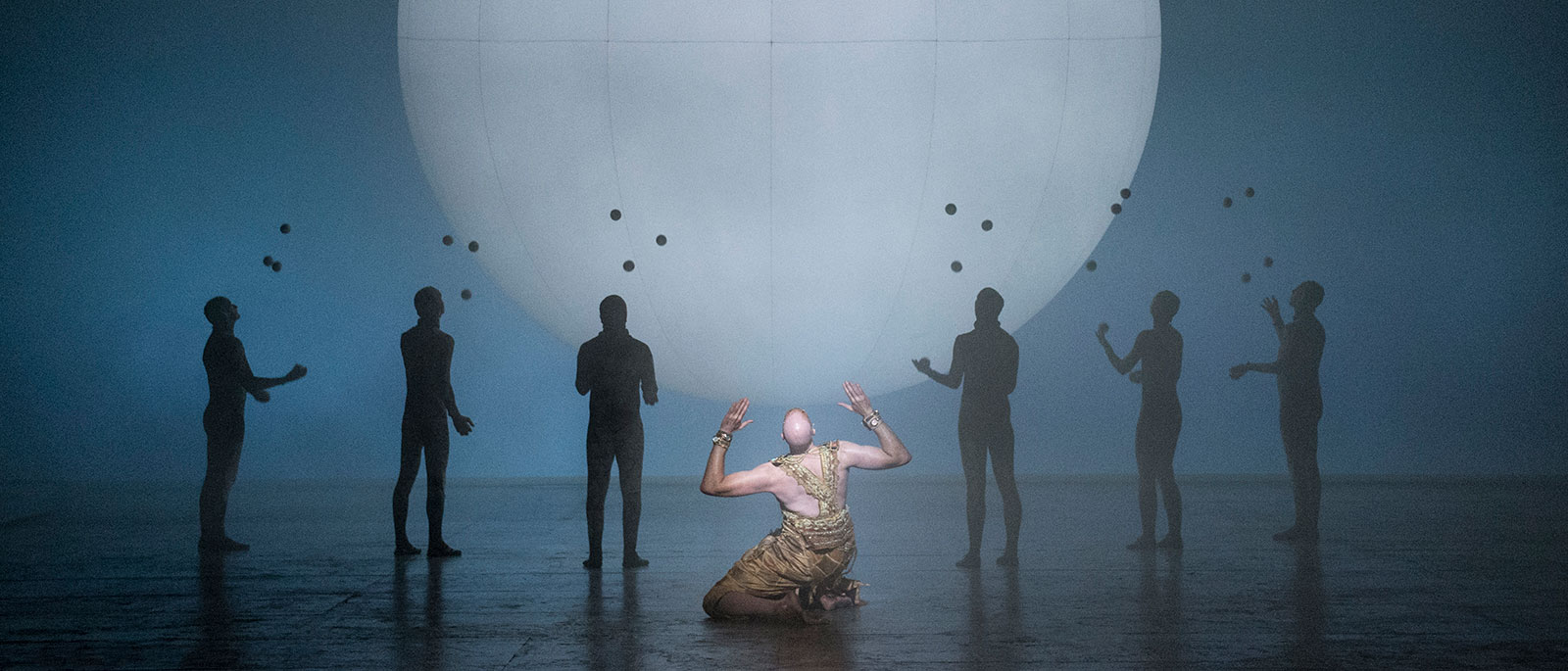 Music in the Air
One of the most memorable aspects of Phelim McDermott's production is its incorporation of mesmerizing juggling, designed by choreographer and juggling master Sean Gandini, which seems to make Philip Glass's music appear before your very eyes.

As he looked ahead to directing Akhnaten, Phelim McDermott puzzled over how to approach Philip Glass's opera of ancient Egypt. The idea for one of the signature elements of his new staging finally came to him while he was bobbing in a flotation tank: "I got the image of juggling balls, repetitive patterns," he recalls. At first, the thought of making juggling a central part of an opera production seemed too far-fetched even for the inventive McDermott, who used newspaper and giant puppetry to tell the story of Gandhi in Glass's Satyagraha, and who set Mozart's Così fan tutte amid a Coney Island sideshow. "A bit of your brain thinks it's too much, too crazy," he remembers, "but you feel in your body, in your bones, that it's actually a good idea."
So he turned to the man he calls the "artistic master" of the form—Sean Gandini of Gandini Juggling, a virtuosic and prolific company which had previously choreographed mind-blowing juggling routines set to music by Vivaldi and Steve Reich. Gandini was amazed at McDermott's proposal: "What Phelim didn't know, and what to me was quite an extraordinary coincidence, is that the first recorded images of juggling are these magnificent Egyptian hieroglyphics." He told McDermott about depictions of a trio of women jugglers found in the Beni Hasan cemetery complex from ancient Middle Egypt—images the production brings to life with "an imaginary Egyptian juggling language" in the opening funeral scene.
Choreographed movement, arising from the story and the music, infuses the three-act opera. The production includes a ten-member juggling ensemble, who fill the air above the stage with as many as 50 flying objects at a time. Using items of varying size—from standard juggling balls to clubs to beach-ball-like inflatable orbs—they juggle their way through a dizzying sequence of patterns that mirror the speed, intensity, and complex rhythms of the music, sometimes working independently and sometimes lofting their projectiles in long arcs to their counterparts across the stage.
"At first, we had too much material," Gandini remembers. "We made lots of polyrhythmic stuff that went with the music, across the music, slower than the music …"
McDermott was perhaps too impressed with their ideas. "That's fantastic! Do less!" the director recalls saying when he saw potential images and sequences. "We had to find a vocabulary where the 'wow factor' didn't pop out of the narrative that we were telling, leaving space for the audience to dream."
"There's this kind of visual magic that the juggling can play," agrees countertenor Anthony Roth Costanzo, who sings the title role. He describes his favorite part of the opera, his death scene: All ten jugglers are on stage, throwing their balls very high and fast. "I'm at the center of that, moving very, very slowly," Costanzo explains, "but you're not in any way distracted by the balls because they become this movement-texture."
Different working systems had to be married in rehearsals. "Sean and Karen [Kamensek, the conductor] ended up doing a kind of mathematical research to perfect how the juggling would fit the music and the repetitions," McDermott says. Further complicating matters, jugglers count their patterns and timings differently from how musicians count their music, so some translation was necessary to make sure everyone was on the same page.
When asked if ideal juggling tempi exist, Gandini laughs: "There's a spectrum where one juggles comfortably, and then there are borderlines." If the Act I coronation scene, in which one hand juggles three beats while the other juggles two on the pulse of the music, is too slow, it can be "terrifying difficult," while the funeral scene, featuring quick movements for nine minutes on a ledge, "really tests one's juggling skills."
And what happens when someone literally drops the ball? "You can't do this amount of juggling in a show without dropping," says McDermott. "When they do, they have to ritualistically get down on their knees and do penance to the Sun God. The [audience] sees that it's part of the show, and they relax. What you want is for the audience to forget they're watching juggling. You hit this moment where they don't quite know what they saw, and think, 'Did I imagine that?'"

—Elena Park