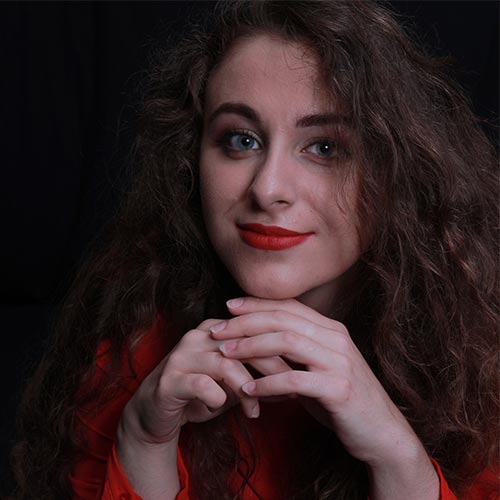 Mezzo-Soprano
Valentina Pluzhnikova
This Season
Ukrainian mezzo-soprano Valentina Pluzhnikova is in her second year of the Lindemann Young Artist Development Program and recently made her Philadelphia Orchestra debut in L'Enfant et les Sortilèges.
In 2019, she was a participant of the Bartók Plus Opera Festival in Hungary and the Young Singers Project at the Salzburg Festival, where she debuted the role of Dangeville in Adriana Lecouvreur. That same year, she made her debut at the Taras Shevchenko National Opera and Ballet Theatre of Ukraine singing Siébel in Faust, and in 2018, she studied at the Corso d'Opera in Cortona, Italy, where she performed in concert at the Teatro Verdi Firenze. She won fifth prize at the 2019 Tenor Viñas International Singing Competition, and in the same season, she earned second place at the XXIX Concorso Lirico Internationale Iris Adami Corradetti in Padua, Italy. She was a finalist for both the 24th International Competition for Opera Singers "Ferruccio Tagliavini" in Deutchlandsberg, Austria, and the 3rd International Eva Marton Singing Competition in Budapest.
From 2016, she was a member of the opera studio in Kiev, where she performed Flora in La Traviata, Maddalena in Rigoletto, Olga in Eugene Onegin, Dunyasha in The Tsar`s Bride, and Clarice in Rossini's La Pietra del Paragone. She previously studied at the Petro Tchaikovsky National Music Academy of Ukraine in Kiev, and from 2017 to 2019, she participated at the Opera Academy of the Polish National Theater.
Hometown
Khmelnitsky, Ukraine
Met Debut
This Season
Repertory