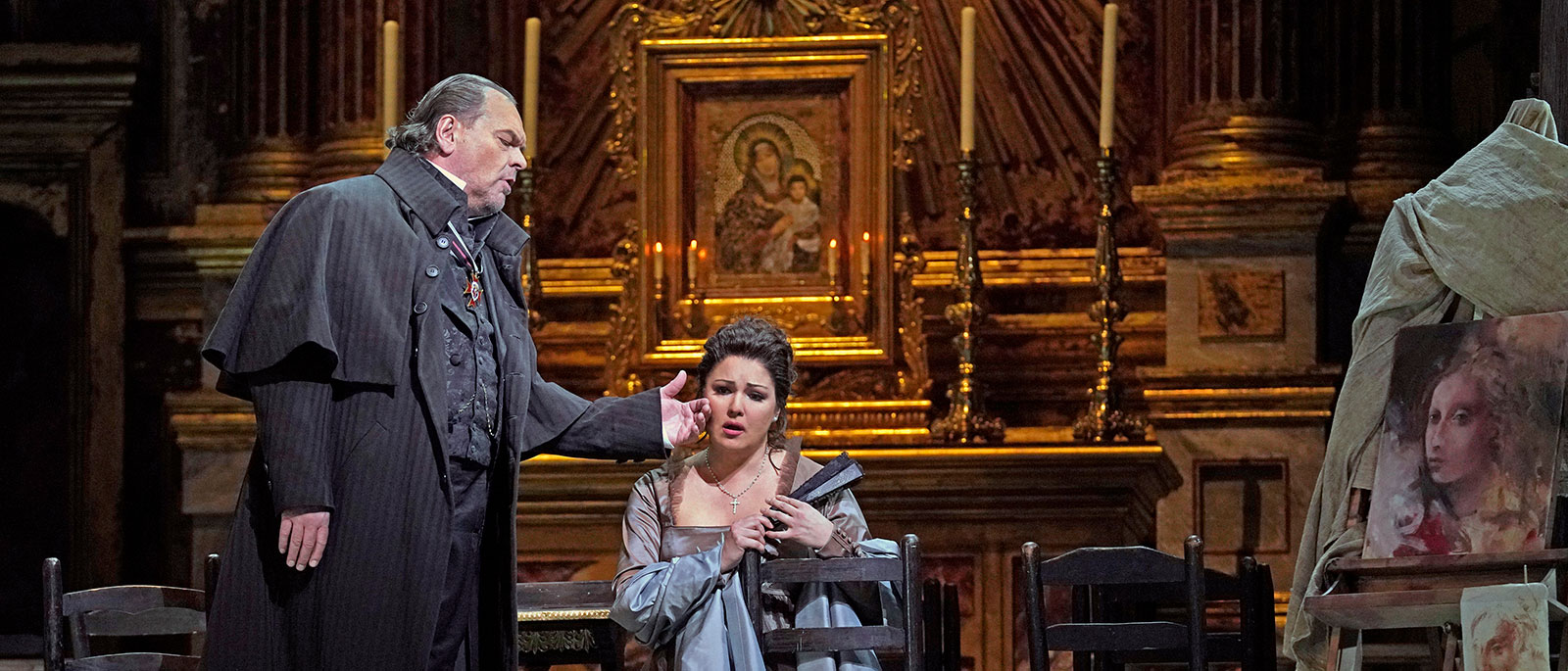 This production ran: Apr 2 - Apr 18
This production is in the past.
Overview
All remaining performances in the 2019–20 season have been canceled due to the coronavirus pandemic. Click here to learn more.
Soprano Anna Netrebko, whom the New York Times hailed as "magnificent" when she made her role debut as Tosca in 2018, returns as Puccini's explosive diva, back by popular demand. Tenors Najmiddin Mavlyanov and Brian Jagde alternate as the idealistic painter Cavaradossi, and baritones George Gagnidze and Michael Volle complete the opera's fatal love triangle as the sinister Scarpia. Bertrand de Billy conducts Sir David McVicar's stunning production.
Production a gift of Jacqueline Desmarais, in memory of Paul G. Desmarais Sr; The Paiko Foundation; and Dr. Elena Prokupets, in memory of her late husband, Rudy Prokupets

Major funding from Rolex
Revival a gift of C. Graham Berwind III — Spring Point Partners LLC
Languages
Titles
Title languages displayed for
Tosca
Met Titles In
English
German
Spanish
Italian
Timeline
Timeline for the show,
Tosca
Estimated Run Time
3 hrs
House Opens

Act I

50 mins

Intermission

30 mins

Act II

45 mins

Intermission

30 mins

Act III

30 mins

Opera Ends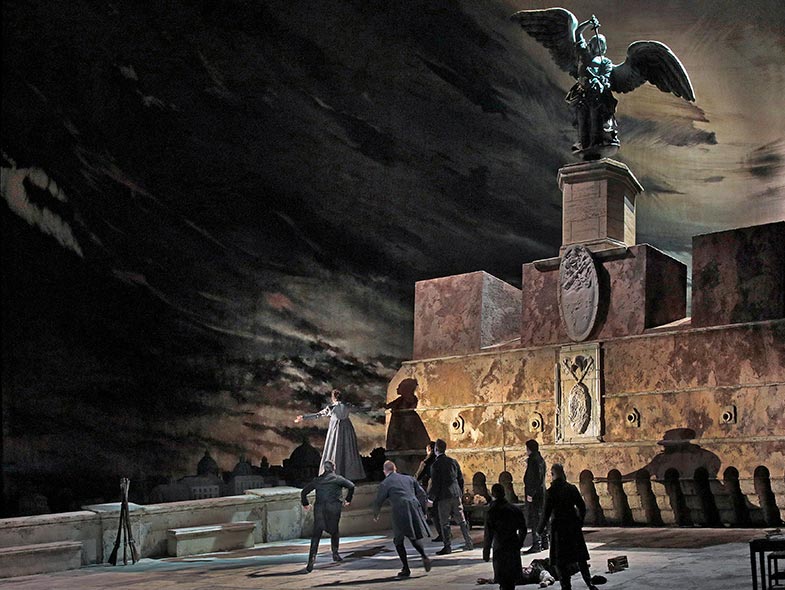 Premiere: Teatro Costanzi, Rome, 1900. Puccini's melodrama about a volatile diva, a sadistic police chief, and an idealistic artist has offended and thrilled audiences for more than a century. Critics, for their part, have often had problems with Tosca's rather grungy subject matter, the directness and intensity of its score, and the crowd-pleasing dramatic opportunities it provides for its lead roles. But these same aspects have made Tosca one of a handful of iconic works that seem to represent opera in the public imagination. Tosca's popularity is further secured by a superb and exhilarating dramatic sweep, a driving score of abundant melody and theatrical shrewdness, and a career-defining title role.
Creators
Giacomo Puccini (1858–1924) was immensely popular in his own lifetime, and his mature works remain staples in the repertory of most of the world's opera companies. His operas are celebrated for their mastery of detail, sensitivity to everyday subjects, copious melody, and economy of expression. Puccini's librettists for Tosca, Giuseppe Giacosa (1847–1906) and Luigi Illica (1857–1919), also collaborated with him on his two other most enduringly successful operas, La Bohème and Madama Butterfly. Giacosa, a dramatist, was responsible for the stories, and Illica, a poet, worked primarily on the words themselves.
PRODUCTION
Sir David McVicar
SET AND COSTUME DESIGNER
John Macfarlane
LIGHTING DESIGNER
David Finn
MOVEMENT DIRECTOR
Leah Hausman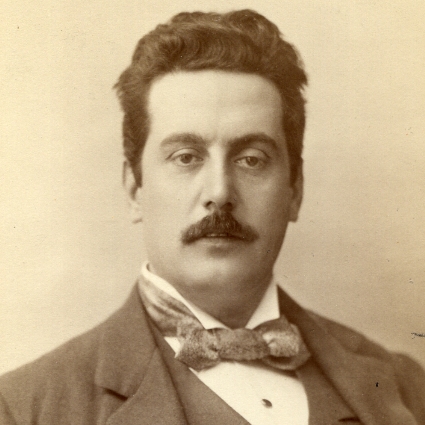 Setting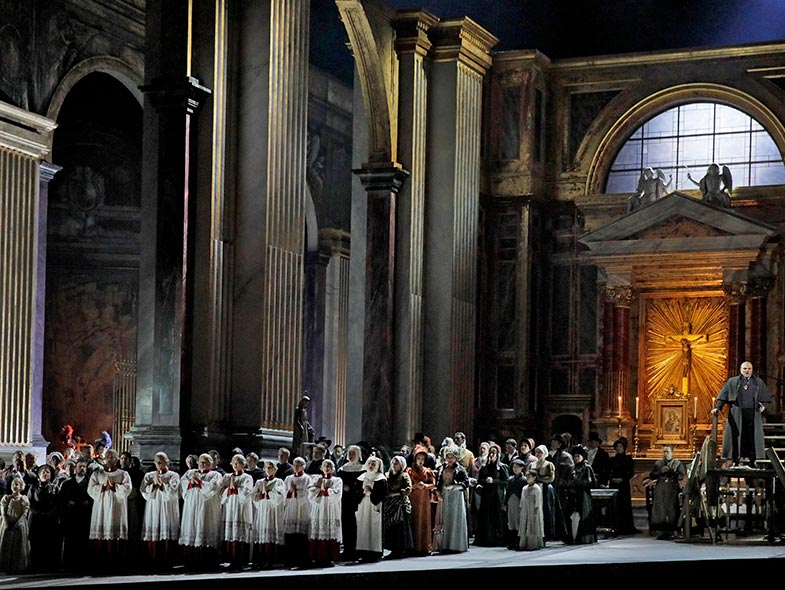 No opera is more tied to its setting than Tosca, which takes place in Rome on the morning of June 17, 1800, through dawn the following day. The specified settings for each of the three acts—the Church of Sant'Andrea della Valle, Palazzo Farnese, and Castel Sant'Angelo—are familiar monuments in the city and can still be visited today. While the libretto takes some liberties with the facts, historical issues form a basis for the opera: The people of Rome are awaiting news of the Battle of Marengo in northern Italy, which will decide the fate of their symbolically powerful city.
Music
The score of Tosca (if not the drama) itself is considered a prime example of the style of verismo, an elusive term usually translated as "realism." The typical musical features of the verismo tradition are prominent in Tosca: short arias with an uninhibited flood of raw melody, ambient sounds that blur the distinctions between life and art, and the use of parlato—words spoken instead of sung—at moments of tension.