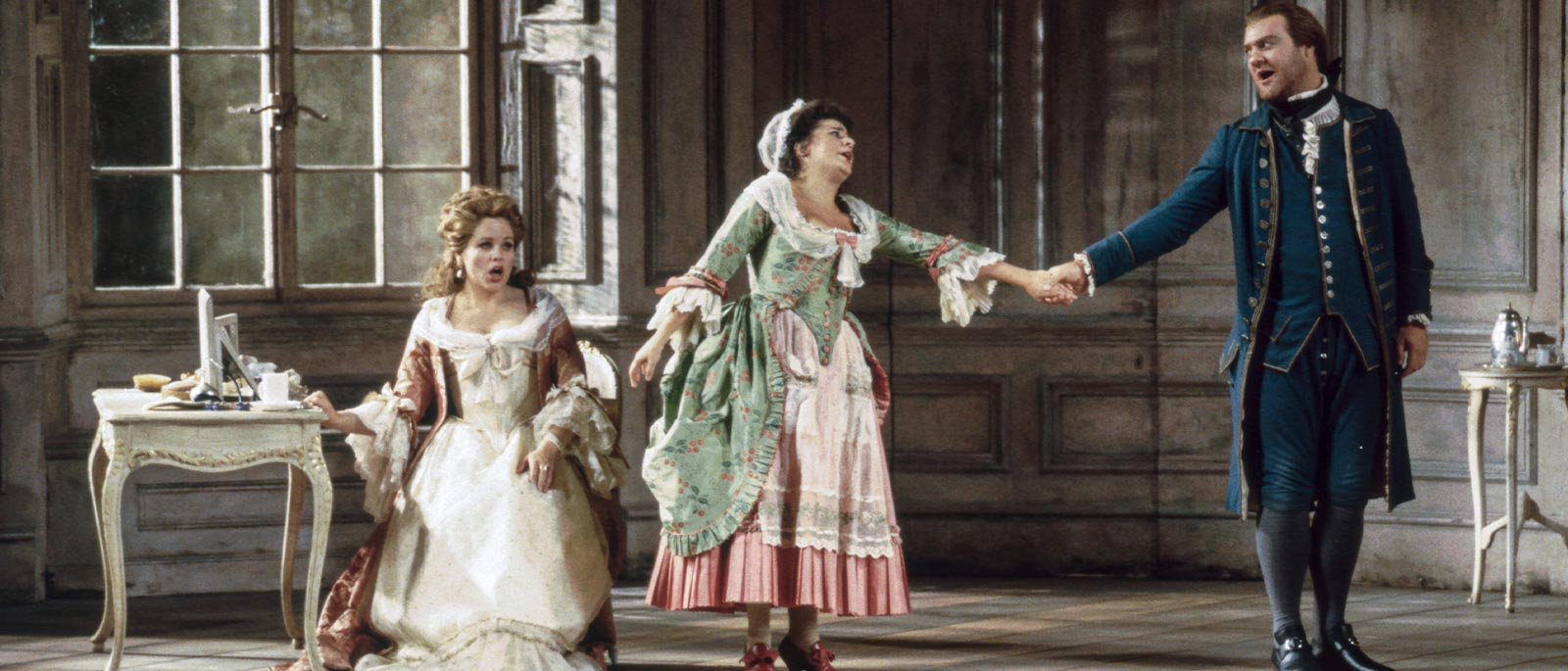 Nightly Opera Streams, May 4–10
This week's schedule of Nightly Opera Streams features two legendary telecasts, the Met premiere of a modern masterpiece, two lesser-known gems, and the perennially popular double bill of Cavalleria Rusticana and Pagliacci. Explore the articles and resources below to expand your knowledge and enhance your experience as you enjoy the streams. A full schedule for the week is available at the bottom of this page.
The coronavirus pandemic has had overwhelming economic implications for the Met. If you're enjoying our free Nightly Opera Streams and would like to help, please consider donating to our urgent fundraising campaign.
Or, donate by text message: Text METOPERA to 44321 in the U.S. or 1-917-999-0700 for other countries. Standard text messaging rates apply.
Week 8
Monday, May 4
Mozart's Le Nozze di Figaro
Starring Renée Fleming, Cecilia Bartoli, Susanne Mentzer, Dwayne Croft, and Sir Bryn Terfel, conducted by James Levine. From November 11, 1998.
Tuesday, May 5
Thomas's Hamlet
Starring Marlis Petersen, Jennifer Larmore, Simon Keenlyside, and James Morris, conducted by Louis Langrée. From March 27, 2010.
Wednesday, May 6
Saariaho's L'Amour de Loin
Starring Susanna Phillips, Tamara Mumford, and Eric Owens, conducted by Susanna Mälkki. From December 10, 2016.
Thursday, May 7
Strauss's Capriccio
Starring Renée Fleming, Sarah Connolly, Joseph Kaiser, Russell Braun, Morten Frank Larsen, and Peter Rose, conducted by Sir Andrew Davis. From April 23, 2011.
Friday, May 8
Viewers' Choice: Puccini's La Bohème
Starring Renata Scotto and Luciano Pavarotti, conducted by James Levine. From March 15, 1977.
Saturday, May 9
The Opera House
A 2017 feature-length documentary by Susan Froemke about the creation and 1966 opening of the new Met at Lincoln Center
Sunday, May 10
Mascagni's Cavalleria Rusticana and Leoncavallo's Pagliacci
Cavalleria Rusticana: Starring Eva-Maria Westbroek, Marcelo Álvarez, and George Gagnidze.
Pagliacci: Starring Patricia Racette, Marcelo Álvarez, and George Gagnidze.
Conducted by Fabio Luisi. From April 25, 2015.