Weekly Guide: July 5–11
The next week of free Nightly Opera Streams celebrates one of the 20th century's preeminent composers, with a collection of Richard Strauss's most popular musical masterpieces—bookended by a pair of exceptional performances of Der Rosenkavalier and featuring three never-before-streamed archival telecasts. Learn more with this guide.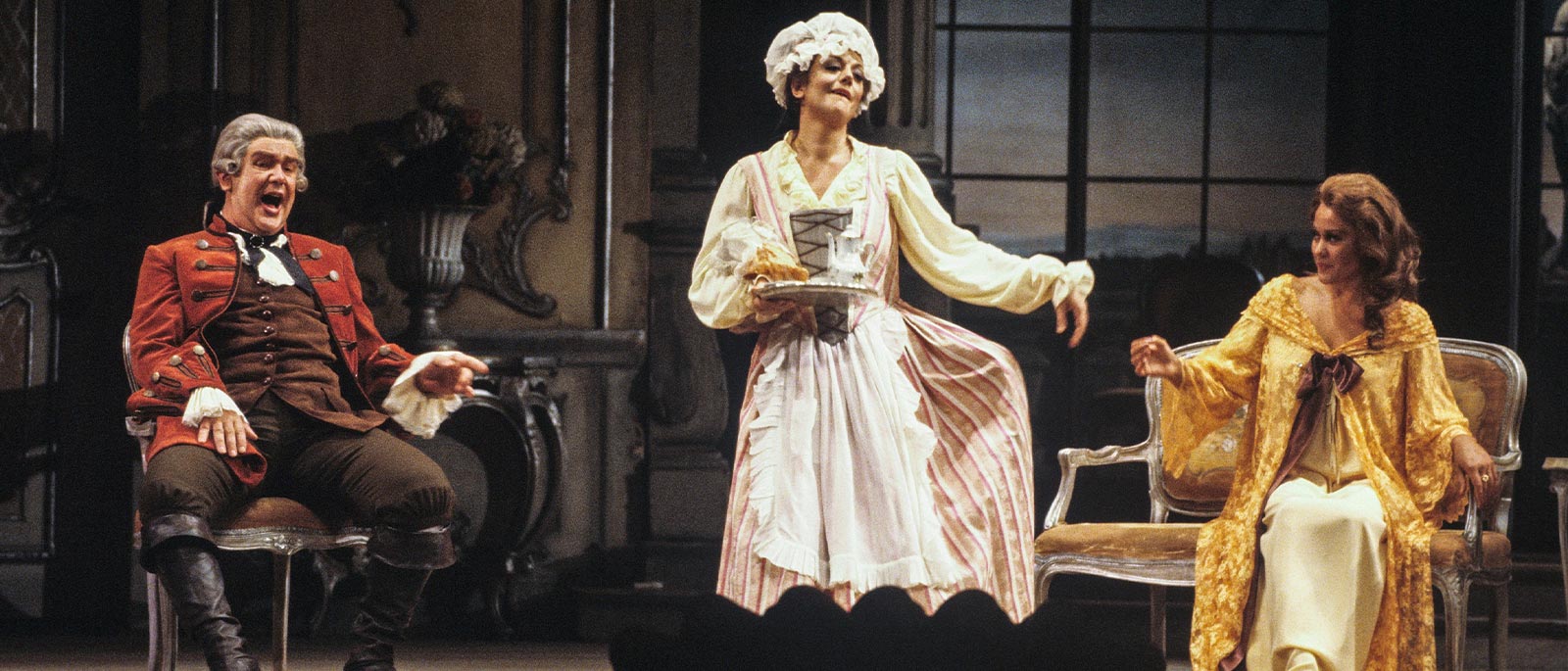 Monday, July 5
Strauss's Der Rosenkavalier
After scandalizing the opera world with Salome and Elektra, Strauss composed this modern drawing-room comedy to great popular acclaim. The work, which follows the sexual indiscretions and romantic entanglements of several aristocratic characters, presents love, desire, and nobility as distinctly double-sided coins: coming-of-age discovery vs. the wisdom of aging, and the thrill of pursuing new desires vs. noble self-sacrifice for the greater good. This 1982 telecast, the first of two performances of Der Rosenkavalier presented this week, features a cast of truly legendary proportions. Soprano Kiri Te Kanawa is the epitome of elegance as the Marschallin, alongside mezzo-soprano Tatiana Troyanos as Octavian, soprano Judith Blegen as Sophie, and bass Kurt Moll as Baron Ochs—not to mention a special appearance by tenor Luciano Pavarotti as the Italian Singer.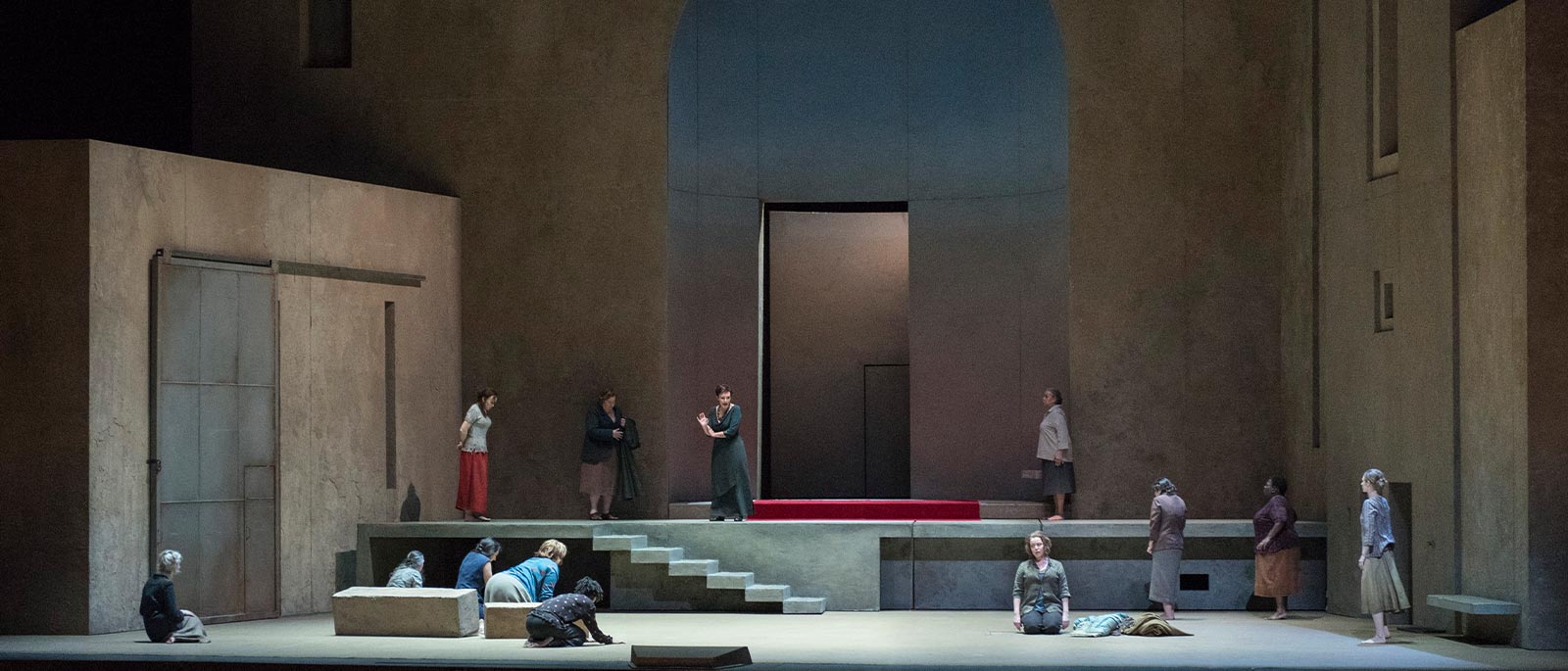 Tuesday, July 6
Strauss's Elektra
In 1909, not five years after shocking the cultural intelligentsia with his lurid one-act opera Salome, the young Strauss left them aghast once again with a darkly psychoanalytic take on the Sophocles play about an ancient Mycenaean princess's wish to avenge the assassination of her father, Agamemnon. Sparks fly throughout her confrontations with various members of her family, and the chilling score calls for singers capable of competing with the largest orchestra in the standard opera repertory.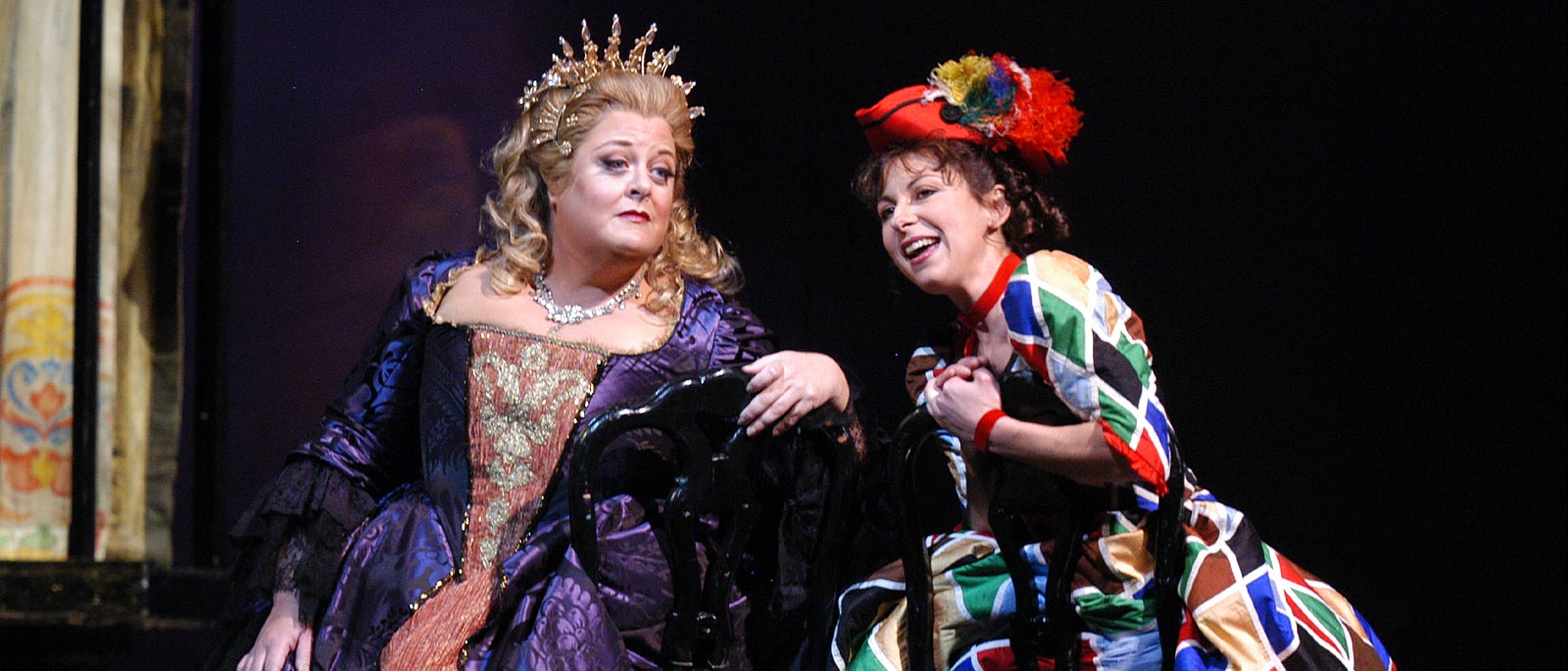 Wednesday, July 7
Strauss's Ariadne auf Naxos
In penning this "chamber opera" in 1912, Strauss sought to meld two powerful, yet seemingly contradictory, theatrical forces: the staid and decorous opera seria (a tradition of high art, noble deeds, and mythological settings) and the brash and lowbrow slapstick of commedia dell'arte, populated by harlequins and clowns. The result is a heroic tale plucked from Greek mythology that is brazenly interrupted by a buffo brigade of singing comedians. It's hard to choose which style dominates in this 2003 performance, in which soprano Deborah Voigt, as the title princess, squares off against soprano Natalie Dessay as her prankish—and equally vocally virtuosic—foil.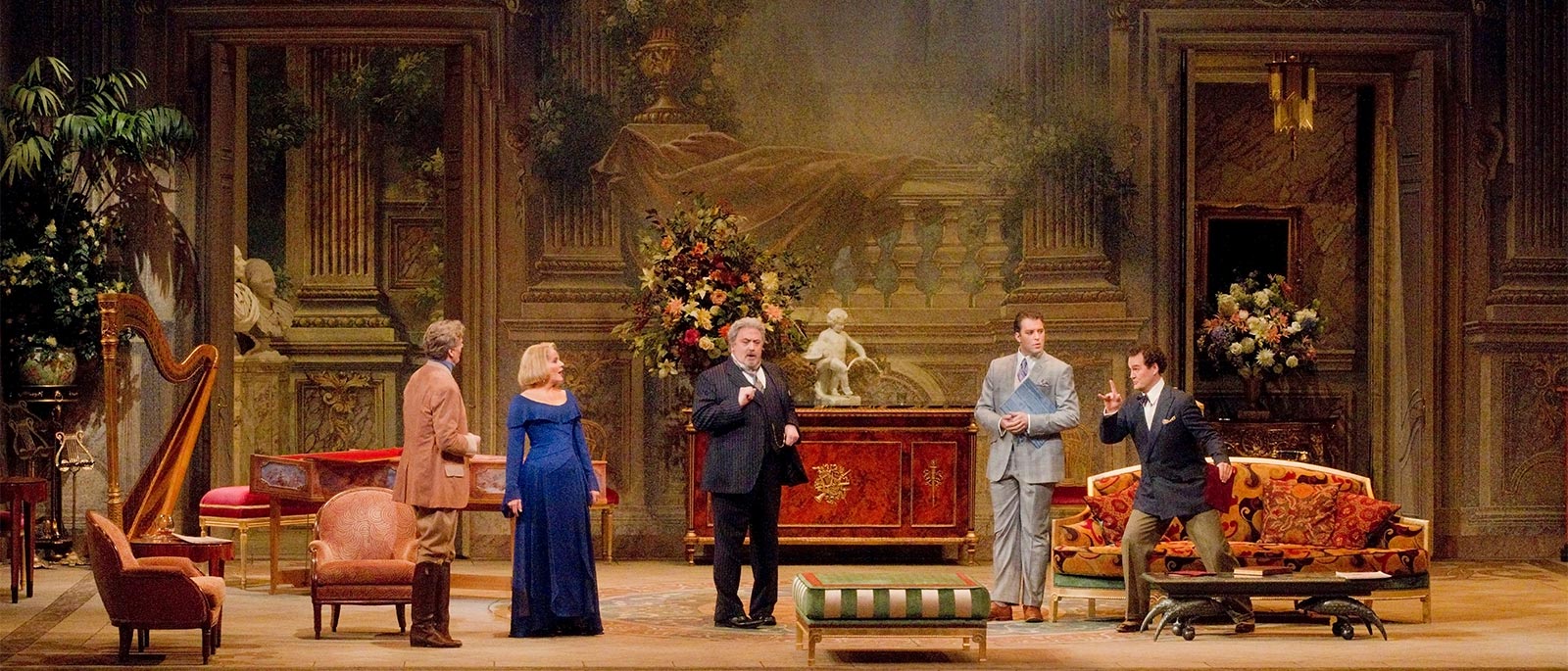 Thursday, July 8
Strauss's Capriccio
Subtitled "a conversation piece for music," Strauss's final opera is a philosophical dramedy about a French countess torn between the elemental forces of music and verse—exuberantly personified by a composer and a poet who jockey for her affection. A burlesque cast of theater types round out the story, which concludes with an elegant final scene for the leading lady—soprano Renée Fleming in this 2011 Live in HD transmission—that neatly puts all the artistic negotiation to rest.
Friday, July 9
Strauss's Salome
In 1905, Strauss turned the opera world upside down with this searing, salacious, completely unprecedented one-act masterpiece that welds Oscar Wilde's graphic take on the biblical tale of King Herod's daughter Salome with the most audacious and modern score the composer had yet created—music that feels so hot it could burn you. By the time the deranged antiheroine, performed with relish by Finnish soprano Karita Mattila in this 2008 performance, has finished the notorious Dance of the Seven Veils and stands before the audience entirely stripped of clothing and pretense, one has the sense that Strauss has done the same to opera itself.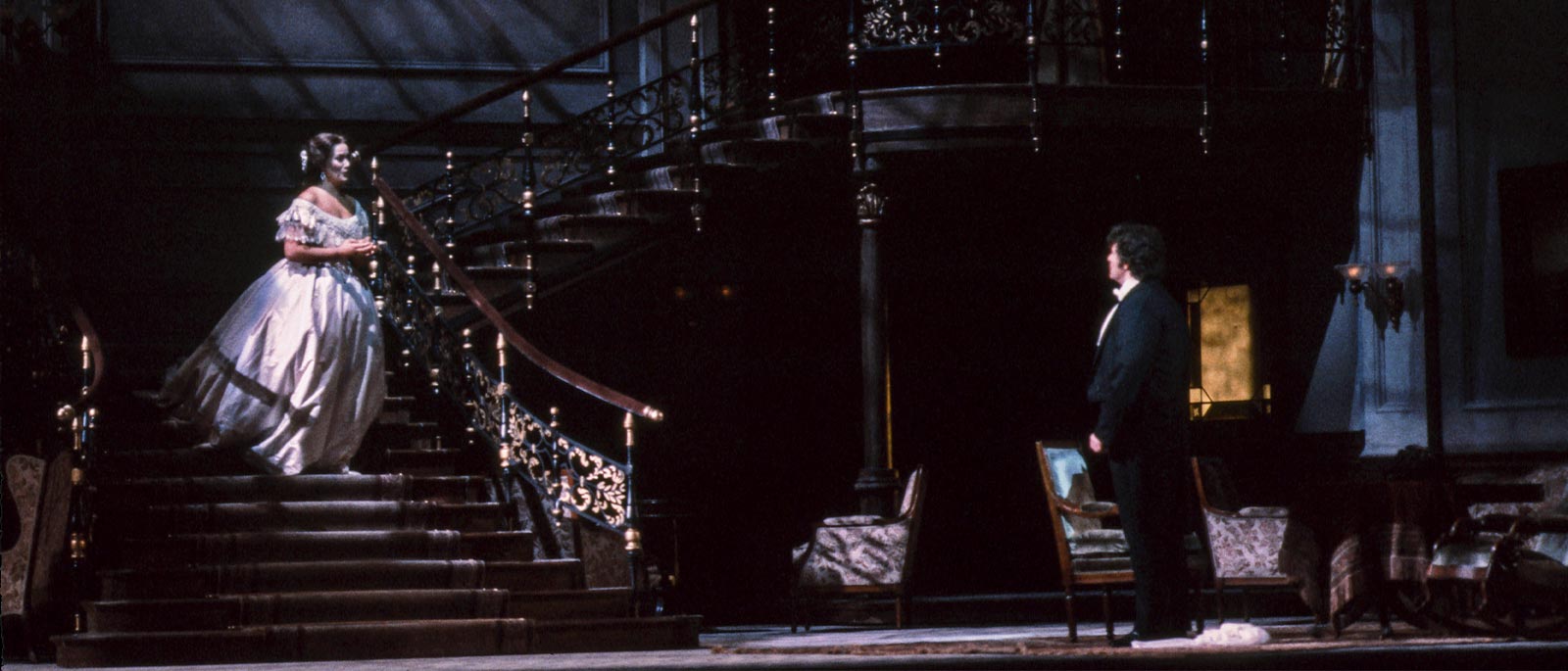 Saturday, July 10
Strauss' Arabella
This romantic comedy was the final collaboration of Richard Strauss and his great librettist Hugo von Hofmannsthal. While certain elements of operatic farce are present (including class issues and gender disguise), there is a sober atmosphere about the work, and the issues of transformation—emotional, spiritual, psychological—that Strauss portrayed so powerfully in extreme terms in his earlier operas become, in Arabella, universal. Arabella herself—honest, pure, well-meaning—is one of opera's most appealing and believable characters. The setting of "Old Vienna" is quite different from that in the same authors' Der Rosenkavalier: The nostalgia of the earlier opera is mythical and self-consciously anachronistic; here, it is frank and without irony.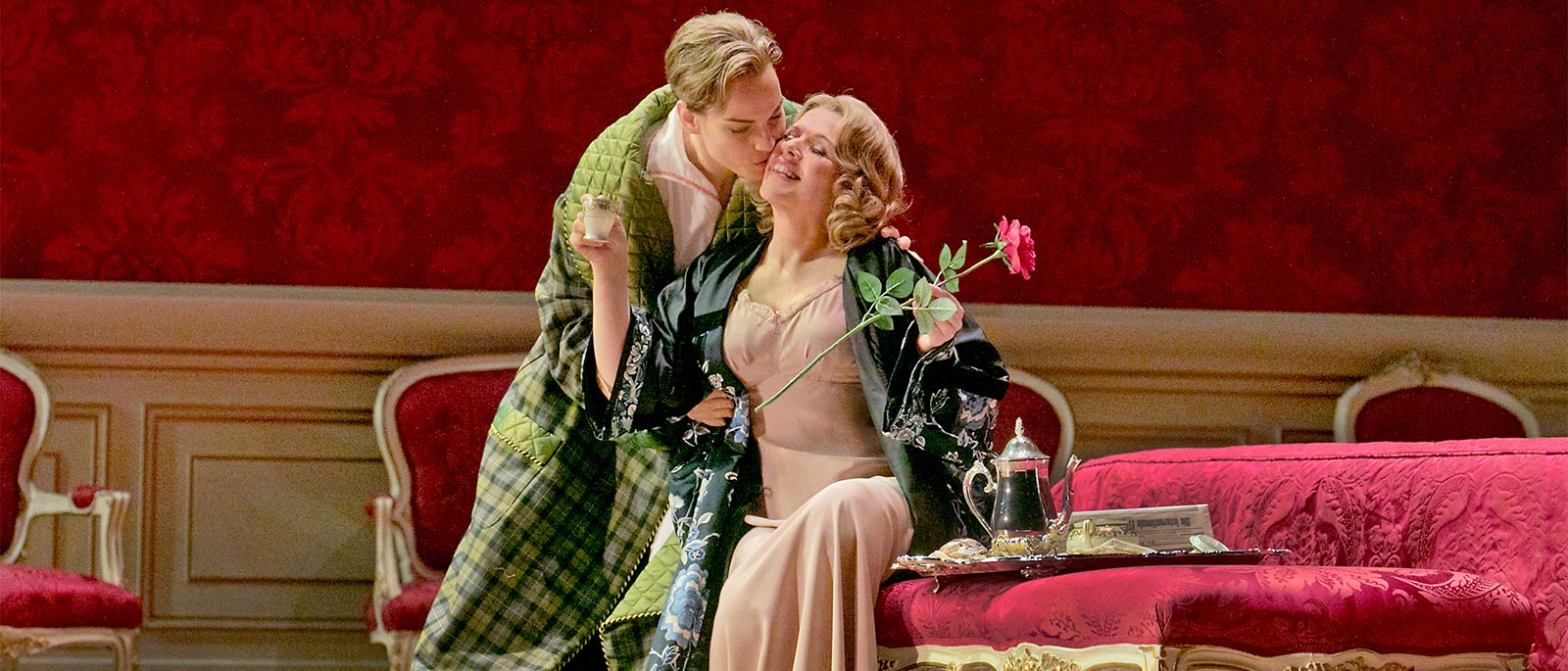 Sunday, July 11
Strauss's Der Rosenkavalier
Coming full circle, this week of Strauss masterpieces ends with a second performance of the composer's most popular opera, Der Rosenkavalier. Recorded at the close of the 2016–17 season, this Live in HD transmission saw two of its principal artists bid farewell to their signature portrayals in the piece. Soprano Renée Fleming, who appeared as the Marschallin 21 times at the Met between 2000 and 2017, gives a career-defining performance opposite mezzo-soprano Elīna Garanča, who sang Octavian to great acclaim the world over but never before with the company, as her impetuous young lover. Rounding out the lead cast in Robert Carsen's inventive new staging—which moves the action to 1911, the year of the work's premiere—soprano Erin Morley is Sophie and bass Gunther Groissböck sings Baron Ochs.