Weekly Guide: June 28–July 4
As we look forward to the celebration of Independence Day on July 4, we're showcasing some of the great American composers whose operas have appeared on the Met stage. Explore the extraordinary lineup, which features works by Nico Muhly, John Adams, Philip Glass, and more.
Monday, June 28
Nico Muhly's Marnie
This contemporary musical thriller, which had its Met premiere in 2018, is a haunting adaptation of the 1961 Winston Graham novel that also spawned Hitchcock's film of the same name. Chronicling the exploits of a disturbed young con-woman whose repressed childhood trauma triggers multiple shifts of identity, the opera supplies a plum role for a mezzo-soprano, a cinematic staging, and some of the most colorful and vibrant 60s-inspired garments ever to grace the Met stage.
Tuesday, June 29
John Adams's Doctor Atomic
An operatic exploration of a pivotal moment in human history, Doctor Atomic examines the birth of the nuclear age through the eyes of one of its most important midwives, Robert Oppenheimer. The brilliant physicist and the awesome and terrible power he and his fellow scientists unleashed upon the world receive a nuanced portrayal in John Adams's 2005 opera, which hauntingly depicts the first atomic bomb test at the Los Alamos Laboratory in New Mexico and the conflicted emotions of those who made it possible.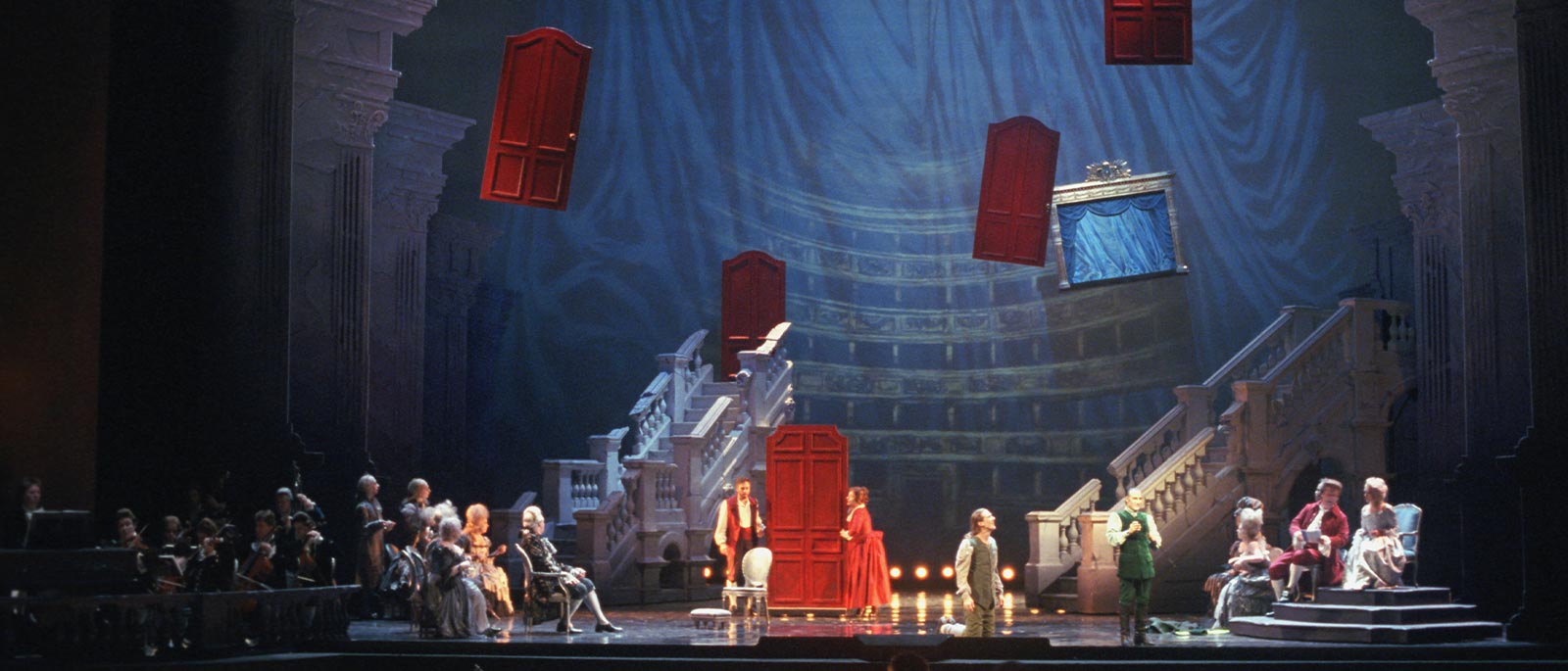 Wednesday, June 30
John Corigliano's The Ghosts of Versailles
Commissioned by the Met in 1980, John Corigliano's The Ghosts of Versailles takes as its jumping-off point Beaumarchais's La Mère Coupable (The Guilty Mother), the final entry in the trilogy of plays that began with The Barber of Seville and The Marriage of Figaro. But in a triumph of imagination, Corigliano and librettist William M. Hoffmann set their scene in an otherworldly version of Louis XVI's court, populated by the ghosts of familiar figures such as Marie Antoinette, Count Almaviva, Figaro and Susanna, and Beaumarchais himself. Despite the modern twist, however, the opera revels in the same intrigues and hijinks that turn the gears of Mozart's and Rossini's earlier Beaumarchais adaptations.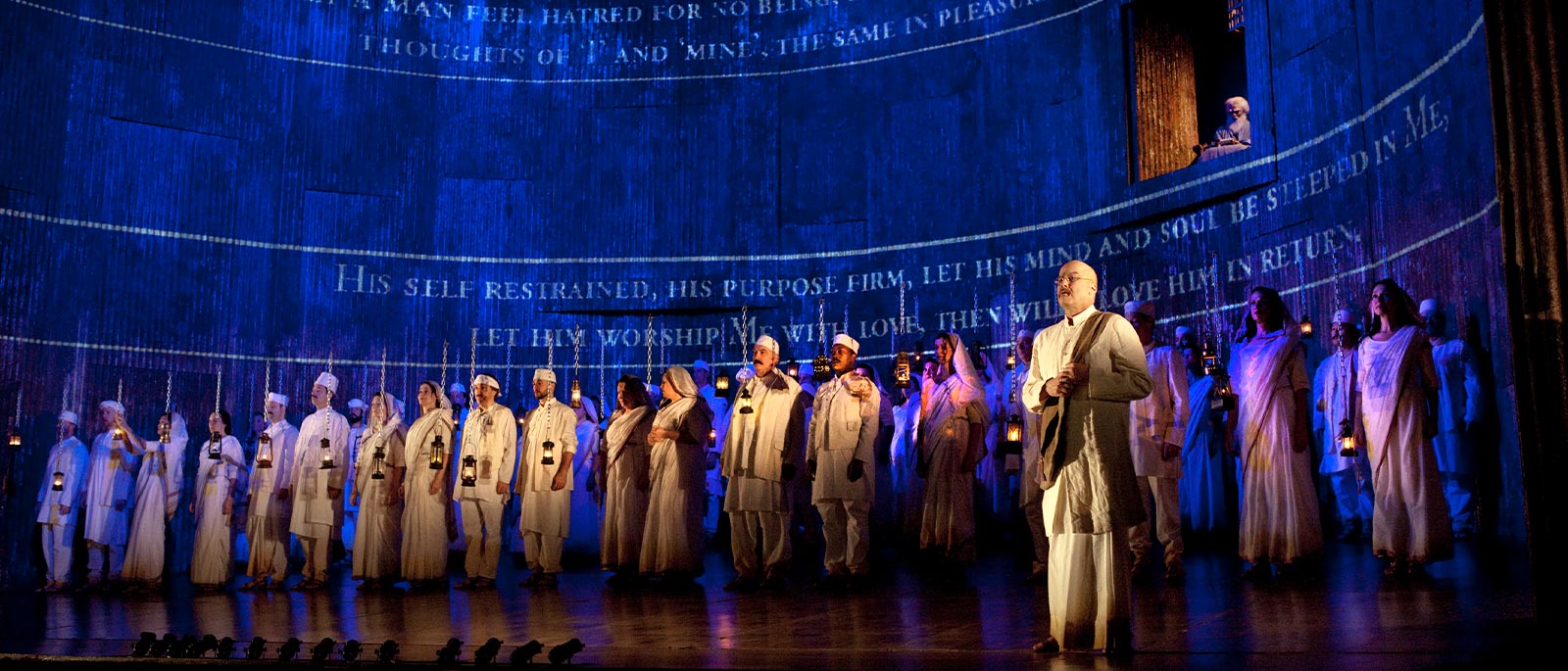 Thursday, July 1
Philip Glass's Satyagraha
The second installment of Philip Glass's Portrait Trilogy of operas based on the lives of important historical figures—which began with Einstein on the Beach and concluded with Akhnaten—Satyagraha is inspired by Mahatma Gandhi and his ideology of achieving change through peaceful protest and civil disobedience. With a libretto assembled using text from the Bhagavad Gita, sung in the original Sanskrit, the opera has no concrete plot, instead layering various historical vignettes, political statements, philosophical musings, and parables to form a meditative work that is as much manifesto as music or theater.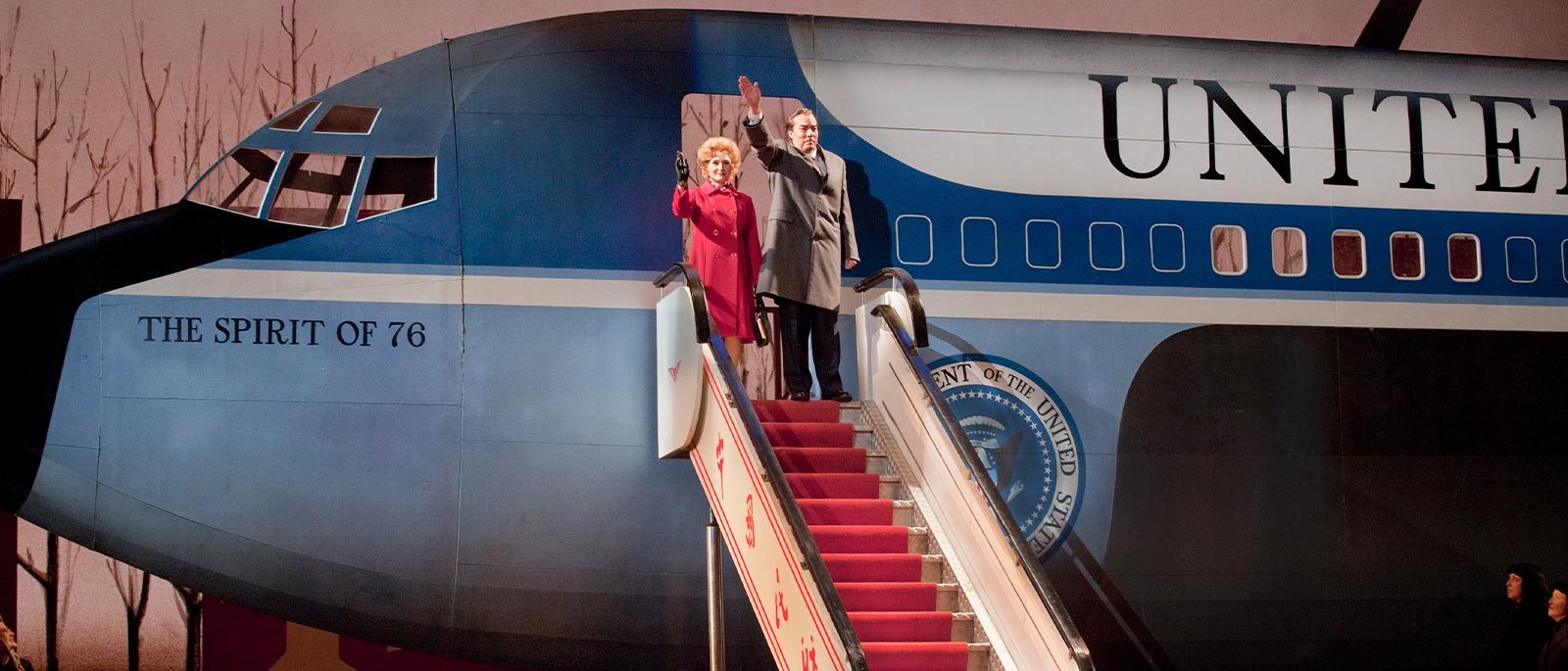 Friday, July 2
John Adams's Nixon in China
President Nixon's controversial 1972 visit with Chairman Mao in Beijing might seem an unlikely candidate for an operatic retelling, but in the inspired hands of composer John Adams, the meeting of politics and music not only works, it feels essential. The Met's landmark staging brought together a host of modern luminaries, including director Peter Sellars and choreographer Mark Morris, who vividly capture the tense mood of the historical moment. A must-see for those who like their opera thought provoking, sensational, and true to life.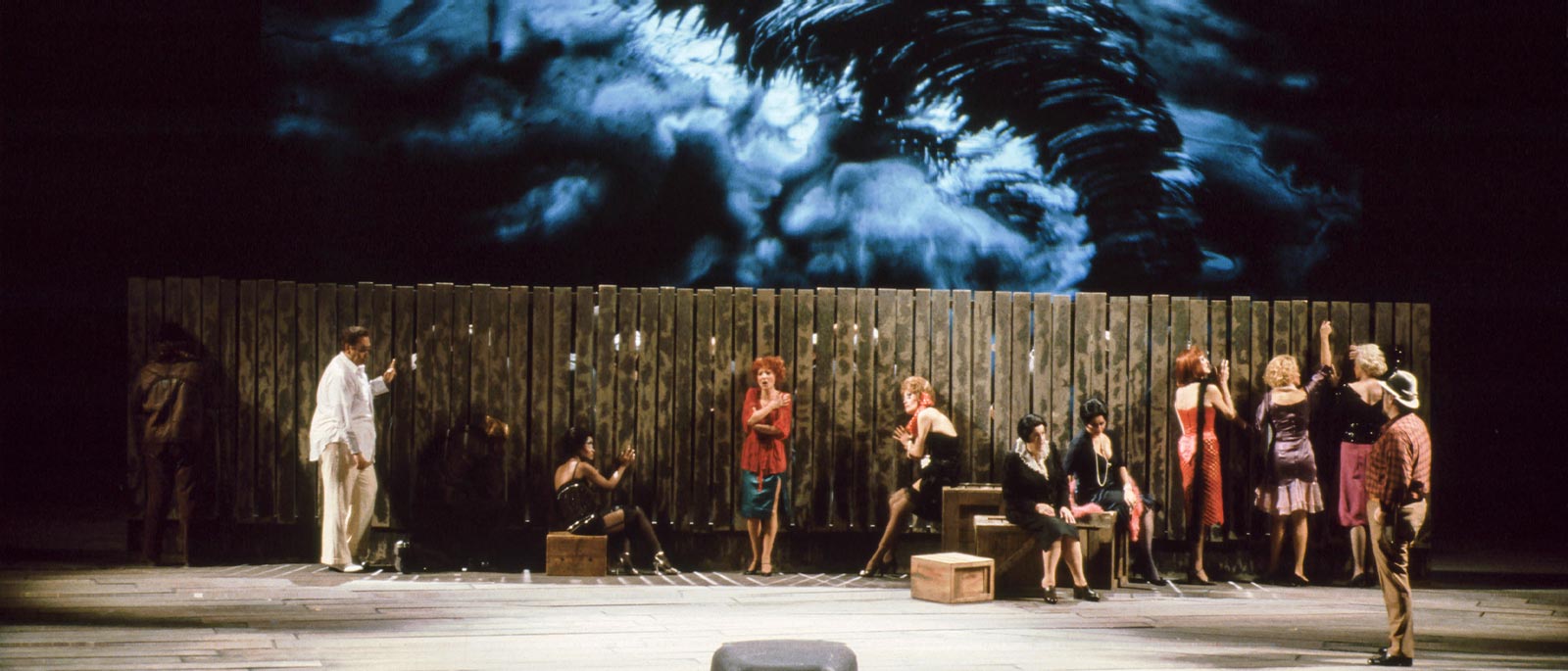 Saturday, July 3
Weill's Rise and Fall of the City of Mahagonny
Created by genre-defying composer Kurt Weill (who became a naturalized U.S. citizen in 1943 after emigrating from Nazi Germany a decade earlier) and pioneering dramatist Bertolt Brecht, Rise and Fall of the City of Mahagonny is a cynical tale of an imaginary yet plausible boom town peopled by fortune seekers, prostitutes, and shady businessmen (and women) where absolutely anything goes—except having no money. This modern myth features a spectacularly inventive score that blends grand opera, popular song, and jazz-infused rhythms into a highly original mix. Sopranos Teresa Stratas and Astrid Varnay, two of the great singing actresses of the 20th century, head an ensemble cast that also includes tenor Richard Cassilly and baritone Cornell MacNeil.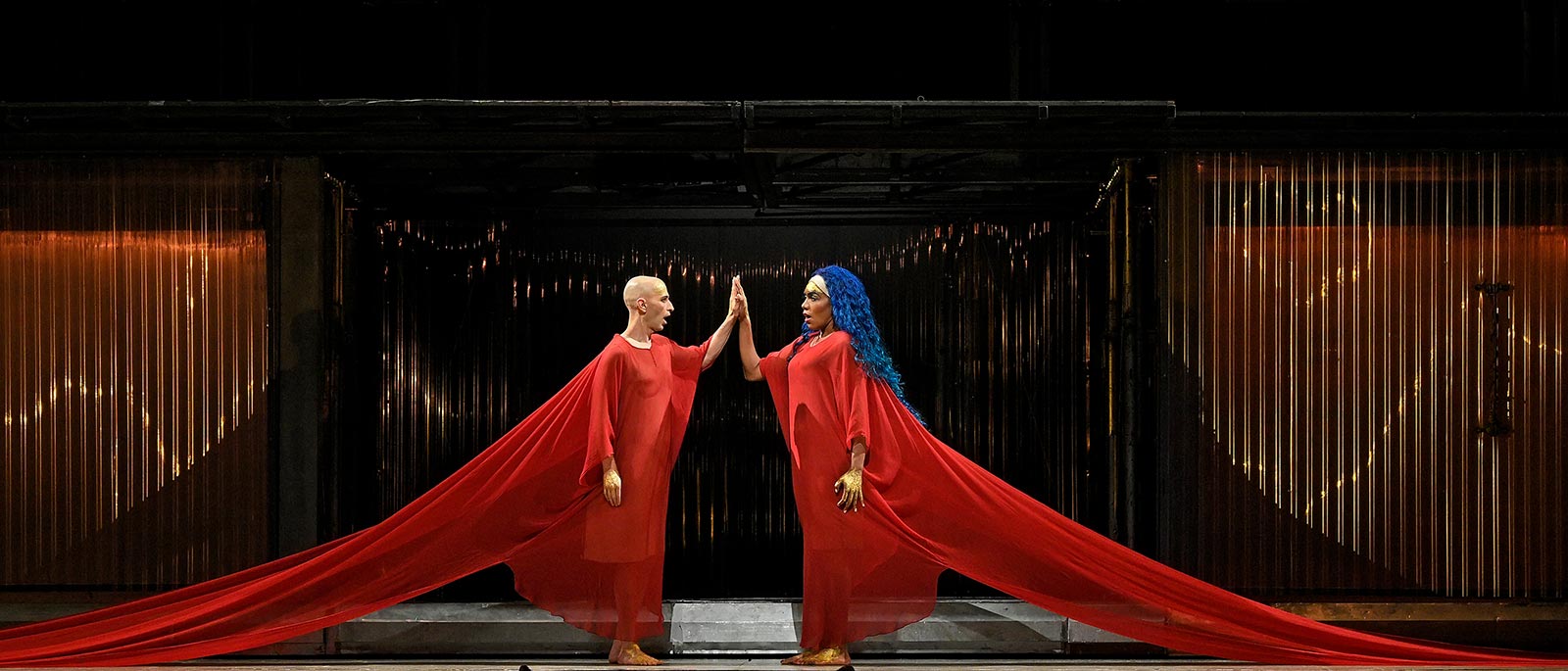 Sunday, July 4
Philip Glass's Akhnaten
This mesmerizing masterpiece of ancient Egypt—in an ingenious production by Phelim McDermott that incorporates a virtuosic troupe of jugglers and acrobats—is unlike anything else ever seen on the Met stage and proved a sold-out sensation in its company premiere in 2019. A portrait of the revolutionary title pharaoh, whose attempt to convert his society to the monotheistic worship of the sun leads to his overthrow, Glass's opera takes a ritualistic approach to depicting the events, hypnotizing the listener with its repetitive yet immersive music.