Weekly Guide: June 21–27
In celebration of Pride Month, we're paying tribute to just a handful of the extraordinary LGBTQ+ composers, singers, conductors, and directors who have shared their artistry with Met audiences. Enjoy performances showcasing the talents of Yannick Nézet-Séguin, Jamie Barton, Thomas Adès, and more—including a never-before-streamed telecast of Britten's Billy Budd.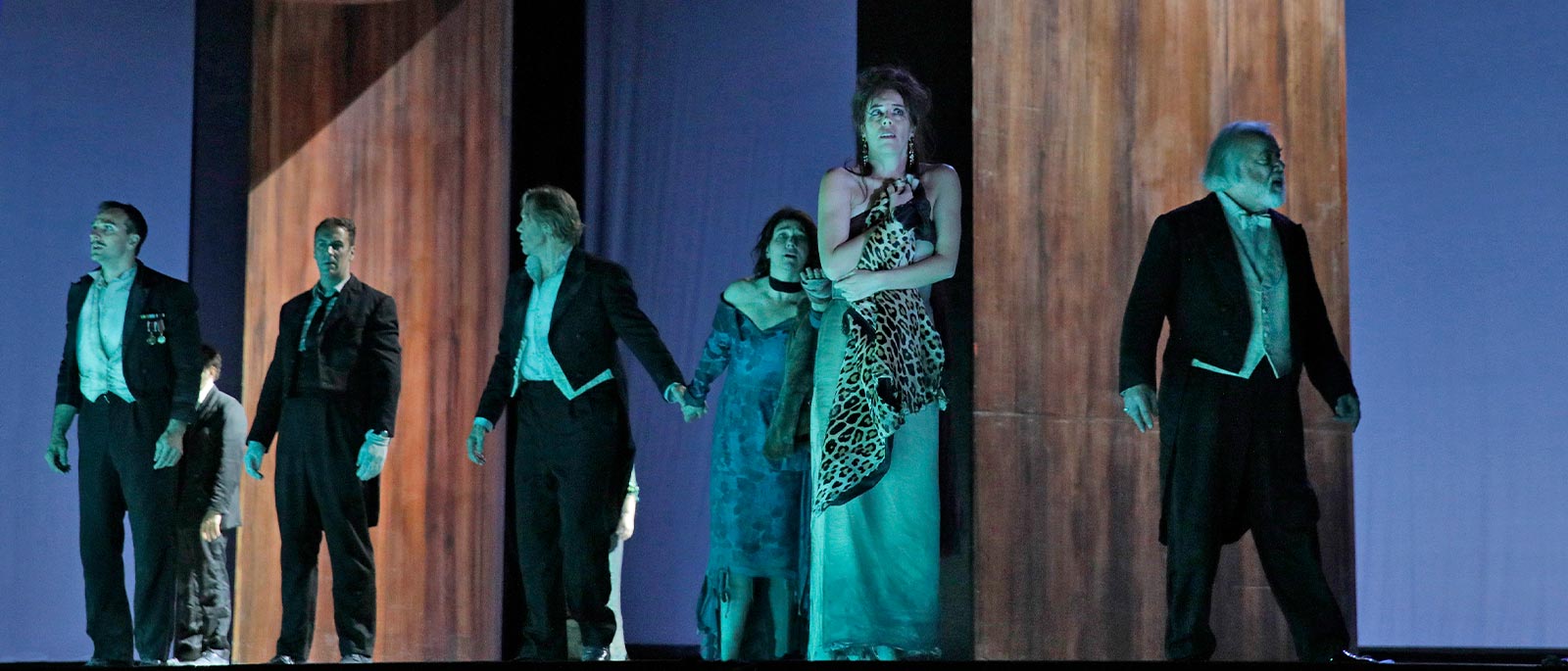 Monday, June 21
Thomas Adès's The Exterminating Angel
Composed and conducted by Thomas Adès and starring David Portillo as Eduardo
Groundbreaking 21st-century composer Thomas Adès's explosive third opera, The Exterminating Angel premiered at the Salzburg Festival in 2016, before arriving at the Met the following year. Based on Luis Buñuel's surrealist film about an invisible force that prevents the attendees of a dinner party from leaving, it is a powerful exploration of isolation and confinement that feels particularly relevant today. The composer creates a unique and captivating sound world, incorporating a number of unusual instruments into the orchestra—including the eerie, otherworldly-sounding ondes Martenot, an early electronic instrument invented in 1928 and rarely heard since—and asking for increasingly acrobatic vocal feats from the singers to match the escalating confusion and desperation of their characters as their captivity stretches endlessly on. In keeping with the opera's premise, the more than a dozen principal singers—including, in this Live in HD performance, rising tenor David Portillo—rarely leave the stage, only further reinforcing the plot's chilling effect.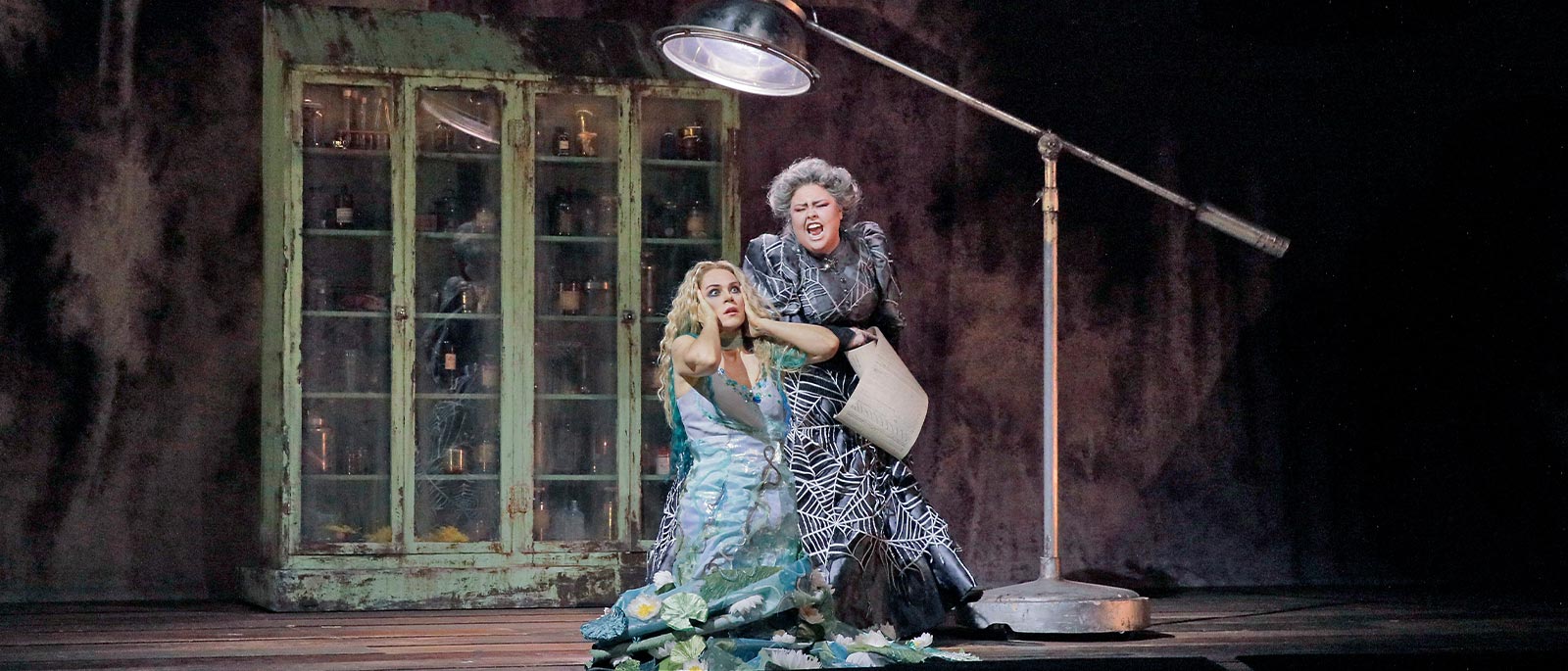 Tuesday, June 22
Dvořák's Rusalka
Starring Jamie Barton as Ježibaba
A cornerstone of Czech opera, Dvořák's dark and melodious take on the old Slavic yarn about a water nymph who falls in love with a human entered the repertoire in 1901. In recent decades, it has become a staple for lyric sopranos, who relish the title role's spellbinding Song to the Moon in the first act—although the greatest challenge might be the nymph's silent second act, after the love-struck Rusalka trades her voice to a scenery-chewing witch for the chance to become human. And in one of her most memorable Met appearances, American mezzo-soprano Jamie Barton casts her spell as Ježibaba in this bewitching 2017 performance.
Wednesday, June 23
Donizetti's Maria Stuarda
Directed by David McVicar
To date, director David McVicar has brought nearly a dozen vivid and engrossing productions to the Met stage, including when he staged the company premieres of Donizetti's "Tudor Trilogy." A prime example of the lyrical and virtuosic bel canto style of singing, this second Tudor tragedy tells of two queens—Mary, Queen of Scots, and her jealous cousin, Queen Elizabeth I—who are both vying for the English crown. The end of the opera's first act becomes a battleground for dueling divas, with each prodding the other to bravura vocal heights. A must for lovers of the female voice, Donizetti's electrifying masterpiece is also a treat for history buffs, with its nods to the real-life events that defined the British Isles.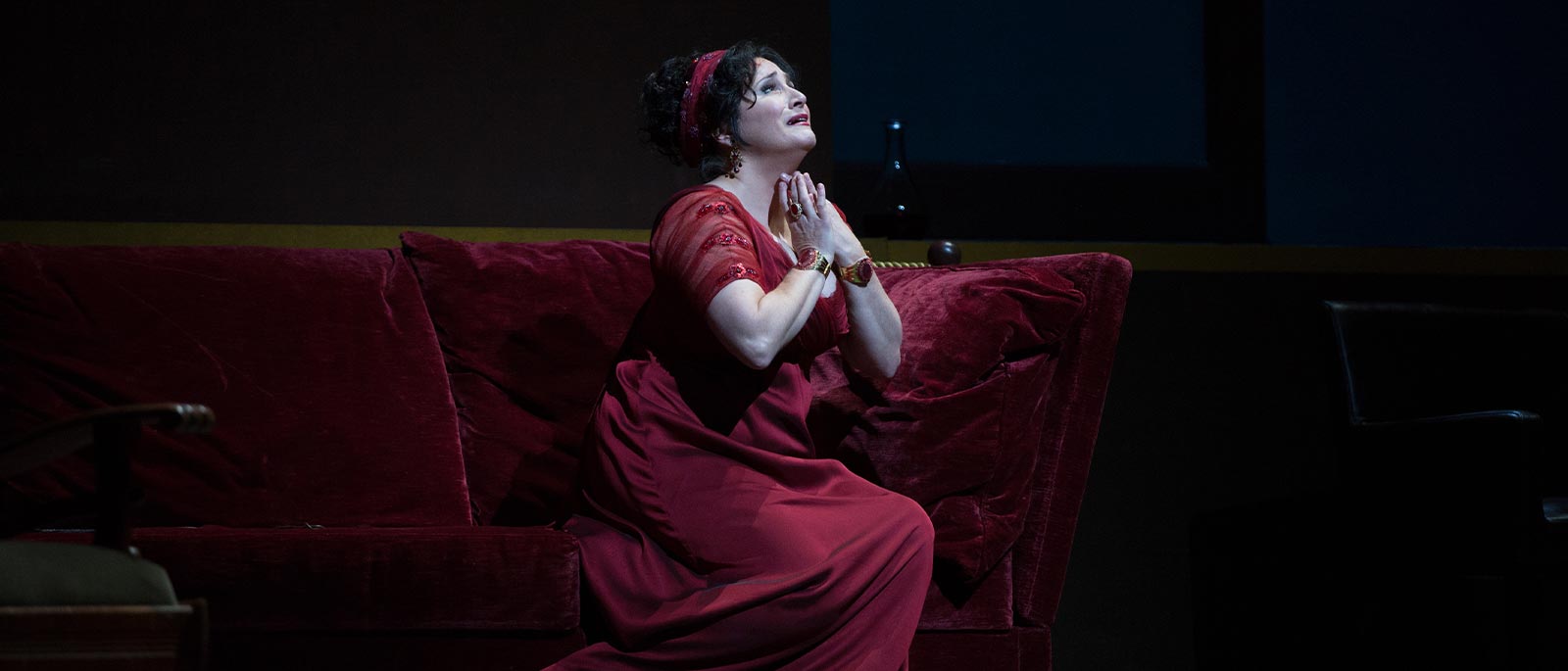 Thursday, June 24
Puccini's Tosca
Starring Patricia Racette in the title role
In his gripping potboiler, Puccini stirs together some of humanity's strongest motivating forces—love and loyalty, fear and cruelty—to create an operatic thriller that sinks its teeth into the listener with the opening chords and never lets go. Taking place in Rome in 1800, the story concerns a fiery yet devoted diva, the painter/revolutionary that she loves, and a sadistic police chief determined to crush political rebellion and claim Tosca for himself. All three are among opera's most indelible characters. In this stirring 2013 performance, soprano Patricia Racette thrills as the title character—one of her signature Met roles.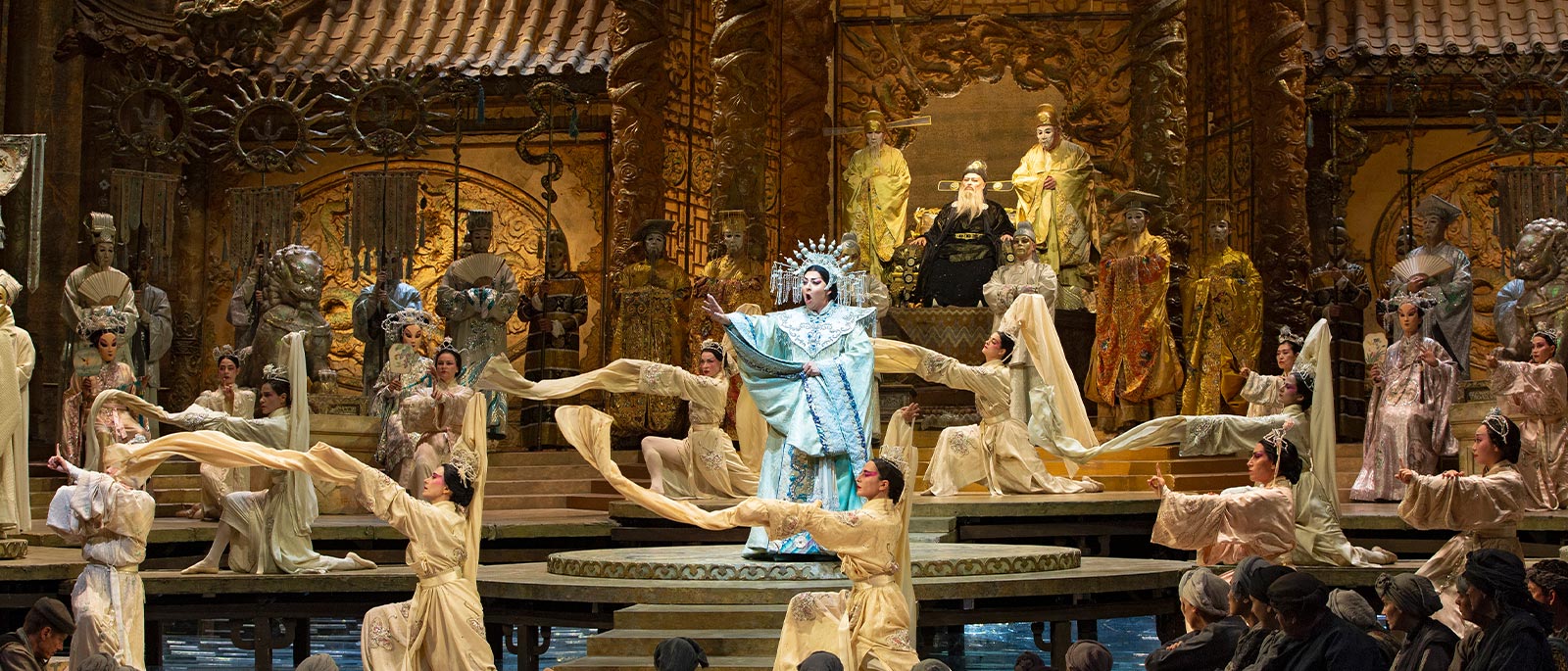 Friday, June 25
Puccini's Turandot
Conducted by Met Music Director Yannick Nézet-Séguin and directed by Franco Zeffirelli
Yannick Nézet-Séguin kicked off his second season as the Met's Jeanette Lerman-Neubauer Music Director by conducting his first Puccini with the company, leading the composer's final masterpiece, Turandot. In the opera, an ancient Chinese princess presents each new suitor with a series of riddles; success will win her hand, but failure costs his head. One brave warrior prince rises to the challenge, determined to thaw Turandot's frozen heart. Puccini raises the temperature to boiling by lavishing the legendary tale with some of his finest and most spectacular music—not to mention "Nessun dorma," one of the catalog's most beloved arias. Combined with Zeffirelli's breathtakingly opulent production, it makes for one of opera's grandest experiences.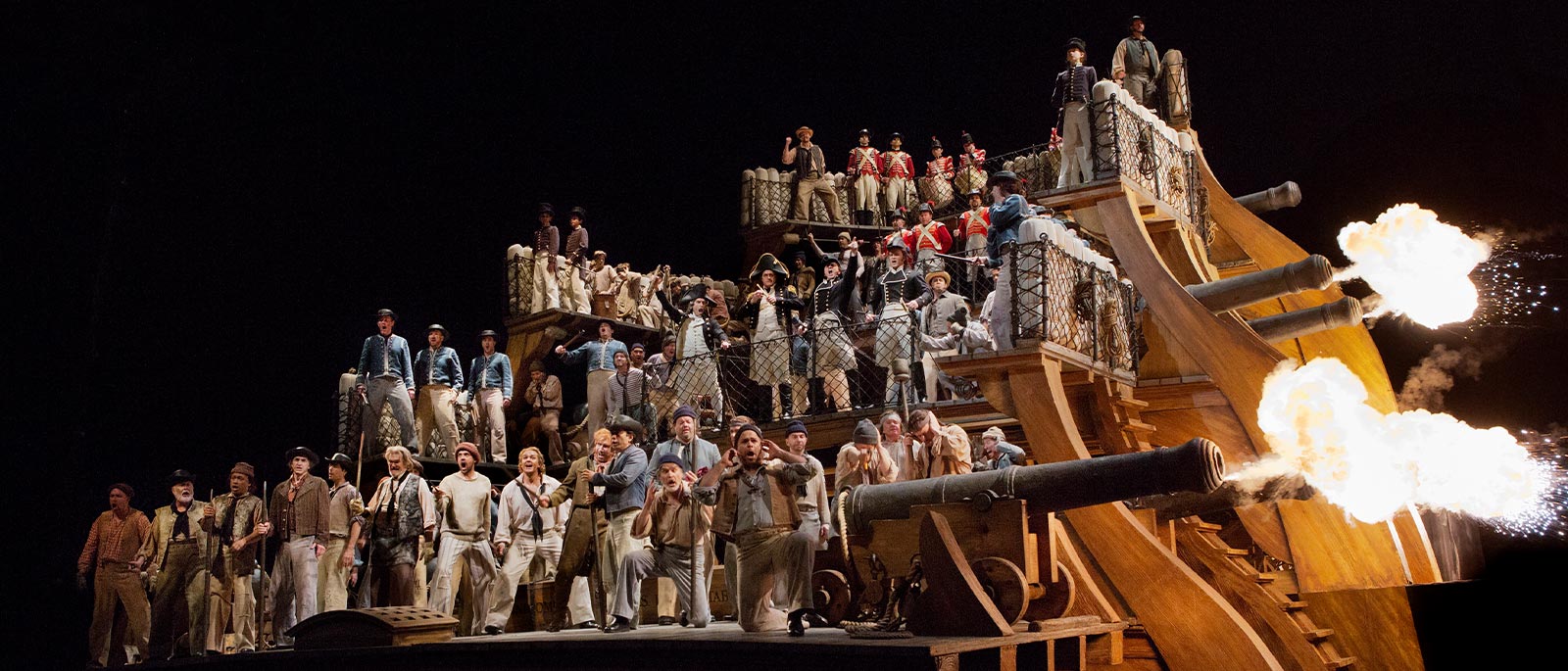 Saturday, June 26
Britten's Billy Budd
An adaptation of Herman Melville's novella—and a masterpiece from one of the 20th century's most prolific and ingenious musical minds—Billy Budd is, at its core, a stark morality play about the inherent difficulty of recognizing the difference between good and evil. The drama unfolds entirely aboard a British warship during the Napoleonic Wars, but its realistic details of nautical life often take on additional dimensions: The ever-present fog becomes a sign of the murkiness surrounding all human choices, while the sea itself takes on a myriad of meanings, from the consoling to the menacing. The motivations of the lead characters are compelling on a variety of levels—from the clinically psychological to the abstractly philosophical—and Britten's score masterfully pulls together all the multiple strands, resulting in an opera that is as theatrically convincing as it is intellectually and philosophically engaging.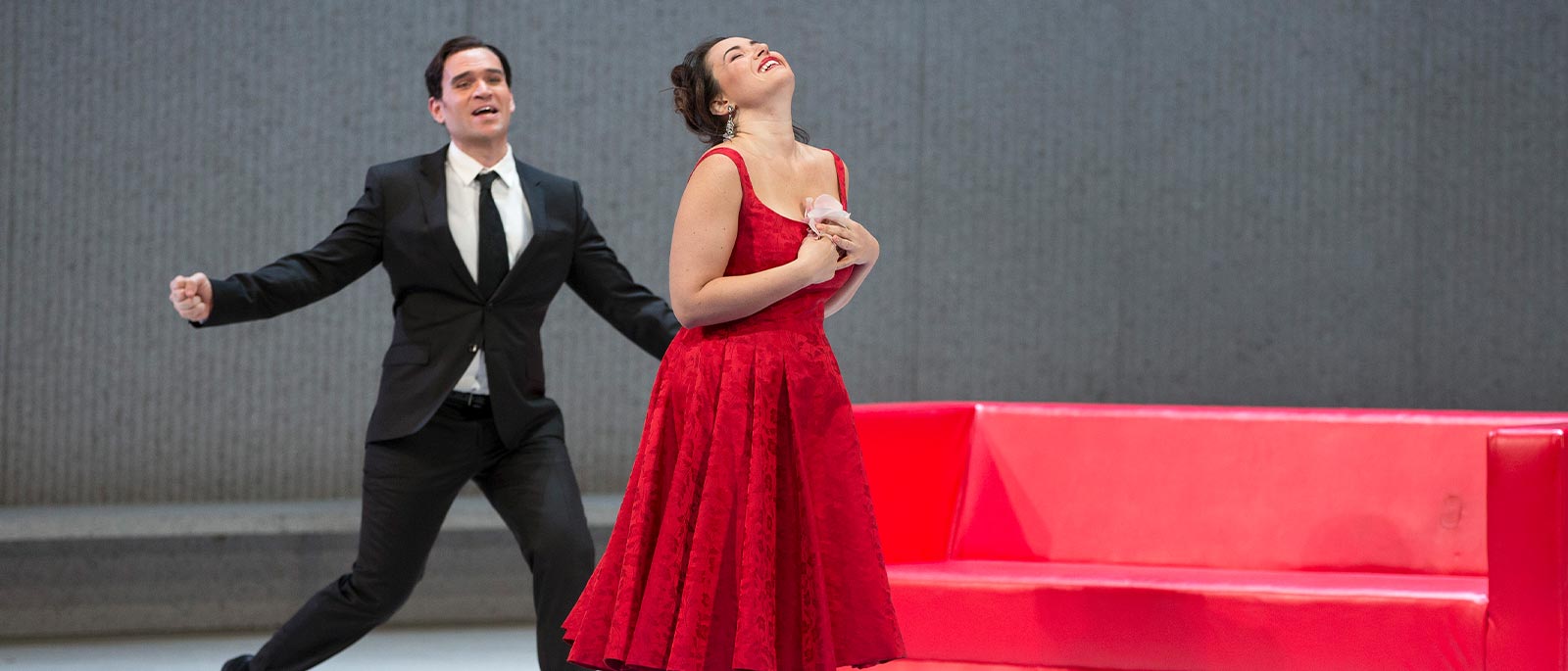 Sunday, June 27
Verdi's La Traviata
Starring Michael Fabiano as Alfredo
Few operatic figures are as beloved as Violetta, the dignified, selfless, and sickly heroine of Verdi's classic tragedy. An elegant courtesan with a heart of gold, she chooses true love over the amusements and riches of her glamorous Parisian life, then sacrifices everything for the sake of a young woman she's never even met. All of this—the glitter of her earlier wealth, the heat of her passion with the ardent young Alfredo (sung in this 2017 Live in HD transmission by star tenor Michael Fabiano), the pain of their separation, and her tragic end—lands with devastating weight thanks to Verdi, whose score stands as one of music's greatest depictions of love and loss.