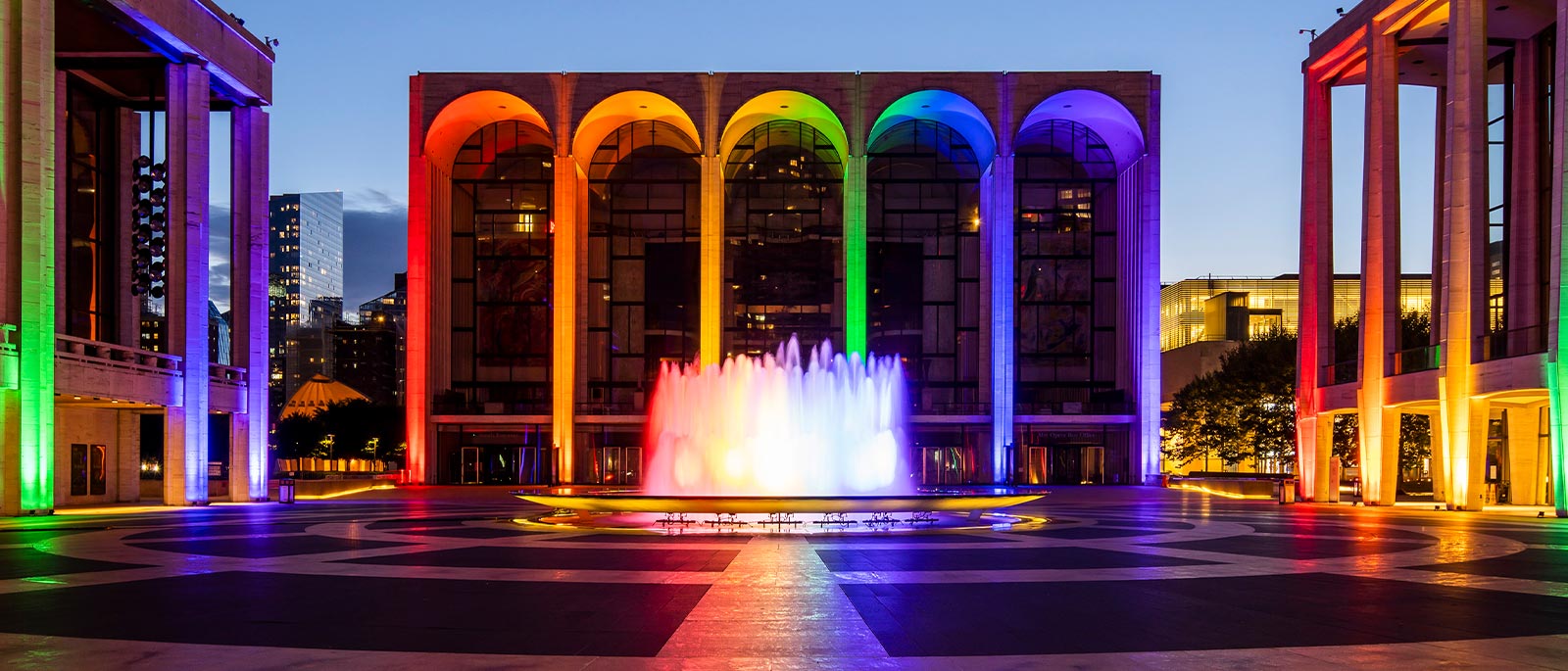 Nightly Opera Streams, June 21–June 27
Pride Week
In celebration of Pride Month, we're paying tribute to just a handful of the extraordinary LGBTQ+ composers, singers, conductors, and directors who have shared their artistry with Met audiences. You can also explore the articles and resources below to expand your knowledge and enhance your experience as you enjoy the screenings. A full schedule for the week is available at the bottom of this page.
Met Stars Live in Concert: If you enjoy the Nightly Opera Streams, be sure not to miss our acclaimed pay-per-view concert series, presenting opera's greatest stars performing live via satellite from striking locations across Europe and the U.S.
The coronavirus pandemic has had overwhelming economic implications for the Met. If you're enjoying our free Nightly Opera Streams and would like to help, please consider donating to our urgent fundraising campaign.
Or, donate by text message: Text METOPERA to 44321 in the U.S. or 1-917-999-0700 for other countries. Standard text messaging rates apply.
Week 67
Monday, June 21
Thomas Adès's The Exterminating Angel
Starring Audrey Luna, Amanda Echalaz, Sally Matthews, Sophie Bevan, Alice Coote, Christine Rice, Iestyn Davies, Joseph Kaiser, Frédéric Antoun, David Portillo, David Adam Moore, Rod Gilfry, Kevin Burdette, Christian Van Horn, and Sir John Tomlinson, conducted by Thomas Adès. Production by Tom Cairns. From November 18, 2017.
Tuesday, June 22
Dvořák's Rusalka
Starring Kristine Opolais, Katarina Dalayman, Jamie Barton, Brandon Jovanovich, and Eric Owens, conducted by Sir Mark Elder. Production by Mary Zimmerman. From February 25, 2017.
Wednesday, June 23
Donizetti's Maria Stuarda
Starring Elza van den Heever, Joyce DiDonato, Matthew Polenzani, Joshua Hopkins, and Matthew Rose, conducted by Maurizio Benini. Production by Sir David McVicar. From January 19, 2013.
Thursday, June 24
Puccini's Tosca
Starring Patricia Racette, Roberto Alagna, George Gagnidze, and John Del Carlo, conducted by Riccardo Frizza. Production by Luc Bondy. From November 9, 2013.
Friday, June 25
Puccini's Turandot
Starring Christine Goerke, Eleonora Buratto, Yusif Eyvazov, and James Morris, conducted by Yannick Nézet-Séguin. Production by Franco Zeffirelli. From October 12, 2019.
Saturday, June 26
Britten's Billy Budd
Starring Philip Langridge, Dwayne Croft, and James Morris, conducted by Steuart Bedford. Production by John Dexter. From March 11, 1997
Sunday, June 27
Verdi's La Traviata
Starring Sonya Yoncheva, Michael Fabiano, and Thomas Hampson, conducted by Nicola Luisotti. Production by Willy Decker. From March 11, 2017.