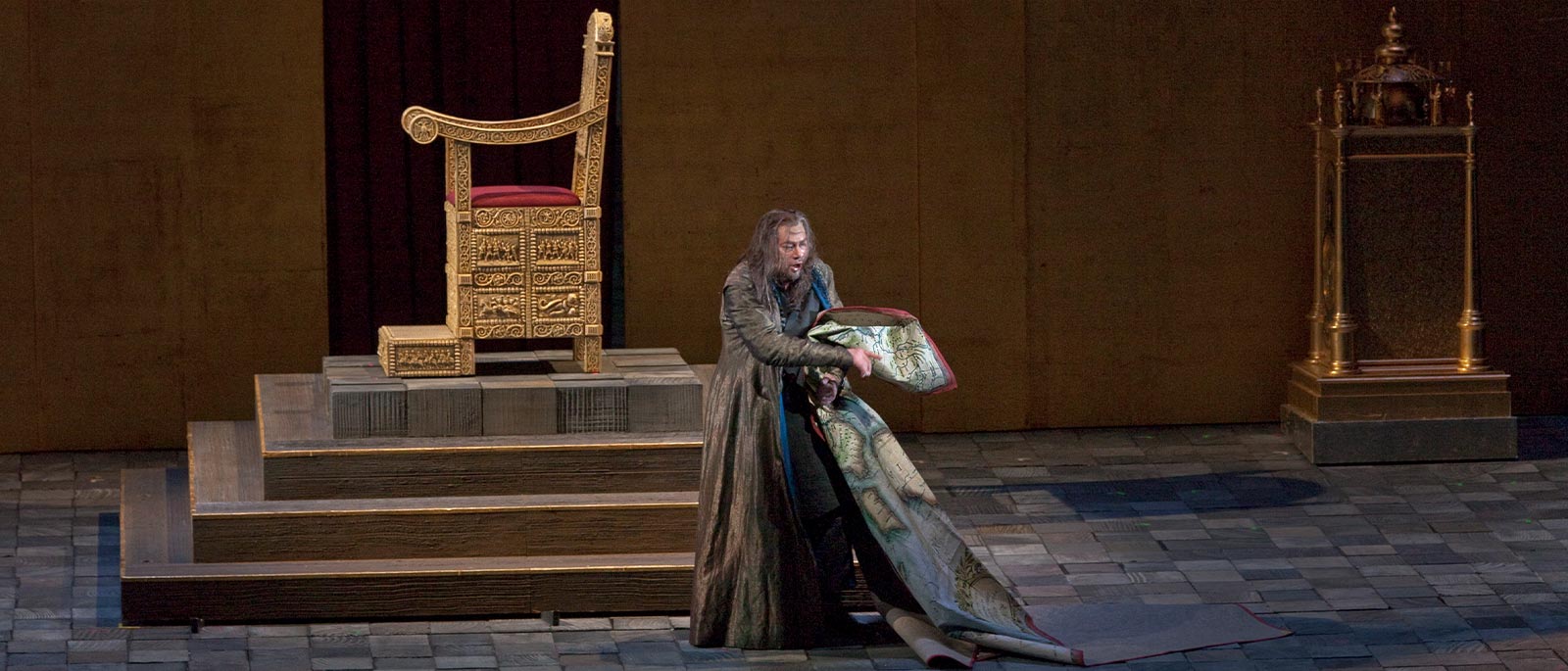 Nightly Opera Streams, May 17–23
Unhinged Mad Scenes
Thrilling trills, hair-raising high notes, and death-defying descents into madness abound in this lineup of operas featuring some of the repertory's greatest mad scenes. Explore the articles and resources below to expand your knowledge and enhance your experience as you enjoy the screenings. A full schedule for the week is available at the bottom of this page.
Met Stars Live in Concert: If you enjoy the Nightly Opera Streams, be sure not to miss our acclaimed pay-per-view concert series, presenting opera's greatest stars performing live via satellite from striking locations across Europe and the U.S.
The coronavirus pandemic has had overwhelming economic implications for the Met. If you're enjoying our free Nightly Opera Streams and would like to help, please consider donating to our urgent fundraising campaign.
Or, donate by text message: Text METOPERA to 44321 in the U.S. or 1-917-999-0700 for other countries. Standard text messaging rates apply.
Week 62
Each stream becomes available at 7:30PM ET and remains accessible for on-demand viewing until 6:30PM ET the following day, with the exception of the May 21 stream of Nabucco, which will be available until May 22 at 12PM ET. The May 22 stream of Lucia di Lammermoor will begin at the normally scheduled 7:30PM ET.
Monday, May 17
Bellini's I Puritani
Starring Anna Netrebko, Eric Cutler, Franco Vassallo, and John Relyea, conducted by Patrick Summers. Production by Sandro Sequi. From January 6, 2007.
Tuesday, May 18
Mozart's Idomeneo
Starring Elza van den Heever, Nadine Sierra, Alice Coote, Matthew Polenzani, and Alan Opie, conducted by James Levine. Production by Jean-Pierre Ponnelle. From March 25, 2017.
Wednesday, May 19
Mussorgsky's Boris Godunov
Starring Ekaterina Semenchuk, Aleksandrs Antonenko, Oleg Balashov, Evgeny Nikitin, René Pape, Mikhail Petrenko, and Vladimir Ognovenko, conducted by Valery Gergiev. Production by Stephen Wadsworth. From October 23, 2010.
Thursday, May 20
Bellini's La Sonnambula
Starring Natalie Dessay, Juan Diego Flórez, and Michele Pertusi, conducted by Evelino Pidò. Production by Mary Zimmerman. From March 21, 2009.
Friday, May 21
Verdi's Nabucco
Starring Liudmyla Monastyrska, Jamie Barton, Russell Thomas, Plácido Domingo, and Dmitry Belosselskiy, conducted by James Levine. Production by Elijah Moshinsky. From January 7, 2017.
Saturday, May 22
Donizetti's Lucia di Lammermoor
Starring Joan Sutherland, Alfredo Kraus, Pablo Elvira, and Paul Plishka, conducted by Richard Bonynge. Production by Margherita Wallmann. From November 13, 1982.
Sunday, May 23
Tchaikovsky's The Queen of Spades
Starring Galina Gorchakova, Elisabeth Söderström, Plácido Domingo, Dmitri Hvorostovsky, and Nikolai Putilin, conducted by Valery Gergiev. Production by Elijah Moshinsky. From April 15, 1999.