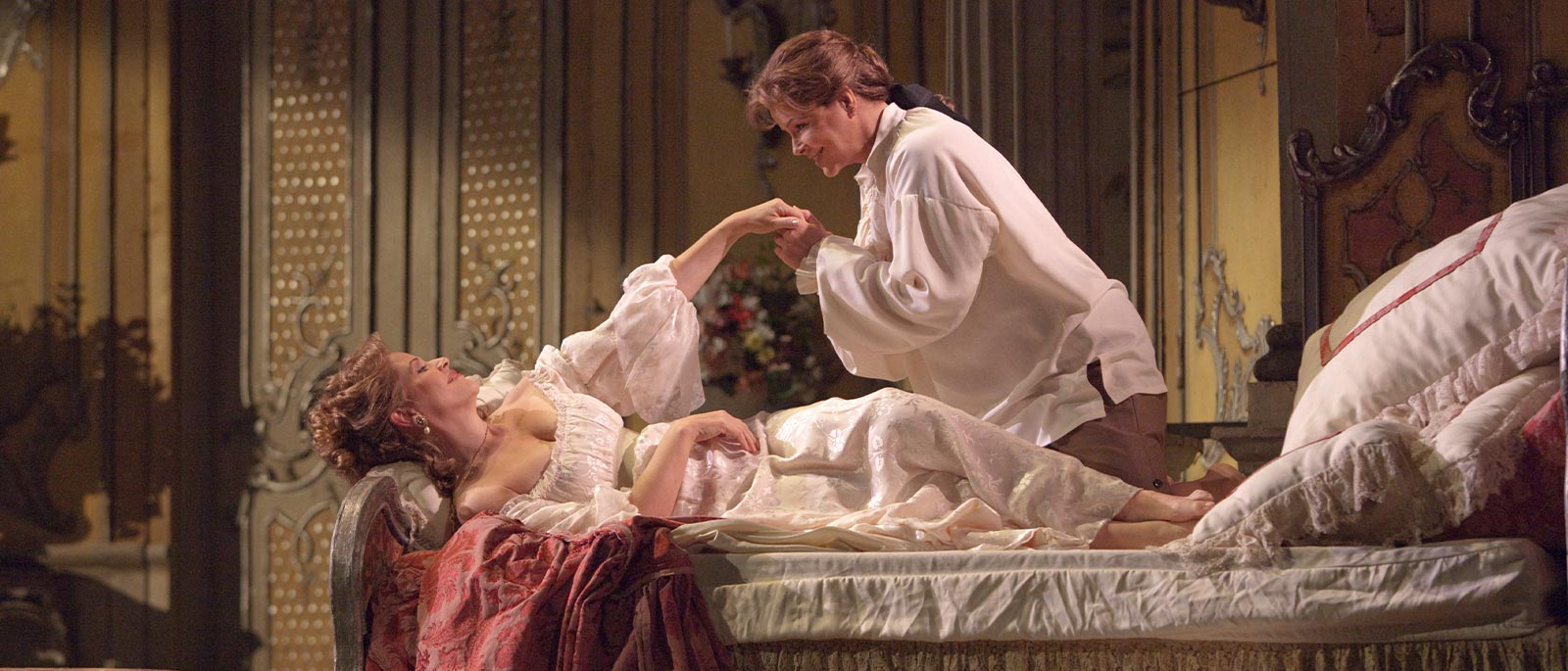 Nightly Opera Streams, May 10–16
National Council Auditions Alumni Week
Leading up to the 2021 National Council Auditions Grand Finals Concert on May 16, this week of free streams pays tribute to some of the extraordinary Met artists who have participated in the competition over the past 60 years—and also includes an exclusive screening of Susan Froemke's documentary The Audition, which goes behind the scenes of the program. A full schedule for the week is available at the bottom of this page.
Met Stars Live in Concert: If you enjoy the Nightly Opera Streams, be sure not to miss our acclaimed pay-per-view concert series, presenting opera's greatest stars performing live via satellite from striking locations across Europe and the U.S.
The coronavirus pandemic has had overwhelming economic implications for the Met. If you're enjoying our free Nightly Opera Streams and would like to help, please consider donating to our urgent fundraising campaign.
Or, donate by text message: Text METOPERA to 44321 in the U.S. or 1-917-999-0700 for other countries. Standard text messaging rates apply.
Week 61
Each stream becomes available at 7:30PM ET and remains accessible for on-demand viewing until 6:30PM ET the following day, with the exception of the May 15 stream of Il Barbiere di Siviglia, which will be available until May 16 at 2PM ET. The May 16 stream of Roberto Devereux will begin at the normally scheduled 7:30PM ET.
Monday, May 10
Puccini's La Bohème
Starring Teresa Stratas, Renata Scotto, José Carreras, Richard Stilwell, and James Morris, conducted by James Levine. Production by Franco Zeffirelli. From January 16, 1982.
Tuesday, May 11
Mozart's Don Giovanni
Starring Carol Vaness, Karita Mattila, Dawn Upshaw, Jerry Hadley, Samuel Ramey, Ferrucio Furlanetto, and Kurt Moll, conducted by James Levine. Production by Franco Zeffirelli. From April 5, 1990.
Wednesday, May 12
Wagner's Tristan und Isolde
Starring Jane Eaglen, Katarina Dalayman, Ben Heppner, Hans-Joachim Ketelsen, and René Pape, conducted by James Levine. Production by Dieter Dorn. From December 18, 1999.
Thursday, May 13
Strauss's Der Rosenkavalier
Starring Renée Fleming, Christine Schäfer, Susan Graham, Eric Cutler, Thomas Allen, and Kristinn Sigmundsson, conducted by Edo de Waart. Production by Nathaniel Merrill. From January 9, 2010.
Friday, May 14
The Audition
This feature-length documentary takes you behind the scenes of the Met's National Council Auditions, in which, each year, thousands of hopefuls compete for a cash prize, the chance to sing on the Met stage—and the opportunity to launch a major operatic career. Directed by Susan Froemke.
Saturday, May 15
Rossini's Il Barbiere di Siviglia
Starring Isabel Leonard, Lawrence Brownlee, Christopher Maltman, Maurizo Muraro, and Paata Burchuladze, conducted by Michele Mariotti. Production by Bartlett Sher. From November 22, 2014.
Sunday, May 16
Donizetti's Roberto Devereux
Starring Sondra Radvanovsky, Elīna Garanča, Matthew Polenzani, and Mariusz Kwiecień, conducted by Maurizio Benini. Production by Sir David McVicar. From April 16, 2016.