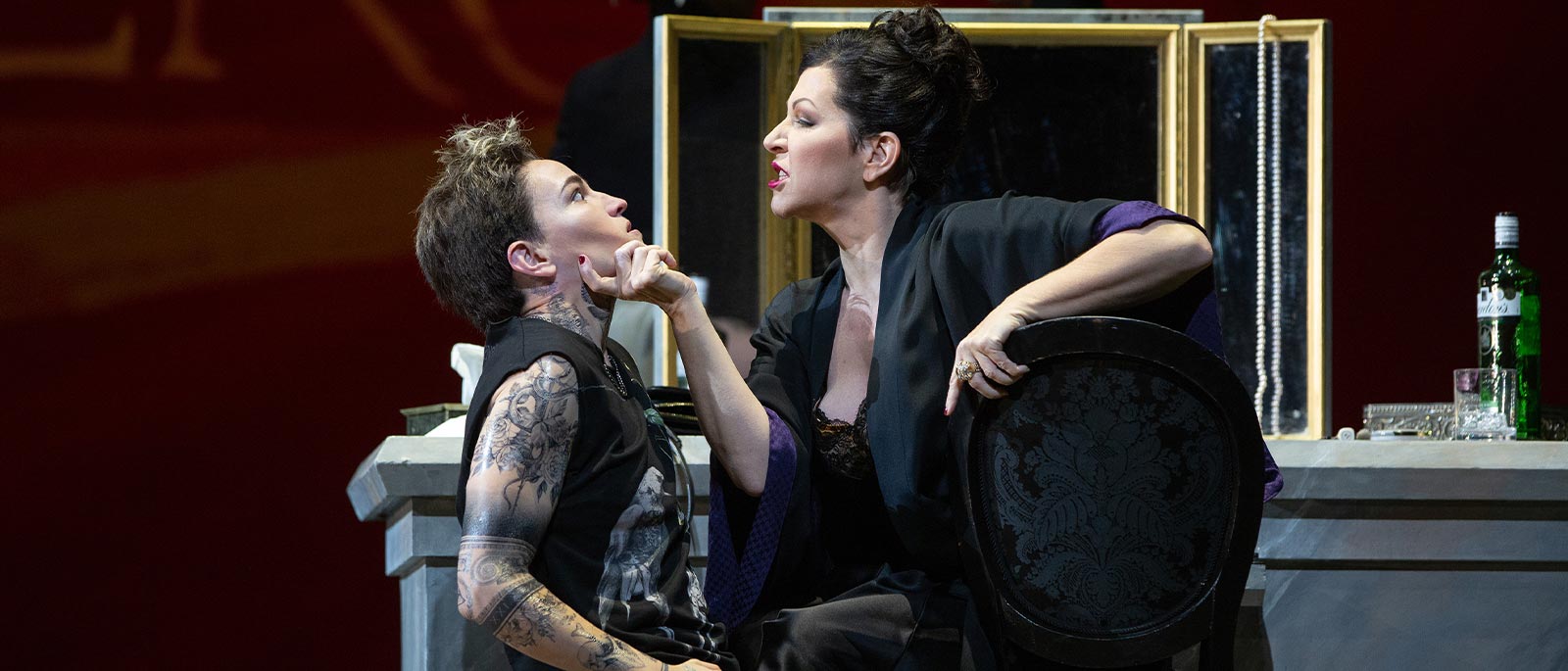 Nightly Opera Streams, May 3–9
Happy Mother's Day
Celebrate Mother's Day with a week of free streams showcasing some of the best—and worst—operatic moms. Explore the articles and resources below to expand your knowledge and enhance your experience as you enjoy the screenings. A full schedule for the week is available at the bottom of this page.
Met Stars Live in Concert: If you enjoy the Nightly Opera Streams, be sure not to miss our acclaimed pay-per-view concert series, presenting opera's greatest stars performing live via satellite from striking locations across Europe and the U.S.
The coronavirus pandemic has had overwhelming economic implications for the Met. If you're enjoying our free Nightly Opera Streams and would like to help, please consider donating to our urgent fundraising campaign.
Or, donate by text message: Text METOPERA to 44321 in the U.S. or 1-917-999-0700 for other countries. Standard text messaging rates apply.
Week 60
Each stream becomes available at 7:30PM ET and remains accessible for on-demand viewing until 6:30PM ET the following day, with the exception of the May 7 stream of Wozzeck, which will be available until May 8 at 12PM ET. The May 8 stream of Madama Butterfly will begin at the normally scheduled 7:30PM ET.
Monday, May 3
Strauss's Elektra
Starring Nina Stemme, Adrianne Pieczonka, Waltraud Meier, and Eric Owens, conducted by Esa-Pekka Salonen. Production by Patrice Chéreau. From April 30, 2016.
Tuesday, May 4
Handel's Rodelinda
Starring Renée Fleming, Stephanie Blythe, Andreas Scholl, Joseph Kaiser, and Shenyang, conducted by Harry Bicket. Production by Stephen Wadsworth. From December 3, 2011.
Wednesday, May 5
Thomas's Hamlet
Starring Marlis Petersen, Jennifer Larmore, Simon Keenlyside, and James Morris, conducted by Louis Langrée. Production by Patrice Caurier & Moshe Leiser. From March 27, 2010.
Thursday, May 6
Bellini's Norma
Starring Sondra Radvanovsky, Joyce DiDonato, Joseph Calleja, and Matthew Rose, conducted by Carlo Rizzi. Production by Sir David McVicar. From October 7, 2017.
Friday, May 7
Berg's Wozzeck
Starring Elza van den Heever, Tamara Mumford, Christopher Ventris, Gerhard Siegel, Andrew Staples, Peter Mattei, and Christian Van Horn, conducted by Yannick Nézet-Séguin. Production by William Kentridge. From January 11, 2020.
Saturday, May 8
Puccini's Madama Butterfly
Starring Patricia Racette, Maria Zifchak, Marcello Giordani, and Dwayne Croft, conducted by Patrick Summers. Production by Anthony Minghella. From March 7, 2009.
Sunday, May 9
Handel's Agrippina
Starring Brenda Rae, Joyce DiDonato, Kate Lindsey, Iestyn Davies, Duncan Rock, and Matthew Rose, conducted by Harry Bicket. Production by Sir David McVicar. From February 29, 2020.