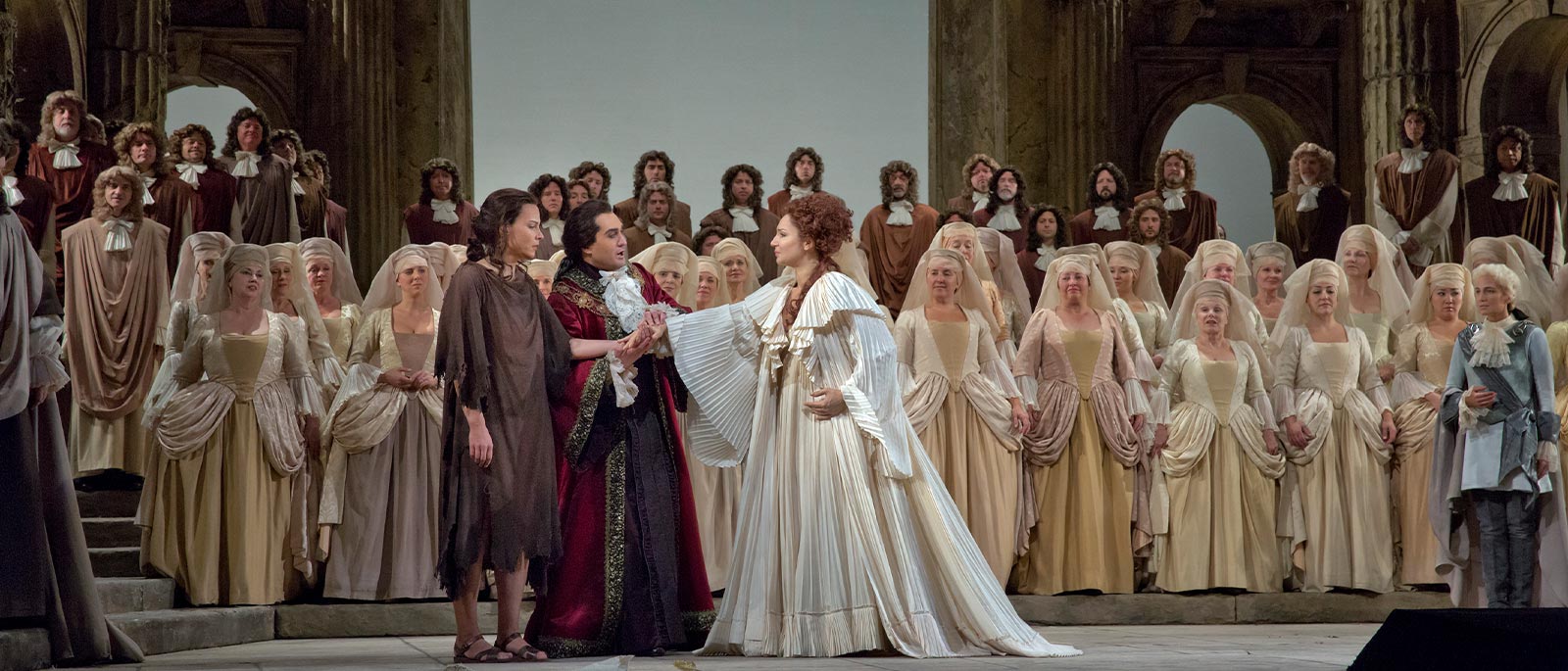 Nightly Opera Streams, April 19–25
Moral Authority
This week of free Nightly Opera Streams celebrates virtue, freedom, and the power of the human spirit. Explore the articles and resources below to expand your knowledge and enhance your experience as you enjoy the screenings. A full schedule for the week is available at the bottom of this page.
Met Stars Live in Concert: If you enjoy the Nightly Opera Streams, be sure not to miss our acclaimed pay-per-view concert series, presenting opera's greatest stars performing live via satellite from striking locations across Europe and the U.S.
The coronavirus pandemic has had overwhelming economic implications for the Met. If you're enjoying our free Nightly Opera Streams and would like to help, please consider donating to our urgent fundraising campaign.
Or, donate by text message: Text METOPERA to 44321 in the U.S. or 1-917-999-0700 for other countries. Standard text messaging rates apply.
Week 58
Monday, April 19
Wagner's Lohengrin
Starring Eva Marton, Leonie Rysanek, Peter Hofmann, Leif Roar, and John Macurdy, conducted by James Levine. Production by August Everding. From January 10, 1986.
Tuesday, April 20
Mozart's La Clemenza di Tito
Starring Lucy Crowe, Barbara Frittoli, Elina Garanča, Kate Lindsey, Giuseppe Filianoti, and Oren Gradus, conducted by Harry Bicket. Production by Jean-Pierre Ponnelle. From December 1, 2012.
Wednesday, April 21
Puccini's La Fanciulla del West
Starring Deborah Voigt, Marcello Giordani, and Lucio Gallo, conducted by Nicola Luisotti. Production by Giancarlo Del Monaco. From January 8, 2011.
Thursday, April 22
Verdi's Simon Boccanegra
Starring Anna Tomowa-Sintow, Vasile Moldoveanu, Sherrill Milnes, and Paul Plishka, conducted by James Levine. Production by Tito Capobianco. From December 29, 1984.
Friday, April 23
Philip Glass's Satyagraha
Starring Rachelle Durkin, Richard Croft, Kim Josephson, and Alfred Walker, conducted by Dante Anzolini. Production by Phelim McDermott. From November 19, 2011.
Saturday, April 24
Beethoven's Fidelio
Starring Karita Mattila, Ben Heppner, Falk Struckmann, and René Pape, conducted by James Levine. Production by Jürgen Flimm. From October 28, 2000.
Sunday, April 25
Poulenc's Dialogues des Carmélites
Starring Isabel Leonard, Adrianne Pieczonka, and Karita Mattila, conducted by Yannick Nézet-Séguin. Production by John Dexter. From May 11, 2019.