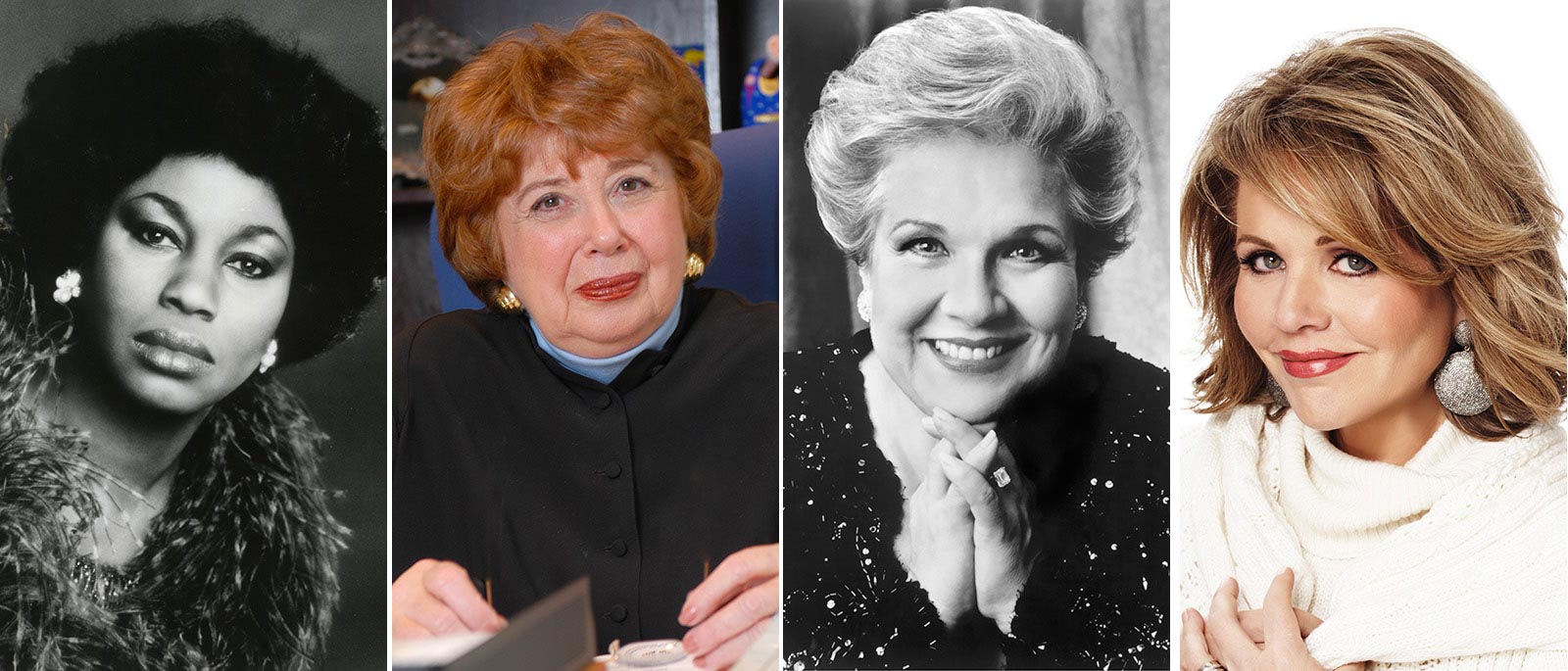 Nightly Opera Streams, March 1–7
Celebrating Women's History Month
We celebrate the start of Women's History Month with a week of free streams that shines the spotlight on trailblazing American artists who made or are making important contributions both onstage and off. Explore the articles and resources below to expand your knowledge and enhance your experience as you enjoy the screenings. A full schedule for the week is available at the bottom of this page.
Met Stars Live in Concert: If you enjoy the Nightly Opera Streams, be sure not to miss our acclaimed pay-per-view concert series, presenting opera's greatest stars performing live via satellite from striking locations across Europe and the U.S.
The coronavirus pandemic has had overwhelming economic implications for the Met. If you're enjoying our free Nightly Opera Streams and would like to help, please consider donating to our urgent fundraising campaign.
Or, donate by text message: Text METOPERA to 44321 in the U.S. or 1-917-999-0700 for other countries. Standard text messaging rates apply.
Week 51
Monday, March 1
Donizetti's Don Pasquale
Starring Beverly Sills, Alfredo Kraus, Håkan Hagegård, and Gabriel Bacquier, conducted by Nicola Rescigno. Production by John Dexter. From January 11, 1979.
Tuesday, March 2
Verdi's Falstaff
Starring Mirella Freni, Barbara Bonney, Marilyn Horne, Susan Graham, Paul Plishka, Frank Lopardo, and Bruno Pola, conducted by James Levine. Production by Franco Zeffirelli. From October 10, 1992.
Wednesday, March 3
Wagner's Die Walküre
Starring Hildegard Behrens, Jessye Norman, Christa Ludwig, Gary Lakes, James Morris, and Kurt Moll, conducted by James Levine. Production by Otto Schenk. From April 8, 1989.
Thursday, March 4
Mozart's Die Zauberflöte
Starring Golda Schultz, Kathryn Lewek, Charles Castronovo, Markus Werba, and René Pape, conducted by James Levine. Production by Julie Taymor. From October 14, 2017.
Friday, March 5
Britten's Peter Grimes
Starring Patricia Racette, Anthony Dean Griffey, and Anthony Michaels-Moore, conducted by Sir Donald Runnicles. Production by John Doyle. From March 15, 2008.
Saturday, March 6
Dvořák's Rusalka
Starring Renée Fleming, Emily Magee, Dolora Zajick, Piotr Beczała, and John Relyea, conducted by Yannick Nézet-Séguin. Production by Otto Schenk. From February 8, 2014.
Sunday, March 7
Verdi's La Forza del Destino
Starring Leontyne Price, Giuseppe Giacomini, Leo Nucci, and Bonaldo Giaiotti, conducted by James Levine. Production by John Dexter. From March 24, 1984.