Weekly Guide: February 22–28
This week of Nightly Opera Streams pays tributes to Dmitri Hvorostovsky, the beloved Russian baritone who passed away tragically in 2017. Celebrate his extraordinary career with seven of his most riveting Met appearances. Explore the full lineup with this guide to the week.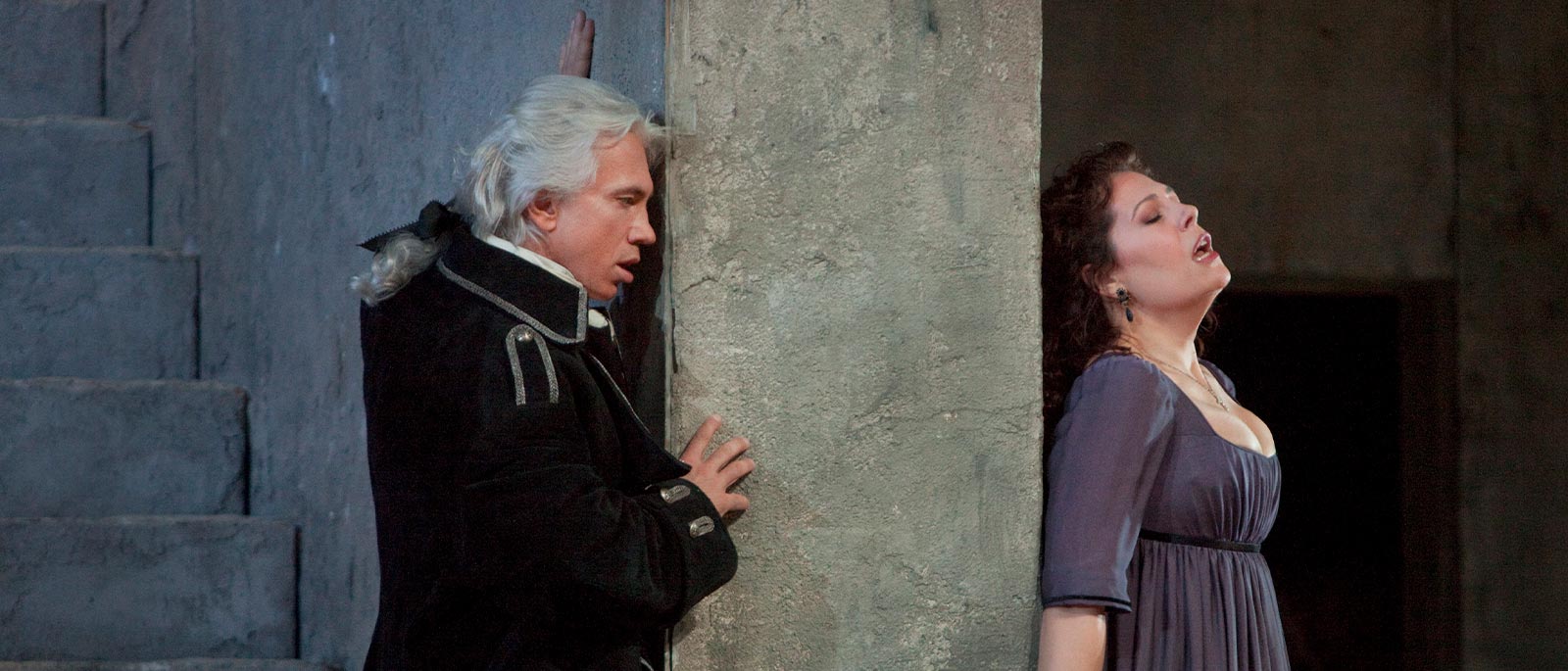 Monday, February 22
Verdi's Il Trovatore
The clichéd quip, attributed to Enrico Caruso, is that it's easy to put on a great performance of Verdi's hot-blooded potboiler—all you need is the four best singers in the world. In this 2011 Live in HD transmission, the Met sought to do just that, assembling a powerhouse quartet to tackle the daunting principal roles: Sondra Radvanovsky, Dolora Zajick, Marcelo Álvarez, and Dmitri Hvorostovsky. The four stars tear into Verdi's thrilling score, packed from beginning to end with memorable arias, searing and swooning duets, and rousing ensemble and choral numbers.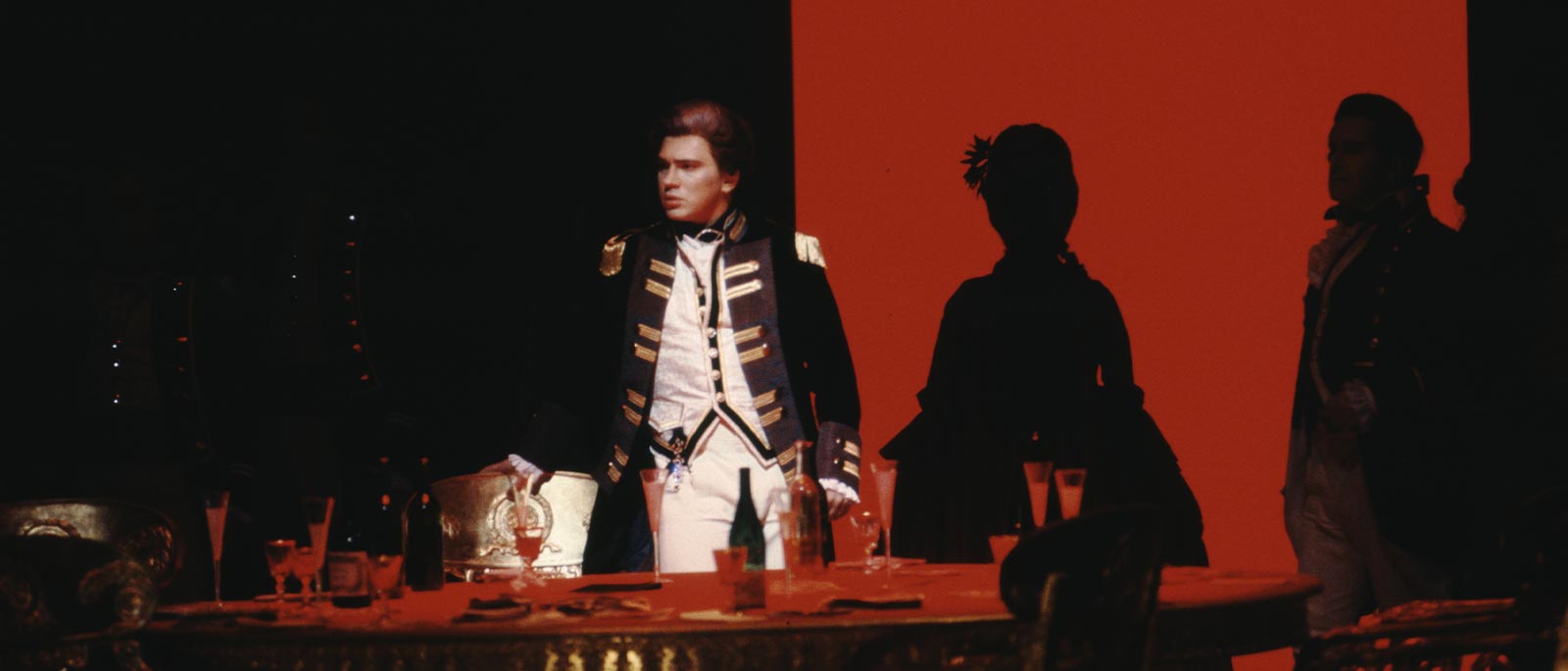 Tuesday, February 23
Tchaikovsky's The Queen of Spades
A work of extreme moods and colors, The Queen of Spades explores life's frivolities as well as the darkest impulses of obsession, addiction, madness, and self-destruction. Over the course of the drama, the officer Hermann desperately tries to learn a powerful secret, amidst the vast elegance and mystical allure of imperial St. Petersburg. Tchaikovsky's skills as a great symphonist and undisputed master of ballet music are apparent in the many superb orchestral touches throughout the score, and the vocal solos are notable for their diversity and powerful impact.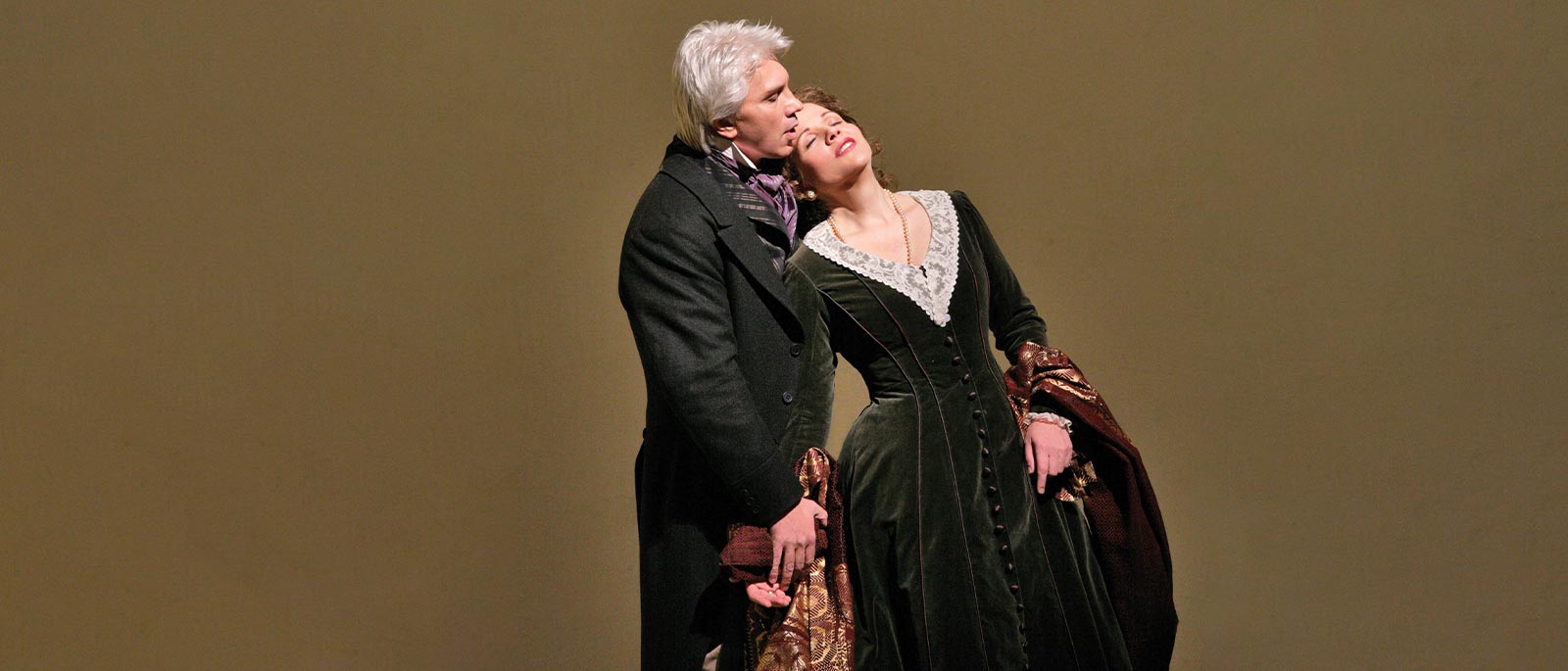 Wednesday, February 24
Tchaikovsky's Eugene Onegin
Tchaikovsky's masterpiece exemplifies the dramatic sweep, complex characterization, and insight into human nature that define great Russian literature and music. The story comes from Pushkin and provides one of opera's most compelling heroines: Tatiana, an intelligent but naive adolescent girl who is first rejected by an older, more worldly man, then blossoms into an elegant, rich, aristocratic woman and returns the favor when the two meet again. The score is a chiaroscuro tour-de-force, sensitively capturing the many shades of the characters' turbulent, conflicted emotions.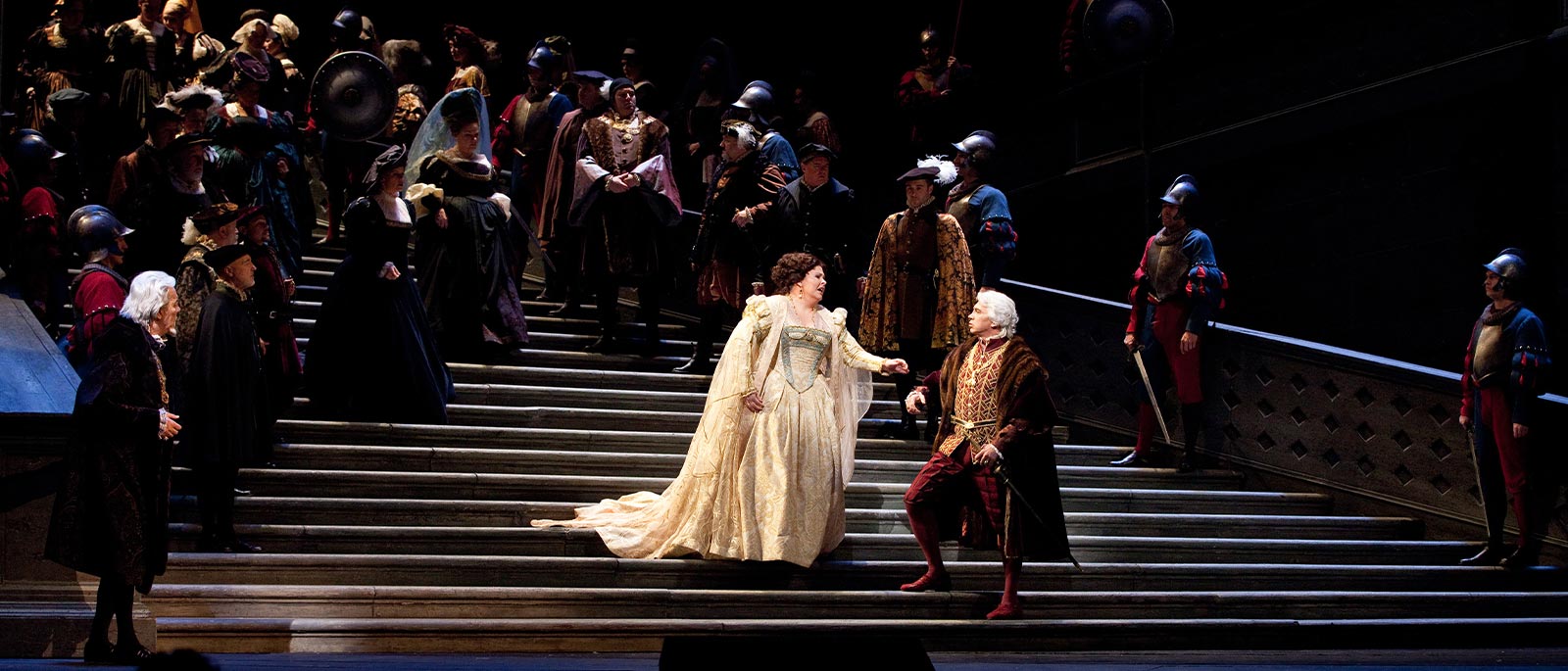 Thursday, February 25
Verdi's Ernani
This early Verdi masterpiece is based on a Hugo drama, whose complicated plot concerns a young woman and the three men vying for her affections—her elderly uncle, a king destined to become Holy Roman Emperor, and a bandit who is actually an overthrown nobleman. Though there is plenty of action arising from the various passions and grudges scattered among these characters, the opera is best appreciated as a feast of beautiful and dramatic Italianate singing. With virtuosic roles for a quartet of principals, the opera delivers one feat of heroic vocalism after another.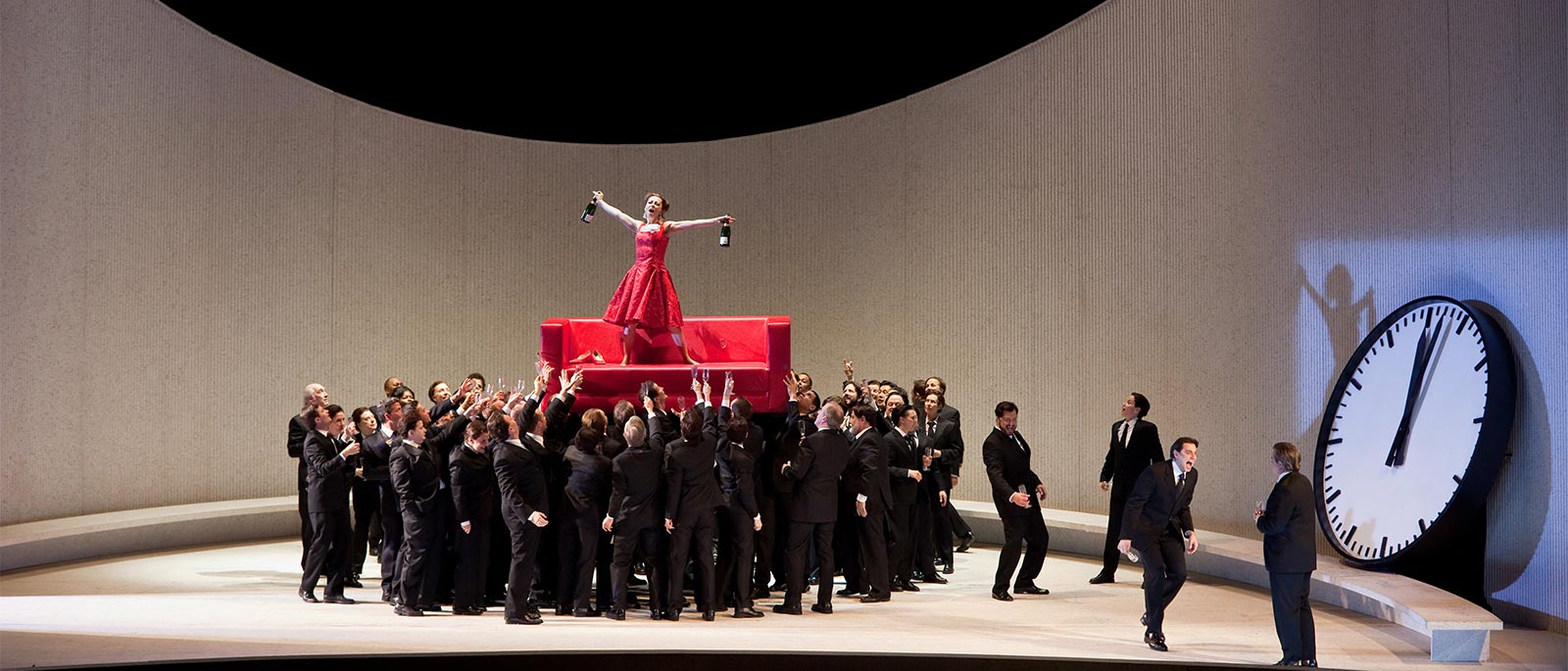 Friday, February 26
Verdi's La Traviata
Few operatic figures are as beloved as Violetta, the dignified, selfless, and sickly heroine of Verdi's classic tragedy. An elegant courtesan with a heart of gold, she chooses true love over the amusements and riches of her glamorous Parisian life, then sacrifices everything for the sake of a young woman she's never even met. All of this—the glitter of her earlier wealth, the heat of her passion with the ardent young Alfredo, the pain of their separation, and her tragic end—lands with devastating weight thanks to Verdi, whose score stands as one of music's greatest depictions of love and loss.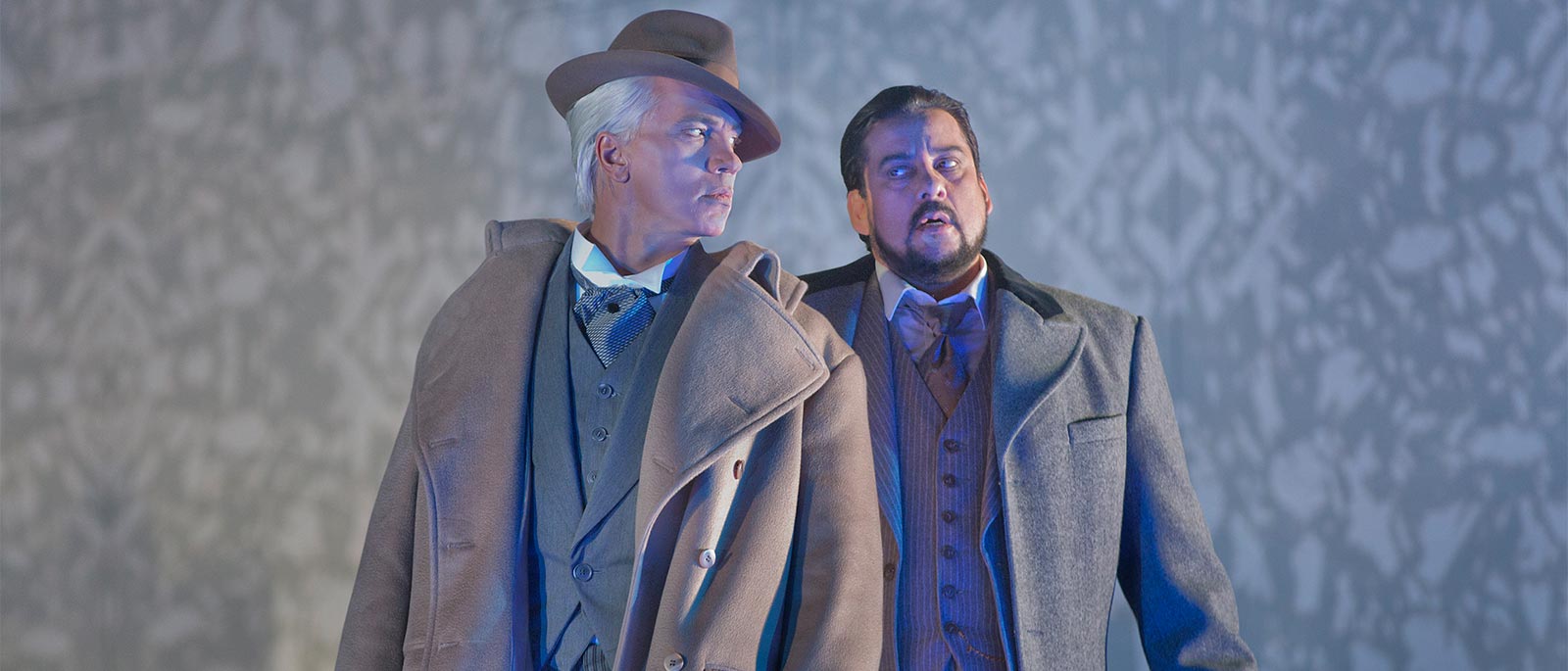 Saturday, February 27
Verdi's Un Ballo in Maschera
Verdi can always be counted on for passion, intrigue, and betrayal—and to make glorious music of it all. Un Ballo in Maschera, concerning a plot to murder King Gustavo III of Sweden, who also happens to be in love with his best friend and counselor's wife, is no exception. With a principal cast featuring a powerful and dignified leading lady, a character role for soprano as young man, an otherworldly mezzo-soprano fortune-teller, a heroic tenor, and a suave and conflicted baritone, it's Italian opera at its finest.
Sunday, February 28
Verdi's Il Trovatore
Verdi's turbulent tragedy of four characters caught in a web of family ties, politics, and love is a mainstay of the operatic repertory. The score is as melodic as it is energetic, with infectious tunes that are not easily forgotten. The vigorous music accompanies a dark and disturbing tale that revels in many of the most extreme expressions of Romanticism, including violent shifts in tone, unlikely coincidences, and characters who are impelled by raw emotion rather than cool logic. For anyone who truly immerses himself in its shadowy world, Il Trovatore provides an experience that is uniquely thrilling, even within the world of Romantic Italian opera.