Weekly Guide: February 8–14
Enjoy a second week of Nightly Opera Streams paying tribute to some of the remarkable Black singers who have graced the Met stage, from legendary artists Leona Mitchell, Jessye Norman, and Kathleen Battle to two of today's biggest stars, Eric Owens and J'Nai Bridges. Learn more about each opera with this guide to the week.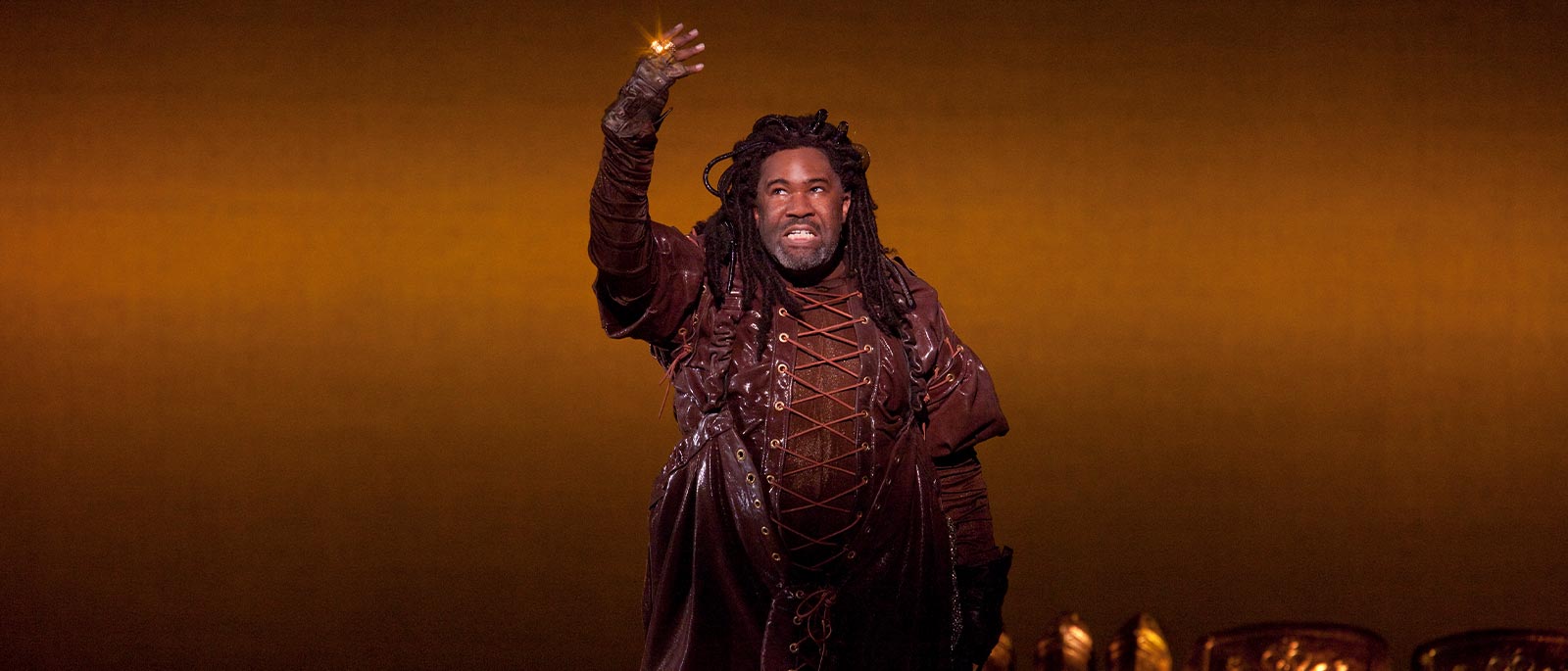 Monday, February 8
Wagner's Das Rheingold
Like many of his German Romantic contemporaries, Wagner found great inspiration in Scandinavian mythology, whose stubborn and intemperate gods and goddesses stirred up enough drama to fuel many hours at the opera. His magnificent four-part series Der Ring des Nibelungen, is an epic tale modeled on the ancient Norse sagas. In this first installment, the composer introduces the cycle's main antagonist, Alberich—powerfully portrayed in this 2010 performance by bass-baritone Eric Owens—who steals a hunk of gold from the Rhinemaidens, forging from it an all-powerful ring and setting into motion a series of events that will leave the world and its roster of gods, goddesses, demigods, giants, and mortals forever changed.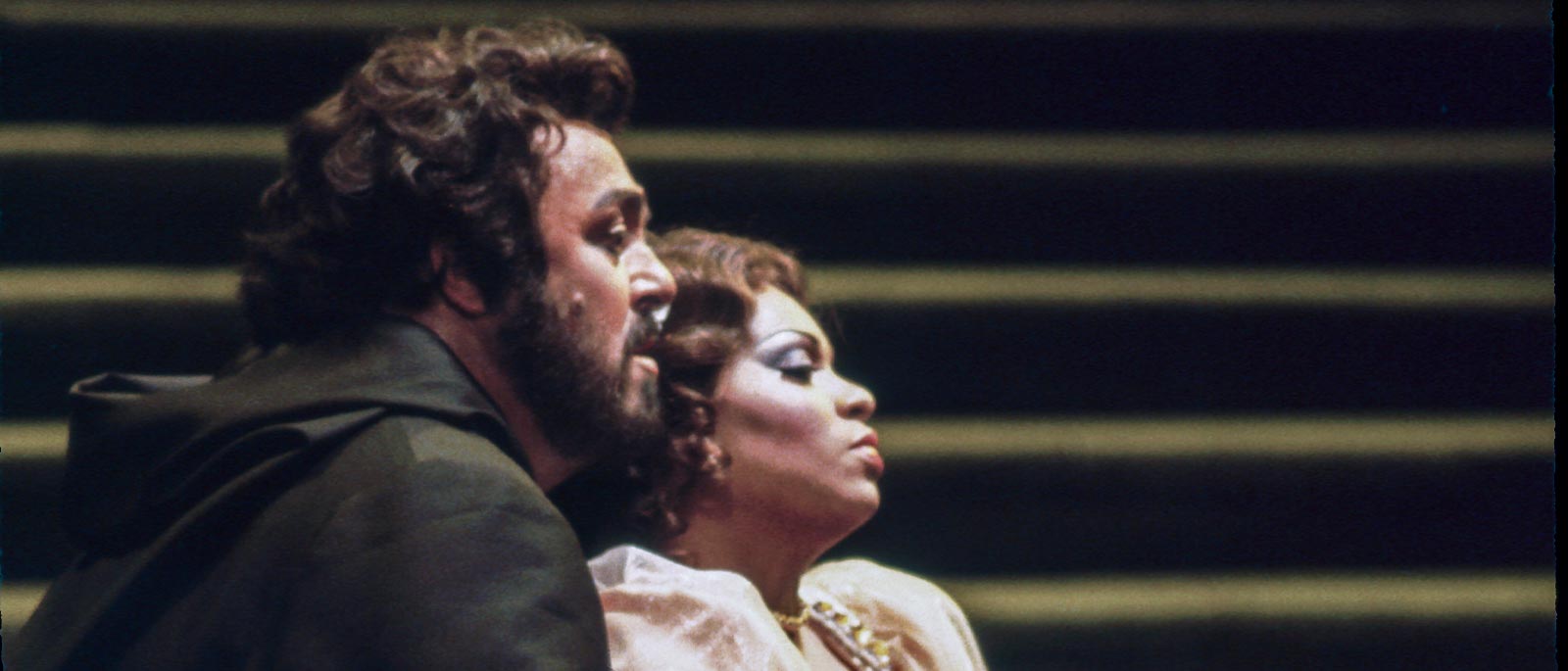 Tuesday, February 9
Verdi's Ernani
This early Verdi masterpiece is also based on a Hugo drama, whose complicated plot concerns a young woman and the three men vying for her affections: her elderly uncle, a king destined to become Holy Roman Emperor, and a bandit who is actually an overthrown nobleman. Though there is plenty of action arising from the various passions and grudges scattered among these characters, the opera is best appreciated as a feast of beautiful and dramatic Italianate singing. With virtuosic roles for a quartet of principals, the opera delivers one feat of heroic vocalism after another. And in this 1983 performance from the Met's centennial season, soprano Leona Mitchell, whose repertoire with the company included more than a dozen compelling heroines, stars as Elvira.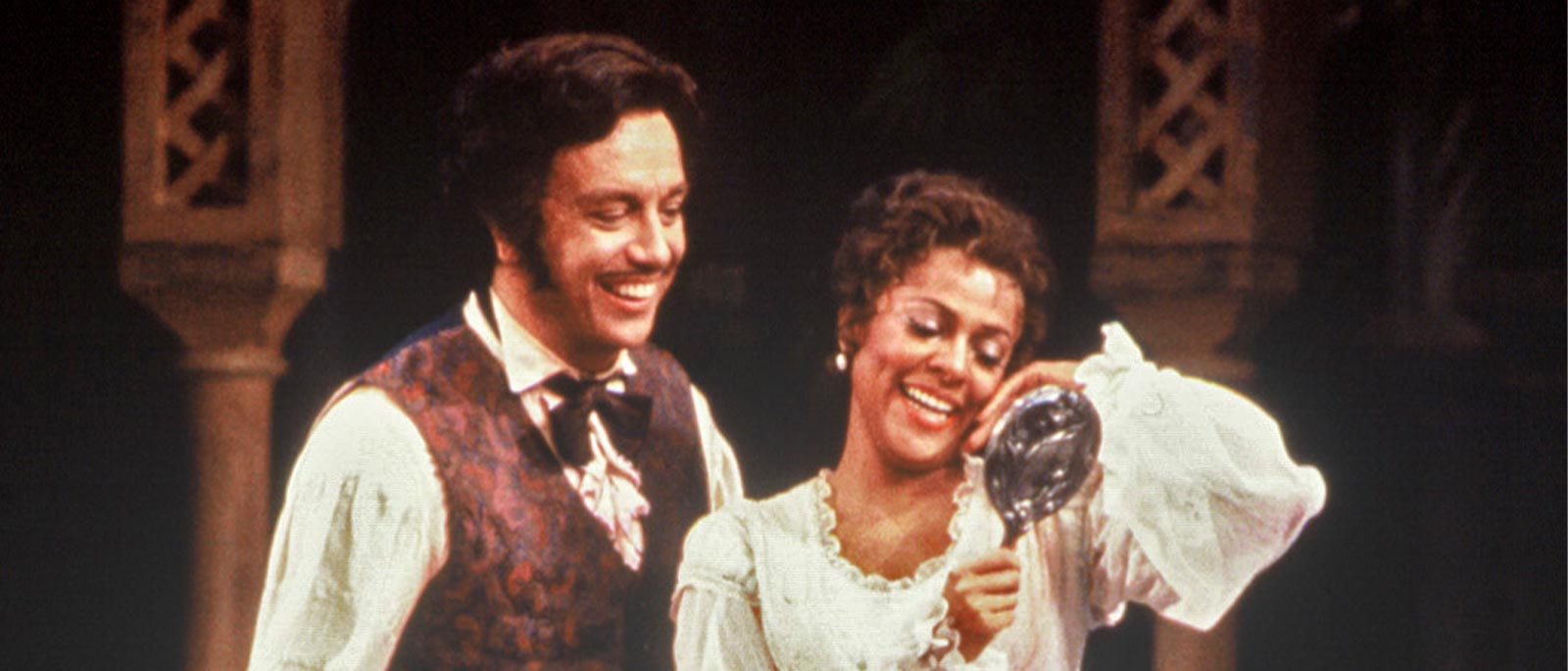 Wednesday, February 10
Rossini's Il Barbiere di Siviglia
One of opera's most beloved comedies, Rossini's irreverent farce about a feisty young noblewoman with a mind of her own—portrayed in this 1988 telecast by dazzling American soprano Kathleen Battle—has delighted operagoers for more than two centuries. Its setting, rustic Seville, and zany storyline call for a cast of ace performers with dazzling stage presence, sizzling comic timing, and vocal agility to spare, making this the perfect playground for virtuoso singers as well as an ideal viewing experience for audiences of all ages.
Thursday, February 11
Verdi's Un Ballo in Maschera
Verdi can always be counted on for passion, intrigue, and betrayal—and to make glorious music of it all. Un Ballo in Maschera, concerning a plot to murder King Gustavo III of Sweden, who also happens to be in love with his best friend and counselor's wife, is no exception. With a principal cast featuring a heroic tenor, a powerful and dignified leading lady, a suave and conflicted baritone, a character role for soprano, and an otherworldly mezzo-soprano fortune-teller, it's Italian opera at its finest. The cast for this 1991 performance features a number of captivating artists, including soprano Harolyn Blackwell as Oscar and mezzo-soprano Florence Quivar as Ulrica.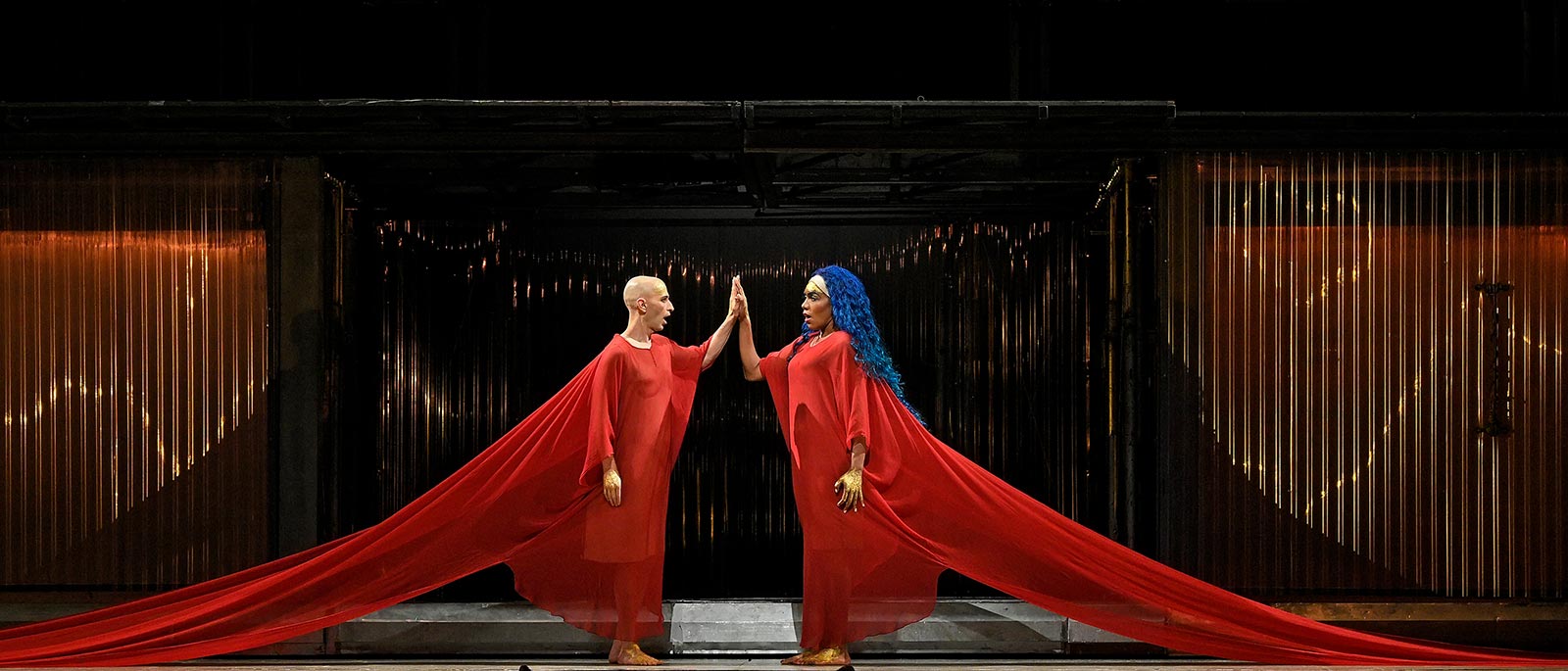 Friday, February 12
Philip Glass's Akhnaten
Philip Glass's mesmerizing masterpiece of ancient Egypt—in an ingenious production by Phelim McDermott that incorporates a virtuosic troupe of jugglers and acrobats—is unlike anything else ever seen on the Met stage and proved a sold-out sensation in its company premiere last season. A portrait of the revolutionary title pharaoh, whose attempt to convert his society to the monotheistic worship of the sun leads to his overthrow, Glass's opera takes a ritualistic approach to depicting the events, hypnotizing the listener with its repetitive yet immersive music. A highlight of the 2019–20 season, this mesmerizing Live in HD transmission features rising-star mezzo-soprano J'Nai Bridges as Akhnaten's regal queen, Nefertiti, the role of her Met debut.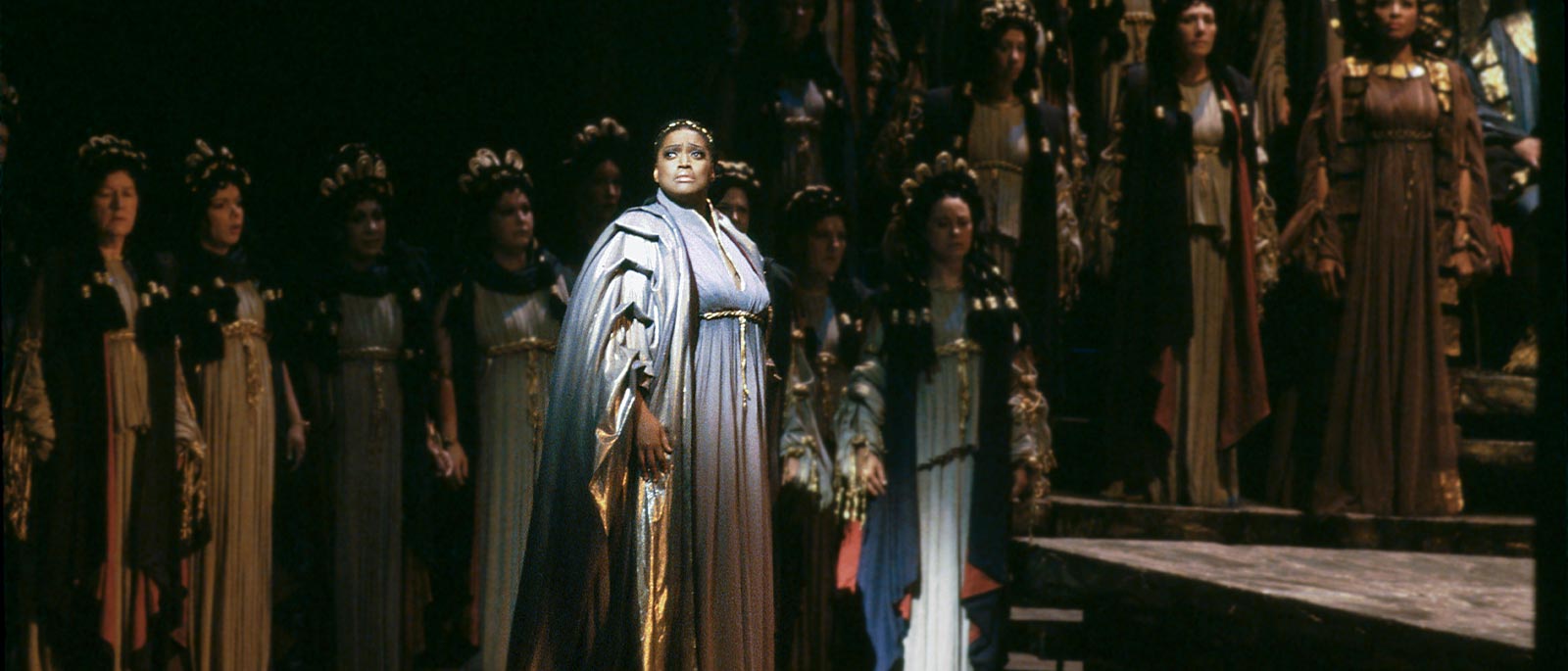 Saturday, February 13
Berlioz's Les Troyens
In this towering French masterpiece, the ever-daring Hector Berlioz takes on the aftermath of the Trojan War and Aeneas's exploits in Carthage, by way of Virgil's Aeneid, in a five-act magnum opus that stands as one of the most ambitious works in the operatic canon. Fabrizio Melano's monumental staging—which originally introduced the opera to Met audiences in 1973—rises to the challenge with a striking production that gets to the heart of the drama while also providing spectacular visuals. And in the first of two free streams this week showcasing her extraordinary talent, soprano Jessye Norman stars as the prophetess Cassandre, whose unheeded warnings spell doom for the titular Trojans.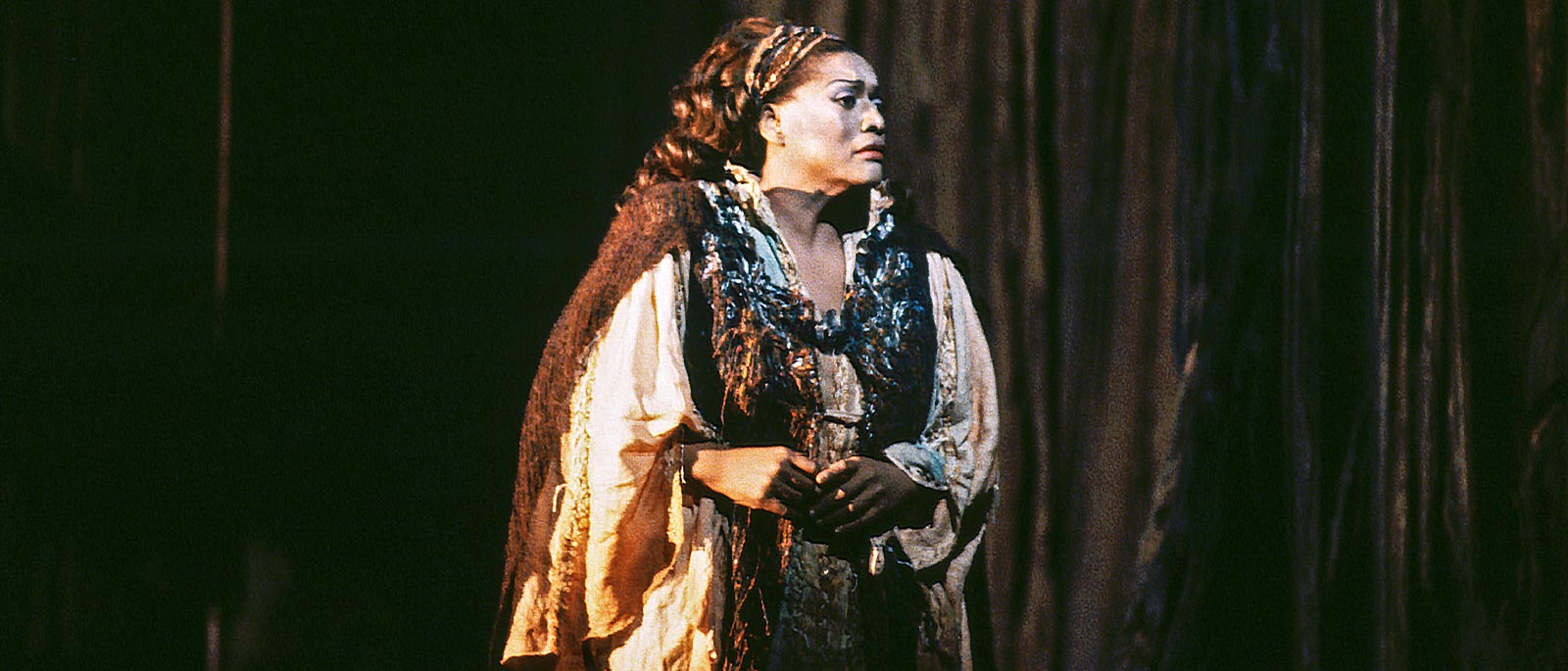 Sunday, February 14
Wagner's Die Walküre
The second installment of the Ring cycle, Die Walküre is the most popular and most self-contained episode in the epic tetralogy. It combines the mythical machinations of gods and demigods with the deeply human love story of the brave hero Siegmund and the dignified Sieglinde (portrayed here by commanding soprano Jessye Norman), whose passion is undiminished even when they discover that they are long-lost brother and sister, separated at birth. It also features one of opera's most touching father-daughter relationships—that between Wotan, king of the gods, and his warrior-maiden daughter Brünnhilde, leader of the Valkyries.