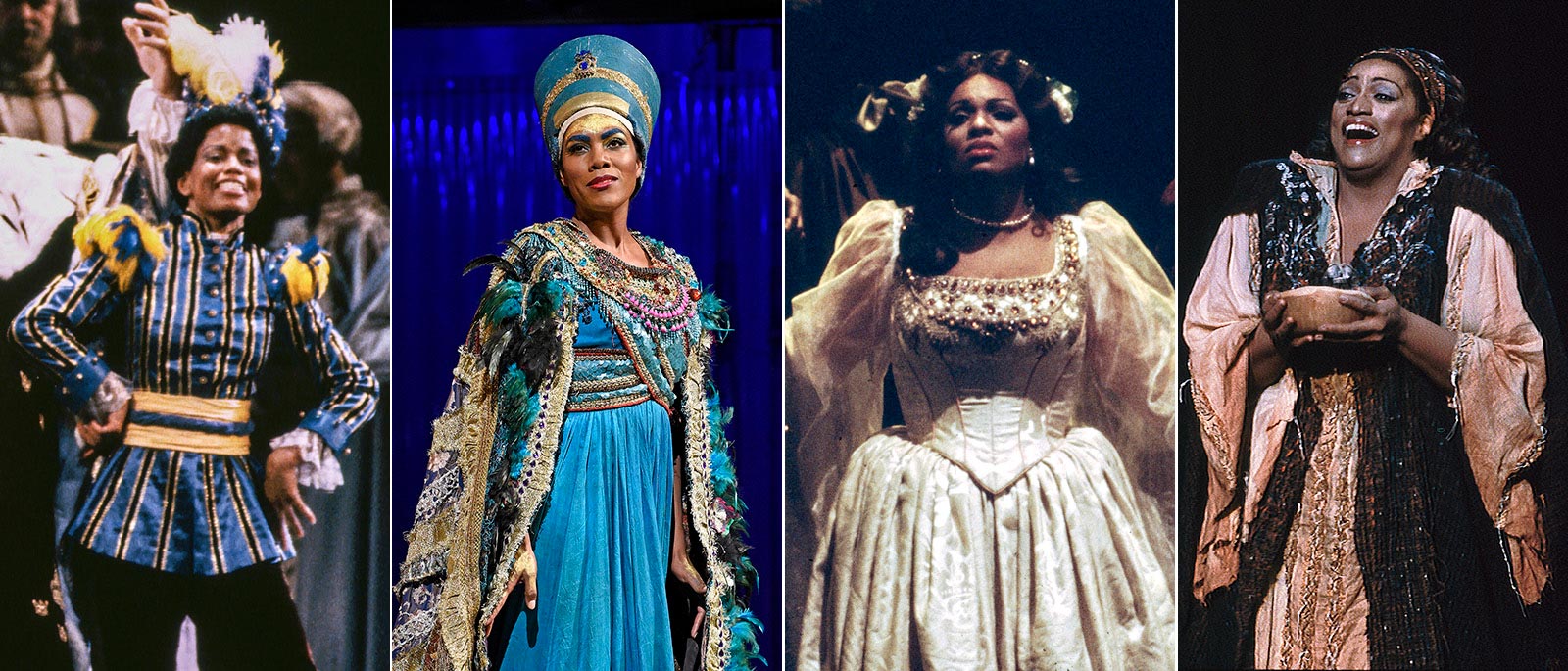 Nightly Opera Streams, February 8–14
Black History Month at the Met, Part II
Enjoy a second week of free Nightly Opera Streams paying tribute to some of the remarkable African American stars who have graced the Met stage. Explore the articles and resources below to expand your knowledge and enhance your experience as you enjoy the screenings. A full schedule for the week is available at the bottom of this page.
Met Stars Live in Concert: If you enjoy the Nightly Opera Streams, be sure not to miss our acclaimed pay-per-view concert series, presenting opera's greatest stars performing live via satellite from striking locations across Europe and the U.S.
The coronavirus pandemic has had overwhelming economic implications for the Met. If you're enjoying our free Nightly Opera Streams and would like to help, please consider donating to our urgent fundraising campaign.
Or, donate by text message: Text METOPERA to 44321 in the U.S. or 1-917-999-0700 for other countries. Standard text messaging rates apply.
Week 48
Monday, February 8
Wagner's Das Rheingold
Starring Wendy Bryn Harmer, Stephanie Blythe, Patricia Bardon, Richard Croft, Gerhard Siegel, Dwayne Croft, Bryn Terfel, Eric Owens, Franz-Josef Selig, and Hans-Peter König, conducted by James Levine. Production by Robert Lepage. From October 9, 2010.
Tuesday, February 9
Verdi's Ernani
Starring Leona Mitchell, Luciano Pavarotti, Sherrill Milnes, and Ruggero Raimondi, conducted by James Levine. Production by Pier Luigi Samaritani. From December 17, 1983.
Wednesday, February 10
Rossini's Il Barbiere di Siviglia
Starring Kathleen Battle, Rockwell Blake, Leo Nucci, Enzo Dara, and Ferruccio Furlanetto, conducted by Ralf Weikert. Production by John Cox. From December 3, 1988.
Thursday, February 11
Verdi's Un Ballo in Maschera
Starring Aprile Millo, Harolyn Blackwell, Florence Quivar, Luciano Pavarotti, and Leo Nucci, conducted by James Levine. Production by Piero Faggioni. From January 26, 1991.
Friday, February 12
Philip Glass's Akhnaten
Starring Dísella Lárusdóttir, J'Nai Bridges, Anthony Roth Costanzo, Aaron Blake, Will Liverman, Richard Bernstein, and Zachary James, conducted by Karen Kamensek. Production by Phelim McDermott. From November 23, 2019.
Saturday, February 13
Berlioz's Les Troyens
Starring Tatiana Troyanos, Jessye Norman, Plácido Domingo, and Allan Monk, conducted by James Levine. Production by Fabrizio Melano. From October 8, 1983.
Sunday, February 14
Wagner's Die Walküre
Starring Hildegard Behrens, Jessye Norman, Christa Ludwig, Gary Lakes, James Morris, and Kurt Moll, conducted by James Levine. Production by Otto Schenk. From April 8, 1989.