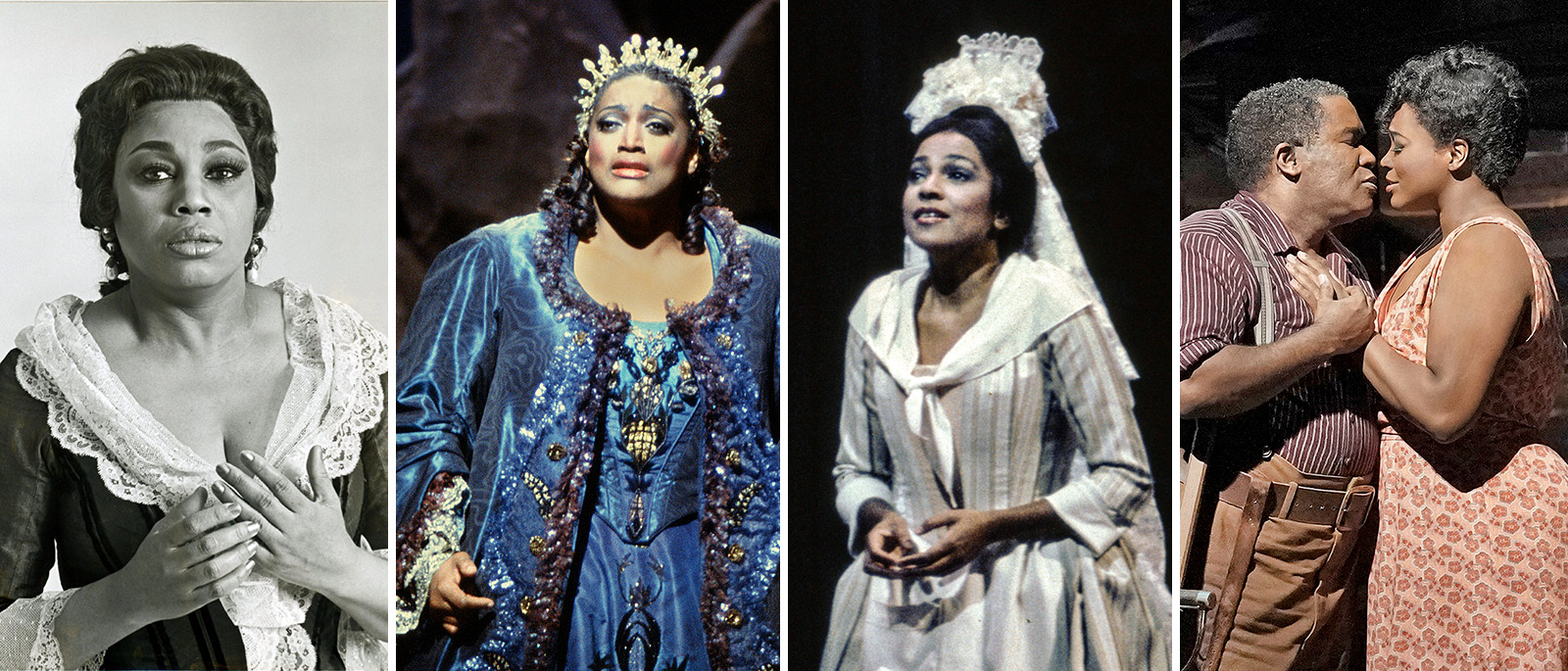 Nightly Opera Streams, February 1–7
Black History Month at the Met, Part I
Celebrate Black History Month with the first of two weeks of Nightly Opera Streams showcasing some of the extraordinary African American artists who have starred on the Met stage. Explore the articles and resources below to expand your knowledge and enhance your experience as you enjoy the screenings. A full schedule for the week is available at the bottom of this page.
Met Stars Live in Concert: If you enjoy the Nightly Opera Streams, be sure not to miss our acclaimed pay-per-view concert series, presenting opera's greatest stars performing live via satellite from striking locations across Europe and the U.S.
The coronavirus pandemic has had overwhelming economic implications for the Met. If you're enjoying our free Nightly Opera Streams and would like to help, please consider donating to our urgent fundraising campaign.
Or, donate by text message: Text METOPERA to 44321 in the U.S. or 1-917-999-0700 for other countries. Standard text messaging rates apply.
Week 47
Each stream becomes available at 7:30PM ET and remains accessible for on-demand viewing until 6:30PM ET the following day, with the exception of the February 5 stream of Le Nozze di Figaro, which will be available until February 6 at 12PM ET. The February 6 stream of Ariadne auf Naxos will begin at the normally scheduled 7:30PM ET.
Monday, February 1
The Gershwins' Porgy and Bess
Starring Angel Blue, Golda Schultz, Latonia Moore, Denyce Graves, Frederick Ballentine, Eric Owens, Alfred Walker, and Donovan Singletary, conducted by David Robertson. Production by James Robinson. From February 1, 2020.
Tuesday, February 2
Verdi's La Forza del Destino
Starring Leontyne Price, Isola Jones, Giuseppe Giacomini, Leo Nucci, and Bonaldo Giaiotti, conducted by James Levine. Production by John Dexter. From March 24, 1984.
Wednesday, February 3
Poulenc's Dialogues of the Carmelites
Starring Maria Ewing, Jessye Norman, Betsy Norden, Régine Crespin, and Florence Quivar, conducted by Manuel Rosenthal. Production by John Dexter. From April 4, 1987.
Thursday, February 4
Rossini's La Cenerentola
Starring Elina Garanča, Lawrence Brownlee, Simone Alberghini, Alessandro Corbelli, and John Relyea, conducted by Maurizio Benini. Production by Cesare Lievi. From May 9, 2009.
Friday, February 5
Mozart's Le Nozze di Figaro
Starring Carol Vaness, Kathleen Battle, Frederica von Stade, Thomas Allen, and Ruggero Raimondi, conducted by James Levine. Production by Jean-Pierre Ponnelle. From December 14, 1985.
Saturday, February 6
Strauss's Ariadne auf Naxos
Starring Jessye Norman, Kathleen Battle, Tatiana Troyanos, and James King, conducted by James Levine. Production by Bodo Igesz. From March 12, 1988.
Sunday, February 7
Puccini's Tosca
Starring Shirley Verrett, Luciano Pavarotti, and Cornell MacNeil, conducted by James Conlon. Directed by Tito Gobbi. From December 19, 1978.