Weekly Guide: January 4–10
Fraught love triangles, fearsome face-offs, and deadly duels abound—often with thrilling musical results—in this week's free Nightly Met Opera Streams. Explore some of the bitterest operatic rivalries with this guide.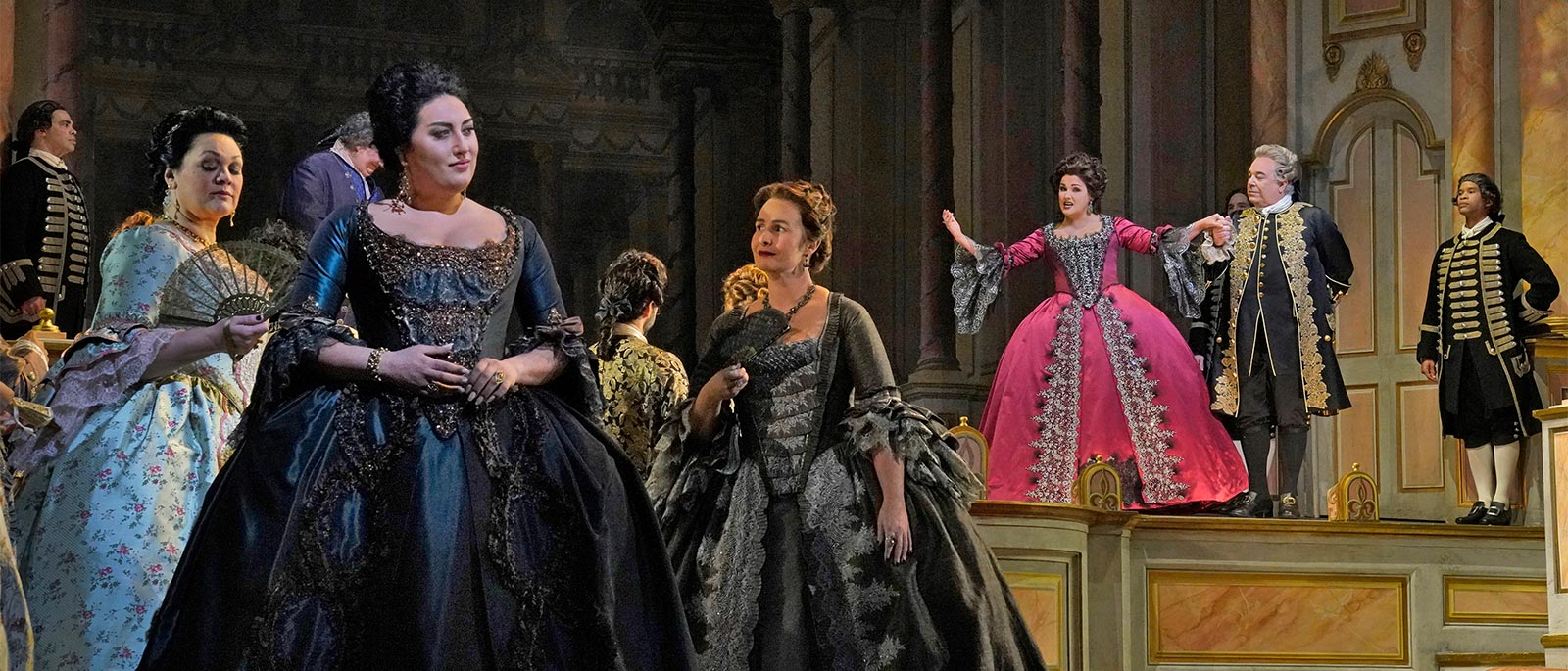 Monday, January 4
Cilea's Adriana Lecouvreur
Grand opera at its most delectably soupy, Cilea's diva showcase concerns an 18th-century Parisian stage actress who falls headlong for the impecunious Count of Saxony and is consequently poisoned by a bouquet of faded violets sent by her romantic rival, the scheming Princess of Bouillon. The melodrama unfolds against the composer's most beguiling and passionate score, which fits into the early 20th century's tradition of verismo—a kind of heightened, emotionally turbocharged operatic naturalism.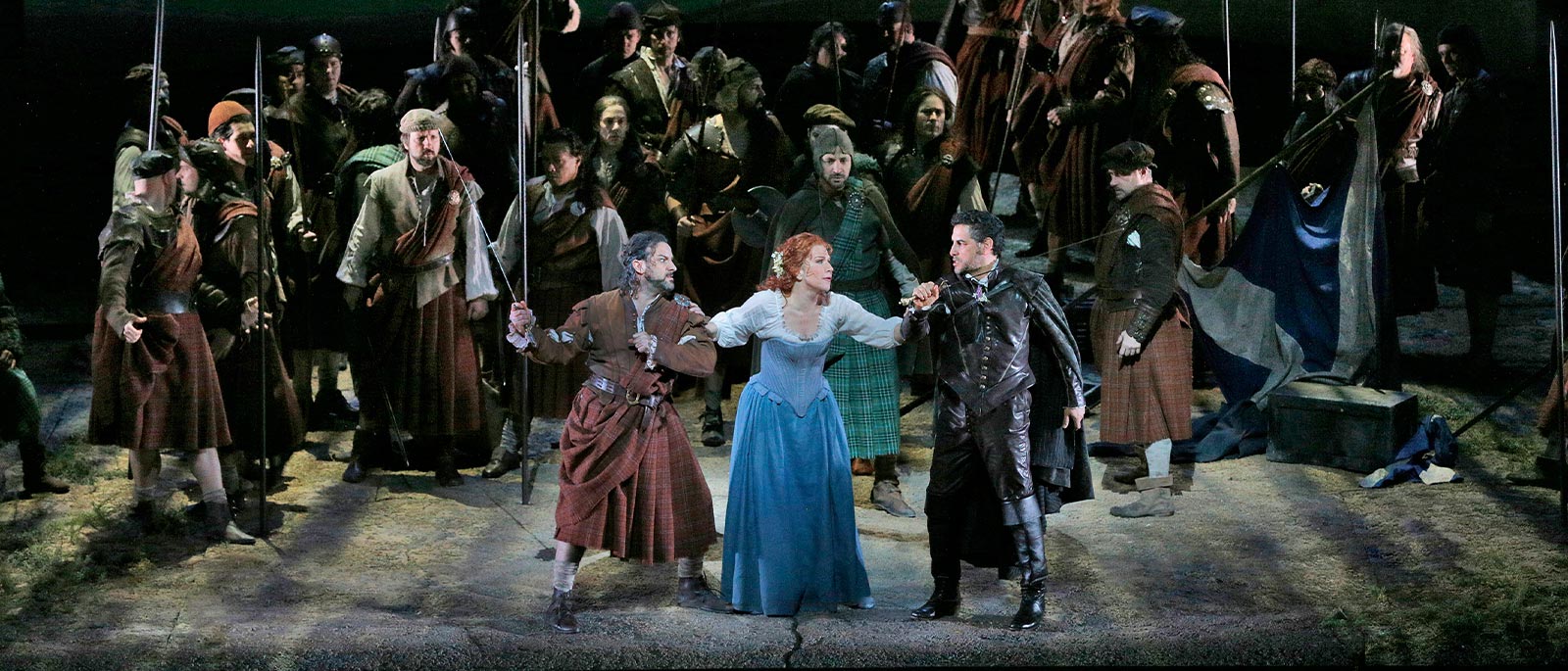 Tuesday, January 5
Rossini's La Donna del Lago
Rossini, one of the great masters of glittering Italianate charm and spectacle, would seem an unlikely candidate to create an operatic retelling of Sir Walter Scott's shadowy epic of clan warfare in 16th-century Scotland. But the heart of the drama is a classic love triangle—something every opera composer is comfortable with—and as Elena, the title heroine, is pursued by two tenors portraying suitors from rival factions, Rossini has the perfect opportunity to bring all of his musical brilliance to bear.
Wednesday, January 6
Bizet's Les Pêcheurs de Perles
After Carmen, this is Bizet's "other" great masterpiece, a passionate romance well stocked with the kind of melting melodies that put the young composer—just 24 years old when the work premiered—on the 19th-century Parisian map. The opera tells of two fisherman friends who lock horns over a demure yet vocally powerful priestess of Brahma—who is herself torn between piety and her own powerful desires. Its lyrical centerpiece, a soul-stirring duet for the two men in the first act, remains one of opera's greatest hits.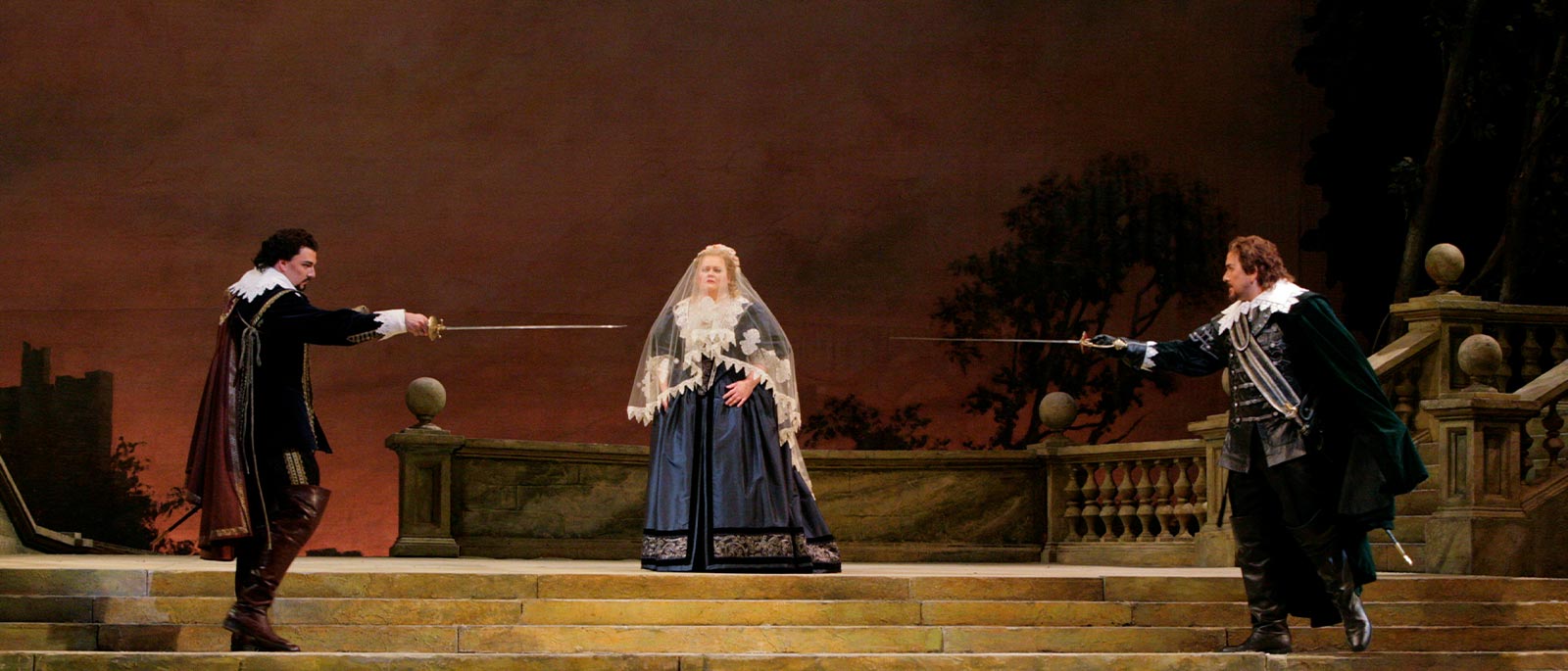 Thursday, January 7
Bellini's I Puritani
A saga of star-crossed love and family drama set against the strife of the 17th-century English Civil War, Bellini's bel-canto gem is best known for its mad scene, one of the repertory's most spectacular. Elvira, a young Puritan woman, is set to marry Arturo, a royalist. But when his duty to the crown comes between them, and Elvira finds herself abandoned on her wedding day, she descends into madness with a breathtaking outpouring of virtuosity that only this style of opera can deliver.
Friday, January 8
Mascagni's Cavalleria Rusticana and Leoncavallo's Pagliacci
Equally scandalous when they premiered separately in the late 19th century, these two short operas, often presented as a double bill, show just how searing and soapy opera can be. In Mascagni's Cavalleria Rusticana, a lay-about villager leaves the girl he's impregnated for another man's wife. And in Pagliacci, a tortured clown plots against his beautiful young wife, whom he suspects of carrying on with a younger man. Neither ending is happy; each is exquisite.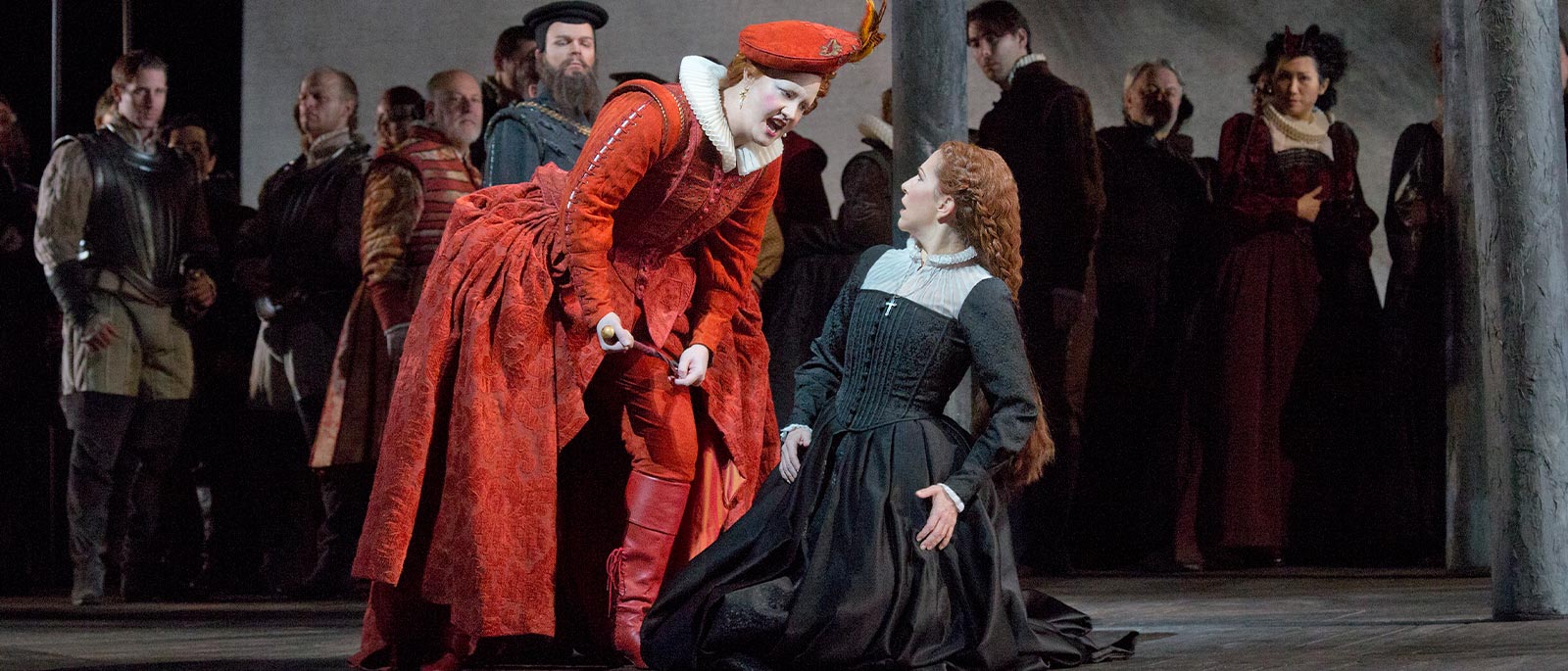 Saturday, January 9
Donizetti's Maria Stuarda
A prime example of the lyrical and virtuosic bel canto style of singing, this second Tudor tragedy tells of two queens—Mary, Queen of Scots, and her jealous cousin, Queen Elizabeth I—who are both vying for the English crown. The end of the opera's first act becomes a battleground for dueling divas, with each prodding the other to bravura vocal heights. A must for lovers of the female voice, Donizetti's electrifying masterpiece is also a treat for history buffs, with its nods to the real-life events that defined the British Isles.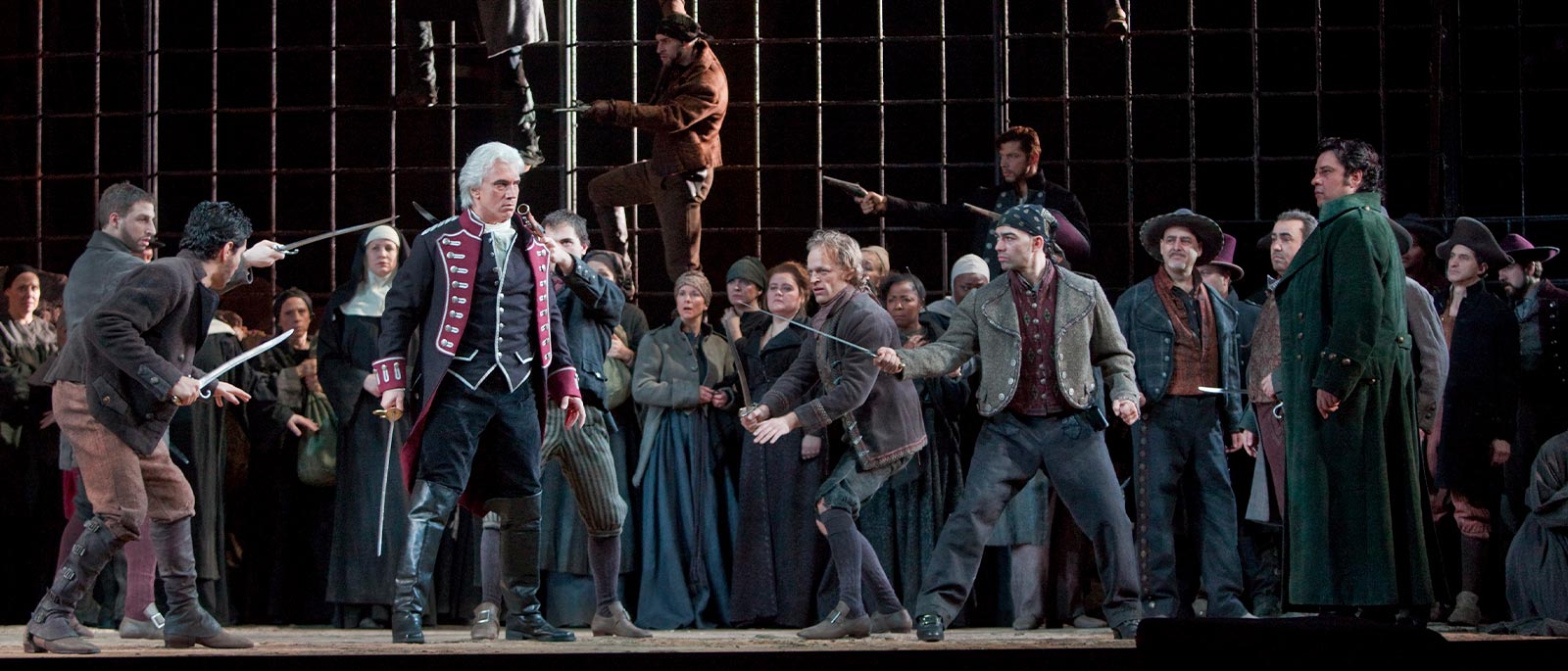 Sunday, January 10
Verdi's Il Trovatore
Verdi's turbulent tragedy of four characters caught in a web of family ties, politics, and love is a mainstay of the operatic repertory. The score is as melodic as it is energetic, with infectious tunes that are not easily forgotten. The vigorous music accompanies a dark and disturbing tale that revels in many of the most extreme expressions of Romanticism, including violent shifts in tone, unlikely coincidences, and characters who are impelled by raw emotion rather than cool logic. For anyone who truly immerses himself in its shadowy world, Il Trovatore provides an experience that is uniquely thrilling, even within the world of Romantic Italian opera.