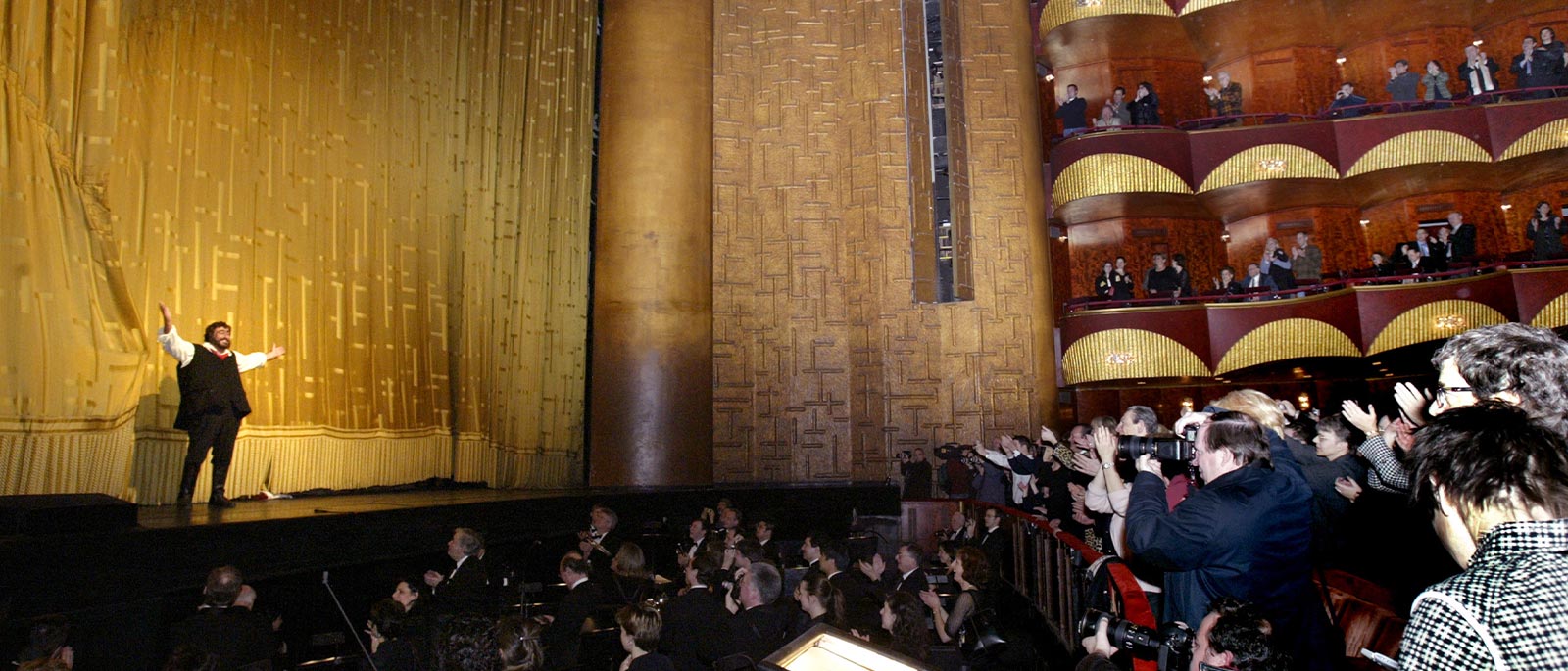 Nightly Opera Streams, December 28–January 3
Pavarotti Week
This week of free streams celebrates the great Luciano Pavarotti, one of the greatest singers of all time. Featuring seven of the beloved tenor's most memorable performances—from the inaugural 1977 Live from the Met telecast of La Bohème to broadcasts of Un Ballo in Maschera and L'Elisir d'Amore from 1991—the lineup traces Pavarotti's extraordinary Met career. Explore the articles and resources below to expand your knowledge and enhance your experience as you enjoy the screenings. A full schedule for the week is available at the bottom of this page.
Met Stars Live in Concert: If you enjoy the Nightly Opera Streams, be sure not to miss our acclaimed pay-per-view concert series, presenting opera's greatest stars performing live via satellite from striking locations across Europe and the U.S.
The coronavirus pandemic has had overwhelming economic implications for the Met. If you're enjoying our free Nightly Opera Streams and would like to help, please consider donating to our urgent fundraising campaign.
Or, donate by text message: Text METOPERA to 44321 in the U.S. or 1-917-999-0700 for other countries. Standard text messaging rates apply.
Week 42
Each stream becomes available at 7:30PM ET and remains accessible for on-demand viewing until 6:30PM ET the following day, with the exception of the December 30 stream of Rigoletto, which will be available until December 31 at 3PM ET. The December 31 stream of Ernani will begin at the normally scheduled 7:30PM ET.
Monday, December 28
Puccini's La Bohème
Starring Renata Scotto, Maralin Niska, Luciano Pavarotti, Ingvar Wixell, and Paul Plishka, conducted by James Levine. From March 15, 1977.
Tuesday, December 29
Puccini's Tosca
Starring Shirley Verrett, Luciano Pavarotti, and Cornell MacNeil, conducted by James Conlon. From December 19, 1978.
Wednesday, December 30
Verdi's Rigoletto
Starring Christiane Eda-Pierre, Isola Jones, Luciano Pavarotti, Louis Quilico, and Ara Berberian, conducted by James Levine. From December 15, 1981.
Thursday, December 31
Verdi's Ernani
Starring Leona Mitchell, Luciano Pavarotti, Sherrill Milnes, and Ruggero Raimondi, conducted by James Levine. From December 17, 1983.
Friday, January 1
Verdi's Il Trovatore
Starring Eva Marton, Dolora Zajick, Luciano Pavarotti, Sherrill Milnes, and Jeffrey Wells, conducted by James Levine. From October 15, 1988.
Saturday, January 2
Verdi's Un Ballo in Maschera
Starring Aprile Millo, Harolyn Blackwell, Florence Quivar, Luciano Pavarotti, and Leo Nucci, conducted by James Levine. From January 26, 1991.
Sunday, January 3
Donizetti's L'Elisir d'Amore
Starring Kathleen Battle, Luciano Pavarotti, Juan Pons, and Enzo Dara, conducted by James Levine. From November 16, 1991.