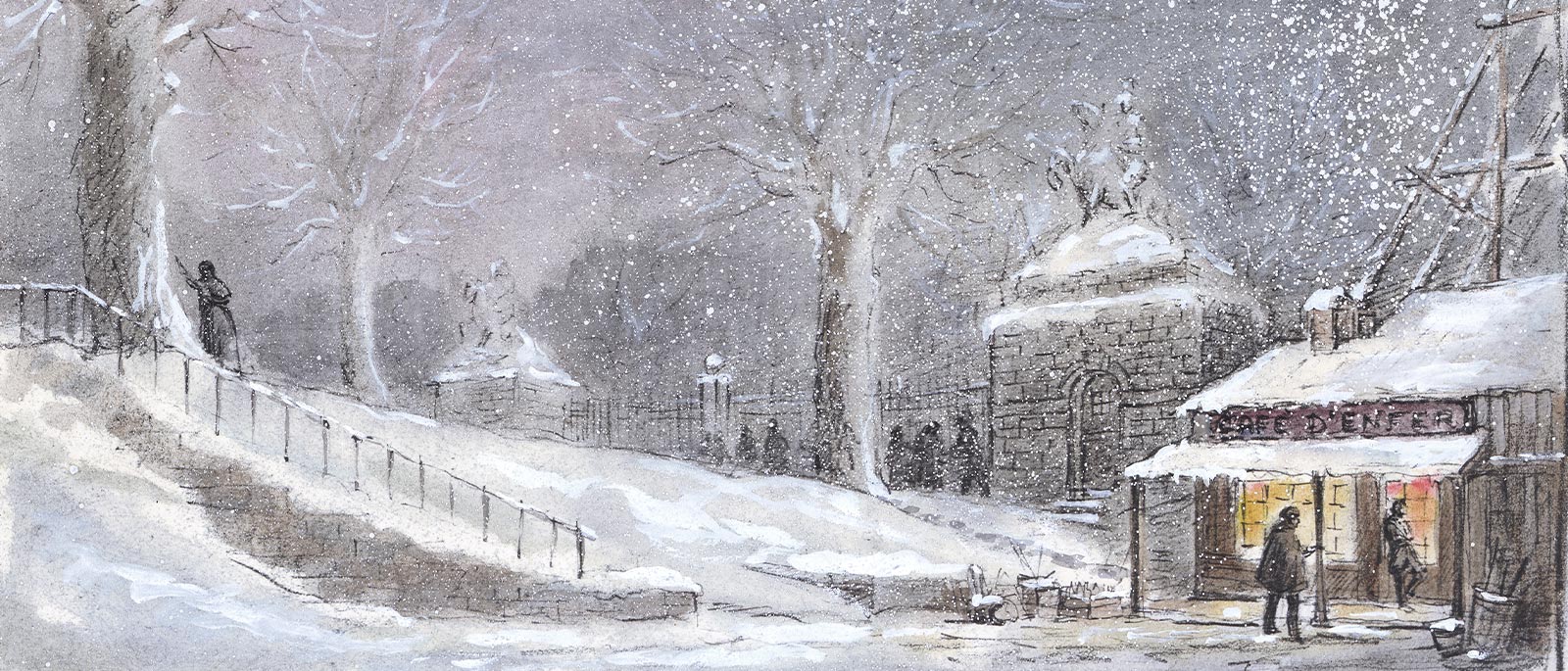 Nightly Opera Streams, December 21–27
Holiday Fare
Celebrate the season with a week of delightful Nightly Opera Streams perfect for the holidays—including a touching 1982 telecast of Puccini's La Bohème in Franco Zeffirelli's classic Met production (original set design sketch above) on Christmas Eve and Humperdinck's scrumptious Hansel and Gretel on Christmas Day. Explore the articles and resources below to expand your knowledge and enhance your experience as you enjoy the screenings. A full schedule for the week is available at the bottom of this page.
Met Stars Live in Concert: If you enjoy the Nightly Opera Streams, be sure not to miss our acclaimed pay-per-view concert series, presenting opera's greatest stars performing live via satellite from striking locations across Europe and the U.S.
The coronavirus pandemic has had overwhelming economic implications for the Met. If you're enjoying our free Nightly Opera Streams and would like to help, please consider donating to our urgent fundraising campaign.
Or, donate by text message: Text METOPERA to 44321 in the U.S. or 1-917-999-0700 for other countries. Standard text messaging rates apply.
Week 41
Monday, December 21
Mozart's The Magic Flute
Starring Ying Huang, Erika Miklósa, Matthew Polenzani, Nathan Gunn, and René Pape, conducted by James Levine. From December 30, 2006.
Tuesday, December 22
Massenet's Cendrillon
Starring Kathleen Kim, Joyce DiDonato, Alice Coote, Stephanie Blythe, and Laurent Naouri, conducted by Bertrand de Billy. From April 28, 2018.
Wednesday, December 23
Rossini's Il Barbiere di Siviglia
Starring Isabel Leonard, Lawrence Brownlee, Christopher Maltman, Maurizo Muraro, and Paata Burchuladze, conducted by Michele Mariotti. From November 22, 2014.
Thursday, December 24
Puccini's La Bohème
Starring Teresa Stratas, Renata Scotto, José Carreras, Richard Stilwell, and James Morris, conducted by James Levine. From January 16, 1982.
Friday, December 25
Humperdinck's Hansel and Gretel
Starring Christine Schäfer, Alice Coote, Rosalind Plowright, Philip Langridge, and Alan Held, conducted by Vladimir Jurowski. From January 1, 2008.
Saturday, December 26
Lehár's The Merry Widow
Starring Renée Fleming, Kelli O'Hara, Nathan Gunn, Alek Shrader, and Sir Thomas Allen, conducted by Sir Andrew Davis. From January 17, 2015.
Sunday, December 27
Verdi's Falstaff
Starring Lisette Oropesa, Angela Meade, Stephanie Blythe, Jennifer Johnson Cano, Paolo Fanale, Ambrogio Maestri, and Franco Vassallo, conducted by James Levine. From December 14, 2013.