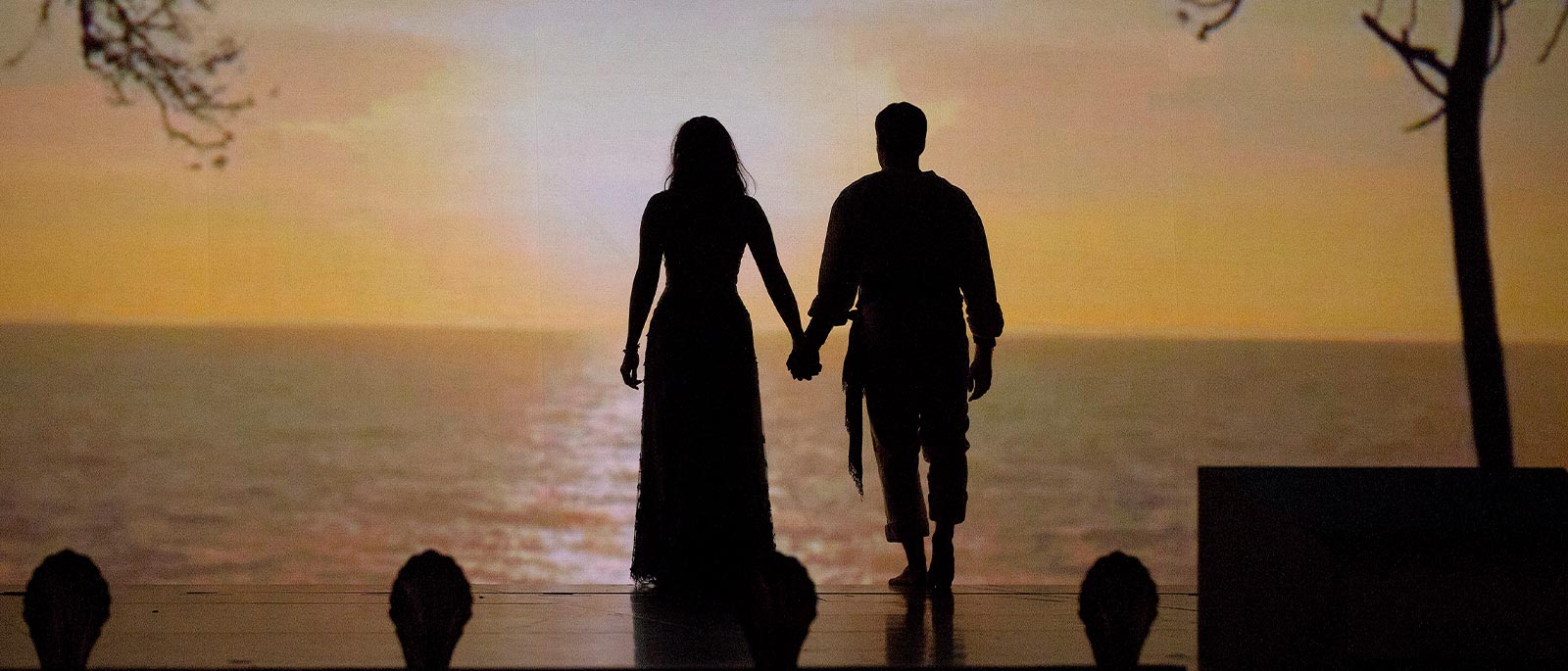 Nightly Opera Streams, December 7–13
In Plain English
Featuring seven musical masterpieces composed over the course of the last 90 years, this week's lineup showcases operas sung in English—including Kurt Weill and Bertolt Brecht's remarkable Rise and Fall of the City of Mahagonny, which is featured as a free nightly stream for the first time. Explore the articles and resources below to expand your knowledge and enhance your experience as you enjoy the screenings. A full schedule for the week is available at the bottom of this page.
Met Stars Live in Concert: If you enjoy the Nightly Opera Streams, be sure not to miss our acclaimed pay-per-view concert series, presenting opera's greatest stars performing live via satellite from striking locations across Europe and the U.S.
The coronavirus pandemic has had overwhelming economic implications for the Met. If you're enjoying our free Nightly Opera Streams and would like to help, please consider donating to our urgent fundraising campaign.
Or, donate by text message: Text METOPERA to 44321 in the U.S. or 1-917-999-0700 for other countries. Standard text messaging rates apply.
Each stream becomes available at 7:30PM ET and remains accessible for on-demand viewing until 6:30PM ET the following day, with the exception of the December 11 stream of Porgy and Bess, which will be available until December 12 at 12PM ET. The December 12 stream of Rise and Fall of the City of Mahagonny will begin at the normally scheduled 7:30PM ET.
Week 39
Monday, December 7
Thomas Adès's The Tempest
Starring Audrey Luna, Isabel Leonard, Iestyn Davies, Alek Shrader, Alan Oke, William Burden, Toby Spence, and Simon Keenlyside, conducted by Thomas Adès. From November 10, 2012.
Tuesday, December 8
John Adams' Doctor Atomic
Starring Sasha Cooke, Thomas Glenn, Gerald Finley, Richard Paul Fink, and Eric Owens, conducted by Alan Gilbert. From November 8, 2008.
Wednesday, December 9
Britten's Peter Grimes
Starring Patricia Racette, Anthony Dean Griffey, and Anthony Michaels-Moore, conducted by Sir Donald Runnicles. From March 15, 2008.
Thursday, December 10
Thomas Adès's The Exterminating Angel
Starring Audrey Luna, Amanda Echalaz, Sally Matthews, Sophie Bevan, Alice Coote, Christine Rice, Iestyn Davies, Joseph Kaiser, Frédéric Antoun, David Portillo, David Adam Moore, Rod Gilfry, Kevin Burdette, Christian Van Horn, and John Tomlinson. conducted by Thomas Adès. From November 18, 2017.
Friday, December 11
The Gershwins' Porgy and Bess
Starring Angel Blue, Golda Schultz, Latonia Moore, Denyce Graves, Frederick Ballentine, Eric Owens, Alfred Walker, and Donovan Singletary, conducted by David Robertson. From February 1, 2020.
Saturday, December 12
Weill's Rise and Fall of the City of Mahagonny
Starring Teresa Stratas, Astrid Varnay, Richard Cassilly, and Cornell MacNeil, conducted by James Levine. From November 27, 1979.
Sunday, December 13
John Corigliano's The Ghosts of Versailles
Starring Teresa Stratas, Håkan Hagegård, Gino Quilico, Graham Clark, Marilyn Horne, and Renée Fleming, conducted by James Levine. From January 10, 1992.