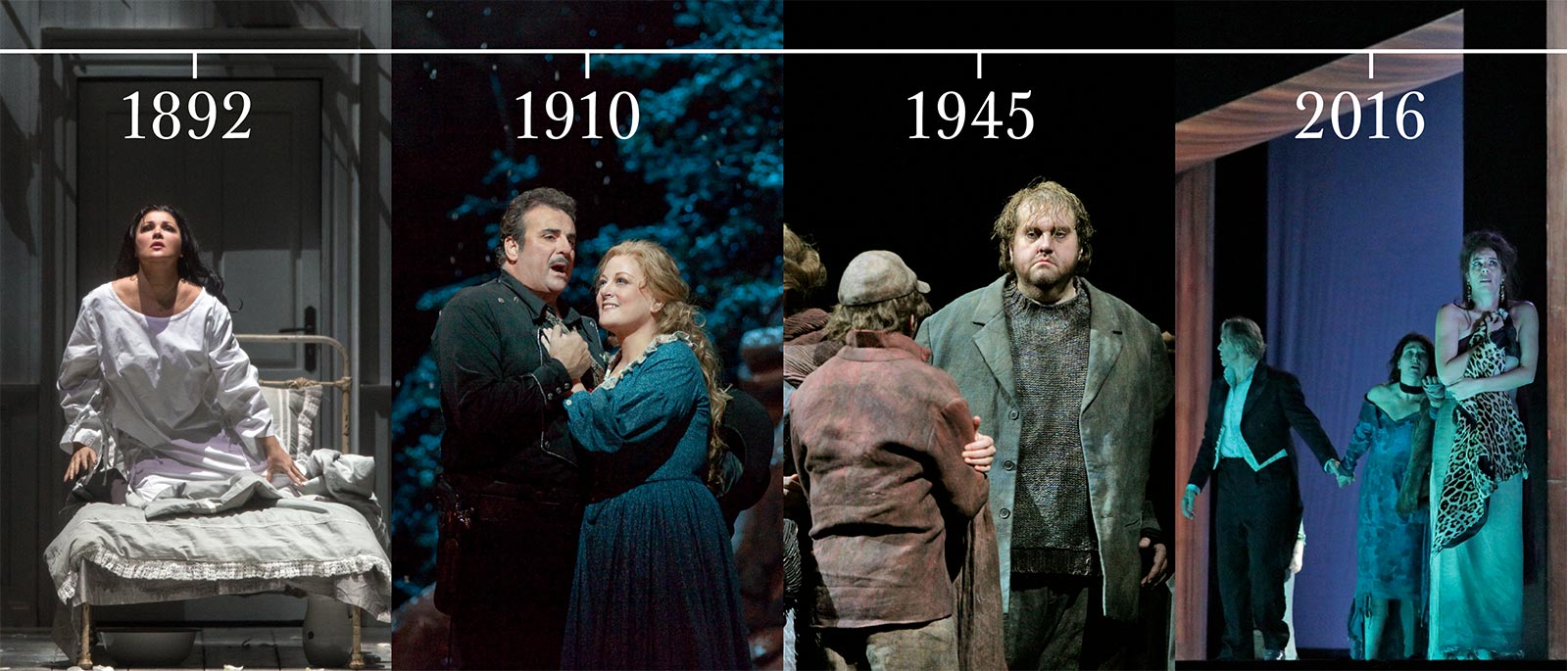 Nightly Opera Streams, November 9–15
A Two-Week Tour of Opera History, Part II
From Tchaikovsky to Adès
The second half of our opera history tour spans some 125 years, from the late Romanticism of Tchaikovsky to a 2016 surrealist masterpiece by Thomas Adès. Explore the articles and resources below to learn more and plot your course for the journey through time. A full schedule for the week is available at the bottom of this page.
Met Stars Live in Concert: If you enjoy the Nightly Opera Streams, be sure not to miss our acclaimed pay-per-view concert series, presenting opera's greatest stars performing live via satellite from striking locations across Europe and the U.S.
The coronavirus pandemic has had overwhelming economic implications for the Met. If you're enjoying our free Nightly Opera Streams and would like to help, please consider donating to our urgent fundraising campaign.
Or, donate by text message: Text METOPERA to 44321 in the U.S. or 1-917-999-0700 for other countries. Standard text messaging rates apply.
Program Notes
To learn more about the historical context and musical details of this week's operas, read the below program notes for all seven productions.
Week 35
Monday, November 9
Tchaikovsky's Iolanta / Bartók's Bluebeard's Castle
Starring Anna Netrebko and Piotr Beczała in Iolanta, and Nadja Michael and Mikhail Petrenko in Bluebeard's Castle, conducted by Valery Gergiev. From February 14, 2015.
Tuesday, November 10
Strauss's Salome
Starring Karita Mattila, Ildikó Komlósi, Kim Begley, Joseph Kaiser, and Juha Uusitalo, conducted by Patrick Summers. From October 11, 2008.
Wednesday, November 11
Puccini's La Fanciulla del West
Starring Deborah Voigt, Marcello Giordani, and Lucio Gallo, conducted by Nicola Luisotti. From January 8, 2011.
Thursday, November 12
Berg's Lulu
Starring Marlis Petersen, Susan Graham, Daniel Brenna, Paul Groves, Johan Reuter, and Franz Grundheber, conducted by Lothar Koenigs. From November 21, 2015.
Friday, November 13
Britten's Peter Grimes
Starring Patricia Racette, Anthony Dean Griffey, and Anthony Michaels-Moore, conducted by Donald Runnicles. From March 15, 2008.
Saturday, November 14
Philip Glass's Akhnaten
Starring Dísella Lárusdóttir, J'Nai Bridges, Anthony Roth Costanzo, Aaron Blake, Will Liverman, Richard Bernstein, and Zachary James, conducted by Karen Kamensek. From November 23, 2019.
Sunday, November 15
Thomas Adès's The Exterminating Angel
Starring Audrey Luna, Amanda Echalaz, Sally Matthews, Sophie Bevan, Alice Coote, Christine Rice, Iestyn Davies, Joseph Kaiser, Frédéric Antoun, David Portillo, David Adam Moore, Rod Gilfry, Kevin Burdette, Christian Van Horn, and John Tomlinson, conducted by Thomas Adès. From November 18, 2017.