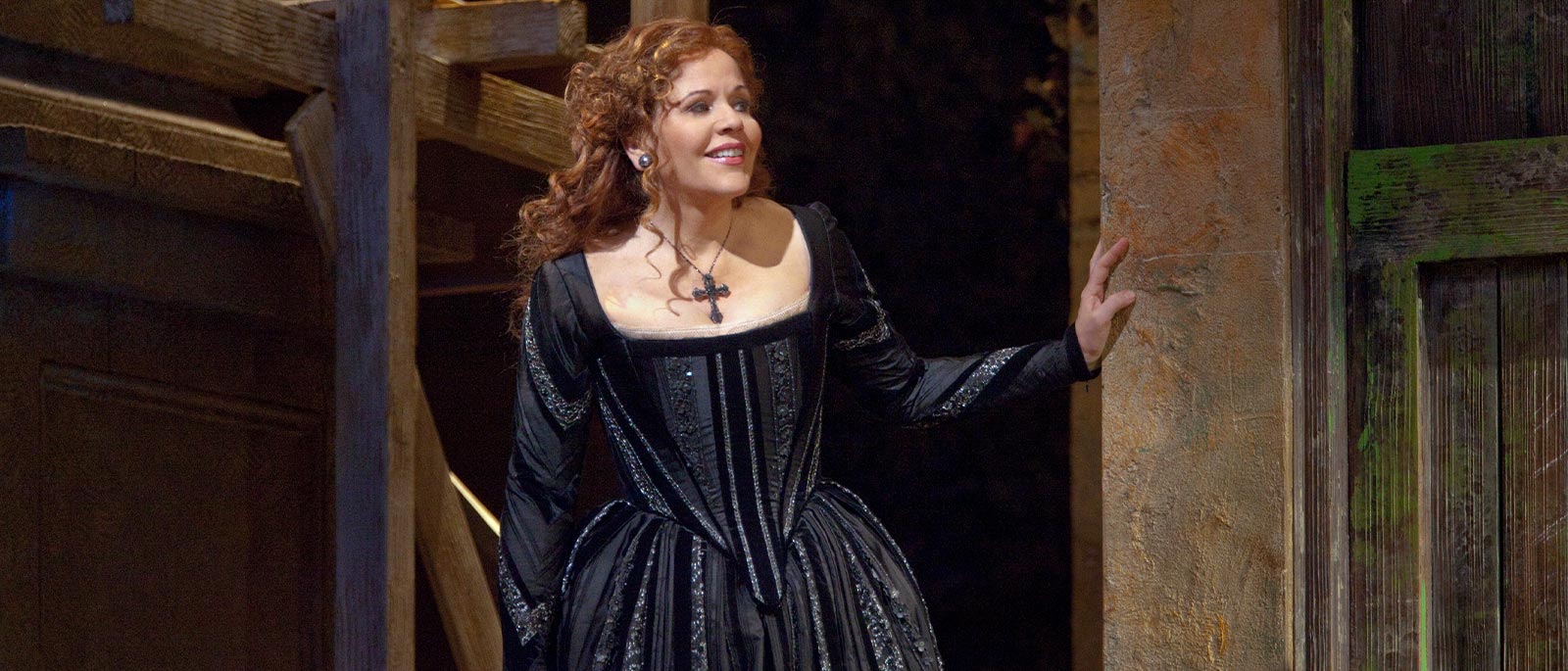 Handel's Rodelinda
Handel's operas are no longer a rarity: they figure regularly in the repertory of companies great and small. It is strange to think that for nearly two centuries these great works went unheard—indeed, were almost unknown. The Handel opera revival began in Göttingen, Germany, in 1920, and it began with Rodelinda. Art historian (and amateur musician) Oskar Hagen perceived that a score once deemed a string of excellent da capo arias was in fact a music drama that could engage a modern audience. His enterprise was rewarded: within six years, Rodelinda had been taken up by 25 other German-language companies. Hagen's version of Giulio Cesare, two years later, was even more successful and seen in 45 theaters.
Outside Germany, Handel was slower to make his modern mark. The operas were left to local champions. Smith College gave the U.S. premieres of Giulio Cesare in 1927 and Rodelinda in 1931, both in English translations. In 1939, Rodelinda had its first London performances since 1731 at the Old Vic, presented by the music theater and art departments of the Dartington Hall academy.
Handel first arrived in London in 1710 at age 25. The following year his Rinaldo, the first Italian opera composed for London, was heard at the Queen's Theatre—and brought the composer the same kind of success that he had enjoyed in Venice a little more than a year earlier with Agrippina. He returned to his post as kapellmeister to the elector in Hanover in June 1711 but was back in London the next year and remained there for the rest of his life, acquiring British nationality in 1727. He composed more than 30 operas for the London stage, the last of them, Deidamia, in 1741. It ran for only three performances. London was losing its taste for Italian opera and Handel turned to "musical dramas" set to English librettos. They were performed at Covent Garden or the King's Theatre "after the manner of an oratorio" (according to a contemporary advertisement for Semele), but in recent years have often been staged. Notable examples include Semele, Saul, Samson, Hercules, Theodora, and Jephtha.
In 1720 a group of noble enthusiasts, under royal patronage, had founded the Royal Academy of Music at the King's Theatre—not a teaching establishment but an attempt to institute Italian opera in London on a long-term, regular basis. Handel was its music director and principal (though not only) composer. The year before, he had traveled to the continent, recruiting singers for the new company. The great castrato Senesino joined the academy in its second season, and the brilliant soprano Francesca Cuzzoni arrived late in 1722. London became—as the musicologist Winton Dean put it—"the operatic center of Europe, with the best composers, the best singers, and creditable scenic designers." The academy reached a peak with the three successive hits Handel composed in 1724–25: Giulio Cesare (February 1724), Tamerlano (October 1724), and Rodelinda (February 1725). All three are counted among the composer's greatest achievements. Their principal characters were drawn, albeit loosely, "from history," and despite their complicated plots each of them has what Dean calls "a simple emotional centre round which everything revolves." In Giulio Cesare, it is sexual allure and passion; in Tamerlano, Bajazet's tender love for his daughter, Asteria; and in Rodelinda, shining marital love that remains steadfast through every adversity. Early commentators were quick to draw parallels to Beethoven's Fidelio, whose subtitle, Die Eheliche Liebe ("marital love"), might well be applied to Rodelinda. Both works contain a prison scene that opens with a striking aria for the hero and includes a poignant husband-and-wife duet.
The distant source of Rodelinda's plot is the Gesta Longobardorum by the 8th-century Lombard historian Paul the Deacon. (It is also the distant source, together with Corneille's Le Cid, of Handel's 1723 Flavio.) More immediately, librettist Nicola Haym, the regular writer, stage manager, and continuo cellist of the academy, drew on a 1710 libretto by Antonio Salvi, itself based on Corneille's Pertharite, Roi des Lombards. Salvi, we are told, improved on Corneille. Haym and Handel certainly improved on Salvi, throwing the focus more firmly on the marital couple, Rodelinda and Bertarido. They omitted eight of Salvi's scenes and reduced the recitatives by more than half and the number of arias from 34 to 28. The result was one of the best-shaped librettos Handel ever set. Rodelinda was written for the same six singers as Tamerlano—soprano, three altos (two of them male), tenor, and bass—but the distribution of arias between them has greater dramatic equilibrium.
The third volume of Charles Burney's General History of Music (1789) has aria-by-aria accounts of Handel operas. Although appreciative, they say nothing about the dramatic situations. Burney had never seen the operas—he knew them only from the scores—and he writes of them as if they had no plots, ascribing the airs or "songs" to their first singers, not to the characters. Burney called opera "the completest concert," rendered by fine vocalists and embellished by scenery and costumes. In fact, Rodelinda might be one of the finest manifestations of Handel's construction of a work not aria by separate aria but in terms of scenes, acts, and the overarching, developing drama.
The heroine's first two solos foreshadow the cavatina-plus-cabaletta form that was beloved of Bellini, effectively employed by Donizetti, and embraced by Verdi as late as the Nile duet in Aida. In a C-minor largo, "Ho perduto il caro sposo," Rodelinda expresses her dignified grief. Her voice does not straightforwardly repeat the melody of the opening ritornello, but varies it. Grimoaldo enters, and in 25 bars of recitative we are given information about the past. Burney calls the G-minor aria that follows, "L'empio rigor," "gay and airy," but the tempo mark is allegro and the emotion is angry.
Bertarido's first scene begins as an accompanied recitative, as he reads the inscription on the memorial that the usurper Grimoaldo has erected to him. Then there's a seamless transition into his aria, "Dove sei?" Dean has shown how Handel revised the music again and again to achieve this and goes on to call the aria's vocal line "an education in the art of melodic architecture."
Rodelinda's next pair of arias is another extraordinary example of Handel's theatrical instinct. During the B-minor largo, "Ombre, piante," she approaches her husband's tomb leading her little son, with a solo flute first echoing the strings, then the vocal line (which again varies the instrumental ritornello). There is no formal close but another seamless transition into the following section, which this time is an accompanied recitative. Burney rightly describes the "cabaletta" that follows ("Morrai, sì") as "an air of rage and passion that is very dramatic." Ideas tumble out, punctuated by variations of the fierce three-note motif to which the opening words are sung.
Again and again, Handel does unconventional, surprising things in response to the dramatic situation. The first of Bertarido's arias in Act II, "Con rauco mormorio," is one of the composer's loveliest nature scenes. Its B section has no formal close: recitative breaks in as Eduige approaches, thinking she has heard her lost brother's voice. She realizes that she has indeed done so when he finally resumes the A section.
The tenor's greatest music comes in Grimoaldo's final scene—a "mad scene" that lurches wildly through key after key, then suddenly drops into a pastoral mood as his overwrought emotions seek refuge in dreams of a shepherd's happy lot. A stage direction at the end of the B section says, "He falls asleep." He then repeats the opening segment as if it were a dream murmured aloud.
And so one could continue, marveling at aria after aria as much as at the sequences, contrasts, and careful placing of episodes. Not only the variety and beauty of the individual numbers, but the integrity and progress of Rodelinda as a whole proclaim Handel's dramatic genius.
—Andrew Porter