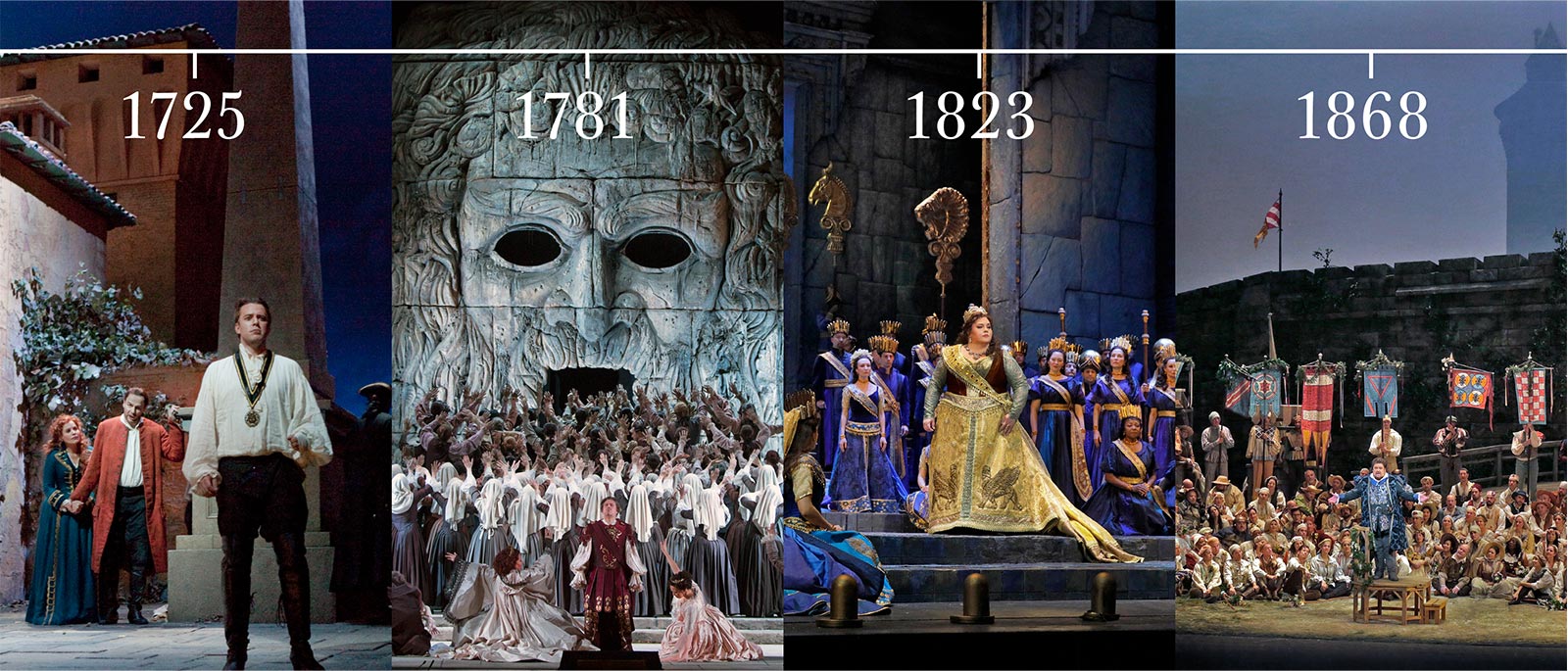 Nightly Opera Streams, November 2–8
A Two-Week Tour of Opera History, Part I
From Handel to Wagner
Over the course of two weeks, the Met's Nightly Opera Streams take viewers on a tour through opera history, moving chronologically from the early 18th century to the present day. Explore the articles and resources below to orient yourself for the journey and dive deeper into the details of the history and the music. A full schedule for the week is available at the bottom of this page.
Met Stars Live in Concert: If you enjoy the Nightly Opera Streams, be sure not to miss our acclaimed pay-per-view concert series, presenting opera's greatest stars performing live via satellite from striking locations across Europe and the U.S.
The coronavirus pandemic has had overwhelming economic implications for the Met. If you're enjoying our free Nightly Opera Streams and would like to help, please consider donating to our urgent fundraising campaign.
Or, donate by text message: Text METOPERA to 44321 in the U.S. or 1-917-999-0700 for other countries. Standard text messaging rates apply.
Program Notes
To learn more about the historical context and musical details of this week's operas, read the below program notes for all seven productions.
Week 34
Monday, November 2
Handel's Rodelinda
Starring Renée Fleming, Stephanie Blythe, Andreas Scholl, Iestyn Davies, Joseph Kaiser, and Shenyang, conducted by Harry Bicket. From December 3, 2011.
Tuesday, November 3
Gluck's Orfeo ed Euridice
Starring Danielle de Niese, Heidi Grant Murphy, and Stephanie Blythe, conducted by James Levine. From January 24, 2009.
Wednesday, November 4
Mozart's Idomeneo
Starring Elza van den Heever, Nadine Sierra, Alice Coote, Matthew Polenzani, and Alan Opie, conducted by James Levine. From March 25, 2017.
Thursday, November 5
Rossini's Semiramide
Starring Angela Meade, Elizabeth DeShong, Javier Camarena, Ildar Abdrazakov, and Ryan Speedo Green, conducted by Maurizio Benini. From March 10, 2018.
Friday, November 6
Verdi's La Forza del Destino
Starring Leontyne Price, Giuseppe Giacomini, Leo Nucci, and Bonaldo Giaiotti, conducted by James Levine. From March 24, 1984.
Saturday, November 7
Gounod's Roméo et Juliette
Starring Anna Netrebko, Roberto Alagna, Nathan Gunn, and Robert Lloyd, conducted by Plácido Domingo. From December 15, 2007.
Sunday, November 8
Wagner's Die Meistersinger von Nürnberg
Starring Annette Dasch, Johan Botha, Paul Appleby, and Michael Volle, conducted by James Levine. From December 13, 2014.