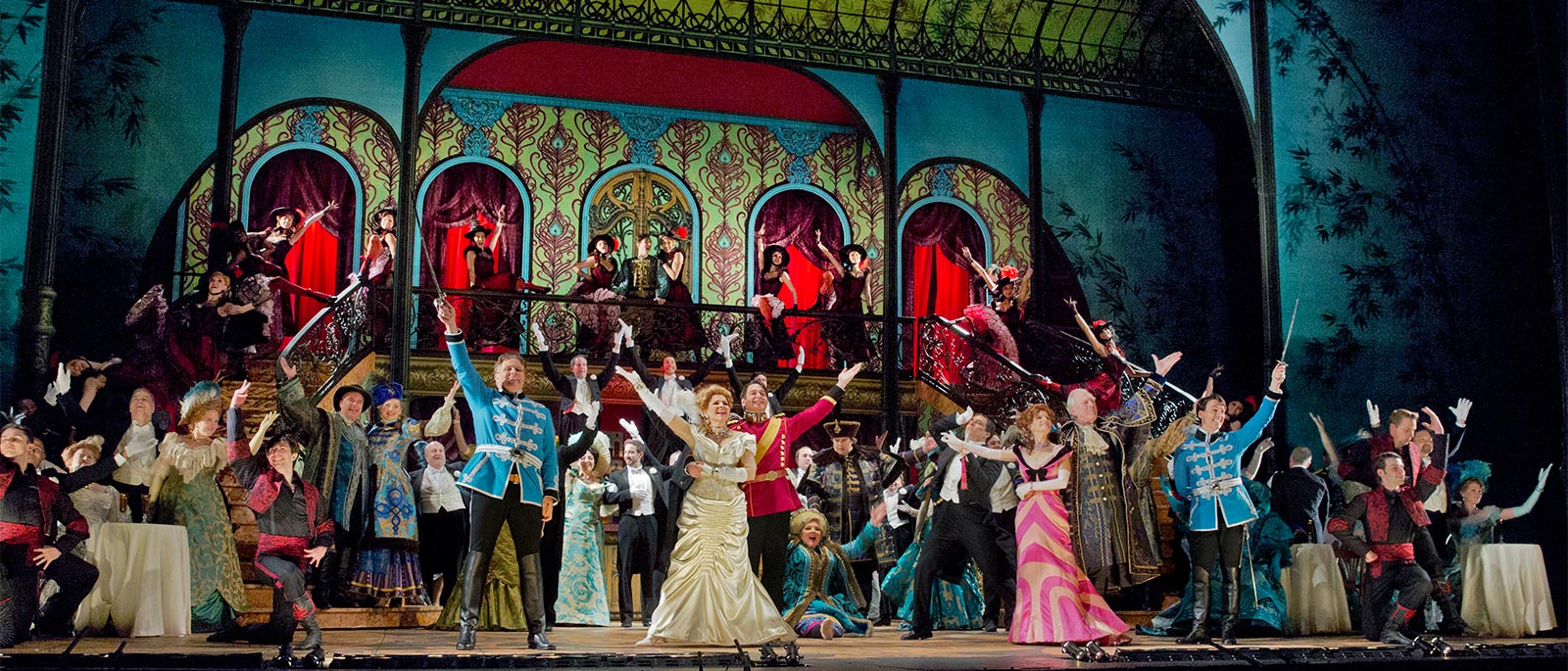 Nightly Opera Streams, October 19–25
It's a week of much-needed mirth and laughter as the Nightly Opera Streams lineup is filled with seven of opera's most beloved comedies. Explore the articles and resources below to expand your knowledge and enhance your experience as you enjoy the free streams. A full schedule for the week is available at the bottom of this page.
Met Stars Live in Concert: If you enjoy the Nightly Opera Streams, be sure not to miss our acclaimed pay-per-view concert series, presenting opera's greatest stars performing live via satellite from striking locations across Europe and the U.S.
The coronavirus pandemic has had overwhelming economic implications for the Met. If you're enjoying our free Nightly Opera Streams and would like to help, please consider donating to our urgent fundraising campaign.
Or, donate by text message: Text METOPERA to 44321 in the U.S. or 1-917-999-0700 for other countries. Standard text messaging rates apply.
Each stream becomes available at 7:30PM ET and remains accessible for on-demand viewing until 6:30PM ET the following day, with the exception of the October 23 stream of Falstaff, which will be available until October 24 at 12PM ET. The October 24 stream of Le Comte Ory will begin at the normally scheduled 7:30PM ET.
Week 32 (Operatic Comedies)
Monday, October 19
Rossini's Il Barbiere di Siviglia
Starring Joyce DiDonato, Juan Diego Flórez, Peter Mattei, John Del Carlo, and John Relyea, conducted by Maurizio Benini. From March 24, 2007.
Tuesday, October 20
Lehár's The Merry Widow
Starring Renée Fleming, Kelli O'Hara, Nathan Gunn, Alek Shrader, and Thomas Allen, conducted by Sir Andrew Davis. From January 17, 2015.
Wednesday, October 21
Mozart's Così fan tutte
Starring Amanda Majeski, Serena Malfi, Kelli O'Hara, Ben Bliss, Adam Plachetka, and Christopher Maltman, conducted by David Robertson. From March 31, 2018.
Thursday, October 22
Rossini's La Cenerentola
Starring Cecilia Bartoli, Ramón Vargas, Simone Alaimo, and Alessandro Corbelli, conducted by James Levine. From October 27, 1997.
Friday, October 23
Verdi's Falstaff
Starring Mirella Freni, Barbara Bonney, Marilyn Horne, Bruno Pola, and Paul Plishka, conducted by James Levine. From October 10, 1992.
Saturday, October 24
Rossini's Le Comte Ory
Starring Diana Damrau, Joyce DiDonato, Susanne Resmark, Juan Diego Flórez, Stéphane Degout, and Michele Pertusi, conducted by Maurizio Benini. From April 9, 2011.
Sunday, October 25
Strauss's Der Rosenkavalier
Starring Renée Fleming, Elīna Garanča, Erin Morley, Matthew Polenzani, Marcus Brück, and Günther Groissböck, conducted by Sebastian Weigle. From May 13, 2017.