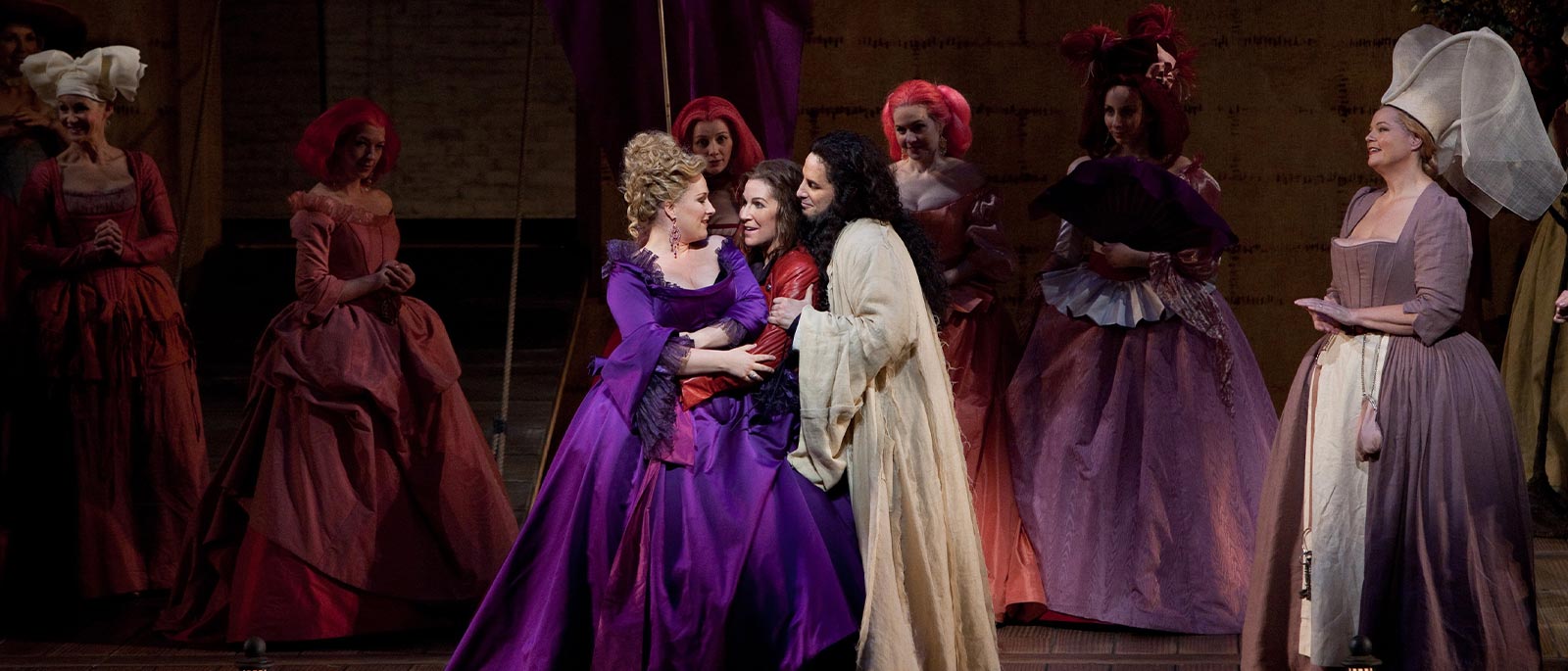 Nightly Opera Streams, September 14–20
This week of free streams presents opera at its most virtuosic with a lineup of seven bel canto favorites. Explore the articles and resources below to expand your knowledge and enhance your experience as you enjoy the dazzling performances. A full schedule for the week is available at the bottom of this page.
Met Stars Live in Concert: If you enjoy the Nightly Opera Streams, be sure not to miss our acclaimed pay-per-view concert series, presenting opera's greatest stars performing live via satellite from striking locations across Europe and the U.S. The next concert features Anna Netrebko, live on October 10.
The coronavirus pandemic has had overwhelming economic implications for the Met. If you're enjoying our free Nightly Opera Streams and would like to help, please consider donating to our urgent fundraising campaign.
Or, donate by text message: Text METOPERA to 44321 in the U.S. or 1-917-999-0700 for other countries. Standard text messaging rates apply.
Week 27 (Bel-Canto Favorites)
Monday, September 14
Donizetti's Don Pasquale
Starring Anna Netrebko, Matthew Polenzani, Mariusz Kwiecień, and John Del Carlo; conducted by James Levine. From November 13, 2010.
Tuesday, September 15
Rossini's Le Comte Ory
Starring Diana Damrau, Joyce DiDonato, and Juan Diego Flórez; conducted by Maurizio Benini. From April 9, 2011.
Wednesday, September 16
Donizetti's La Fille du Régiment
Starring Natalie Dessay, Felicity Palmer, Juan Diego Flórez, and Alessandro Corbelli; conducted by Marco Armiliato. From April 26, 2008.
Thursday, September 17
Rossini's La Cenerentola
Starring Elīna Garanča, Lawrence Brownlee, Simone Alberghini, Alessandro Corbelli, and John Relyea; conducted by Maurizio Benini. From May 9, 2009.
Friday, September 18
Bellini's I Puritani
Starring Anna Netrebko, Eric Cutler, Franco Vassallo, and John Relyea; conducted by Patrick Summers. From January 6, 2007.
Saturday, September 19
Donizetti's L'Elisir d'Amore
Starring Pretty Yende, Matthew Polenzani, Davide Luciano, and Ildebrando D'Arcangelo; conducted by Domingo Hindoyan. From February 10, 2018.
Sunday, September 20
Bellini's Norma
Starring Sondra Radvanovsky, Joyce DiDonato, Joseph Calleja, and Matthew Rose, conducted by Carlo Rizzi. From October 7, 2017.