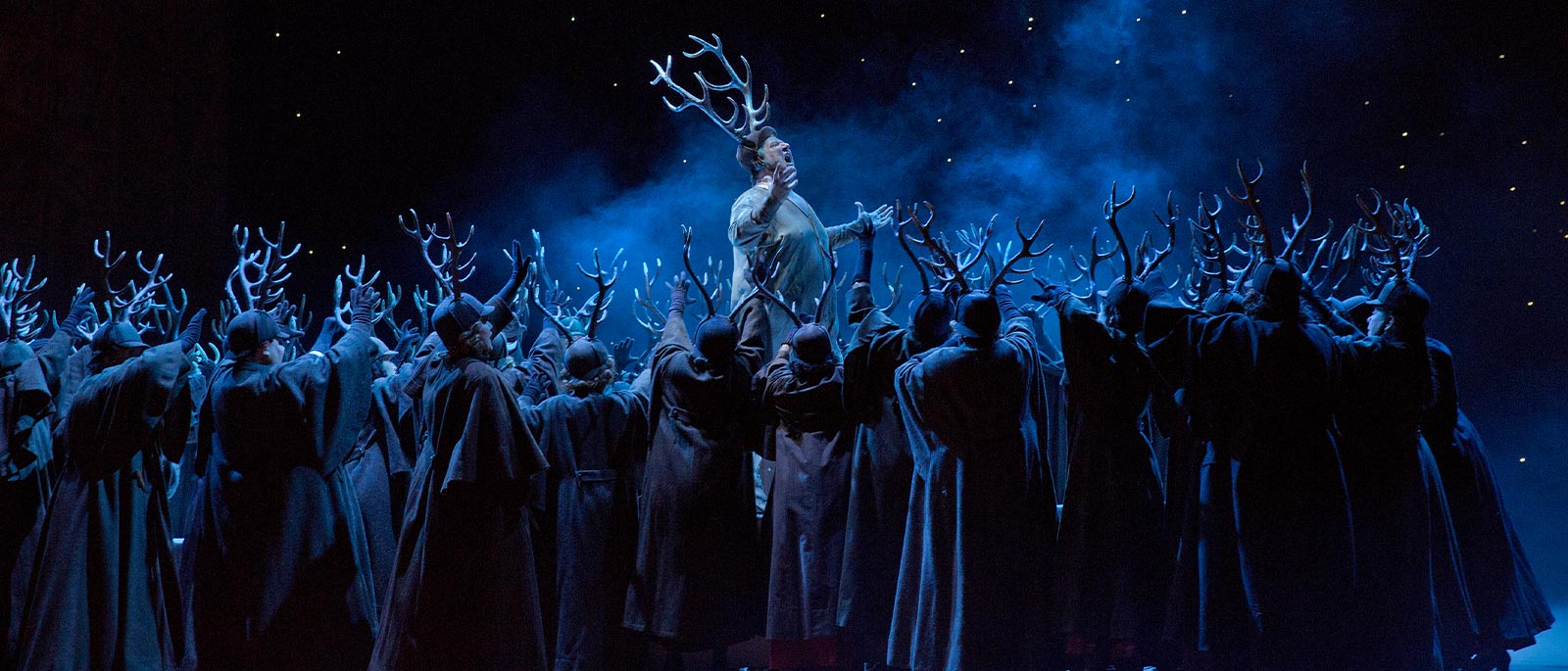 Nightly Opera Streams, August 24–30
This week of streams is dedicated to the great Giuseppe Verdi, featuring standout performances of seven of his most beloved masterpieces. Explore the articles and resources below to expand your knowledge and enhance your experience as you enjoy the free streams. A full schedule for the week is available at the bottom of this page.
Met Stars Live in Concert: If you enjoy the Nightly Opera Streams, be sure not to miss our acclaimed pay-per-view concert series, presenting opera's greatest stars performing live via satellite from striking locations across Europe and the U.S. The next concert features Lise Davidsen, live on August 29.
The coronavirus pandemic has had overwhelming economic implications for the Met. If you're enjoying our free Nightly Opera Streams and would like to help, please consider donating to our urgent fundraising campaign.
Or, donate by text message: Text METOPERA to 44321 in the U.S. or 1-917-999-0700 for other countries. Standard text messaging rates apply.
Each stream becomes available at 7:30PM ET and remains accessible for on-demand viewing until 6:30PM ET the following day, with the exception of the August 28 stream of La Traviata, which will be available until August 29 at 12PM ET. The August 29 stream of Don Carlo will begin at the normally scheduled 7:30PM ET.
Week 24 (Verdi Week)
Monday, August 24
Verdi's Rigoletto
Starring Diana Damrau, Oksana Volkova, Piotr Beczała, Željko Lučić, and Štefan Kocán, conducted by Michele Mariotti. From February 16, 2013.
Tuesday, August 25
Verdi's Il Trovatore
Starring Anna Netrebko, Dolora Zajick, Yonghoon Lee, Dmitri Hvorostovsky, and Stefan Kocán, conducted by Marco Armiliato. From October 3, 2015.
Wednesday, August 26
Verdi's Luisa Miller
Starring Sonya Yoncheva, Olesya Petrova, Piotr Beczała, Plácido Domingo, Alexander Vinogradov, and Dmitry Belosselskiy, conducted by Bertrand de Billy. From April 14, 2018.
Thursday, August 27
Verdi's Un Ballo in Maschera
Starring Sondra Radvanovsky, Kathleen Kim, Stephanie Blythe, Marcelo Álvarez, and Dmitri Hvorostovsky, conducted by Fabio Luisi. From December 8, 2012.
Friday, August 28
Verdi's La Traviata
Starring Diana Damrau, Juan Diego Flórez, and Quinn Kelsey, conducted by Yannick Nézet-Séguin. From December 15, 2018.
Saturday, August 29
Verdi's Don Carlo
Starring Marina Poplavskaya, Anna Smirnova, Roberto Alagna, Simon Keenlyside, Ferruccio Furlanetto, and Eric Halfvarson, conducted by Yannick Nézet-Séguin. From December 11, 2010.
Sunday, August 30
Verdi's Falstaff
Starring Lisette Oropesa, Angela Meade, Stephanie Blythe, Jennifer Johnson Cano, Paolo Fanale, Ambrogio Maestri, and Franco Vassallo, conducted by James Levine. From December 14, 2013.