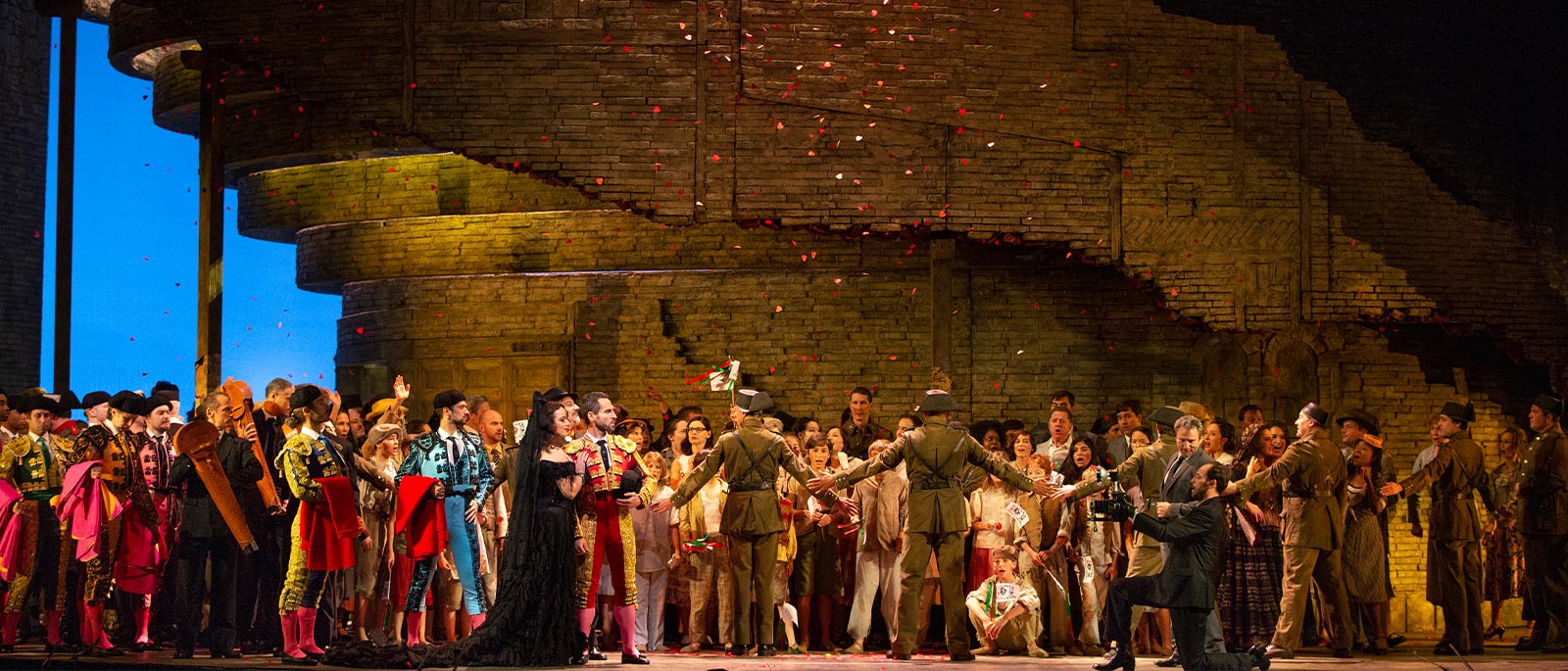 Nightly Opera Streams, August 10–16
From legends of past eras like Luciano Pavarotti and Renata Scotto to standout singers of the present day, including Nina Stemme and Karita Mattila, this week's streams feature a brilliant collection of stars. Explore the articles and resources below to expand your knowledge and enhance your experience as you enjoy the free streams. A full schedule for the week is available at the bottom of this page.
Met Stars Live in Concert: If you enjoy the Nightly Opera Streams, be sure not to miss our groundbreaking new pay-per-view concert series, presenting opera's greatest stars performing live via satellite from striking locations across Europe and the U.S. The next concert features Roberto Alagna and Aleksandra Kurzak, live on August 16.
The coronavirus pandemic has had overwhelming economic implications for the Met. If you're enjoying our free Nightly Opera Streams and would like to help, please consider donating to our urgent fundraising campaign.
Or, donate by text message: Text METOPERA to 44321 in the U.S. or 1-917-999-0700 for other countries. Standard text messaging rates apply.
Each stream becomes available at 7:30PM EDT and remains accessible for on-demand viewing until 6:30PM EDT the following day, with the exception of the August 15 stream of La Bohème, which will be available until August 16 at 12PM EDT. The August 16 stream of Luisa Miller will begin at the normally scheduled 7:30PM EDT.
Week 22
Monday, August 10
Puccini's Manon Lescaut
Starring Karita Mattila, Marcello Giordani, and Dwayne Croft, conducted by James Levine. From February 16, 2008.
Tuesday, August 11
Bizet's Carmen
Starring Aleksandra Kurzak, Clémentine Margaine, Roberto Alagna, and Alexander Vinogradov, conducted by Louis Langrée. From February 2, 2019.
Wednesday, August 12
Verdi's Rigoletto
Starring Christiane Eda-Pierre, Isola Jones, Luciano Pavarotti, Louis Quilico, and Ara Berberian, conducted by James Levine. From December 15, 1981.
Thursday, August 13
Puccini's Turandot
Starring Nina Stemme, Anita Hartig, Marco Berti, and Alexander Tsymbalyuk, conducted by Paolo Carignani. From January 30, 2016.
Friday, August 14
Wagner's Tristan und Isolde
Starring Deborah Voigt, Michelle DeYoung, Robert Dean Smith, and Matti Salminen, conducted by James Levine. From March 22, 2008.
Saturday, August 15
Puccini's La Bohème
Starring Kristine Opolais, Susanna Phillips, Vittorio Grigolo, Massimo Cavalletti, Patrick Carfizzi, and Oren Gradus, conducted by Stefano Ranzani. From April 5, 2014.
Sunday, August 16
Verdi's Luisa Miller
Starring Renata Scotto, Plácido Domingo, Sherrill Milnes, Bonaldo Giaiotti, and James Morris, conducted by James Levine. From January 20, 1979.