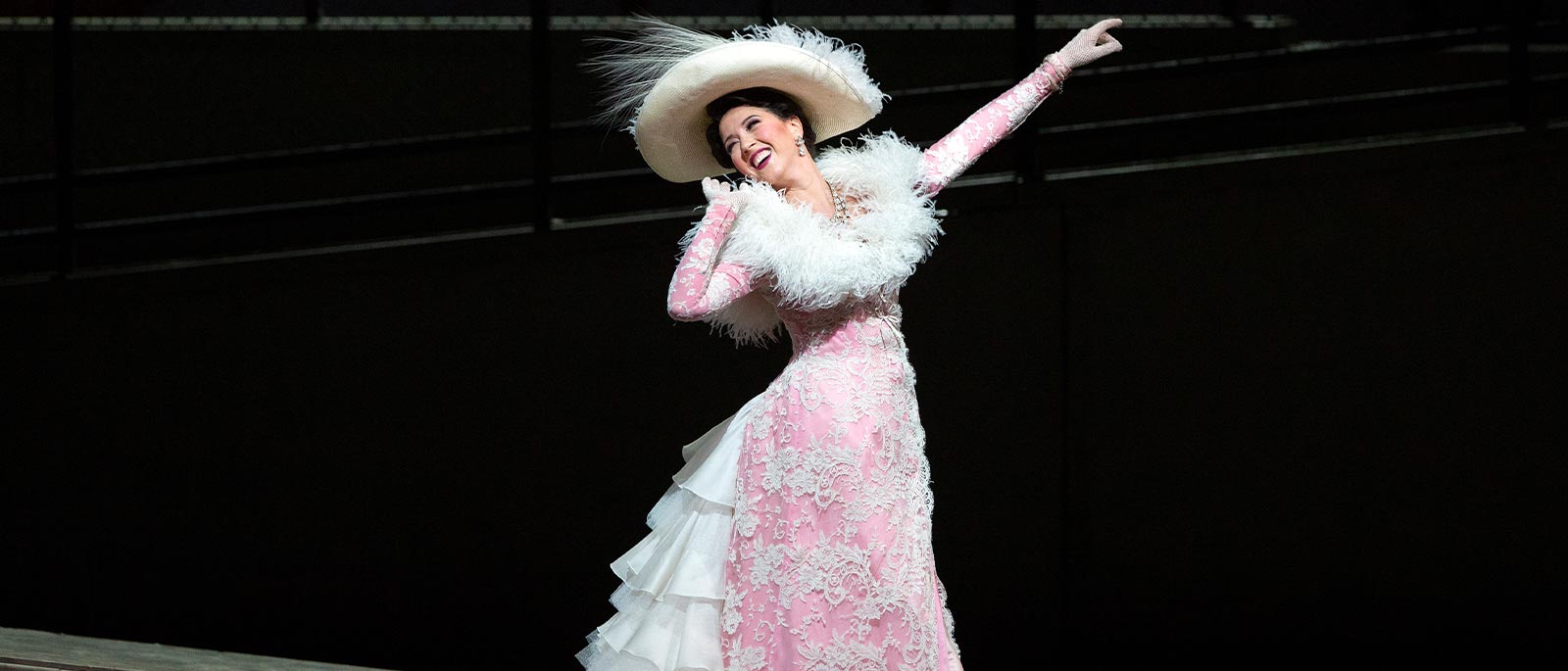 Victory Lap
The 2019–20 season was a marathon for Lisette Oropesa. After conquering opera houses around the globe and collecting both the 2019 Beverly Sills and Richard Tucker Awards, the dazzling soprano made a major return to the Met stage, singing two of opera's most demanding roles: first, the seductive title heroine in Massenet's Manon, which will stream online on June 25, and then, Violetta in Verdi's La Traviata. In advance of her role debut as Manon, Oropesa spoke to the Met's Joel Rozen about her ever-expanding repertoire and her empathy for Manon.
You've given more than 100 performances at the Met, dating back to your time as a member of the Lindemann Young Artist Development Program. But in the last five years, you've only sung one role on our stage. Now, you're coming back for a giant season, with two massive roles—what have the last several years for you been like?
When I finished the Lindemann program in 2008, I continued to sing at the Met, but then I started getting offers from companies overseas for roles that I really wanted to sing, but that I knew I wouldn't be cast to sing at the Met yet—even though I had trained those parts here as a young artist. For example, I learned Lucia [in Lucia di Lammermoor] and Gilda [in Rigoletto] under this roof. Even Traviata I studied here before I ever had a chance to sing it in another theater. But I'm grateful now to have the opportunity to sing these big roles where I first studied them. And really, I owe my entire career, both in Europe and in the United States, to the Met. From the first day that I came to this house, this has been my home.
Your repertoire has been strikingly varied. What roles or musical styles are you most drawn to?
Well, I love Mozart. But as a singer, I prefer bel canto, and as a listener, I enjoy Wagner. As far as the joy of the language, I enjoy French! I'm fortunate that my voice type is the kind that exists in many different types of repertoire. The hard thing, then, of course, is that I'm constantly having to learn new rep.
Like Manon, for instance. What do you think makes the story of this heroine so captivating?
It's about a woman who gets punished for doing the exact same thing that the men in her society are doing without consequence—for her desire to have her cake and eat it too. That's why it's an intriguing story: she's not a victim! In fact, when I was first studying her, I thought, you can just make her shallow, or you can play her as easy. But lots of the men in the opera are exactly the same way: Her cousin is like that. Her boyfriend, in a lot of ways. And his father, not exactly a model of morality. But Manon gets punished for it. So I feel like the issue with her is trying to make her lovable.
Are you suggesting that you relate to her on some level?
I do, in the sense that I'm an ambitious person. She is aware of her gifts and wants to use them to get what she wants. I'm aware of my gift as a singer, and I want to use that to earn success in life. I want to have a love that makes me happy, and travel the world, and live comfortably. I want to grasp life to the fullest. So I want the audience to like, or at least relate to, this person. If you just make Manon shallow, nobody cares about her, and everybody feels bad for des Grieux. I feel like my challenge as a performer is to bring the aspects that are lovable about her. In a sense, I'm trying to make her someone people want to be.
Of course, compounding the complexity of her character, Massenet's given his heroine some extremely challenging music to sing.
Manon is such a monster of a score. The text never repeats; it just goes on and on and on, and if you're not French, it's extraordinarily difficult. The role is a roller-coaster, honestly. But it's also like putting on a lace glove. At first, you think, "This is full of holes and netting, and it's flimsy—is it going to stay on my hand?" And then you put it on, and it looks beautiful, and that's how Massenet's music is to me.


Joel Rozen is the Met's Staff Writer.