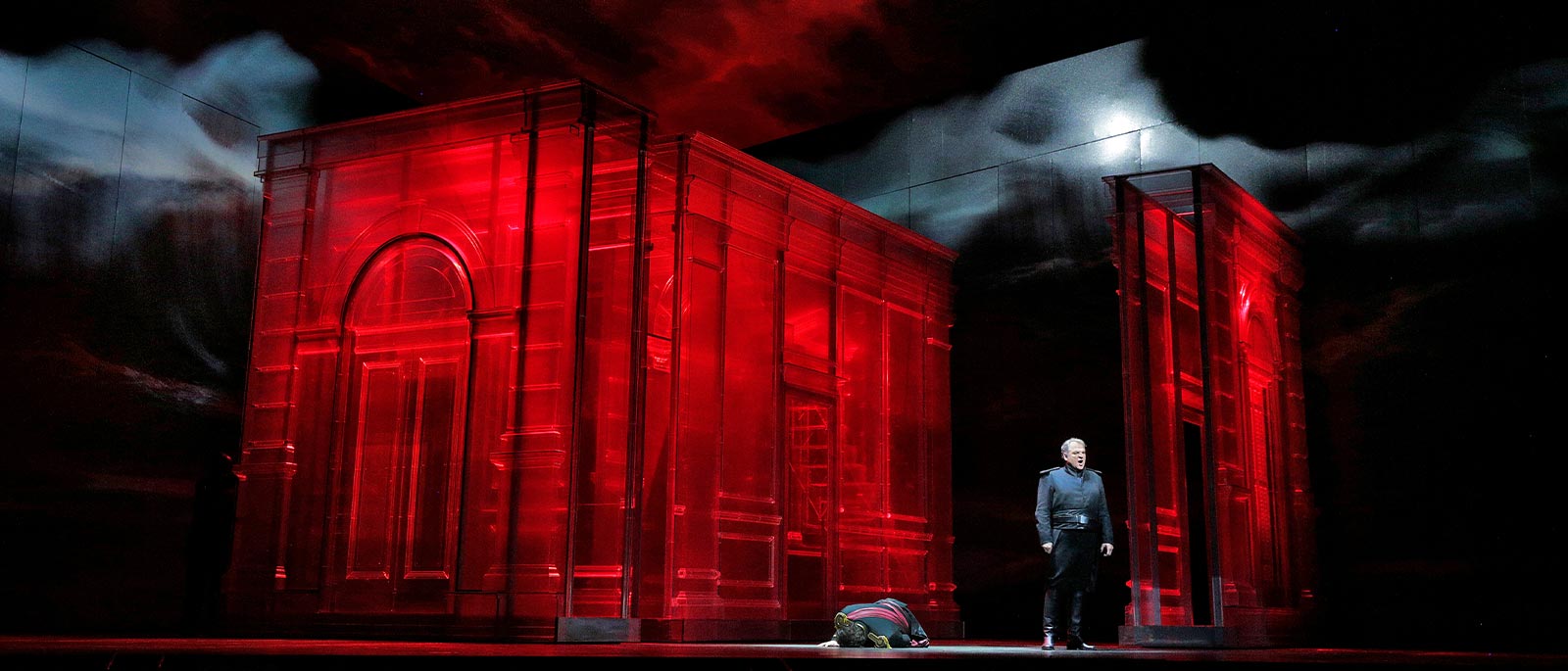 Tragic Dimension
Verdi's Otello—a masterpiece of reignited creativity from the composer's final years—magnifies its Shakespearean source in the way only opera can, says Bartlett Sher, director of the Met's 2015 new production. By Thomas May
For a composer of Giuseppe Verdi's sensibilities and experience, transforming Shakespeare's Othello into an opera was nothing less than "predestined." At least that's how Verdi's librettist, Arrigo Boito, put it when he grew desperate to reassure his older partner during the unusually long stretch over which Otello was created. Marred by doubts from the composer, the period of genesis spanned eight years all told (from 1879 to 1887). And though the notion of a Verdi Otello being a cosmic inevitability may sound a bit like a hyped-up elevator pitch, it's hard to imagine the creative renaissance of Verdi's final years being galvanized by anyone other than Shakespeare, the dramatist he admired above all others.
"In this particular work you have something that magnifies even Shakespeare," says director Bartlett Sher, whose new production of Verdi's late-career masterpiece opened the Met's 2015–16 season. Sher—already familiar to Met audiences through previous productions here (including a staging of The Barber of Seville that has been especially popular)—believed he reached just the right point in his own career to grapple with Verdi's complex, unsparing vision.
Starting with some of the great comic operas, Sher observes that he's been lucky to have the opportunity "to work my way through the repertory, a little bit like a singer." Add this to the insights he's accumulated over a career directing more than 20 of the Bard's plays, and you can see why the prospect of exploring the "intersection between Shakespeare and the opera" was particularly stimulating. Sher was joined on the project by the electrifying Yannick Nézet-Séguin, conducting his first Opening Night at the Met, with tenor Aleksandrs Antonenko in the title role, soprano Sonya Yoncheva as Desdemona, and baritone Željko Lučić as Iago.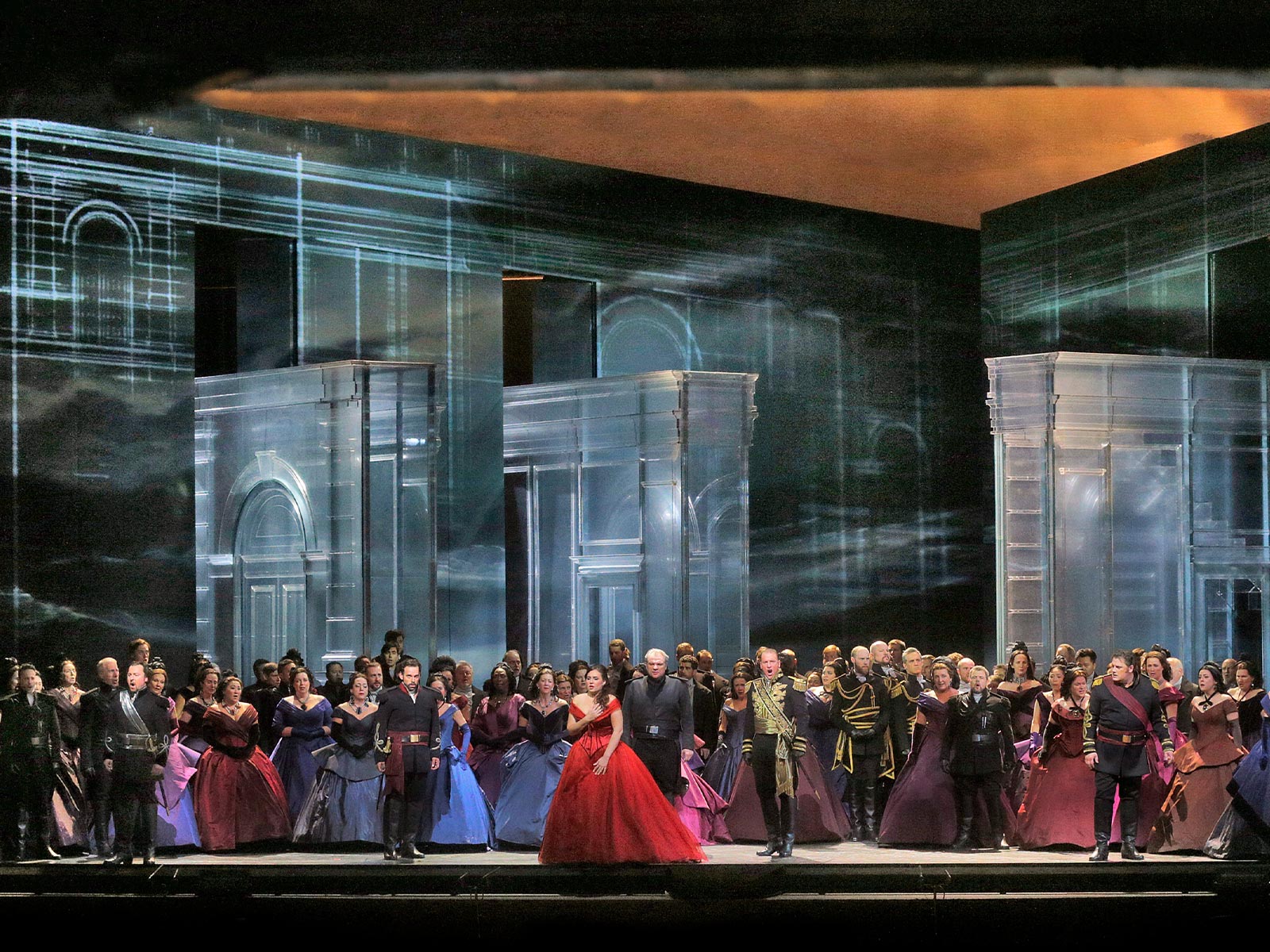 Along with his other achievements, Verdi's career contains one of the most phenomenal final acts in opera history. Following the success of Aida in 1871 and the quasi-operatic Requiem of 1874, written when he was 61, Verdi set out to retire from his life as a composer. But the operatic tides were turning as a result of Wagner's culture-shifting theatrical vision, and Verdi suddenly found himself either deemed passé or an "imitator" of Wagner with his more orchestrally complex, pre-retirement operas. What could be more irresistible, then, than the challenge of returning to the field with a work that would underscore the uniqueness of Verdi's operatic imagination—an opera whose libretto was authentically rooted in Shakespeare, one of the composer's abiding passions?
Boito's urgings also contributed to Verdi's career rebirth. "There's something about Boito that brings Verdi back to life when he comes along and says, 'Let's try to make some Shakespeare,'" Sher remarks. For all the second thoughts that tormented him, Verdi not only found a way to tap once again into the old inspiration for the first part of Otello but succeeded in "surpassing himself, in the last couple of acts, beyond what he'd ever accomplished before."
As Sher says, the arc of the opera progresses from "an epic opening, with its phenomenal chorus, to an extremely intimate final scene inside a bedroom. I'm very interested in the shape of the score as it narrows down from the very large-scale, public opening to the final act. It's almost as if the story is bringing more and more out of Verdi as he goes along: You have the fairly traditional, powerful Verdi at the start, but by the end, he pushes himself to a place he's never been as a composer. You get to a point in the tragedy where it's so painful you almost can't face how much expression is in it."
To animate the interplay among these elements in visual terms, Sher collaborated with a remarkable design team, including Es Devlin (sets), Catherine Zuber (costumes), Donald Holder (lighting), and Luke Halls (projections). "We're all very much influenced by how Boito was influenced by Ibsen," says the director, referring to the Norwegian playwright's dramatization of moral conflicts that pit "the old, Christian way against the newer, scientific way of thinking." At the same time, Otello's status as a "Moor"—which is to say as an outsider in the European Christian setting of the story—raises the issue of ethnic and religious tensions, tensions that, it's worth noting, are amplified in Shakespeare's play but actually toned down in Boito's libretto. In Sher's new production, the Met broke from tradition; the white European tenor singing the title role did not submit to the practice of blackface.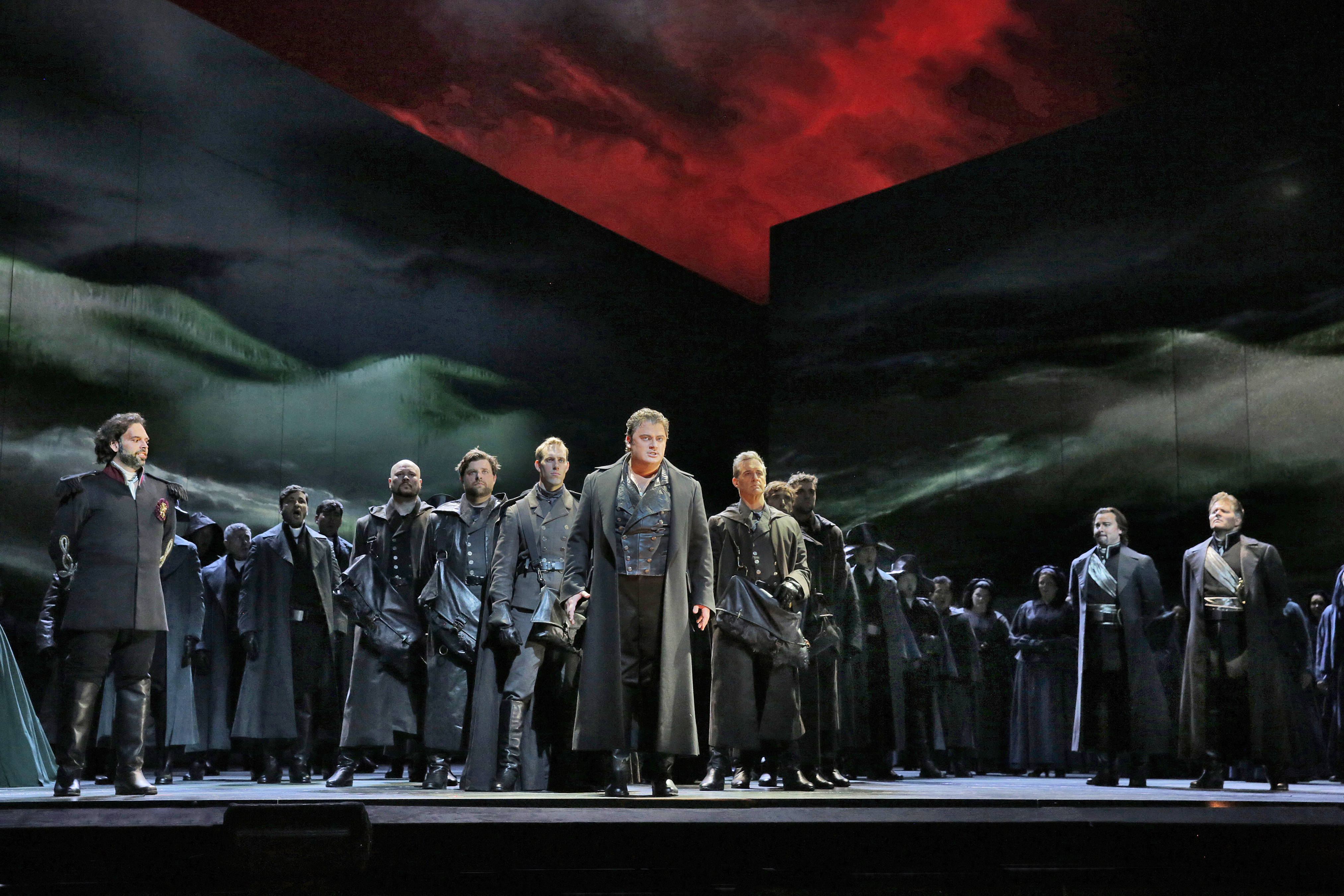 Sher asked Devlin—who has designed sets for everything from classical theater to opera to Kanye West's Yeezus world tour—to devise an architectural metaphor of glass panels to embody "the battle between these different perceptions: a psychological world of glass walls—which you can move inside of and around," from the monumental opening to the confined bedroom in which the opera's climactic murder takes place. "I'm interested in having a space that makes that kind of music resonate," says Sher.
Shifting configurations of the glass palace enhance Verdi's musical depiction of the turning of the screw of jealousy: This is a tragedy that unfolds according to what the characters perceive, or think they're perceiving, as Iago tricks Otello into "seeing" Desdemona's betrayal. Overall, the result is a vision influenced by Ibsen and placed "in a kind of Rem Koolhaas glass structure ... in which you can experience more complex psychological realities."
Another reference point is the Risorgimento—the military struggle for Italian unification in which Verdi himself was involved—as seen in the "wintery, dark" costume designs by Zuber. "The advantage of the 19th century is that it's not so fragmented as our perception now, where a moral universe can be anything," Sher observes. "It actually requires a heaven and a hell and the idea of God and the idea of manipulation and betrayal. So with someone like Otello, who is pushing the boundaries of what's allowed, who's considered an 'other,' this brings out his paranoia, his lack of trust. He never believes that love is enough to make him accepted in Desdemona's world, so he's influenced by other people poisoning what he believes about who she really is. He doesn't trust her or himself enough, because he's too much of an outsider."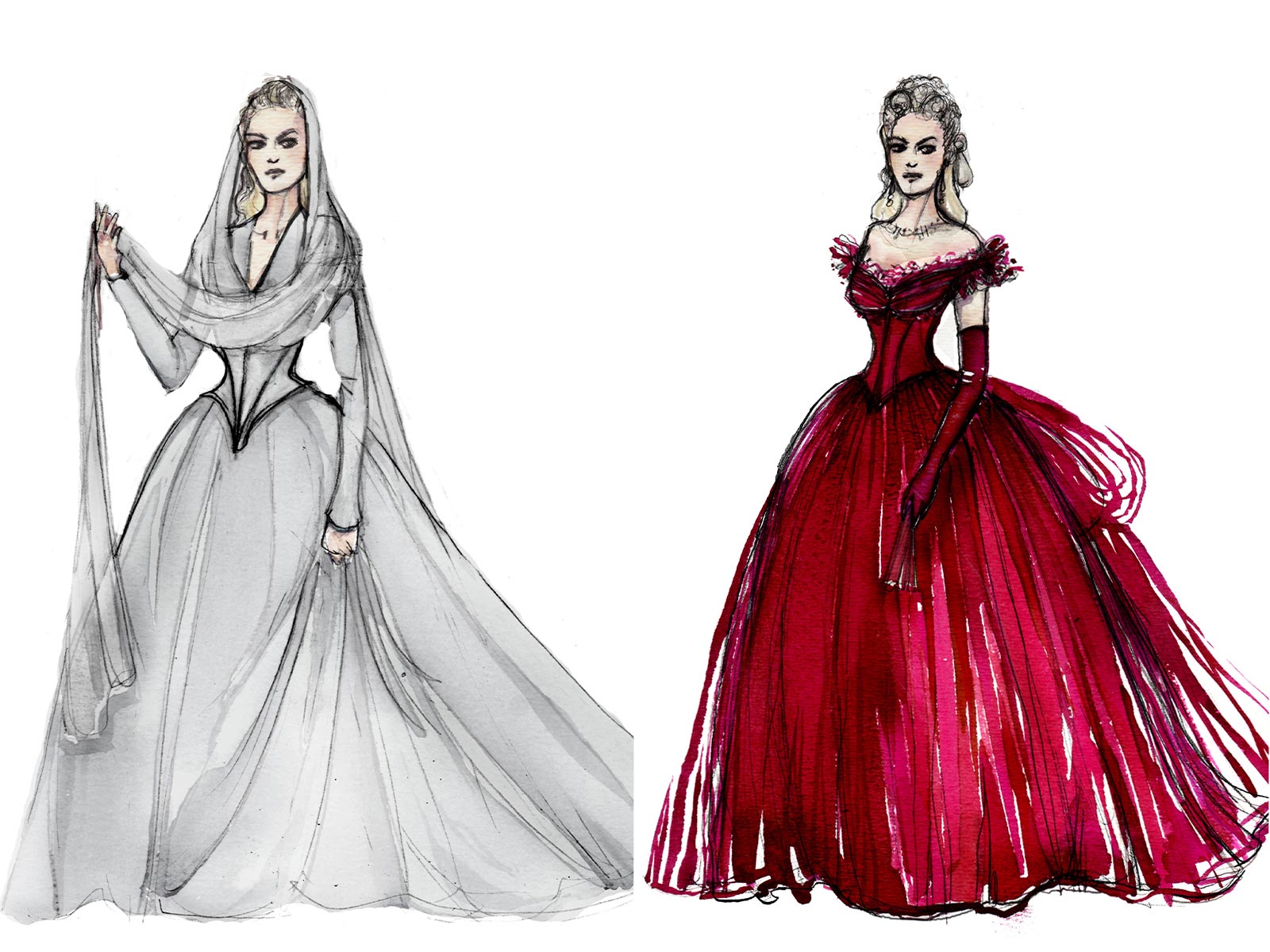 Costume designs by Catherine Zuber
Latvian tenor Antonenko, who made his Met debut as the Prince in Rusalka in 2009, took on the title role, having immersed himself in the part, learning it from Verdi expert Riccardo Muti. Making her role debut as Desdemona was Bulgarian soprano Yoncheva, whom Met audiences first saw in 2013 as Gilda in Rigoletto. "She has an unbelievably beautiful, pure sound and an extreme openness as an actor," says Sher, who collaborated with Yoncheva in a German production of Faust. He also mentions her triumph as Violetta, a role many commentators view as something of a launching pad for Verdi's conception of the peculiar blend of independence and vulnerability that sets his Desdemona apart. In contrast to Shakespeare's portrayal, Boito expanded the importance of her role, crafting a figure more attuned to the sacrificial heroine of the Italian operatic tradition. In Lučić Sher finds an "extremely ferocious masculine energy" that he says is ideally suited to Iago. The Serbian baritone is able "to really push the envelope of Iago's psychosexual, unfettered animus, his interest in the destruction of others."
Throughout Otello's history, interpretations have tended to emphasize either its roots in the Italian operatic tradition or its orientation toward a more modern model of continuous music drama. Old-fashioned set pieces, for example, are stamped afresh in such passages as Iago's drinking song or the thrilling, freeze-frame ensemble after Otello's public humiliation of Desdemona at the end of the third act. At the same time, Verdi reaches new heights of psychological portraiture. The most compelling readings of Verdi's musical dramaturgy argue that Otello itself embodies the aesthetic and political conflict playing out in culture at large of the late 19th-century Europe. "Otello, like Verdi himself, is caught agonizingly between the old and the new," write Carolyn Abbate and Roger Parker in their History of Opera.
Otello may well embody the most persuasive example in the repertoire of what opera uniquely brings to a play that is already a masterpiece in its own right. Far from a reductive or redundant version of Shakespeare's tightly coiled tragedy, Verdi and Boito's collaboration reimagines the terms of its conflicts using the resources of the singing voice and the orchestra. The result, for Sher, is "that the entire capacity for tragic expression is elevated again, and brought to a higher level."