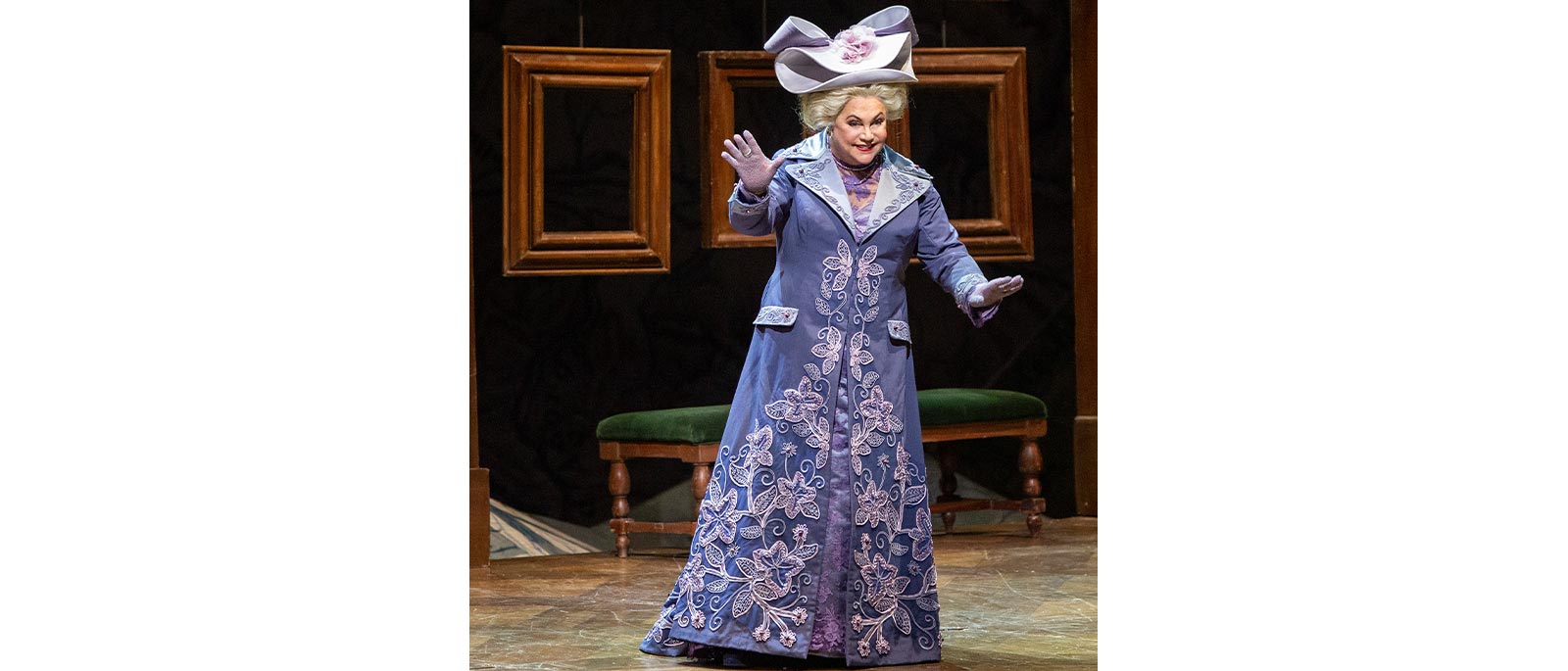 Thus Spake Kathleen Turner
Kathleen Turner has given unforgettable onscreen performances in Body Heat, Prizzi's Honor, The Accidental Tourist, and Peggy Sue Got Married, among many others, and her stage portrayals of Maggie in Cat on a Hot Tin Roof and Martha in Who's Afraid of Virginia Woolf? have earned her a pair of Tony nominations (in addition to her Oscar nod and pair of Golden Globe wins). In 2019, the legendary actress added opera to her already impressive career, appearing in the comic speaking role of the Duchess of Krakenthorp in the revival of Donizetti's La Fille du Régiment. Before taking the operatic plunge, Turner spoke with the Met's Matt Dobkin about this exciting opportunity.
So, let's go back to the beginning. How did this project come about?
Peter Gelb emailed me about the opportunity—that they were doing La Fille du Régiment and that there was a speaking role. And thankfully he put that right up front. Because, you know, I'm not insane. So I said, as I do to everything, send me the libretto, send me the script, and let me read it, because I don't make any decisions before having the material. So he did, and there were so few lines! I said, "No offense, but I don't understand, why do you need me for this?" And he said, "Well, why don't you come down to the opera house and we'll talk about it? Come see the stage." Who would not jump at the chance to stand on the stage of the Metropolitan Opera House? So I met Peter, and he took me to the stage, and he kind of tricked me, see, because he said, sort of casually, in passing, "I understand you've never been miked." And immediately my actor's voice comes out and says, "Of course I've never been miked!", and it echoes around the hall. And I went, "Ah-ha. Yeah, you got me." He said, "Look, I need that voice. I cannot have a tiny little voice next to these operatic singers." And frankly, standing there on that stage—the sound! The acoustics! I've been in Carnegie Hall, I've been in the Royal Opera House in London—and nothing like this. Nothing. So, right there he hooked me.
I understand you've shown a real interest in the backstage workings of the Met.
Well, after the humiliating experience of getting measurements taken in the costume shop—I don't care who you are, it's humiliating, and the older I get, the more humiliating it becomes—nevertheless, I said I'd love to see more of your shop. You know, I believe in working in regional theaters because I believe that the American people deserve more than just New York and San Francisco, so I've seen the production facilities in many good-sized theaters. But nothing like this. Nothing. I mean, there were 90 people there. I watched this one woman—she had plaid material and she was matching the back seam of the gown line-byline to the plaid, so you would never even see that it had a seam. They said that that was her specialty. And I watched another woman working on beading, which was meticulous and insane. And then the next step was to meet the people who make the shoes.
Did you have any background in opera before this? Are you a fan?
Okay, do I get to be brutally honest? I had not been for many years because I couldn't stand the acting. I simply couldn't stand it. I would try just closing my eyes and enjoying the music, but I'm sorry, this is my field—I couldn't watch it. So I was thrilled to learn that lately there has been more of an effort toward taking the acting more seriously. And so, yes, I went to The Merry Widow, with Renée Fleming and Kelli O'Hara, and immediately thought that it was so much better. Kelli was already an extraordinary actress and Renée has her own flair and style altogether, so that started to lure me back.
The Duchess of Krakenthorp is a short role, but we've had many wonderful actresses do it. Bea Arthur has performed it here, Marian Seldes—and in other opera houses, even Ruth Bader Ginsburg has done it.
I know. Let me tell you a story. Maggie Smith—I should say Dame Maggie Smith—is a dear, dear friend. She called me up around September just to check in and say, "Now, what adventures are you up to, my dear girl?" And I said, "Well, I do have a new adventure. The Met is reviving La Fille du Régiment." And she went, "Oh, the Duchess! Six lines. End of the opera. Gorgeous costume." So I'm assuming she's done it.
I imagine that you don't know your co-stars Pretty Yende or Javier Camarena, but maybe I'm wrong. Have you ever seen them perform?
No. I understand she's quite young and very good. And I don't know him but I have been told that he has a notorious aria with five high Cs?
It's actually nine high Cs.
Holy shit.
You strike me as someone who has no fear about trying new things and taking risks.
Risks are my business.
So, do you consider this a risk?
Every new job, frankly, is a risk because there's always a possibility of failure. But that's my job. Unless I'm willing to risk failure, I don't grow. And isn't that what we're supposed to be doing here on Earth?
Matt Dobkin is the Met's Creative Director, Marketing & Editorial.