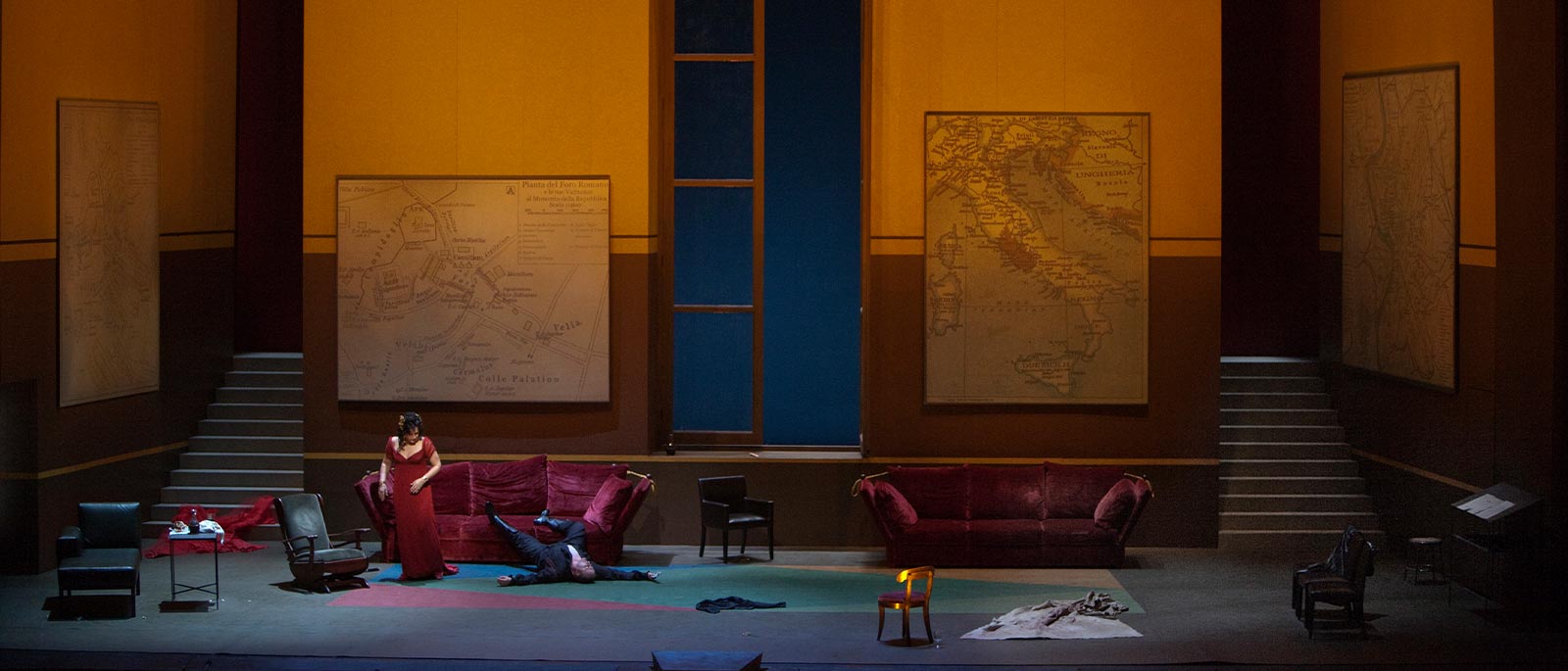 Thrill Ride
Starring in the title role of Luc Bondy's new production of Puccini's Tosca on Opening Night of the 2009–10 season, soprano Karita Mattila kept audiences on the edge of their seats. By Philipp Brieler
Puccini knew a great story when he saw one—even if he couldn't necessarily follow it word for word. Several of his operas were inspired by performances of plays in languages he didn't speak, yet in each case their dramatic impact was so powerful that, without being able to comprehend the dialogue, he immediately recognized their operatic potential. One of these epiphanies struck when he saw Sarah Bernhardt in the title role of Victorien Sardou's French drama La Tosca. A few years later, in 1900, Puccini's musical adaptation of the play was first heard in Rome. Few works of musical theater—including Puccini's own—boast such a potent combination of emotional intensity, dramatic energy, and musical brio.
To bring Tosca's cinematic power to life to open the 2009–10 season, Swiss-born director Luc Bondy made his Met debut with a stark new staging. Soprano Karita Mattila sang the title role, opposite tenor Marcelo Álvarez as Cavaradossi and baritone George Gagnidze as Scarpia. The late Bondy was one of Europe's most acclaimed theater directors, known for combining keen realism with psychological insight in his productions.
"Tosca is a thriller, and it's also one of the few operas about torture," Bondy says, referring to a climactic moment in Act II: While the villainous police chief Scarpia threatens Tosca for the whereabouts of an escaped prisoner, his henchmen, off-stage, brutalize her lover to learn the secret. Hearing Cavaradossi scream eventually causes Tosca to blurt out the location. It's a key moment in the drama. "What I'd like to bring out in my production," Bondy explains, "is that difference between blind passion and cold strategy."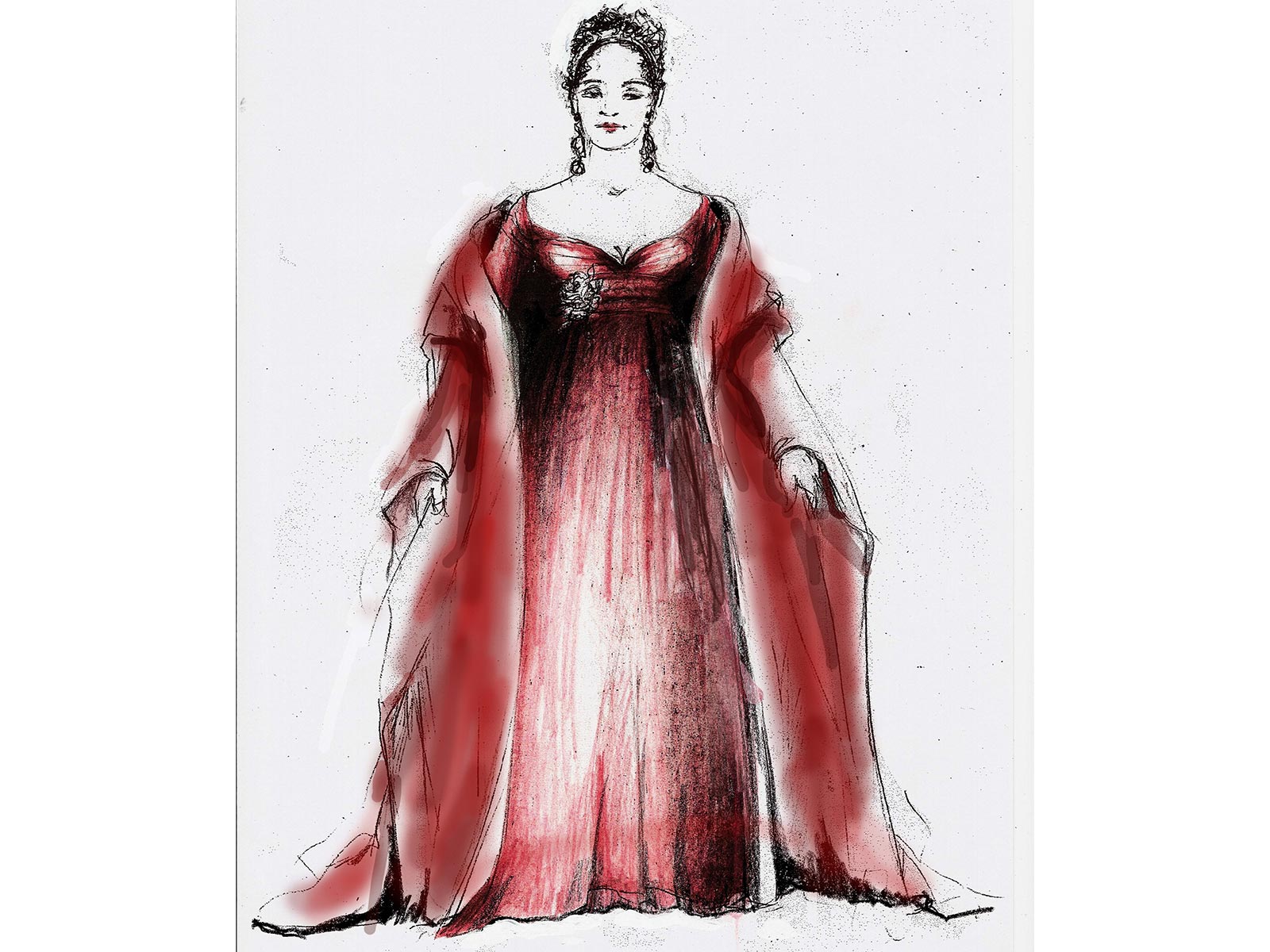 A costume design by Milena Canonero
There is no lack of either in this opera. In fact, both ideas are contained in the burst of fortissimo chords—later identified as Scarpia's theme—that opens the first act. From the moment the curtain rises on a man stumbling into a church on the run from the police, the action never stops. For Mattila, immersing herself in this fast-moving story marks a departure from her usual approach to a role. At the Met, she has portrayed an impressive lineup of diverse operatic heroines, from Strauss's Salome to Tchaikovsky's Tatiana, to Puccini's own Manon Lescaut. But Tosca, she explains, "is totally different from other Puccini parts that I've done, and from many of those classic roles I've sung. Usually they have a past, the character grows. I'm used to really digging deep. With Tosca, it's all happening right now, everything is right here. It really is like an action movie." One aspect of playing the role at first worried Mattila: "I thought, Oh my God, how does it feel to kill somebody on stage? But once I figured out the movie idea, I realized that's just what happens."
If a good screenplay makes for a good film, it certainly doesn't hurt for an opera to have a libretto as brilliantly constructed as the one Giuseppe Giacosa and Luigi Illica adapted from Sardou's play. The story of Tosca unfolds over an afternoon, a night, and the following morning in June of 1800 and is set in three real places in Rome—a church, a palazzo, and a prison—located within a few hundred feet of each other. "Our Tosca is set in the time of Napoleon," Bondy explains. "Directing singers in a realistic and precise way is more important than translating this kind of story to today."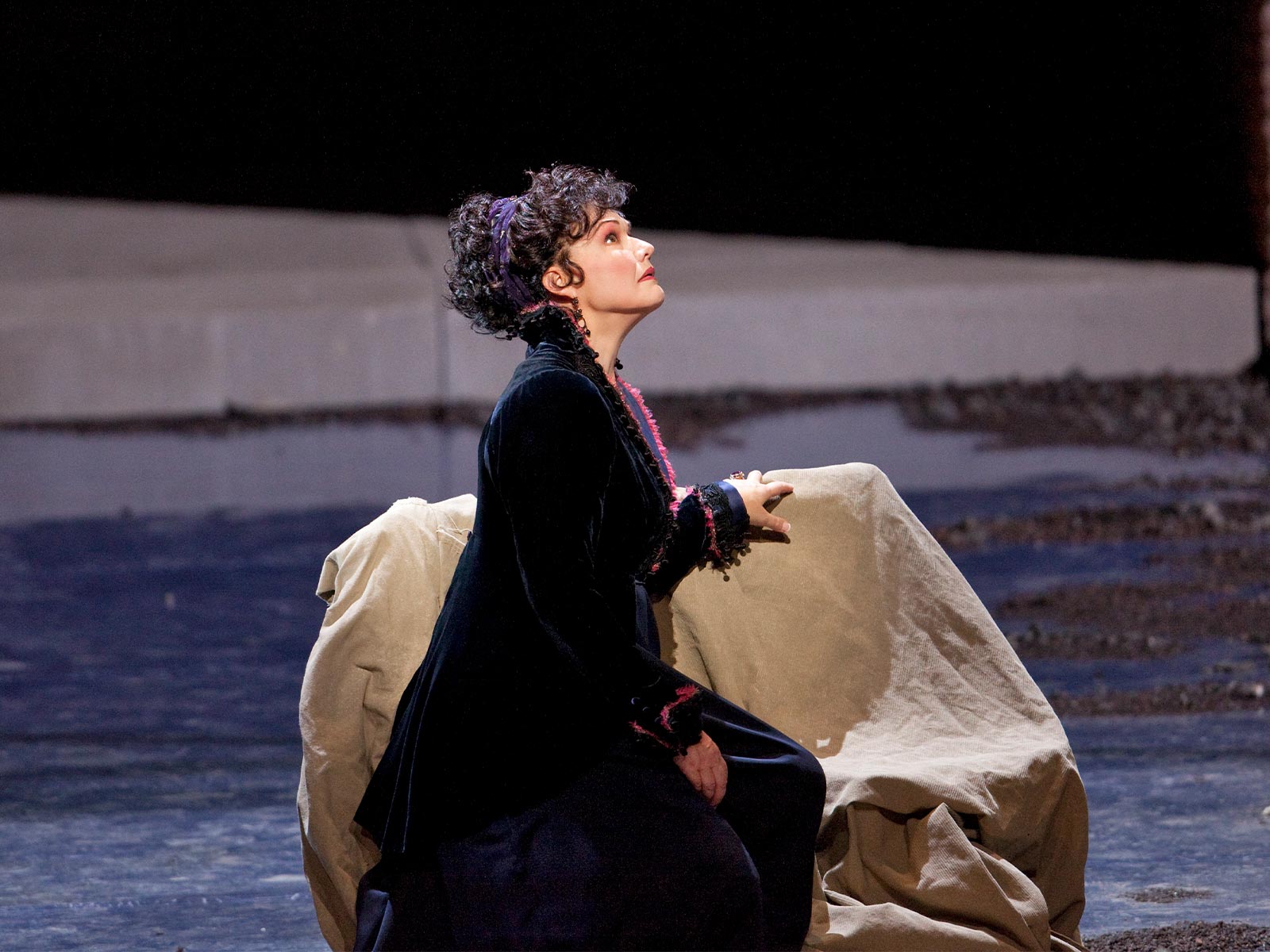 The Battle of Marengo, fought in Northern Italy on June 14, 1800, between the forces of Napoleon and the Austrian army, provides the exact historical background and is mentioned in the libretto, a background Bondy intends to keep intact because of its obvious parallels to the world of the 21st century. Abuse of power, political imprisonment, and execution without trial are as familiar in some parts of the world today as they were in the gilded palaces of 1800s Rome. "Cruelty is not specific to a certain time or era," the director says. "Neither is sexual desire mixed with torture. Tosca is recent history and an old story at the same time."
To tell that story, Bondy collaborated with his longtime set designer, Richard Peduzzi. His airy, stylized spaces maintained a naturalistic approach to Tosca but left room to create a second, psychological reality on stage. Peduzzi, who also designed the sets for Met productions of From the House of the Dead and Elektra, was joined by costume designer Milena Canonero and lighting designer Max Keller. Daniel Pelzig was the movement director.
If it's the Hitchcock-esque action that propels the drama of Tosca, there's another force that affects the characters just as strongly, if on a more intimate level: religion. In the hands of a less skilled composer, the monumental Te Deum that is sung at the end of Act I might have become little more than an effective number to bring down the curtain. For a musician of Puccini's impeccable theatrical instinct, though, it serves a wider purpose. Scarpia's declaration of his ruthless intentions, set against the rapturous outburst of the crowd, reveals his character to the audience in an ingeniously effective way. At the same time, the scene functions as a mirror to the famous, very personal prayer Tosca offers in her Act II aria, "Vissi d'arte"—one of the opera's few moments where Puccini stops the action for a glimpse into a protagonist's soul.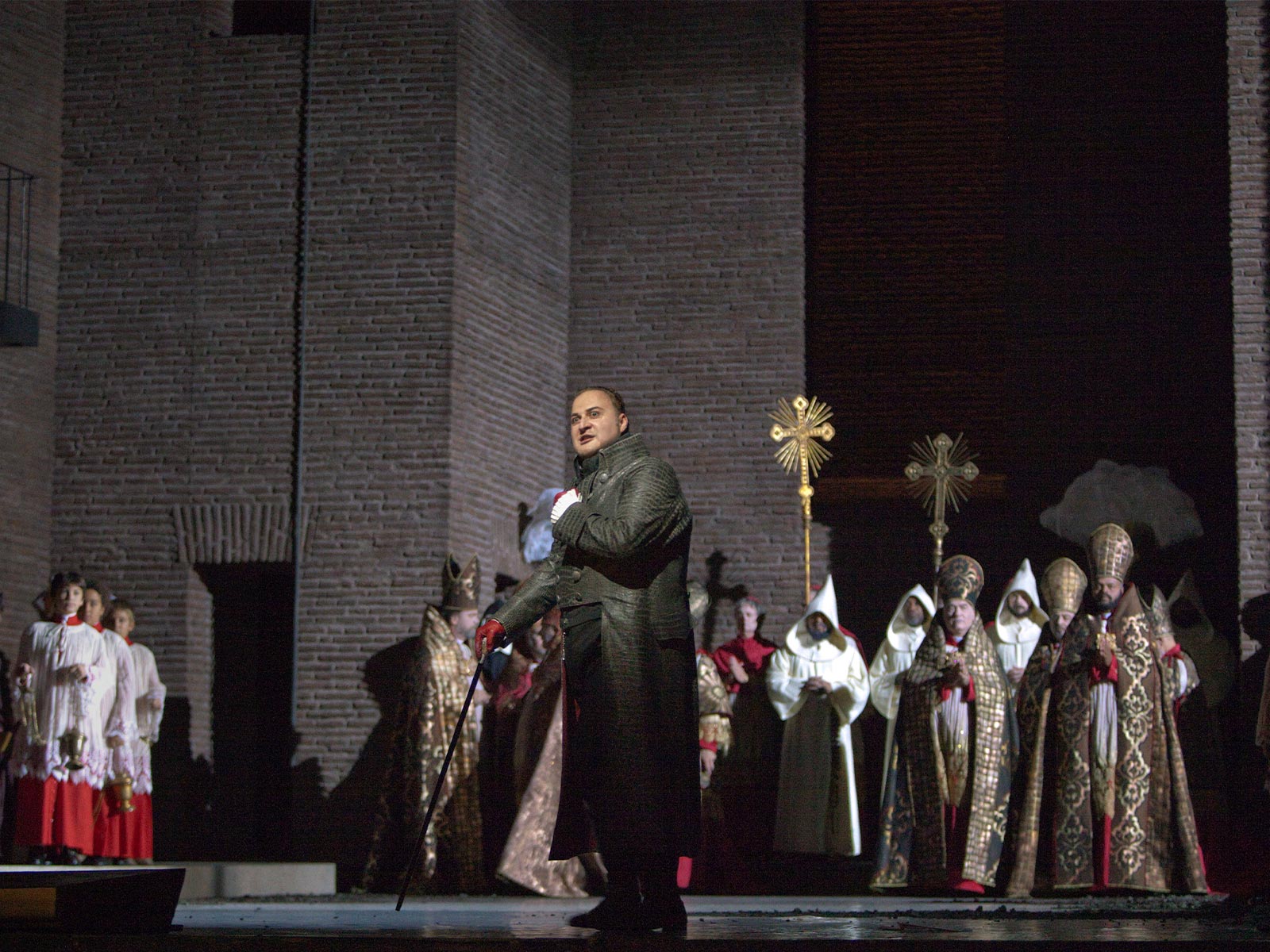 It's a moment that's crucial to understanding Tosca's character. "Most people," Mattila says, "concentrate on the things that are superficial about her—that she's in a rage and she's jealous and she can be aggressive. But there are so many other qualities. She's deeply in love. And an essential element of her life is being a passionate Catholic." There's also another aspect: being a woman surrounded by influential men. "Tosca uses her beauty as an asset in a man's world," the singer continues. "But no matter how strong she is, her power has limits because she's a woman. This fragile side is what makes it interesting—and this is where the real work with the director begins."
Mattila first collaborated with Bondy on a production of Don Carlos in 1996 in Paris, and both have been looking forward to this reunion. "Karita is a genius artist—in the heart, in the brain, in the expression," the director says about his leading lady, who first stepped onto the Met stage as Donna Elvira in Don Giovanni in 1990. The combination of Mattila's fearless theatricality and Bondy's detailed psychological approach made for a combustible combination well suited to this particular melodrama.