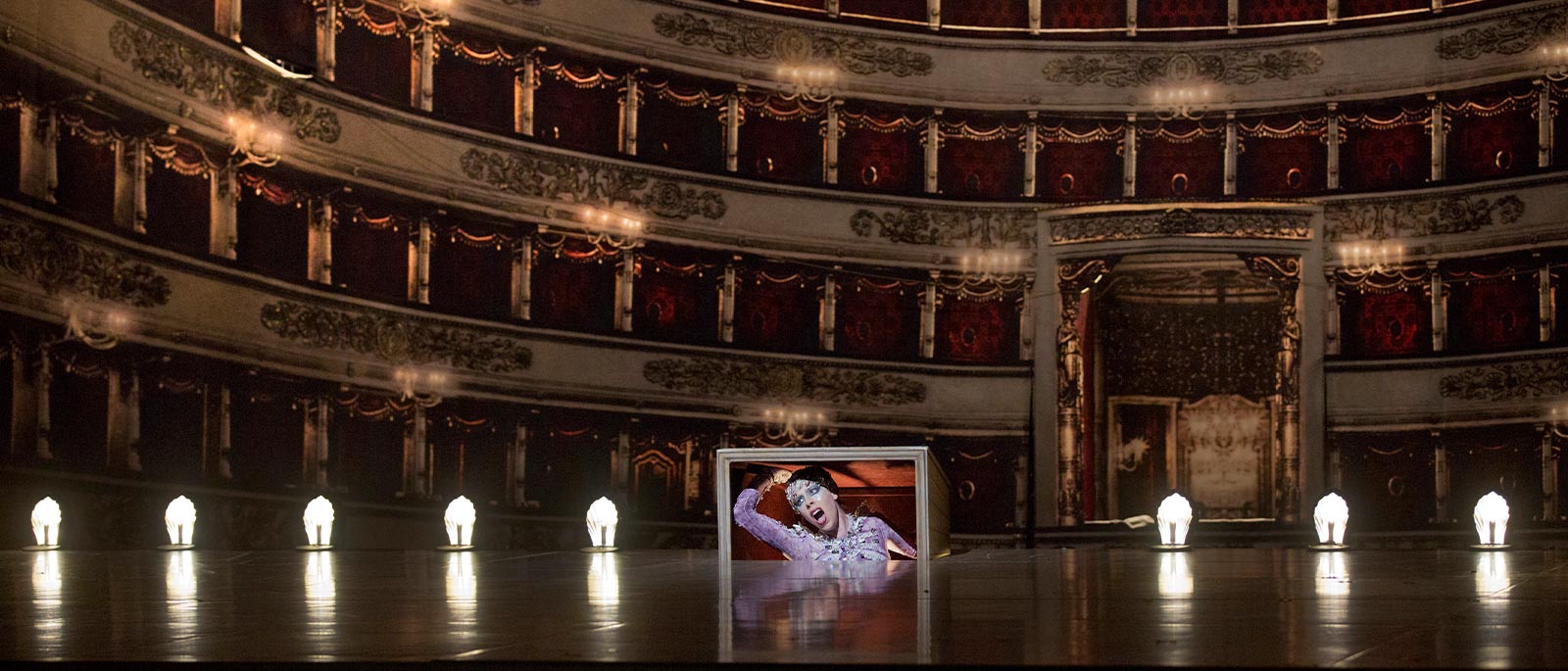 The Siren Call of The Tempest
After nearly three decades staging the plays of Shakespeare, Robert Lepage turned to Thomas Adès's operatic version of The Tempest. The play, one of the Bard's last, has been something of a siren's song for this remarkable director, who has staged no fewer than eight versions of it—in English, in French, in Japanese, and even in a Huron version in his native Canada. Hours before the debut of his new production of the opera at the Festival Opéra de Québec, in July 2012, Lepage paused to talk with the Met's Elena Park about "playing with the real and the surreal."
The Tempest is a play you keep coming back to. Why?
It's a work I love. It's a very refined piece, and it's like a "best of" of all Shakespearean works. You get tragedy, you get comedy, you get fantasy. The poetry of The Tempest is conveyed in such a simple, economical manner. It's a very simple, strong, bewitching piece.
What about the work asks for and allows for re-interpretation?
The reason it lends itself so well to be adapted into an opera is that all of the magic spells and the art of Prospero is through music in the play. His principal servant Ariel, as his name indicates, is made of air, and he bewitches and attracts people onto the island with sound, with beautiful music. Caliban at one point talks about how the island is "full of noises, sounds, and sweet airs."
How did the remarkable music guide your work as a director?
Well, the music stands by itself, of course. But there are certain things that the libretto and the score demand from the staging, where you really need to clarify situations, because you are playing with a world of the real and the surreal. You know, you have real characters onstage, and then you have this array of spirits and illusions and all of that. So you have to make sure that you understand, within the music, what accompanies what, what music is the actual subtext of the real characters and what layer of music is actually the charm, the illusion, and the magic. They cohabitate very, very closely. You have to really lend an ear and say, "Okay, this actually is the movement of the waves. What I hear underlying is actually the activity of Ariel. And this other part of the music actually represents what the stranded character of Prospero feels, his rage, his bitterness."
Ariel's music lies incredibly high. Adès points out that high notes in opera are usually used to express extreme emotion, but says that in the case of Ariel, it's just where he lives.
Ariel is asking for his freedom, because he wants to go into higher spheres and do what spirits are supposed to do. He doesn't want to be enslaved by Prospero. And that's represented in how he sings. The word "liberty" comes up all the time. Caliban is enslaved also, the slave of Prospero. And you have Ferdinand, who becomes enslaved by Prospero, and the only way to find his freedom is if Miranda allows him to. I feel in the music and in the singing how everybody is claiming their freedom, and how their voices want to be liberated. The play originally was written at a time of this brave new world: People were sending ships into this unknown world, reinventing, with new visions of society.

Lepage (right), in conversation with Met General Manger Peter Gelb and Thomas Adès
Adès says Meredith Oakes's language is both modern and archaic. How would you describe it?
Meredith actually dared to take Shakespeare's verse and sculpt it, for lack of a better word, because she made it her own thing. She's been extremely faithful to the spirit of Shakespeare by betraying him. Without vulgarizing Shakespeare's text to make it more approachable, she simplified, but in a good sense of simplification. A good work is always a simple work. The way she uses the interaction between the spirits and the political characters is extremely well done. She borrows from the scenes and kind of rearranges things to make things clearer and more contemporary. She managed not only to create a beautiful approach to the language of Shakespeare, but one that's very easy to understand and very musical.
What new perspectives have you gotten on the Shakespeare play by working on this opera?
I think that one of the heavy-duty things in The Tempest is the political plot. The backstory, what happened before they were stranded on the island. All of the intricate plotting between Naples and Milan, the exposition of that is complicated, normally. And you don't really care for these characters when they show up. In the opera, it's exactly the opposite. And suddenly these things are exciting, and we care for these characters. We care for the king, for his loss. We root for the good, and we want to boo the evil. And it doesn't seem to contradict all the poetry and the magic. Meredith did amazing work on the dramaturgical stakes—what's at stake in the piece, and the politics of it, the poetry of it. She positions Caliban in a way that gives him a better argument than in the play, to defend himself as an aboriginal. She gives much more modern psychology to a character like Prospero, who is about to lose his daughter and who has no control over her, and the audience can relate to that much more. In the play, Prospero even commands Miranda's feelings for Ferdinand. He has planned Ferdinand's presence and how they are going to fall in love. And Meredith had the courage to kind of dislocate that to a point where, actually, the power of love is stronger than Prospero's magic powers. That's a very strong statement, and it's very clear in the piece.
Adès and Oakes felt the freedom to play with Shakespeare. You've even created and acted in a one-man play, Elsinore, inspired by Hamlet.
In my work at the Royal National Theatre in 1992, I got to meet some fantastic scholars and specialists. They told me, "Shakespeare is pretty much what you want it to be," because, for example, Hamlet exists in three different versions, and nobody knows exactly what's really the authentic thing. Everybody had their roll with their own lines on it, without the lines of the other characters. That [ambiguity] gives you the freedom to kind of say, "Well, what if there's a scene missing?" or, "What if the line is not exactly that line, but that other line?" Something that's very obvious when you read the plays, in the way they're structured—they are not the product of somebody who's in an ivory tower, with a quill, waiting for inspiration or for a muse to come in. That's Shakespeare in Love. He was not just an extraordinary poet who had an amazing talent for words. He was a man of the theater, who wrote for a system in which you
had to have people change sets and change costumes and do all these things. And that, for me, is an extraordinary source of solution finding and inspiration.
Elena Park is the Met's Executive Radio Producer and Supervising Producer for Live in HD.