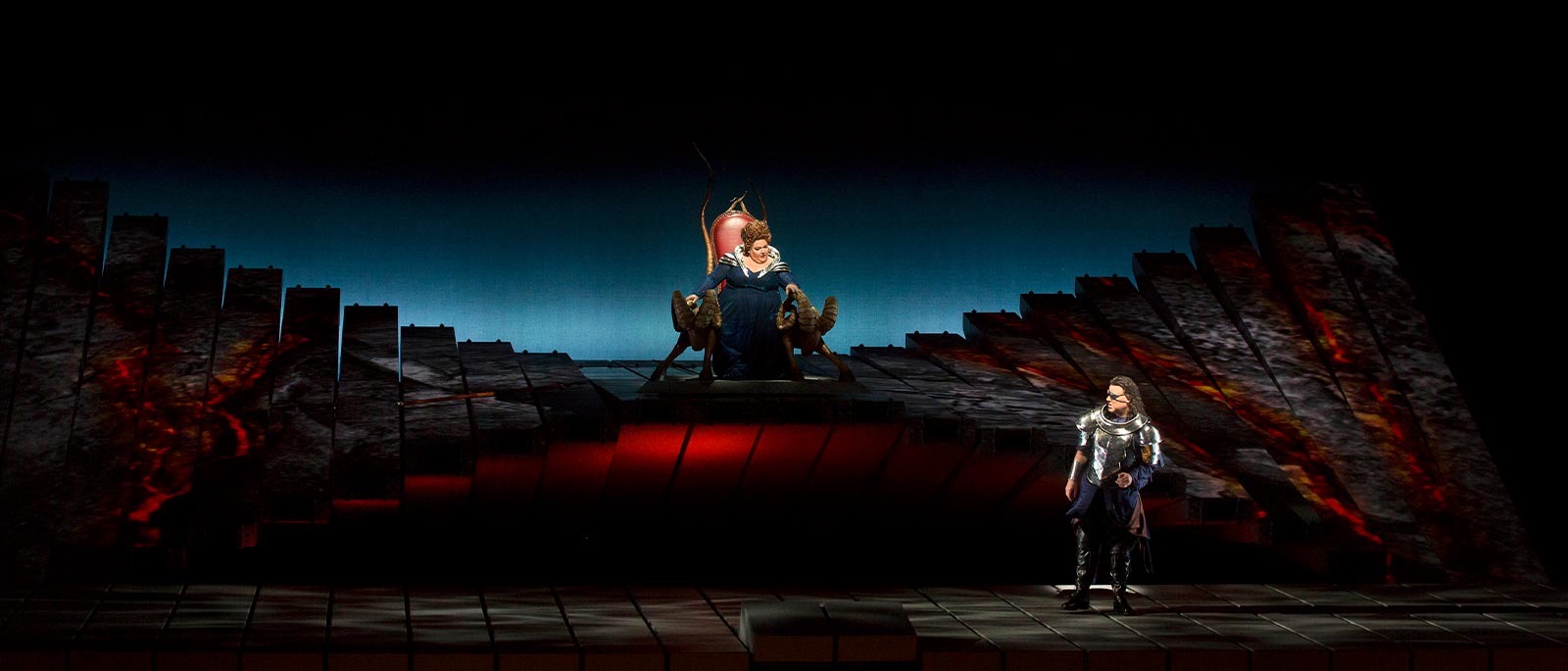 The Ring Transformed
Wagner's legendary four-part Ring cycle poses the ultimate challenge for any opera company. Below is an article examining the Met's groundbreaking staging by Robert Lepage, which premiered over the course of the 2010–11 and 2011–12 seasons. By Elena Park
"The Ring is a revolutionary work of art," says director Robert Lepage. "You're not the same person once you've done the Ring." His staging of Richard Wagner's four-part Der Ring des Nibelungen was the first new production of the work to grace the Met stage in more than two decades. General Manager Peter Gelb described it as "the most complicated and challenging opera production ever produced by the Metropolitan Opera. Since Wagner was way ahead of his time, I believe he would be pleased by what we are attempting under Robert's inspired direction." Indeed, Wagner's immense imagination demands no less; his 16-hour cycle amazed the public at its first full presentation in 1876 and has mesmerized audiences ever since.
Lepage is a master storyteller whose career spans theater, film, and opera. Over five years, his Québec-based company, Ex Machina, collaborated with the Met's technical team to create a production unlike anything previously seen on the Met stage. Influenced by the mythologies and landscapes of Iceland, Lepage's staging is faithful to the libretto and to Wagner's vision, with costume designs inspired by early productions. Yet it is also strikingly contemporary. The production uses modern stage techniques and state-of-the-art technology, including interactive video triggered by live sound and movement at each performance.
The set, which will be used for all four operas, features 24 planks constructed between two towers and runs on a hydraulic system. The fully-equipped set weighs approximately 90,000 pounds. Lepage describes it as fluid and sculptural; the set can be configured into a multitude of forms to accommodate every scene—enabling him to meet Wagner's daunting theatrical challenges. The planks, made of aluminum covered with fiberglass, serve as surfaces for projections, seamlessly transforming the stage into Hunding's hut or a rocky mountaintop. Designed by Carl Fillion, the set was built at the Met and at Scène Éthique, the Montreal workshop where the first technical rehearsals took place.
In other words, it was a project that is truly Wagnerian in scope and ambition—one that seized the attention of the opera world.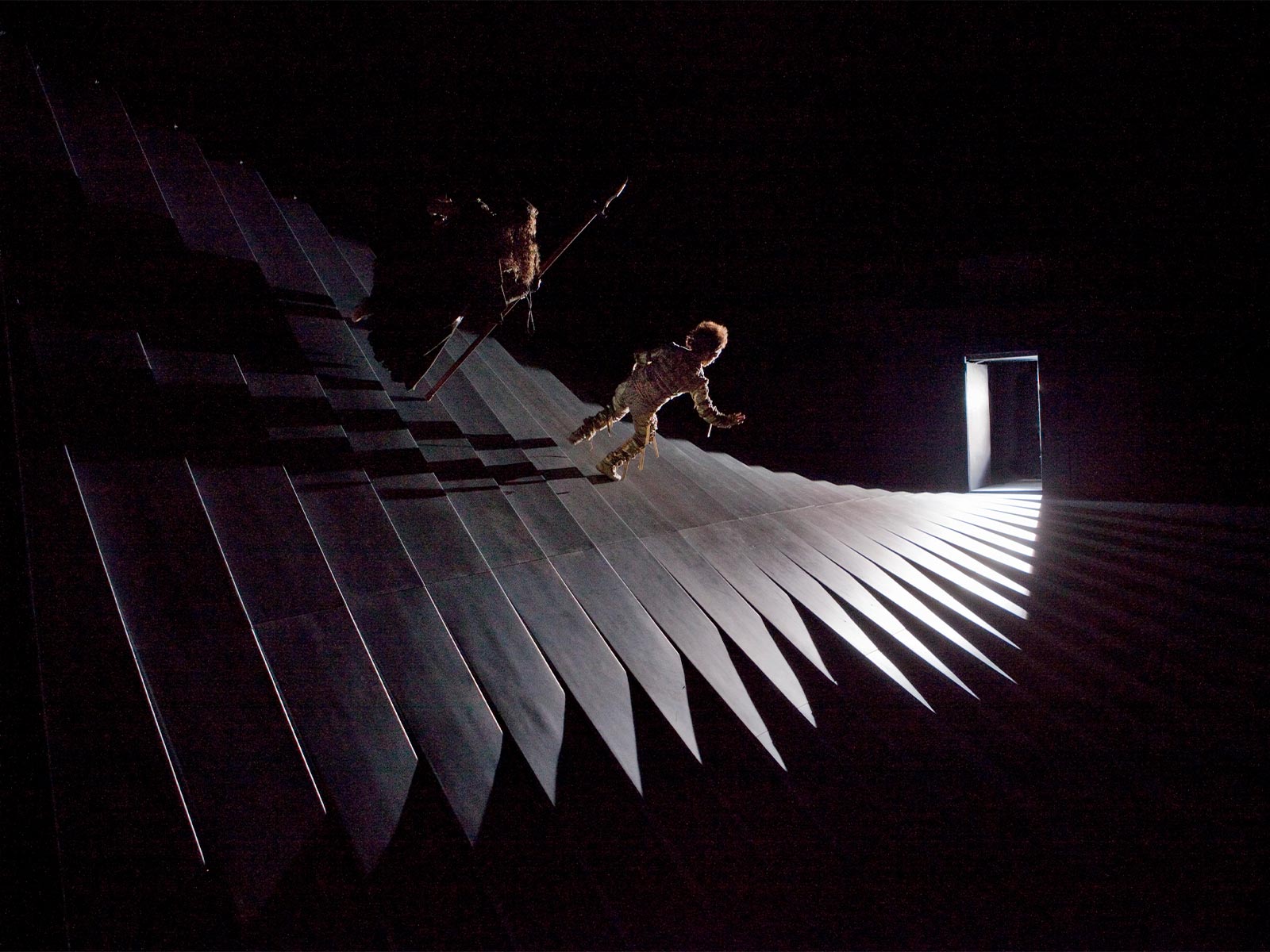 In 2010, Lepage spoke about his approach to the production, providing a glimpse into what went into the creation of the Met's ambitious new Ring
The Ring may be the world's greatest theatrical journey. What attracts you to it?
The Ring is one of these rare opportunities that you get to work on such a huge undertaking. It's not just a story, it's not just an opera or a series of operas: it's a cosmos. It's extremely rich and a very tightly knit, tightly woven world. And yet, there's a lot of space—because of the mythological aspect of the Ring, not just the storytelling—for your own imagination and your own poetry.
How did you come to stage the Ring for the Met?
In the late 1980s, a lot of important opera houses around the world decided it was time to renew their Ring productions, and I guess in those days, in the theater milieu, people were saying, "Oh, there's this new guy from Québec." So I got calls and offers from all over the place. I had never done opera, so I certainly didn't want to do the Ring—not only was it this huge thing, but I had never worked with opera singers or a conductor before. So I said no. I felt that I needed to try my hand at opera by working on a smaller piece. So I did a double bill—Bluebeard's Castle and Erwartung [at the Canadian Opera Company], which only meant working with three singers and three dancers. And I progressively started to do bigger and bigger operas. Then, at the beginning of the 21st century, when I got offers to do a Ring, I started to consider it more seriously. There's a moment in your career where you feel that maybe you have the knowledge and the maturity, and that you're informed enough to be able to do the Ring.
So when Peter Gelb came along in 2005, I felt it was time. It was the kind of offer you can't refuse. If you're going to do your first Ring, you want to do it not only in a place where you'll find all the resources to do it well and the time frame to do it well, but you need to work with somebody who actually really believes in your work and you feel is going to support you. It was very easy to say yes at that point. Since then, it's been quite an extraordinary journey.
Tell me about your approach.
I try to be extremely respectful of the way Wagner proposes the storytelling. For a stage director, when you read the libretto and look at the score, absolutely everything in the music is a guideline, a post. We're actually faithful to the very first production of the Ring! People will see that we've tried to stick as close as possible to the early staging ideas but in a very modern context. And, of course, today's new technologies help us to do that. There is a way to be both respectful of the tradition of the Ring, which comes with all its own rules, its lexicon, its different theories, but there are also areas where the director can actually create his own vision. The Ring is a revolutionary work of art, aesthetically, historically, politically. You're not the same person once you've done the Ring, and you don't do the same kind of stage work. It's such a huge endeavor, and it takes so much time to do a proper Ring, that you're bound to bump into extraordinary solutions for certain things, and that ends up being an important contribution to the craft itself.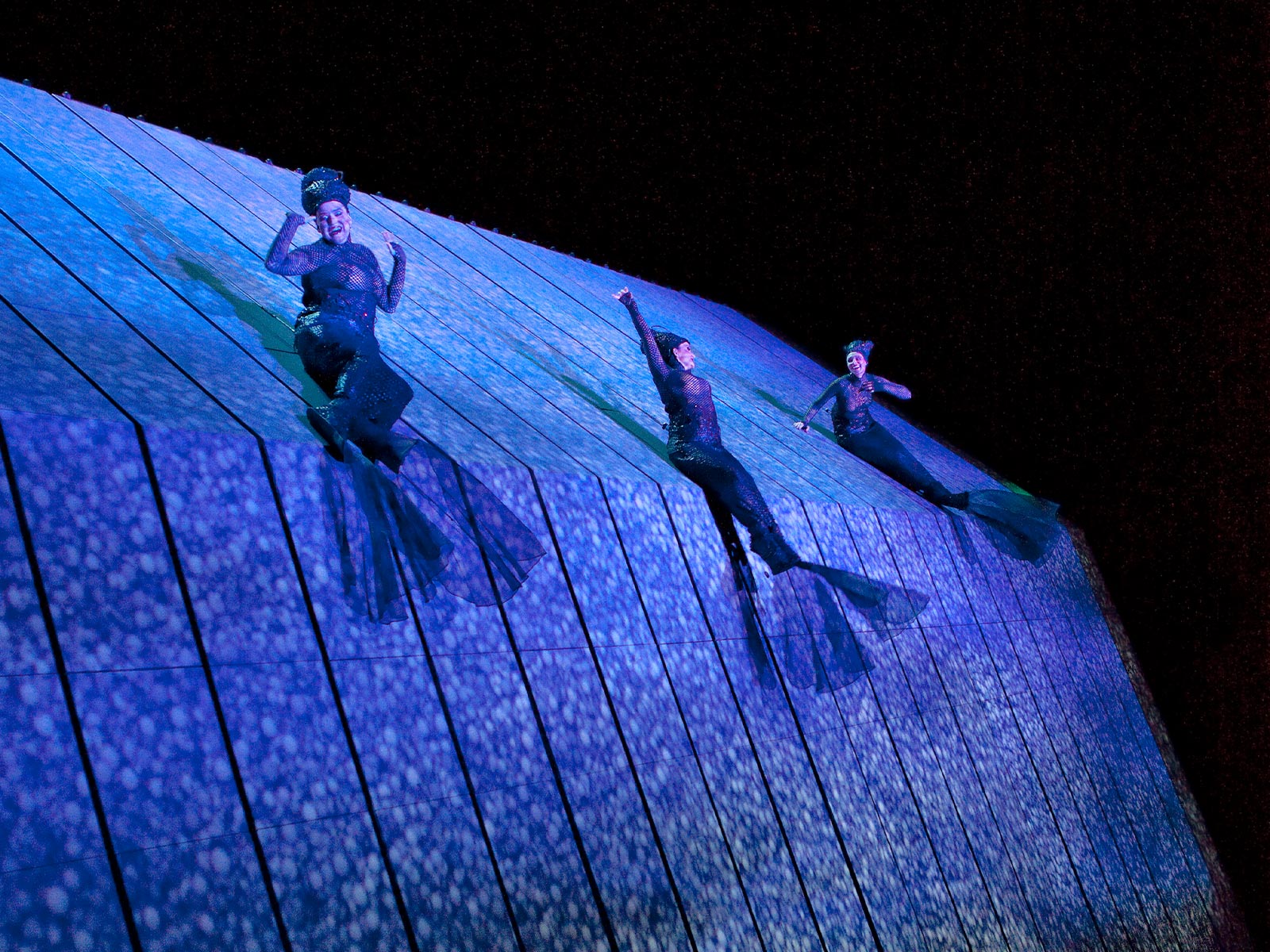 What are you hoping to achieve?
There's something hyper-theatrical about opera—it's the great mother art because it takes on board all these different ways of expressing things. I want to make sure there is no disconnect between the poetry within the music and the poetry within the stage acting and performance. We're trying to find a very organic way not of illustrating the Ring, but of visually carrying the Ring and the poetry of it.
I know that your production was very influenced by Iceland.
Yes, very early on, traveling in Iceland, I came upon the Poetic Edda and some of the Icelandic sagas that had an influence on Wagner's libretto. Iceland is a land of fire and ice and weird phenomena that you don't see anywhere else. It's like another planet. And it's a great place to build a Valhalla. Because there are almost no trees or vegetation, you see the weather formations for days and days in advance. There's a god-size power there—you're in a place where you're in contact with the invisible forces of the world! And it's a place where you can imagine the belief in the god of thunder, the god of spring. It's a place where nature speaks to you, so it gives you a plethora of ideas for image, set design, music, sound effects. So it's a very strong source, both for Wagner's libretto and for our interpretation.
Tell me about the 24-plank set you developed with designer Carl Fillion.
In looking for an approach that would allow us to tell the story and unify the four operas, we were guided by Wagner's use of leitmotifs. He positions them in different relationships; some- times he uses the same motif that he plays backwards, or in major or minor, so the motifs are cousins. It was important that we create a theater machine that would be similarly versatile—a set that had its own life and could actually go through different metamorphoses but at the same time feel very organic. Very early on we decided to create a spine to the set that allows us to move things and articulate things. So the set is actually not only illustrating some of the ideas in the Ring, but it's also literally supporting the characters and the ideas. It is also a projection screen. Whatever configuration it takes, no matter how complicated, it can receive projection and transform itself into all sorts of things. And, of course, the story of the Ring is all about transformation. It's about people who acquire special powers or create tools so that they can either disappear or transform themselves into dragons, or frogs. As in any good theater piece, the spectator is witnessing a transformation. The characters in the Ring go from one state to another, and they don't just change their minds—they also are physically transformed by what happens to them. So it was important for us that the set be very nimble, very flexible, very adaptable and alive, so that it not only moves, but also breathes.
Can you explain how video projections are used?
Actually, it's high-tech images and a lot of interactive video. Very, very little of it is pre-shot or pre-canned. To illustrate some of those geological propositions and the power of certain gods and climactic turbulences in certain scenes—all of that is triggered by the singers' bodies and voices. It's this idea of putting technology to the service of the music and the choreography and the theatrical presence of the performers. We're trying to braid together a lot of elements. For instance, at the top of Walküre, you try to follow all the motifs that are in that three-minute prelude and the action and energy that it suggests. In our production, we ask people to run in through the forest, and we see the forest being formed. We even see the snowstorm as it's actually being produced by the music coming from the pit. A bunch of pixels and particles are there, and the wind twirls them and moves them around, all according to the music. It's not pre-recorded; it's live swelling that comes from the orchestra! So when Siegmund arrives at Hunding's house, he's full of what we've just seen. Not just the energy of the music, but the visual energy of seeing somebody hunted in a forest. So you establish much more of a sense of urgency when that scene starts.
Can you tell us about the costumes?
A lot of the imagery that inspired our costumes was connected to early performances. I think that the early productions of Wagner are extremely avant-garde. Having women in these breastplates and helmets—that was incredibly courageous and extremely provocative! [Costume designer] François St-Aubin did amazing research, and we sometimes slip back into something more referential of the 19th century. Not that we're trying to say, "Well this is how Wagner wanted it, so he's going to be happy." It's because there's something in Wagner's vision that was provocative, that was sexy, that was contemporary, and audacious.
What has been the most challenging part of this whole project?

Besides the size and the length and the width of the piece, I'd say it's finding coherence. You're dealing with something that's based on human nature in a world where there are gods, demi- gods, and giants. So the big challenge is to find a way to get the messages and the understanding of the different characters through, even if you're dealing in a highly poetic world. You have to create four different productions that live on their own, that have their own little story. And you want the audience to feel at the end of each one that their experience is total. You want them to feel that they could actually see only one part and that it would contain—a bit like a hologram—all the elements of the whole Ring.