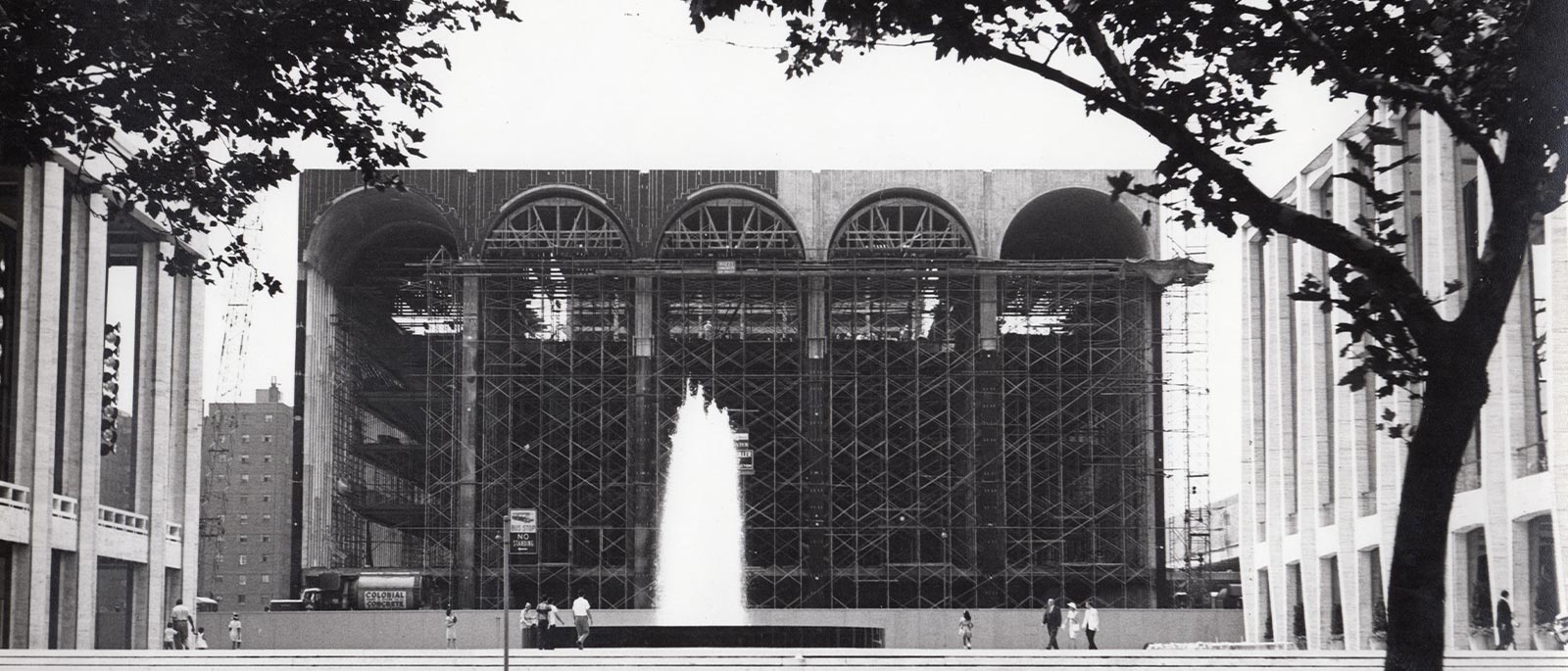 The New Met
When the new Metropolitan Opera House at Lincoln Center opened on September 16, 1966, it represented the culmination of an effort that began nearly 60 years earlier to plan, finance, and build a modern home for the Met—one that would provide the company with facilities and technology equal to its lofty artistic standards. The oral history that follows offers an inside look into the creation and opening of the new house, with commentary from key artists and administrators of the time, current Met staff, and archival documents that contain the voices of those no longer with us. The majority of the material is drawn from interviews conducted as part of the creation of The Opera House. Edited by Jay Goodwin
---
The Met had known only one previous home, the original Metropolitan Opera House at Broadway and 39th Street, which had served the company since its founding in 1883, but which had long presented significant challenges.
---
Rudolf Bing, Met General Manager 1950–72: A nasty rumor has it that the original Metropolitan was obsolete the day it opened its doors. If one were to describe the inadequacy of the old theater in one phrase, it would be: lack of space—lack of storage space, lack of rehearsal space, lack of office space, lack of space in the front of the theater. In a new big production like our recent Aida, the limited margins on the sides of the stage were a maze that was nothing less than a hazard to limbs, lungs, and lyricism.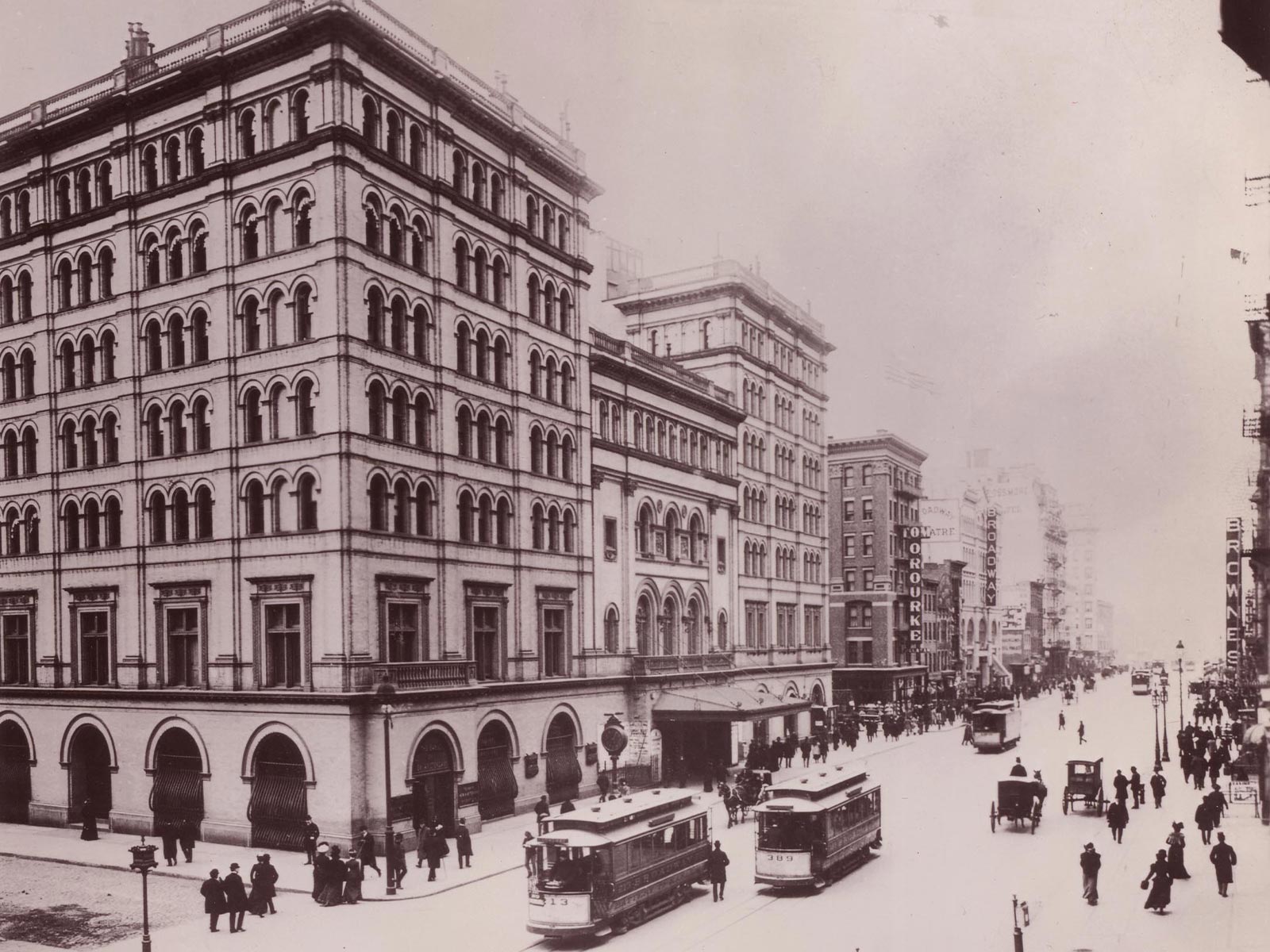 The original Metropolitan Opera House at Broadway and 39th Street
Herman Krawitz, Met Assistant Manager in charge of Stage, Production, and Business Departments 1953–72, who was instrumental in the planning of the new house: The building was outmoded for many reasons. It was built at a time of gas and gaslights. At a time when, for example, to make it cooler, you put ice in the attic. And there was not enough rehearsal space. They used to rehearse literally in anterooms to the toilets.
Richard Holmes, Met Administrator of Supernumeraries, a member of the company since 1964: The old Met was brilliant and mysterious and claustrophobic. The backstage was tiny. When you rehearsed during the day, the sets for the opera that evening were just lying against the wall outside on Seventh Avenue. It rained, it snowed, and they were just out there. You'd know it's Turandot that night because you'd see the big staircase all squashed up and lying there.
---
Planning for a new Metropolitan Opera House began as early as 1908, led by Otto Kahn, Met Board President from 1903 to 1931.
---
Peter Clark, Met Director of Archives: There were many different attempts to move the Met to different places, the most famous being what eventually became Rockefeller Center. Rockefeller Center was initiated by the Met in 1928, but the company eventually pulled out. Also, in 1925, Kahn had actually bought, with his own funds, a lot on 57th Street between Eighth and Ninth Avenues, and he hoped to build the new Met there. In the '30s and '40s, there were proposals to build at Columbus Circle and Washington Square. There were all sorts of plans that never were realized due to myriad problems.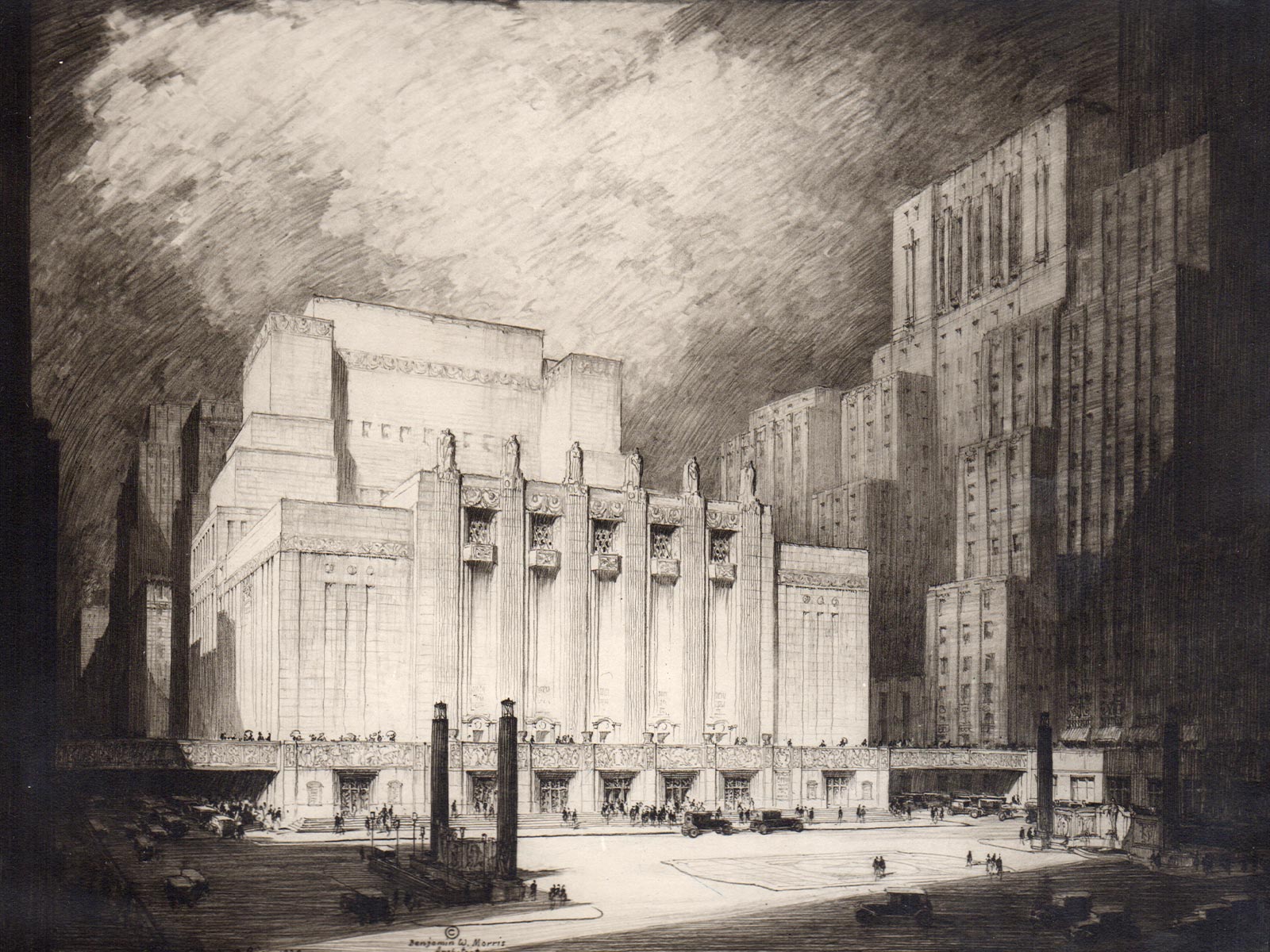 A sketch for the proposed opera house at what is now Rockefeller Center
---
Finally, in 1955, everything began to come together when the domineering city planner Robert Moses suggested a new site for the Met as part of a larger redevelopment project at Lincoln Square. The Met joined forces with the New York Philharmonic, which was also looking for a new home, to consider building a music center. The two organizations formed an exploratory committee, chaired by John D. Rockefeller III, to oversee the proposals, and Lincoln Center for the Performing Arts was officially incorporated in June 1956.
---
Paul Goldberger, Architecture Critic: It was an incredibly ambitious project, Lincoln Center. We can only be in awe of the level of ambition that they felt and were moved to actually bring into being. It was motivated very much by the notion that culture is a national symbol, that if we're really going to be the major world presence as America saw itself in the postwar era, we needed to be a leader in culture as well as manufacturing and finance.
---
On May 14, 1959, President Eisenhower turned over the first shovel of earth on the site of Lincoln Center as part of a groundbreaking ceremony that featured representatives of the Met, the New York Philharmonic (including Leonard Bernstein), the Juilliard School, and the New York city and state governments.
---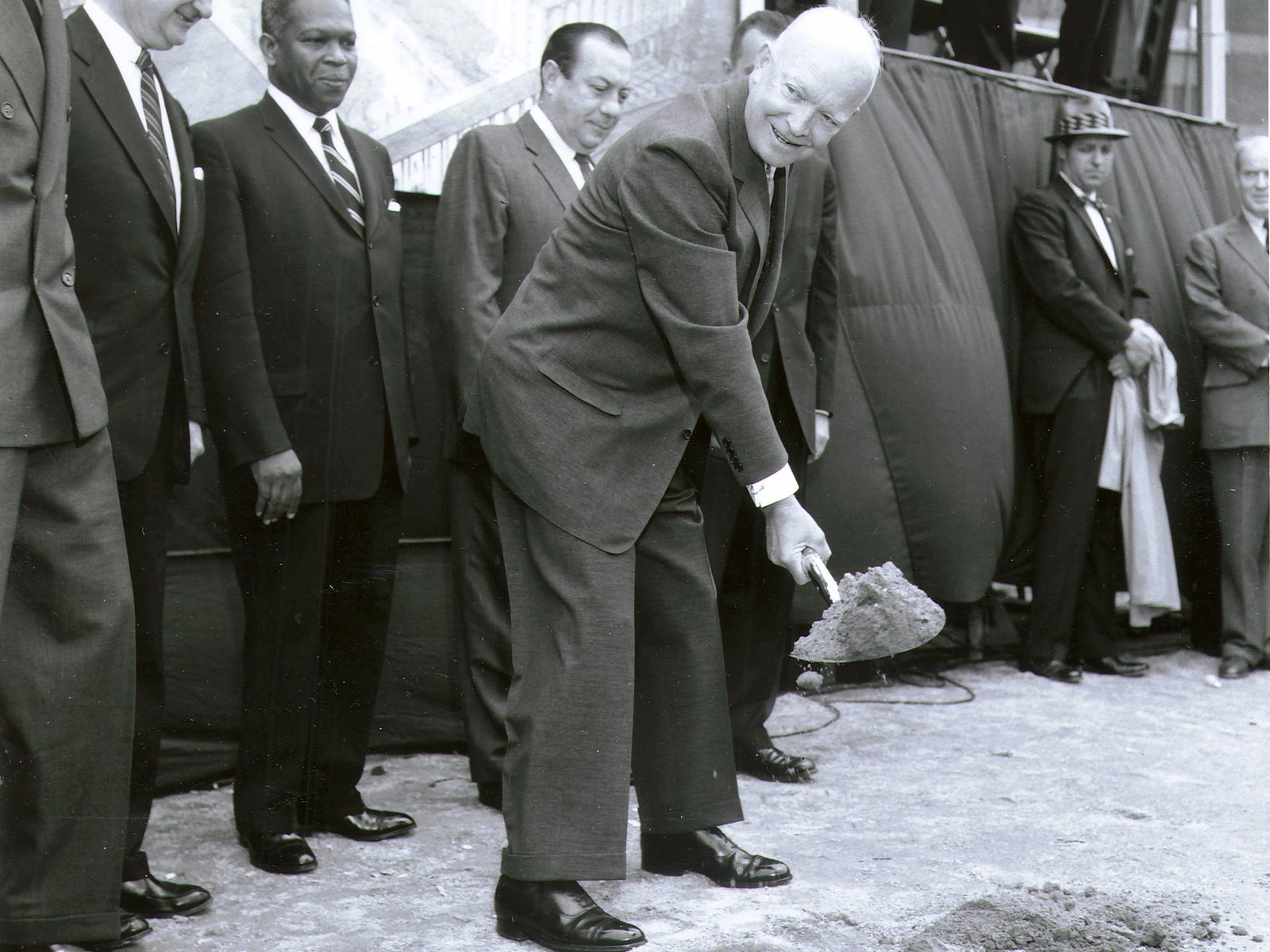 President Dwight D. Eisenhower breaking ground for Lincoln Center in 1959
Leonard Bernstein, at the groundbreaking: Ladies and gentlemen, we have duly ushered in the first stage of a remarkable project—the culmination of three years of planning, to give New York and the whole American nation, a great center of the performing arts, the like of which the world has never seen.
President Dwight D. Eisenhower: Here in the heart of our greatest metropolitan center, men of vision are executing a redevelopment of purpose, utility, and taste. The beneficial influence of this great cultural adventure will not be limited to our borders. Here will occur a true interchange of the fruits of national cultures. From this will develop a growth that will spread to the corners of the earth, bringing with it the kind of human message that only individuals, not governments, can transmit. Here will develop a mighty influence for peace and understanding throughout the world.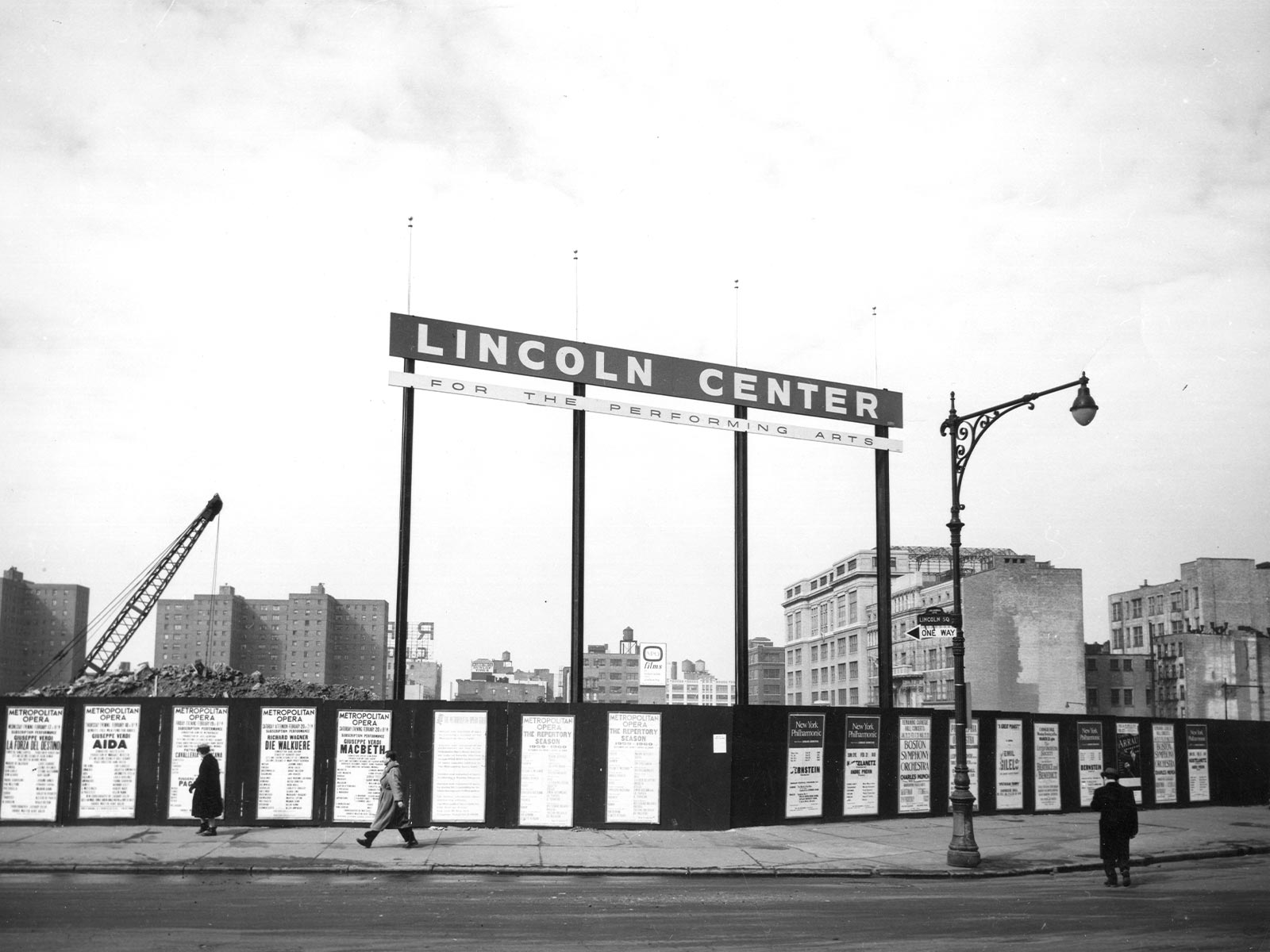 The work site for Lincoln Center when construction began in 1959
---
The centerpiece of Lincoln Center was to be the new Metropolitan Opera House, which would be the largest and most expensive of the campus's buildings and would occupy the central position on the plaza. The architect chosen to design the house was Wallace K. Harrison, who had been involved in the Met's planning process since the proposed Rockefeller Center project and who had recently worked on the design team for the United Nations headquarters.
---
Paul Goldberger: Harrison was a fascinating architect in that he was an unusual combination of the practical and the political, and also the very idealistic, the modern, and the romantic. And he really had an enormously fertile, potent, flamboyant architectural imagination. His initial ideas, while very beautiful, were also quite expensive. They were very sculptural. But engineering for that kind of sculptural form was tough in those years, and very expensive. And a building that had as many practical demands as the Metropolitan Opera is difficult to combine with a very unusual sculptural form.
---
The practical demands of the new house were overwhelming. To begin with, the building would need state-of-the-art theatrical technology, an enormous stage and backstage area, cavernous storage space, and a suitably grand and beautiful auditorium and lobby.
---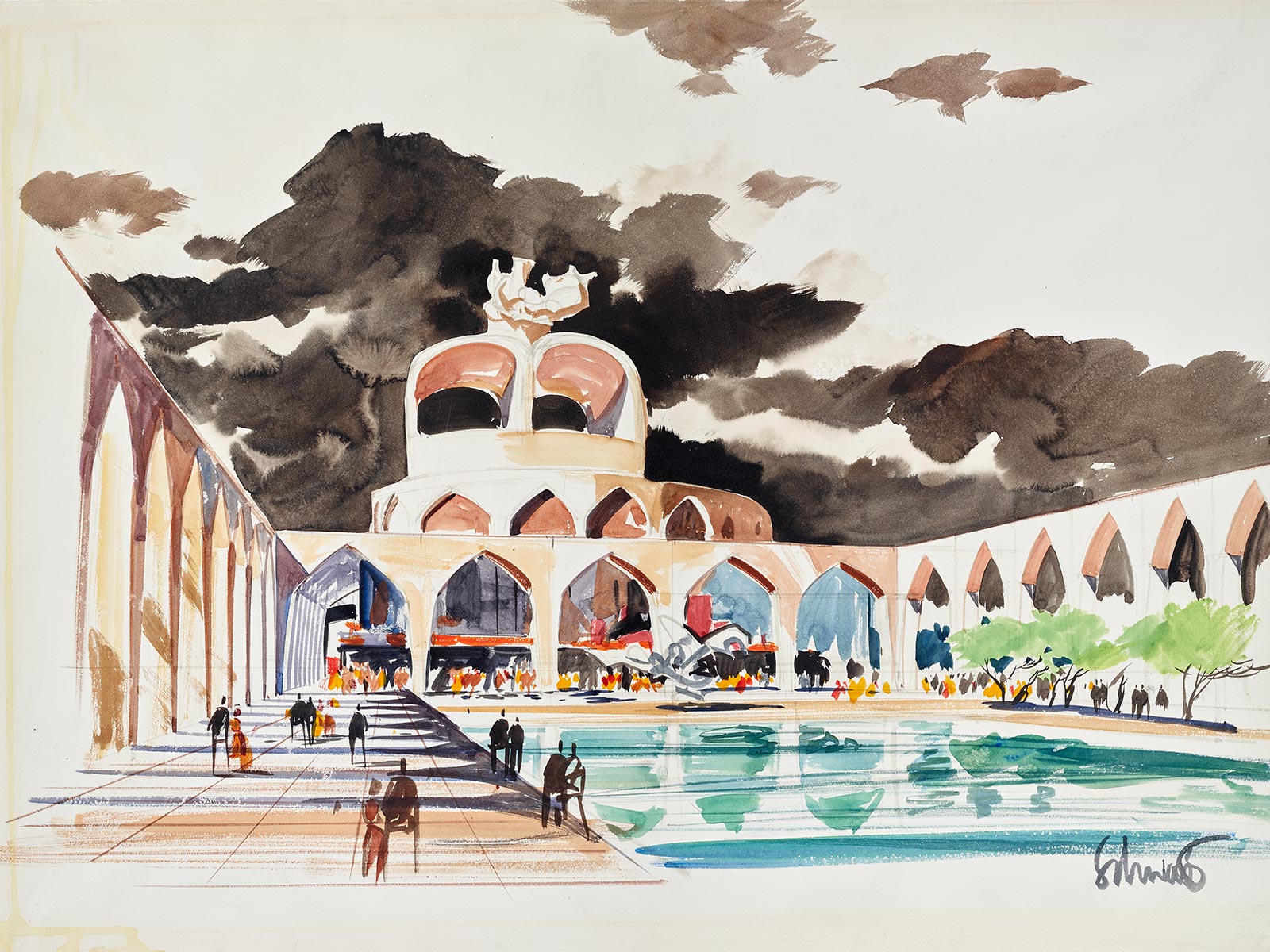 A sketch by Robert Schwartz of one of architect Wallace K. Harrison's early designs for the new Met
Herman Krawitz: We were determined to do the interior of the stage and the auditorium first, with the exterior to follow. I think we did 44 different versions of the exterior with different arrangements of office space and so forth, but the auditorium and the stage were fixed features and remained, beginning to end, the way we wanted them from almost the first conversations.
John Sellars, Met Assistant General Manager, Production: The facility we moved into in 1966 was state-of-the-art. Not only did we gain space, but we gained technology and the ability to better pursue the idea of grand opera in repertory. The systems included the lifts built into the main stage as well as a modern fly system. We went from a manual system—downtown, the guys had to pull ropes by hand—to a system that flew all the scenery up and down with electric motors. And the stage has three wagons—platforms that are also driven by electric motors on which we can have a full stage set already prepared and drive that wagon out onto the main stage and back—one stage right, one stage left, and one upstage in the rear, which has a turntable built in. It is a tribute to the architects and the engineers of this facility that it's all still working after 50 years.

The new Met under construction
Rosalind Elias, mezzo-soprano: Let me tell you about my first day coming to the new Met—my first year, really. I was always lost in this house. I could never find my way around, and I wasn't the only one. It's a complicated building, and it's larger than you can imagine.
Richard Holmes: You couldn't believe it—it was like going into wonderland after living in a postage stamp. You went out into the auditorium and into the lobby, and there were all these vast, serpentine corridors, and everything was circular and flowing and bright, and while you missed the wonderful, mysterious gloom of the old Met, suddenly there was this brave new world of sunlight.
---
In designing the auditorium, Harrison and his team needed to allow for more seats than the old house while achieving better sightlines and equally good acoustics.
---
Herman Krawitz: The Met board requested 4,500 seats—25% more than the old house. Harrison told me almost right from the start, "They're crazy. There's no way I can do it." But there's a way of counting the seats so that you can exceed 4,000 if you include standing room. So we spoke of it not as 4,000 seats but 4,000 admissions. We were very clever about that. And to provide the best views, we brought in surveyor's equipment. If you look, you'll see some seats have two arms, some have one, sometimes they are two inches apart, sometimes four. Each seat in the orchestra section was measured. It's a very good hall to see things. But most importantly, the sound of the non-amplified voice was the game. That's what the Met is—the beauty of the voice naturally released by an artist and filling the room. In that respect, the Met is the finest house in the world in my opinion, then and now.

Architect Wallace K. Harrison, Lincoln Center President William Schuman, and Met General Manager Rudolf Bing admire the new Met's nearly complete auditorium.
Leontyne Price, soprano: It was something the first time I walked out on that stage at the new Met. I thought, you've got to be kidding. It was so huge. But the first note that I sang, I thought I was singing to Staten Island. It was that incredible. I just heard my beautiful voice go like it was into another country. The acoustics are so fantastic. It's like a meteor when you sing there. You just want to kiss yourself you sound so great.
---
To open the new house, the Met commissioned a new opera from American composer Samuel Barber: Antony and Cleopatra, featuring a libretto adapted from Shakespeare and a spectacular production by Franco Zeffirelli that would showcase the grandeur and the full technical capabilities of the new theater. Leontyne Price and Justino Díaz were chosen to sing the lead roles, with Rosalind Elias as Cleopatra's servant Charmian, and Thomas Schippers on the podium. Opening Night was to be a glittering affair, with 3,000 bottles of Champagne on hand to be served to a dazzling list of attendees that included Lady Bird Johnson, Ferdinand and Imelda Marcos, New York Governor and Mrs. Nelson Rockefeller, and Mr. and Mrs. Alfred Vanderbilt.
---

Director Franco Zeffirelli, conductor Thomas Schippers, and composer Samuel Barber
Justino Díaz, bass-baritone: When Mr. Bing told me that I had been chosen to open the new house, it was incredible for me. It was like a miracle, like a dream. The tone of rehearsals in this new opera house was intense. Everybody was very busy. Franco had carte blanche—everything that he wanted. And he wanted to use the whole stage, to showcase the marvels of the new theater.
Leontyne Price: We were surrounded with geniuses. Sam being one of them, who really represents American composers at their height. Zeffirelli—what can I tell you? I knew that the stage would be full—I had done a fabulous production with him at La Scala where everyone in Milan was on that stage. He would get these ideas, and all of a sudden there it was. But he's so brilliant that everything works out.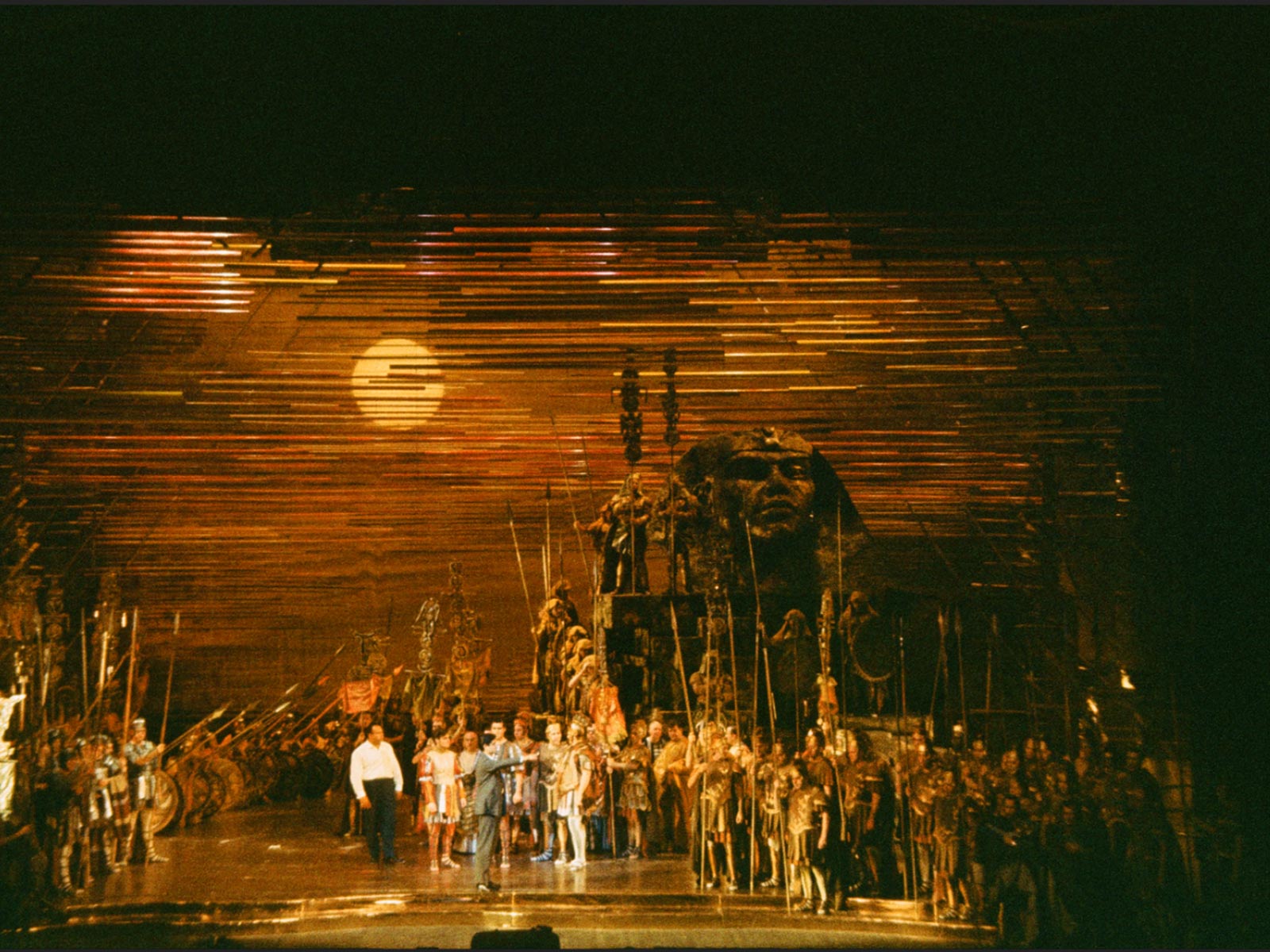 A rehearsal for Franco Zeffirelli's extravagant production of Antony and Cleopatra
Richard Holmes: The first scene of Antony was the biggest conglomeration of people that I have ever seen on the Met stage. I think there were 250. But we're not satisfied just with getting 250 people—there's also a gigantic golden pyramid in which Leontyne was waiting for her first entrance. And people were climbing it and pawing it, and Zeffirelli, I remember, said "You must climb passionately." It's hard to go to school to learn how to climb a pyramid passionately—but he gave lessons. And no Zeffirelli production would be complete without animals, so we had camels and goats for atmosphere.
Rosalind Elias: Some miracle happened that everything worked. It's a brand new house, and right up to the dress rehearsal, there were technical things that were not working, but something—some spirit, or whatever you want to believe—helped it come together. It was an exciting time. And Leontyne, God bless her, she'd open her mouth and that voice would come out, and I'd always think, "Where is it coming from? It's coming from heaven."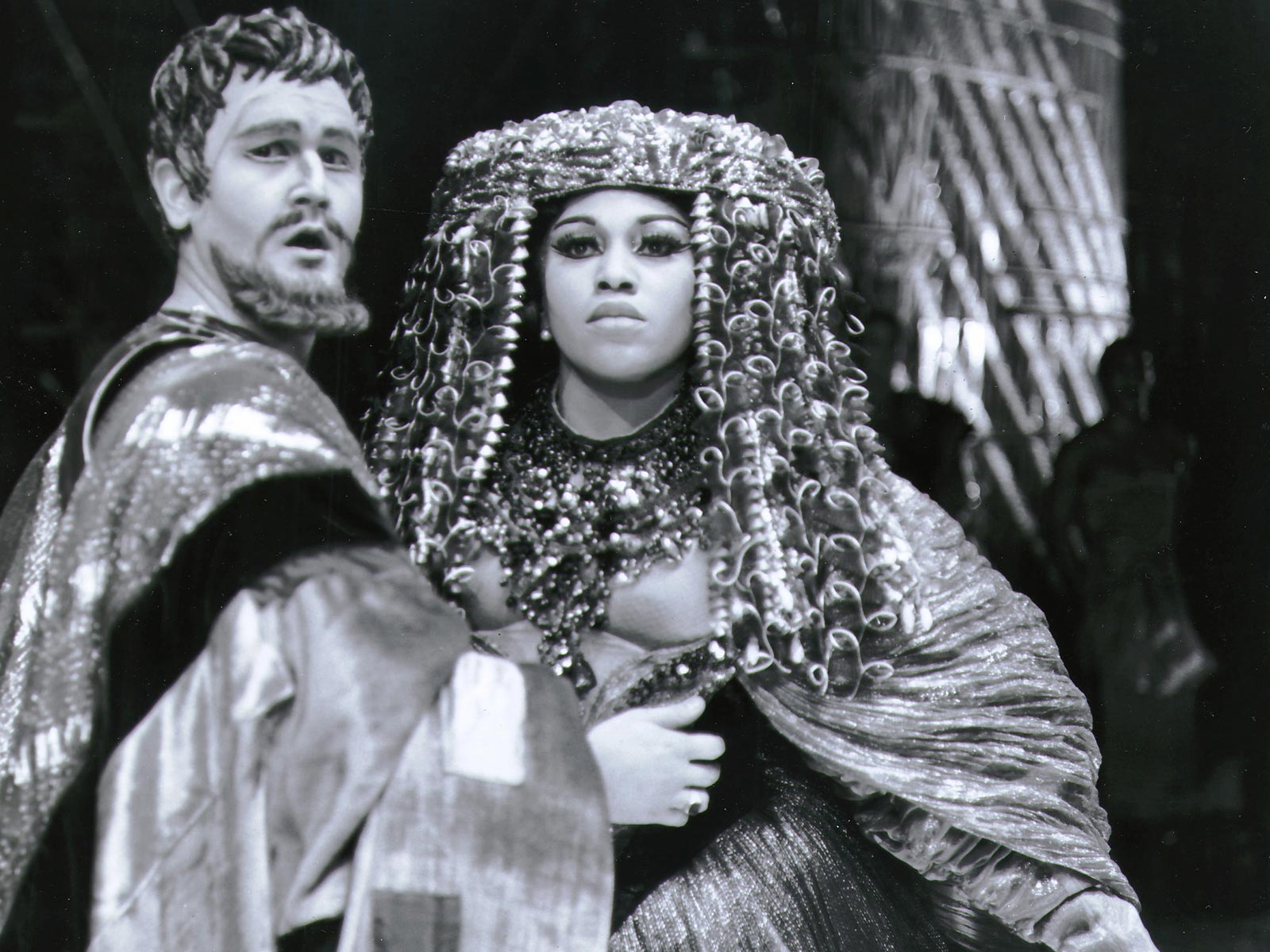 Justino Díaz as Antony and Leontyne Price as Cleopatra
Leontyne Price: I call the new Met the temple of grand opera. Everything is so majestic—a work of geniuses. And she still just gleams, you know? Whenever I'm in the neighborhood, I'll wave and say 'Remember me? I opened you.' To this day, I will never recover from it. The honor.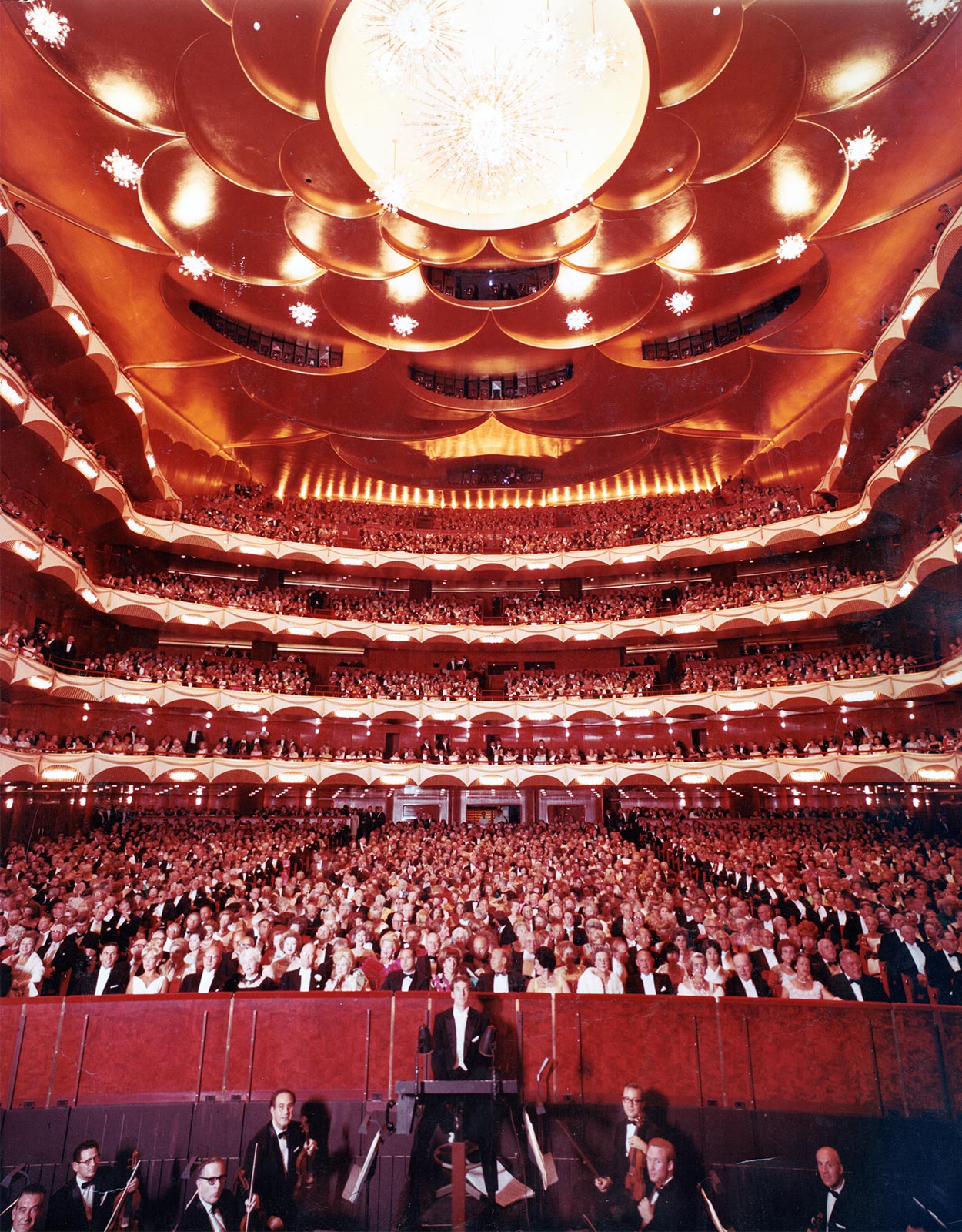 Opening Night at the new Met, September 16, 1966
Jay Goodwin is the Met's Editorial Director.