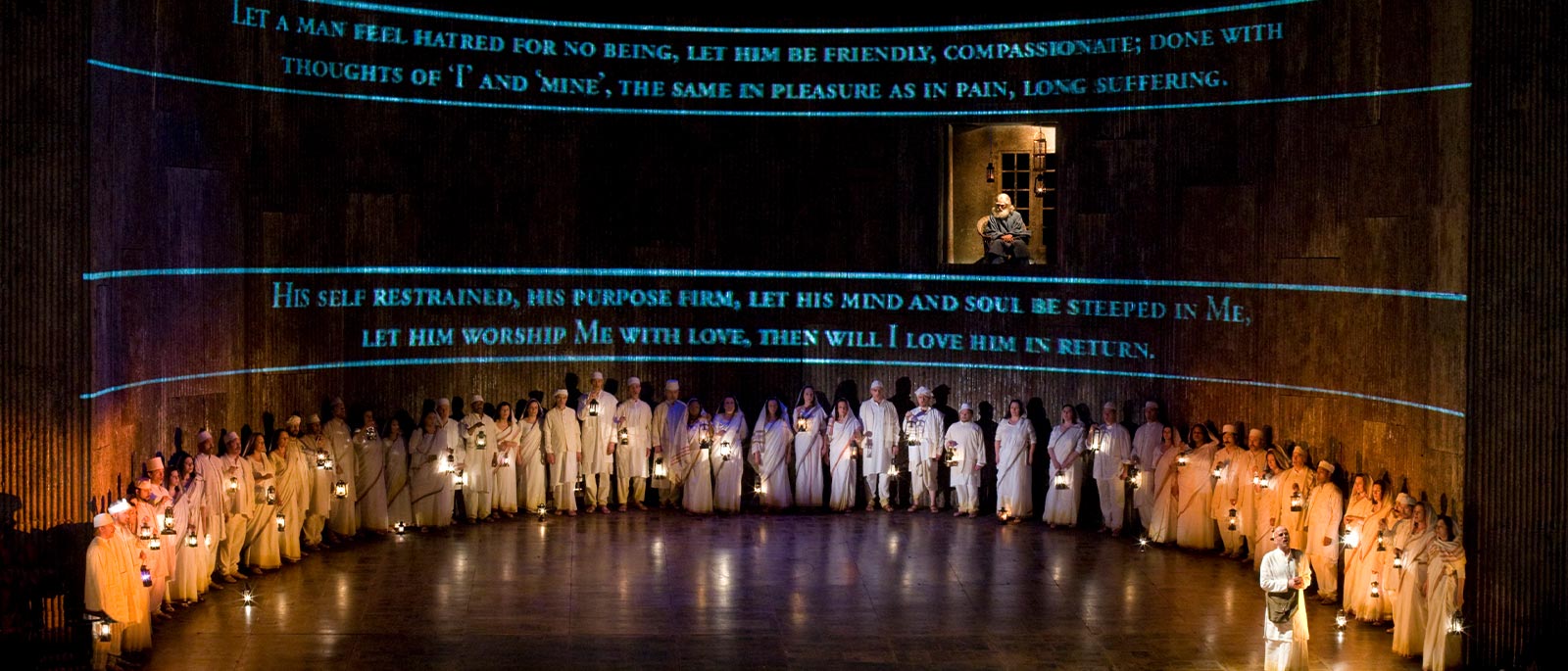 The Art of Satyagraha
Innovative artists tell the story of Gandhi and his philosophy of non-violence in the Met-premiere production of Philip Glass's opera. By Philip Brieler
When Philip Glass's landmark Satyagraha opened at the Met in 2008, the impact of the composer's revolutionary score was heightened by one of the most visually striking and stylistically daring productions in recent memory. Combining video projections, imaginative design, puppetry, and the inventive use of newspaper as a set element, director Phelim McDermott and co-director/designer Julian Crouch, of London's Improbable theater company, have created the operatic equivalent of installation art for this story about Gandhi and the development of his philosophy of nonviolence.
"We're known for taking simple materials and turning them into something special and beautiful," Crouch says. For Satyagraha—which takes its title from a term Gandhi created that means "truth force"—they chose newspaper, reflecting the influence of Gandhi's Indian Opinion, a newspaper he published, and his revolutionary use of media to spread his ideas. The paper is used in a number of ways throughout the piece, most prominently for live animation during the performance, a process that has become something of a trademark in the work of Improbable. "What it comes down to is to have a performer interact with that paper in that moment," Crouch explains. "It's something that can never be repeated from day to day. The paper will never quite act in the same way–it might rip, it may tear."
Paper is turned into puppets in front of the audience, echoing certain elements of Gandhi's work: "With a little newspaper and a lot of people you can make something that looks like a large creature, which is what happens in the first scene," Crouch points out. "But you can't do it on your own. The idea was to create something that needed people working together–which is what the satyagraha movement was all about."

To add another dimension to their vision, the directing team brought on board Leo Warner and Mark Grimmer of the Edinburgh-based new media company Fifty Nine Productions. The video projections they created feature prominently in the production and become an integral part of the set.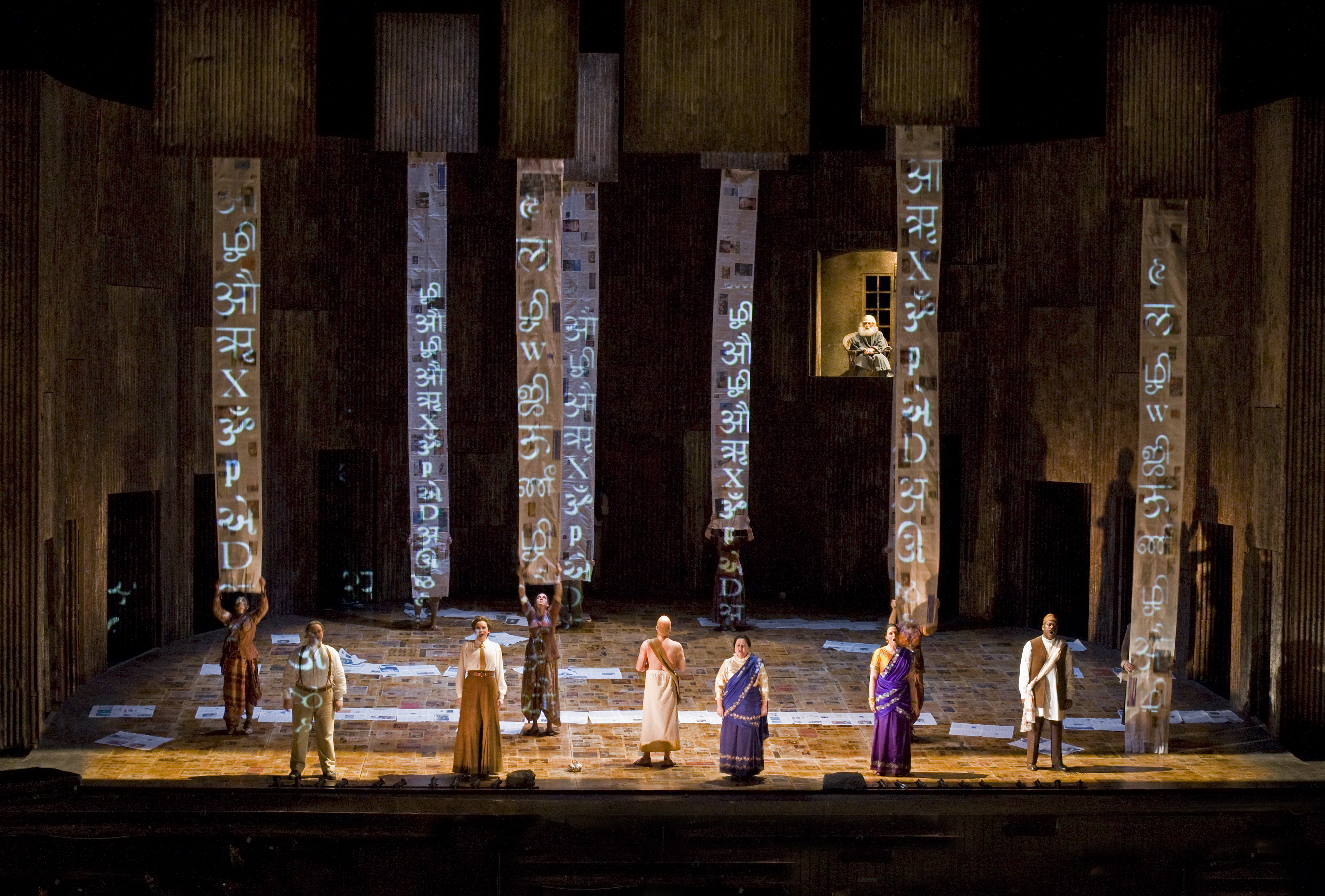 "The process of developing a visual language was fascinating in that we were given a great deal of creative freedom to try things out," Grimmer and Warner say. "Improbable's modus operandi is, 'Let's give it a go and see if it works,' which is exactly what we did. Like any element of the stage picture, there are times when video will pull the audience's attention, and like a good actor, it's important to know when to push forward and when to hang back and let someone else take the focus."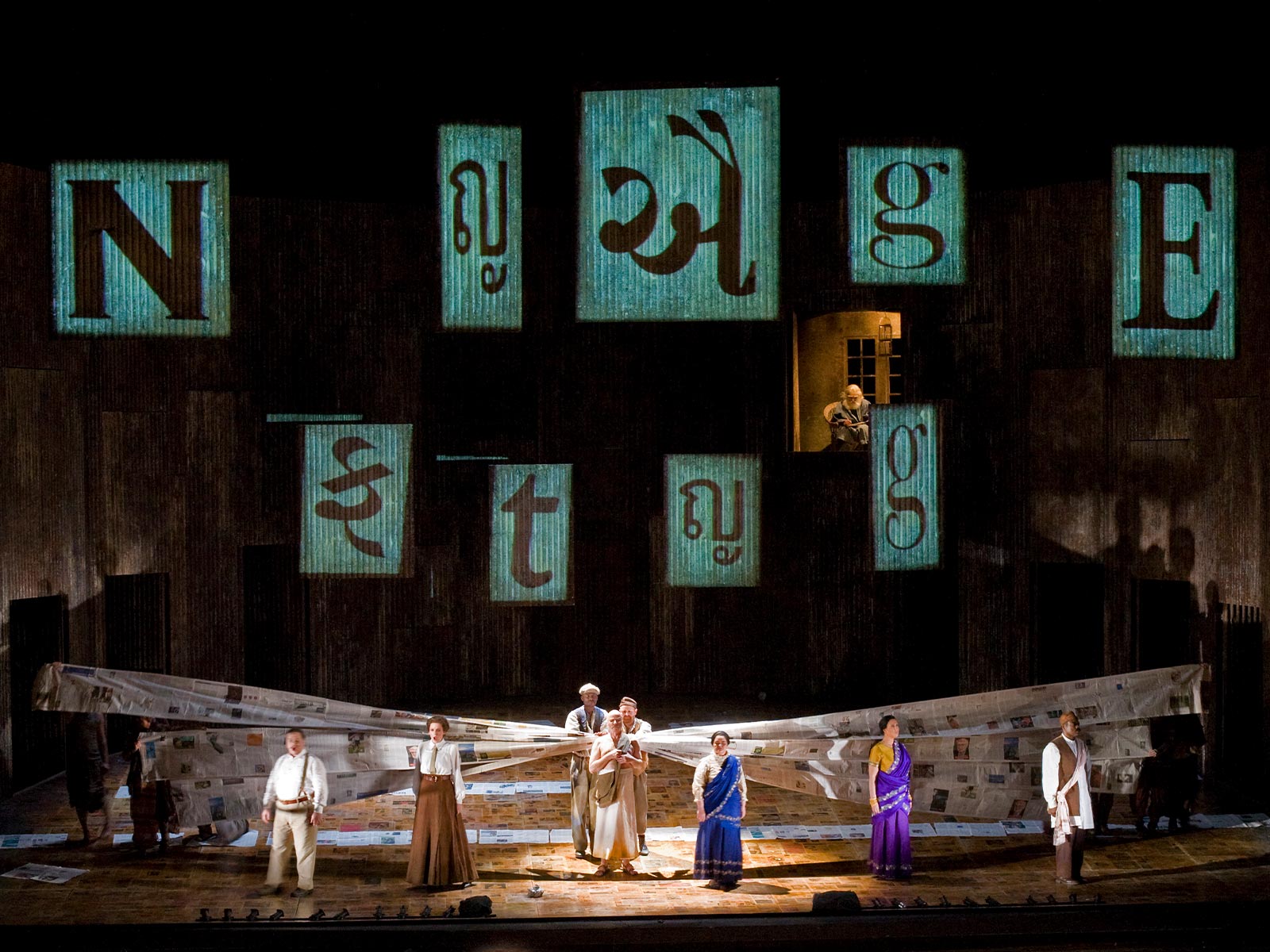 Since the opera is sung in Sanskrit, some of the projections were translations of the actual text to help the audience follow the story, Grimmer explains. "Sections from the libretto are projected on a large scale across the curved back wall, as well as onto sheets of newspaper held by performers," he says of the Jenny Holzeresque projections. "The typographic style is based very closely on Indian Opinion. We also use a couple of real examples from the paper." In the third act, which explores Gandhi's connection to the Rev. Dr. Martin Luther King, Jr. there's an abstract montage consisting of archival footage of the Civil Rights Movement of the 1960s, pointing to the importance of the media in spreading news of human rights violations. But the most amazing visual effect may be the one that happens in the very last scene, Warner says. "The set splits open and there's a large panoramic sky on the back wall. This is video projection in a totally different style, suddenly creating an expanse of landscape out of nowhere." It's an impressive feat of theatrical wizardry as much as a stunningly effective translation of Gandhi's vision of a world without violence.