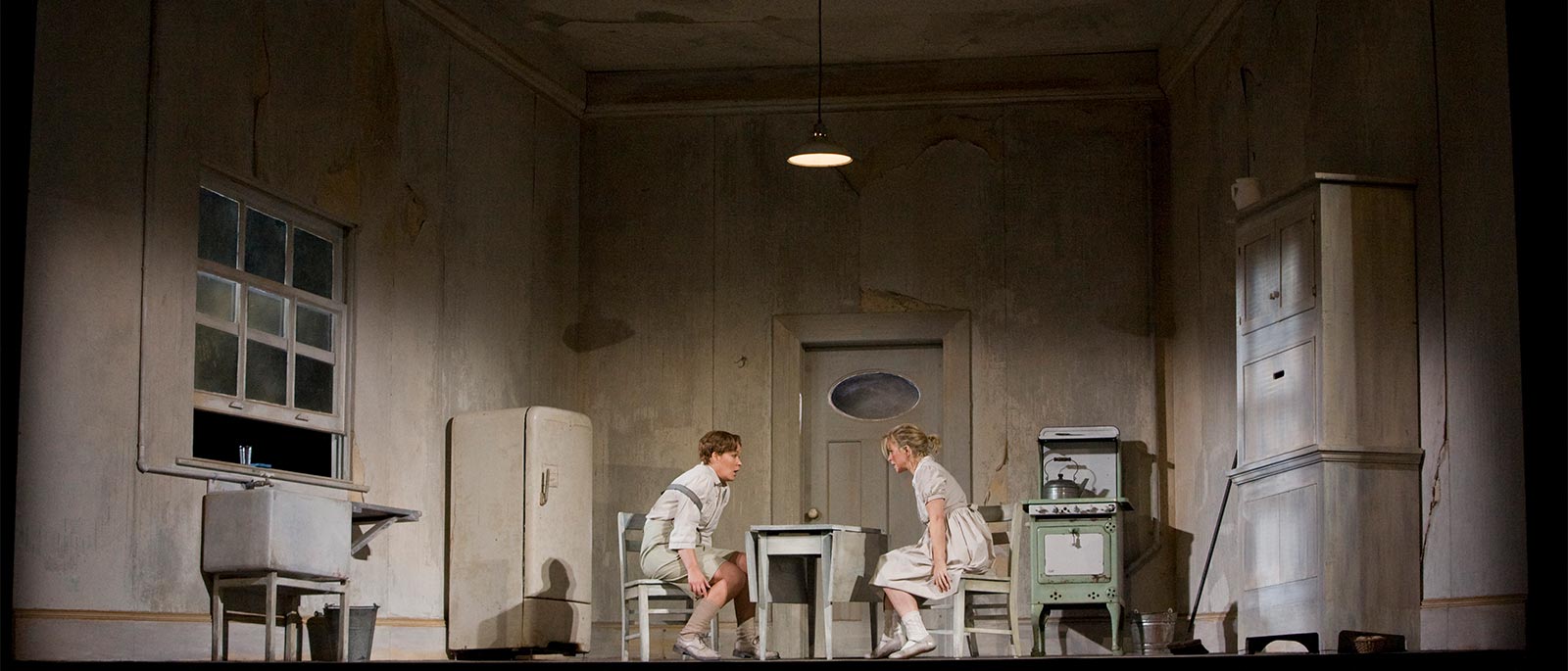 Sugar Shock
In Richard Jones's production of Humperdinck's Hansel and Gretel, which premiered during the 2007–08 season, food—and the absence of food—takes center stage. By Matt Dobkin
I don't think Humperdinck was a Darwinian or a Freudian," Richard Jones says with a laugh. The director behind the Met's 2007 production of Hansel and Gretel, Jones is very aware that the composer's adaptation of the Brothers Grimm fairy tale is fertile ground for interpretation: the dark woods, the negligent parenting, the primal fears of being consumed. But the approach Jones has opted to take is not psychoanalytic but poetic.
"There are rich pickings for commentators in the work of the Brothers Grimm," Jones continues. "But I don't think those things occurred to Engelbert Humperdinck. The opera is written as a redemptive story. You could go to any number of people who could talk about how it can be seen in a Freudian light, but I don't think that's what theater's for. I'm more interested in a poetic rendition of the story, something that has more mystery than explanation in it."
So if this Hansel and Gretel is not a Freudian meditation on early childhood fears, then what is it about? "Food," Jones says. "The absence or abundance of food."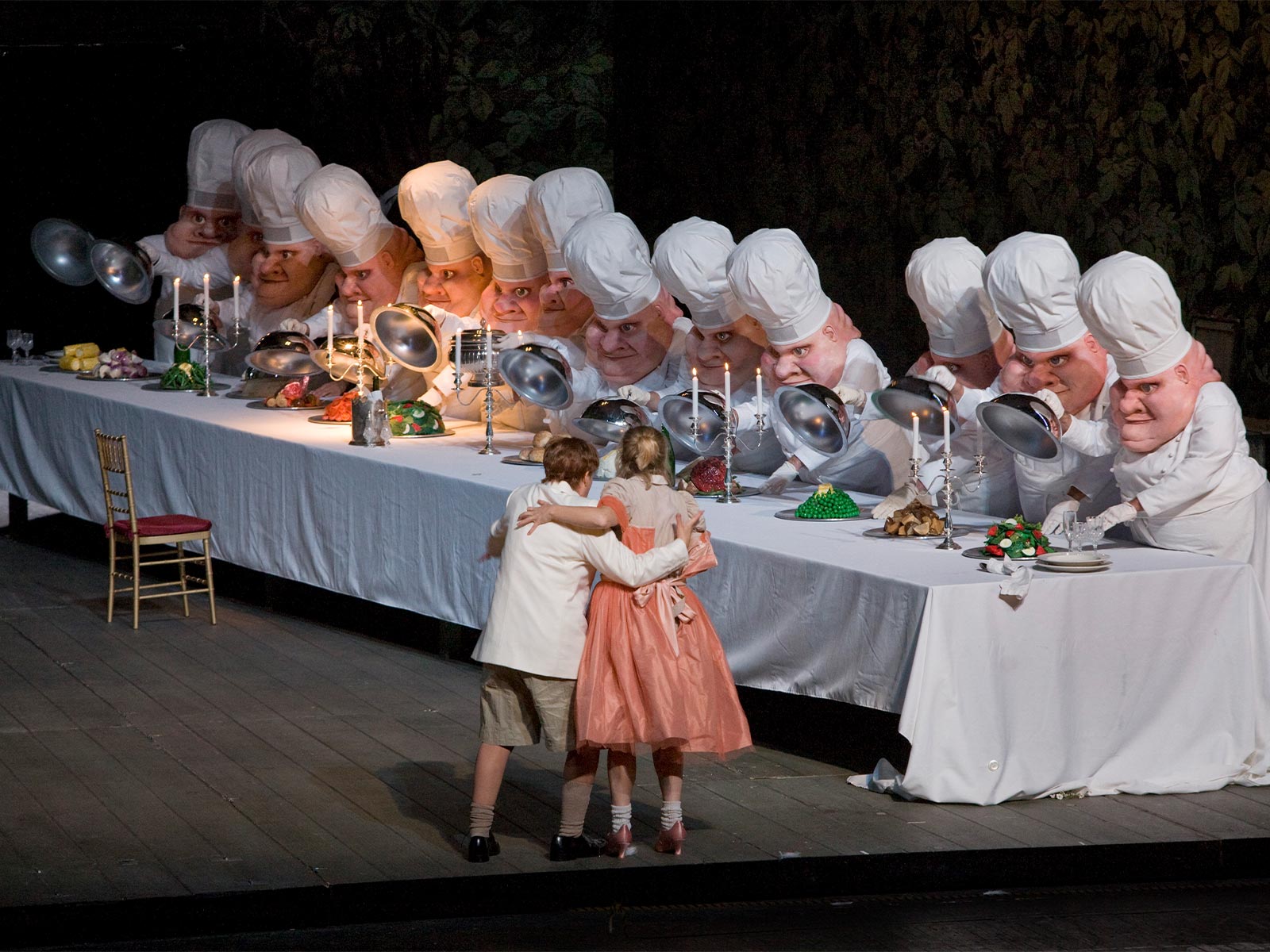 Jones's English-language Hansel was the second in the Met's annual series of holiday presentations. And for any kid who has ever enjoyed a food fight, it is a major event (there's a big one in Act III). Mezzo-soprano Alice Coote and soprano Christine Schäfer sang the title roles, and Vladimir Jurowski conducted.
In Adelheid Wette's original libretto, based on Grimm, the titular siblings are sent out to forage for strawberries after their family's precious milk supply is spilled. But they down their baskets of berries before making it home, losing themselves in the woods and falling prey to a Witch determined to have them for dinner. The Witch feeds Hansel, hoping to fatten him up, but thanks to Gretel's cleverness, the children manage to escape and push their captor into her own oven, saving themselves and a horde of children whom the crone had turned into gingerbread.
The story's emphasis on the culinary "led to an idea that maybe it could be set in three spaces that were all like kitchens, spaces where food was traditionally consumed," Jones explains. Instead of literal scenic representations of the opera's three settings (the family home, the woods, the Witch's house), Jones and his set and costume designer, John Macfarlane, placed each of the acts in a different kind of kitchen informed by a different theatrical style.
From a D. H. Lawrence–inspired realistic setting for the first act, the production veers into German Expressionist territory for the second, which takes its cue from Frank Wedekind's Spring Awakening (though don't expect the angsty, romantic singing teens of the Broadway version of that work). The third act enters the realm of Theater of the Absurd, inspired by Jones's experiences as a child attending annual pantomimes at the Palladium in London, where he grew up. "In each of these pantomimes there was always a thing called a 'slop scene,' where food was thrown about and people got very messy," Jones recalls. "A lot of memories of seeing those scenes went into the production of Hansel and Gretel."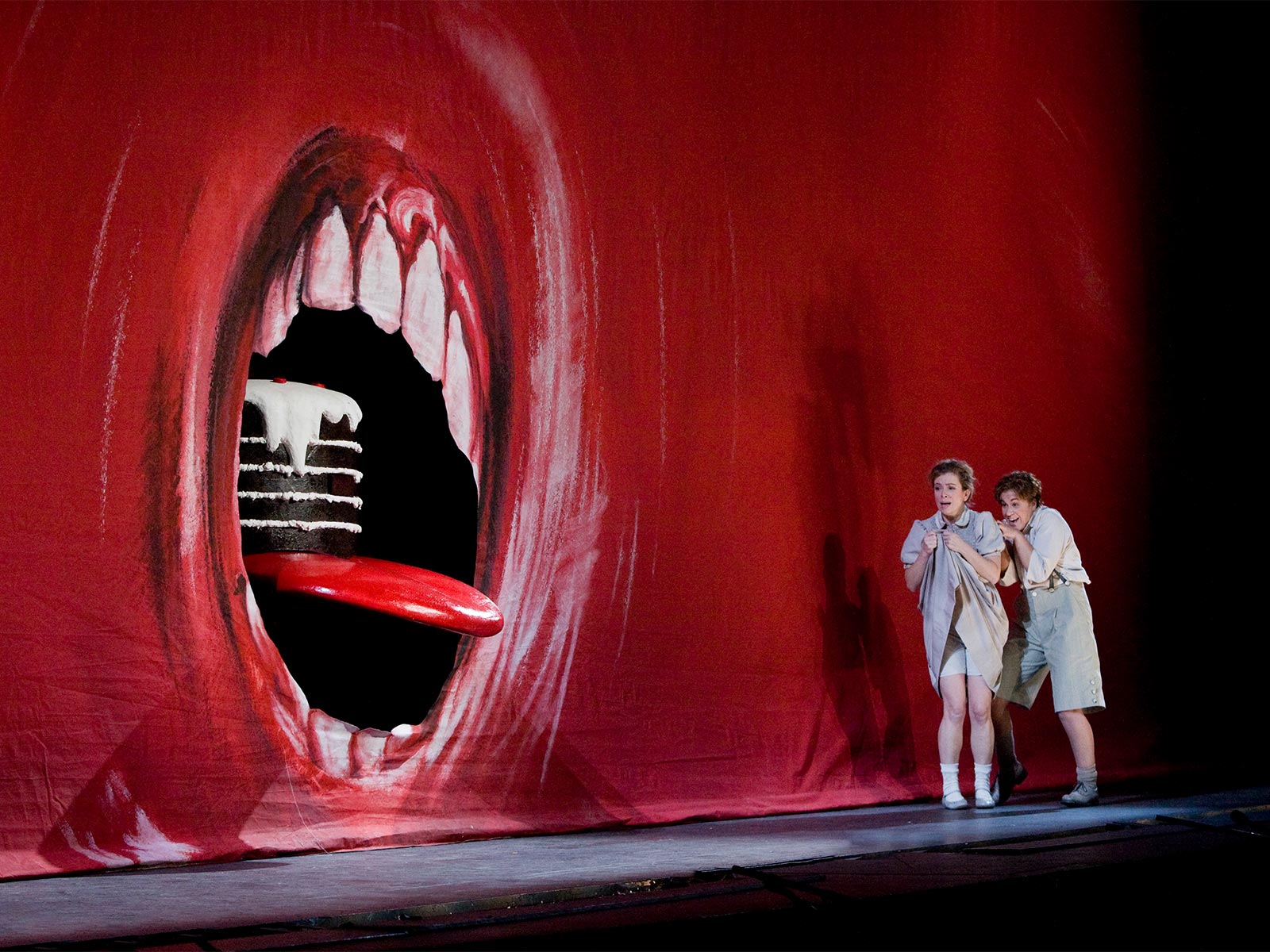 Hansel, as a matter of fact, "was one of the first pieces of theater I ever saw as a child," Jones continues. "I got taken by my mum and dad to see it, and I remember it vividly. I can remember as a child making many drawings of it." Today, the sketching duties are assumed by designer Macfarlane, whose beautiful, haunting watercolors of many of the production's costumes were on display at the Met during the run of the show. The production also features vivid full-proscenium paintings of plates and cutlery to separate each act.
Jones and Macfarlane were joined on the production by lighting designer Jennifer Tipton and choreographer Linda Dobell, who worked on an earlier, smaller-scale incarnation of the production for Welsh National Opera. (That production also went to London, where it won a Laurence Olivier Award and continued on to Lyric Opera of Chicago.) Jones was struck by the work Dobell did to ensure that the physicality of the two adult stars was decidedly childlike. She brought that same approach to the Met, where she steered the physical performances of Coote and Schäfer. Jones had worked with both of these superb musicians in the past, as well as with tenor Philip Langridge, a droll addition to the cast as the Witch. The English-language translation is by David Pountney.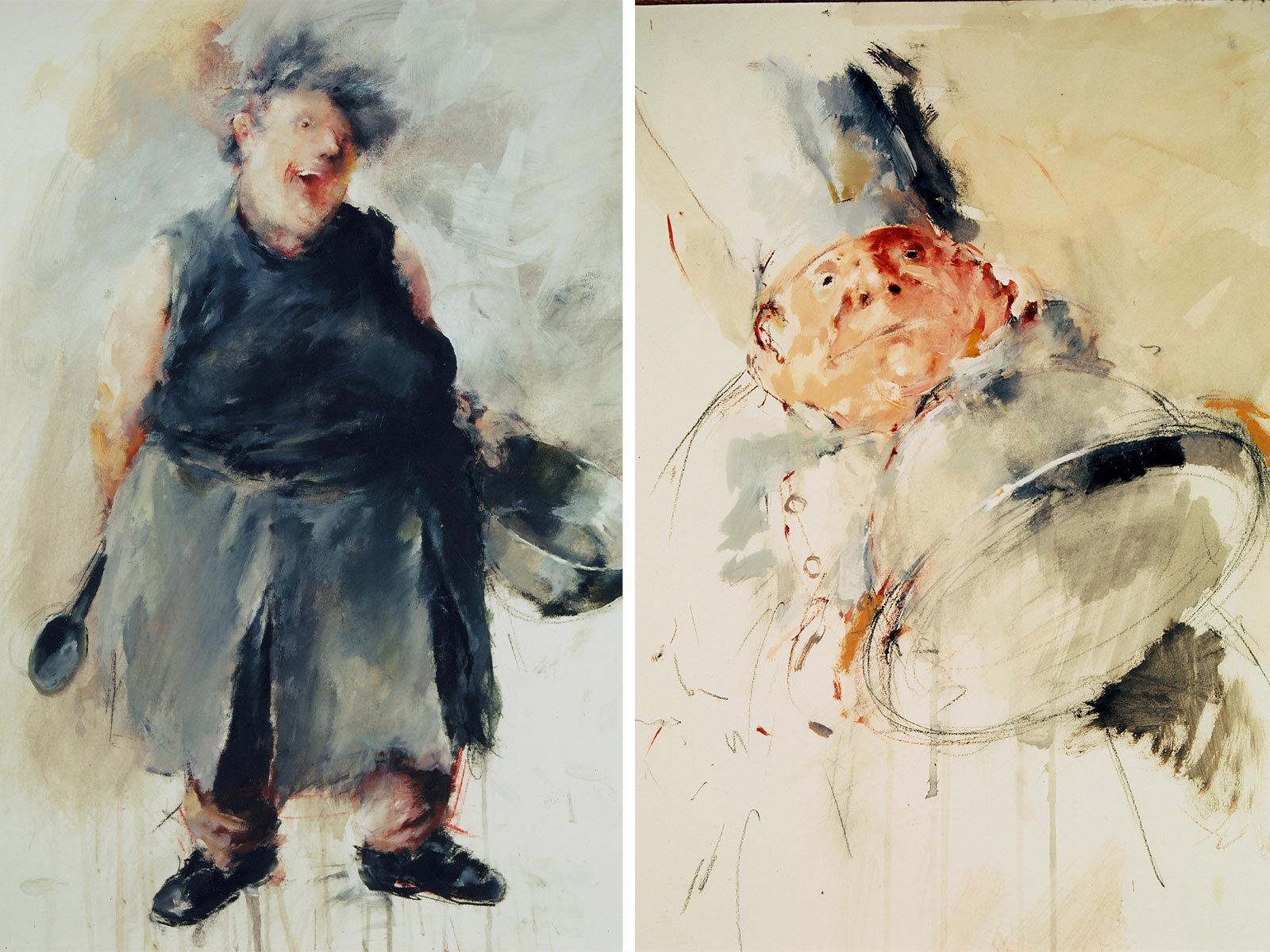 Costume designs by John Macfarlane
Maestro Jurowski brought out the surprisingly sophisticated musical language of Humperdinck's harmonically Wagnerian yet folk-tune–peppered score, which was well served by Jones's intriguing and darkly amusing staging. A 29-year-old Richard Strauss was also a fan of the score. He conducted its 1893 world premiere in Weimar and called the opera "a true masterpiece."
For Jones, the musical sensibility of the work is of a piece with his theatrical vision. "I like the whole Germanic quality," he says of the score. "I like the music because it is a very direct expression of what German spirituality is, the idea that there's spirituality in soil or roots or in dank things. There's also an idea in German consciousness that beautiful things can also be cruel."
Certainly, Hansel and Gretel is not without its grim, harsh moments, but children who attended the Welsh National Opera performances were hardly disturbed; they loved it. "Hansel and Gretel is a feast for children because they transgress," Jones says. "They're naughty, and children get to see a lot of their fears and fantasies enacted. They get evicted from their home, but then they get to gorge themselves on sweets." And on the Witch—though Jones concedes that eating the Witch at the end of the show is not in the actual stage directions. "The implication is that they eat her," he laughs. "If you put something in an oven, you usually put it in the oven to be eaten."
Matt Dobkin is the Met's Creative Director, Content and Strategy.