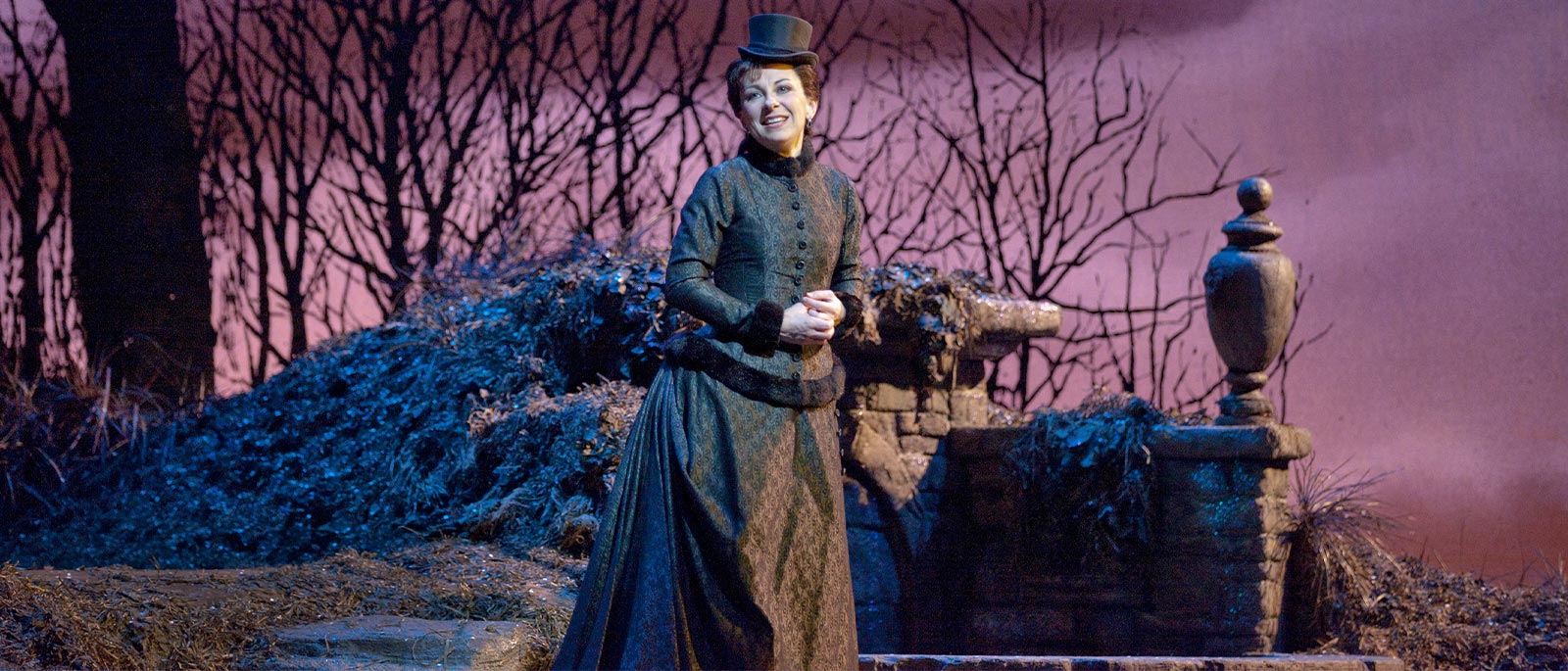 Stage Struck
Natalie Dessay's early ambition was to be a dancer. Then, dreaming of a career as an actress, she turned her sights to the theater. And soon enough, she found her way onto the operatic stage. The French soprano—and inveterate stage animal—spoke to the Met's Elena Park in 2007 about taking on the title role in Mary Zimmerman's ghostly staging of Lucia di Lammermoor.
Describe your approach to this role.
Well, I consider myself more of an actress than a singer. I wanted to become an actress when I was very young, and through theater I came to opera. But opera chose me. It was not I who chose opera. I realized that I had a voice, and maybe it was easier for me to go onstage with my singing voice than to be only an actress.
How do you tackle the dramatic challenges of characters like Lucia while meeting the vocal challenges of those demanding roles?
You have to keep this distance. It's not a question of looking at yourself playing the role—no, you're really intensely in the scene—but something, part of yourself, is held back in order to be able to sing and to play it correctly and to do what we decided before in the rehearsals. But of course you have to let it go and to control at the same time. It's like playing tennis. You have your technique but in the moment you play the match, you have to let it go in order to be able to win.
Have you always been able to do this?
No, I had to work on it. In the beginning I couldn't let it go at all. For example, I'm very happy because I just played Manon in Barcelona, and for the first time in my life, I was able to cry and at the same time control my singing. I really wanted to work on that specifically on this production, because in every production I have a goal, like an exercise or a challenge. And it's always theatrical. So in this production, my goal was not to do anything, just feel the things, receive the things from the outside, and react. But without doing anything, without willing anything, without wanting anything. And I was much more relaxed than before, and that's why I really could feel the situations strongly.
You've sung Lucia several times before. Do you have any goals for this new production?
[Laughs.] No, I fix my goal after a while. When I know the people, when I know how [the work] will be. So for the moment I don't know, but probably I will try to forget everything I did in this role till now. To be as fresh as possible, as for the first time.
Director Mary Zimmerman describes Lucia's madness as a journey, saying it is a series of "small actions that can express, externally, what's going on internally." Is the mad scene the most difficult part for you?
Oh, no, it's the easiest part! What is really difficult is the duet with the baritone in Act II because it's a very low and long duet. The mad scene is very easy to sing for me. The orchestra is light, and it's very, very well written for my voice. It's a little lighter than this duet. It's very well built dramatically.
Elena Park is the Met's Executive Producer, Radio, and Supervising Producer, Live in HD.