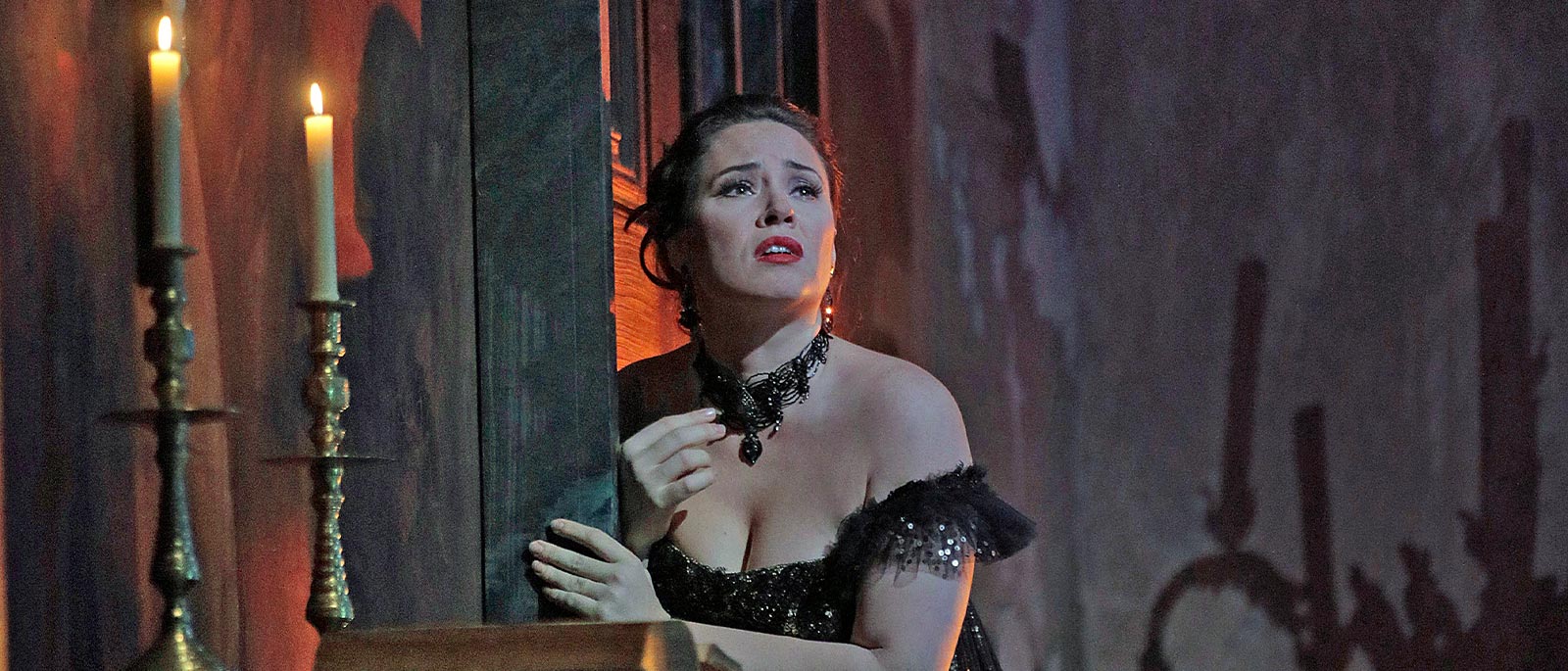 Stage Animal
Sonya Yoncheva has become a mainstay on the Met stage, never more so than during the 2017–18 season, when she starred in three operas with the company. The soprano began her season headlining the new production of Puccini's Tosca, and before the opera opened, Yoncheva spoke with the Met's Jay Goodwin about embodying what she describes as Puccini's "completely passionate" title diva.
With Tosca, you're making your role debut as one of opera's iconic characters in a new production at the Met. No pressure! How are you preparing?
Well, maybe it's a matter of fate, but all of my big debuts have happened at the Met. So it feels like this is just the next one. I love singing at the Met, and I love the Met audience, so I'm very happy about it. And it's a fantastic role that I've always wanted to perform. Musically, I've been working a very long time on the part because in 2014, while I was in the last month of pregnancy with my son and had nothing to do, I attended almost 40 days of Tosca rehearsals that my husband [Domingo Hindoyan] was conducting in Berlin. That was the moment I decided that I would sing this part.
Tosca is the classic diva—passionate, devoted to her art, but also jealous, fiery, and quick to anger. Does that fit your personality or do you have to psych yourself up for it?
Well, I can be like this—it's true! [Laughs.] I can be all of this, actually. But I think that every woman is like that. And in the case of Tosca, she has even more reason to be like this because, first of all, she's an artist, and also she loves Mario so much. She's just completely crazy about him. And, you know, I've discovered how sweet she is, actually. Every word she says is very sensual, is that of a woman who is completely in love. And that's how I explain to myself all of these reactions. This immediate fire, this passion, this jealousy. This is because she really loves this man.
At the Met, you've sung some of opera's most beloved heroines: Gilda in Rigoletto, Mimì in La Bohème, Desdemona in Otello, and Violetta in La Traviata—all of whom are victims of their circumstances in one way or another. Do you see Tosca as a different sort of victim or as something else entirely?
No, she's not a victim. I think she's just a completely passionate and dedicated person, you know? If I was in the same situation and had to defend my husband, if I even had to kill for him—we all would do that, right? If it's a question of his life, you will do everything to save him. And I think that's what she does. She's not afraid even to kill herself at the end because there is no better place than with her lover, and she doesn't want to be alive without him.
The musical challenges of this role are also different from those you've sung at the Met before. How do you adapt to sing this more dramatic, forceful style of music?
I don't change that much. I'm really trying to adapt this piece to my voice. And at the same time, I know that I need to have extra power in a few moments, so I try to concentrate on my voice and match the progression of the music. The biggest challenge is the second act because you have this huge scene between her and Scarpia, and it's a very powerful thing where you don't need to fire all of your weapons immediately. You have to hold back a little bit in the beginning so that there is a huge intensification—musically and psychologically.
You've been recognized for your nuanced acting and characterization, so we should be in for a dramatic production.
It's so important to be a convincing actor, to be very true on stage. I think people are extremely demanding of this. I was always a very natural actor, and I always wanted to obtain honest emotions on stage. You really need to feel the extreme emotions of opera, not only from the voice but also from the acting.